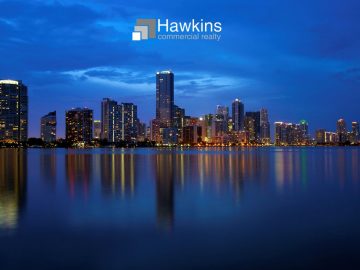 Terra, Grass River Break Ground on Grove Central Mixed-Use Project in Miami
Terra and Grass River Property Co. have broken ground on a new mixed-use project in Miami called Grove Central. Located at 2780 SW 27th Court, the transit-oriented development will include a new 23-story residential tower comprising 402 market-rate, workforce and co-living units; a 1,250-space public parking garage; and approximately 170,000 square feet…
Checking into the wild: Miami commissioners approve zoning changes to allow for Jungle Island hotel
Jungle Island's planned transformation into a lushly-landscaped theme park with a waterfront hotel and new attractions took a major leap forward. The Miami City Commission on Thursday unanimously approved a development agreement with Jungle Island and a special area plan, or SAP, for 18 acres on Watson Island, the site of the animal-centric tourist…
Atlanta Fed: Beige Book Finds Small Uptick in Labor Market
The latest Beige Book report on the regional economy from the Federal Reserve Bank of Atlanta shows hopeful signs in the labor market, a bit of upward pressure on prices, and a modest expansion of general activity over the past several weeks. February's Beige Book reports that employment levels rose "modestly" from December and early January, and about half…
8 Key Statistics for the Miami Commercial Real Estate Market
Miami's commercial real estate market offers a wide range of projects, assets, and property types due to its pivotal access as an Atlantic coastal town and its geographic position near Central and South America. These factors give Miami a distinct cultural influence and importance as a transportation node between North America, Central America…
The Fed: Does Rising National Debt Portend Rising Inflation?
The previous post examined the national debt in terms of debt issuance, debt as currency and debt service. This post looks at monetizing the debt, inflation and pressures on the larger debt picture caused by COVID-19. In a Regional Economist article, Senior Vice President and Economist David Andolfatto pondered the question, "Does the National Debt Matter?"
Global digital payment firm ACI Worldwide Corp. moving to Miami-Dade
A global digital payment firm currently headquartered in Collier County will get more than $360,000 in state and local incentives to move to Miami-Dade, with vows to spend millions on its new world headquarters and create 180-plus high-paying jobs. County commissioners Tuesday unanimously approved the incentives for ACI Worldwide Corp…
Settlement with Magic City Casino would ban gambling elsewhere in city
After hearing parties are nearing a settlement on a jai-alai and poker establishment in the Edgewater neighborhood, Miami city commissioners decided last week to defer a previously scheduled meeting that was to be closed to the public. Vice Chairman Ken Russell said his understanding was that both sides are at the table in good faith. While getting close to…
82-acre Doral Central Park begins development
Construction to build-out Doral Central Park has officially begun after city officials broke ground Monday, closing the park to the public until further notice. With phases two and three scheduled to be completed in 2022 and phase four in 2023, the 82-acre existing passive park at 3000 NW 87th Ave. will be transformed into a multipurpose and multigenerational park…
NYC Meatpacking District Icon, Pastis, Is Coming to Wynwood
Pastis, New York City's iconic version of a classic Parisian bistro, is bound for Miami. Restaurateurs Keith McNally and Stephen Starr will open Pastis Miami at 380 NW 26th Street in Wynwood in 2022.The property is owned by Miami developer David Edelstein. The 8,000-square-foot restaurant will echo its Manhattan sibling's look with mirrors, subway tile, and warm…
Pastis to open Miami restaurant in Wynwood
New York City institution Pastis is landing in Miami. James Beard award-winning restaurateurs Stephen Starr and Keith McNally plan to open in Miami's Wynwood neighborhood, in an 8,000-square-foot space at 380 Northwest 26th Street, The Real Deal has learned. The restaurant, Pastis' first in South Florida, is expected to open in the summer of 2022.
Internet, shminternet: Target adds, renovates stores as money pours in
Target has hit the bullseye. The big box retailer is adding and renovating stores as well as warehouses as it thrives in the competition with Amazon and other internet retailers. The moves stem in part from Target's stellar year: Its 2020 sales growth of more than $15 billion was greater than in the prior 11 years combined, the company announced Tuesday. Total…
Order up: Real estate investors line up to buy drive-throughs
Real estate investors are placing their bets on a new property type: drive-throughs. Restaurants with drive-through lanes are seeing their values increase as the coronavirus pandemic forced social distancing rules and the closure of indoor dining, the Wall Street Journal reported. Chains such as Chick-fil-A and McDonald's have reported an increase in sales thanks…
South Florida's Top 10 Retail Projects Currently Under Construction
To expand on the South Florida Retail Real Estate Quarterly Report, MMG puts together a periodical update of the Top 10 Retail Real Estate Construction Projects in the area. There are currently 32 retail projects under construction with a total square footage of 1,879,865 being added to the market. That accounts for 1.4% of the…
South Florida's Top 10 Retail Real Estate Property Sales
In order to add further context to the South Florida Retail Real Estate Quarterly Report, MMG puts together an update of the Top 10 Retail Real Estate Property Sales in the region. In the last 12 months, there have been 356 retail properties sold with an average cap rate of 5.8% between all of them…
New York Real Estate Developers See Opportunity in South Florida Amid Pandemic
COVID-19 shook things up across the country, but some out-of-state business owners saw a silver lining in South Florida. Business owners across various industries are opening up shop, but the hospitality sector in particular is seeing a boom, according to real estate experts. "New York and Miami are two different worlds with the pandemic," said Mitchell Hochberg…
U.S. mall values fall 60% after appraisals
The suburban mall that you frequented as a teenager could now be worth substantially less than the dirt underneath it. U.S. mall values declined 60 percent due to appraisals in 2020, according to an analysis by Bloomberg News. Across 118 shopping centers with commercial mortgage-backed securities loans, about $4 billion was lost after reappraisals caused…
Easton Group scores $12M construction financing for Doral spec warehouse
Edward Easton and rendering of Doral warehouse at 1500 Northwest 97th Avenue The Easton Group scored a $12 million construction loan for a Doral spec warehouse, amid a hot industrial market largely fueled by e-commerce. Easton Group borrowed the funds through its affiliates ICP NW 97th Associates and EEBB Apartment II Holdco, which are listed as the…
Wynwood developer sells retail property in foreclosure for $12M
East End Capital sold a retail property that was in foreclosure for $11.8 million, The Real Deal has learned. Forte Capital Management, led by Chaim Cahane and director of acquisitions Dov Tepper, and Jon Krasner's 7G Realty purchased the retail property at 310–318 Northwest 25th Street, Cahane said. Property records show East End affiliate EERC 310 Owner…
Greystone Provides $10.9 Million in HUD-Insured Financing for a Multifamily Property in Miami, Florida
Greystone, a leading national commercial real estate finance company, has provided a $10.9 million HUD-insured loan to refinance a 174-unit multifamily property in Miami, Florida. The financing was originated by Eric Rosenstock, Managing Director in Greystone's New York office, on behalf of Vizcaya Affordable Corp. The $10,915,700 HUD-insured…
Construction spending hits new record in January
U.S. construction spending reached the highest level on record last month as both local and federal governments began loosening the purse strings. Spending hit a seasonally adjusted annual estimated rate of $1.5 trillion across all sectors last month, the highest recorded since the Census Bureau began tracking this figure in 2002. January's rate was up 1.7 percent…
How the pandemic has changed small banks' views of CRE
Fallout from the pandemic is reshaping community banks' views of commercial real estate. Social distancing measures have restricted retail and restaurant capacity, while forcing people to rely more on digital channels for their purchases. The potential for permanent work-from-home policies is expected to alter how much office space companies need.
These are real estate executives' worst worries for 2021
After an awful year for much of the real estate world, executives see full recovery not happening this year or even next, yet are optimistic about their own firms' immediate future. A survey of real estate executives found 85 percent see 2021 as a year of opportunity for their companies, but 70 percent said that the commercial real estate sector will not return to…
Return of the retailer: Century 21 relaunches
Attention shoppers: Century 21 is coming back. The New York-based discount retail chain that built a loyal following but folded after declaring bankruptcy in September, announced its planned return last week. In a statement on Tuesday, Century 21 Stores said the decision to relaunch came "in response to the outpouring of love from the Big Apple and the…
Miami-Dade resumes pre-pandemic evictions after unannounced February break
Miami-Dade County resumed executing writs of possessions for residential eviction cases filed before the pandemic, following an unannounced month-long break. The police execute writs of possession, evicting residents or businesses from their properties. The move follows a final judgment in a court case. Homeowners with federally backed mortgages are protected…
National eviction moratorium ruled unconstitutional, but remains in place
A federal judge in Texas ruled the nationwide eviction moratorium unconstitutional Thursday but issued no injunction, saying he hopes the Centers for Disease Control and Prevention will withdraw the ban. The agency is not expected to do so. The result, for the moment, is no change for tenants — who, as of last month…
South Florida construction starts fall in January
South Florida construction began the new year slowly with new starts falling in January by double-digits, year over year, according to a recently released report. Total construction starts fell 21 percent to $863.6 million in January. Residential construction fell 24 percent, to $573.3 million. Nonresidential fell 15 percent to $290.3 million, according to Dodge…
Victoria's Secret may close 50 stores this year
Victoria's Secret's plans for its future are, well, not so secret. The lingerie retailer will close 30 to 50 stores in the United States and Canada this year, CNN reported. The move comes after the brand closed 241 stores in 2020. The closures will leave Victoria's Secret with 848 stores across the two countries, down from more than 1,100 just a year ago. Its parent…
It's curtains for Galbut family-led proposal to redevelop Byron Carlyle Theater
The Miami Beach City Commission on Wednesday rejected a proposal by Menin Hospitality and KGTC, LLC to buy the city-owned Byron Carlyle Theater in North Beach and replace it with a mixed-use project up to 125 feet tall, with a 12,000-square-foot cultural center, 9,000 square feet of retail, and, possibly short-term rentals. The commission's 5-to-1 vote…
Video: Integra Realty Resources' Viewpoint 2021; Economic Outlook, Capital Markets, and Interest Rates
Integra Realty Resources CEO Anthony Graziano discusses his firms Viewpoint 2021 report. In this second video, he discusses how industrial property performed during the pandemic, how changes in policy with a new presidential administration may affect industrial assets. He then goes on to discuss multifamily property performance during the pandemic…
Ladder Capital sells Witkoff's Miami Beach hotel for $44M
Ladder Capital sold the Washington Park Hotel in Miami Beach for $43.8 million, after foreclosing on the property when it was owned by the Witkoff Group. The foreclosure and subsequent sale of the hotel marks one of a few such deals in South Florida to close since the pandemic began a year ago. Many owners of leisure hotels are focused now on recovery, while…
HSBC to shrink its office footprint amid shift to WFH
HSBC is banking on remote work — and is shedding office space. John Hinshaw, the group COO of Europe's largest bank, said during HSBC's fourth-quarter earnings call that the company will switch to a hybrid model where employees have the option to work from home, Bloomberg News reported. As part of the switch, the bank is expected to reduce its real…
South Florida real estate on climate change: 'Que Sera, Sera'
Real estate is famously all about location. And in Florida, climate change is expected to put some of the toniest locations underwater over the coming decades — either permanently or during storm-driven flooding. Insurers are taking notice and hiking rates accordingly. Developers and homebuyers, however, seem oblivious to the threat. Florida's geography makes it…
US hotel market had worst year since the Great Depression
The coronavirus pandemic made 2020 the worst year for the U.S. hotel market since the Great Depression, when occupancy rates dipped below 40 percent. In 2020, the overall occupancy rate was 41.6 percent. However, the impact varied significantly by geographic location and the type of hotel, according to a new report from CBRE Research. New York City was…
GDF Properties scoops up Broward multifamily portfolio for $17M
GDF Properties scooped up a 29-building Broward County multifamily portfolio for $17.3 million. Records show Miami-based GDF Properties, through affiliate Broward Multifamily, bought the small apartment buildings totaling 189 units in two $8.6 million deals. The portfolio spans Hallandale Beach, Dania Beach, Hollywood and Fort Lauderdale…
Tricor Financial sells Winn-Dixie-anchored Cobblestone Commons near Boynton Beach for $38M
Tricor Financial Corp. sold Cobblestone Commons shopping plaza west of Boynton Beach for $38 million, as the retail market shows signs of a rebound. Property records show Winter Park-based Tricor, through affiliates Springs Equity and Cobblestone KT, sold the 88,456-square-foot retail center to Cobblestone USA, based in Coral Gables. The buyer…
TJAC Development sells mixed-use portfolio near Boca Raton for $155M
TJAC Development disposed of four mixed-use office and retail plazas west of Boca Raton for $155 million, marking one of the largest commercial sales in South Florida this year. Weston-based Titan General Partners acquired the 515,000-square-foot portfolio by buying an interest in the four limited liability companies TJAC originated to own the…
Banker's Row office building in Palm Beach sells for $17M
A six-story office building on Palm Beach's Banker Row sold for $17 million, a little over a year after the seller purchased it. Records show BWREFI Royal Palm Way LLC, a Delaware corporation signed by Alexander H. Griswold, sold the building at 450 Royal Palm Way to 450 RPW LLC. H. William Perry, CEO and managing shareholder of Florida-based law firm Gunster…
Alliance spends $17M on Lake Worth industrial property
Alliance purchased a warehouse on nearly 16 acres of industrial land in Lake Worth for $17 million. Alliance 7233 Seacrest LLC bought two properties at 7233 Seacrest Boulevard and 7109 Seacrest Boulevard from 7233 Seacrest Boulevard LLC, according to records. Robert W. Fessler signed in favor of the seller. The buying entity is an affiliate of Bryn Mawr…