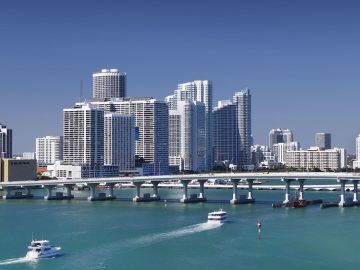 Developers speak out against Moishe Mana as he compares Wynwood campaign to the Arab Spring
As Miami Mayor Francis Suarez and other elected officials urged a truce, Moishe Mana and current and former members of Wynwood Business Improvement District intensified their attacks on one another at competing meetings Tuesday. In recent weeks, Mana sent messages threatening the Wynwood BID…
Development site in Miami's A&E District asks $21M
A development site in Miami's Arts & Entertainment District near the condo building Canvas hit the market for $21 million. The half-block property, at 1550 Northeast Miami Place, is in an Opportunity Zone. The Kluger family owns the 0.85-acre site, property records show. Jordan Gimelstein of Dwntwn Realty Advisors is listing the property. Zoning allows for 427…
Bridge Point Commerce Center in Miami Gardens inks lease with Caribbean grocery distributor
A rendering of Bridge Point Commerce Center and Kevin Carroll, Partner, Southeast Region at Bridge Development Partners (Credit: CBRE) Bridge Development Partners scored a 114,808-square-foot lease with a grocery distributor to the Caribbean and Latin America at Bridge Point Commerce Center in Miami Gardens. Chicago-based Bridge Development, which is…
Bridge Development Signs Grocer to 114,808 SF Industrial Lease in Metro Miami
Bridge Development Partners has signed HapCor, a grocer in the Caribbean and Latin America, to a 114,808-square-foot industrial lease within Bridge Point Commerce Center in Miami Gardens. Phase I of the industrial park was delivered in late 2019 and includes three buildings spanning 1.1 million square feet. The buildings feature 32-foot clear heights and are divisible…
Dezer picks up office building next to Intracoastal Mall
Gil Dezer's Dezer Development paid $15 million for a missing piece of a waterfront assemblage in North Miami Beach where he is planning a mixed-use project. Property records show ASA College Inc. sold the three-story, 33,260-square-foot office building at 3909 Northeast 163rd Street, next to Dezer's Intracoastal Mall. ASA provided a $7.5 million purchase money…
Treo Group Breaks Ground on $125M VOX Miami Mixed-Use Development
Locally based investment and development firm The Treo Group has broken ground on VOX Miami, a $125 million mixed-use project in South Florida. Treo Group will develop the transit-oriented site, which is located at the corner of U.S. Highway 1 and Sunset Drive, adjacent to the South Miami Metrorail station, in multiple phases. Phase I will feature an eight…
Challenge to Melreese lease enters appeals court
An advocate for green space continues to battle the legality of a referendum that cleared the way for the City of Miami to waive bidding for the development of the Melreese golf course site. Bruce Matheson has appealed a district court judge's ruling that struck down his challenge to the voter referendum that allowed the city to engage in non-competitive…
Green light on horizon for more downtown Miami parks
It's been a housing boom, following the Great Recession, that's seen Miami's downtown become home to nearly 100,000 residents and more than 100 residential towers. As more buildings go up and more people decide to live in the dense, vibrant neighborhoods of downtown and Brickell, residents' call for more parks and open spaces could become all the more acute. 
US hotels brace for coronavirus impact
Hotel owners and investors in the U.S. are now in wait-and-see mode, bracing impact amid the spreading coronavirus. Businesses and vacationers around the world have already been canceling reservations and major events have been postponed as coronavirus cases continue to grow. In the U.S., there have been 115 cases in more than a dozen states.
Immocorp Capital pays $15M for site of Miami Gardens City Center
The city of Miami Gardens sold nearly 36 acres near Hard Rock Stadium to Immocorp Capital for $15.4 million, where the development group plans to build a mixed-use project. Immocorp, led by CEO Gilbert Benhamou, and Pascal Cohen, closed on the 35.6-acre assemblage about two weeks ago with plans to build Miami Gardens City Center, Benhamou said. The two…
Michael Stern is moving forward with massive Miami tower project
New York developer Michael Stern is moving forward with plans to build a $500 million mixed-use tower west of Brickell Avenue, which will include 1,000 residential units. The Miami City Commission cleared the way for Stern's JDS Development Group to work with the city on developing the massive site. The 1.5-acre project calls for a 752-foot-tall tower. Part of…
Fed cuts interest rate amid coronavirus fears; hotel stocks sink
The Federal Reserve announced an emergency rate cut on Tuesday morning, a direct response to growing fears over the economic fallout of the coronavirus, which has already slammed real estate stocks and hit the hospitality industry particularly hard. Stocks began stabilizing Monday on word that the Fed could cut the benchmark rate, but fell Tuesday…
Thor Equities lists Lincoln Road building for $17.5M
Thor Equities is looking to sell a retail property on Miami Beach's Lincoln Road. The building, at 663 to 667 Lincoln Road, is on the market for $17.5 million, or about $3,500 per square foot – about 30 percent below the market's peak price of about $5,000 per square foot on the pedestrian-only retail street. Thor's 4,986-square-foot property is about 54 percent…
Hines CEO talks coronavirus, Opportunity Zones and WeWork
Laura Hines-Pierce and Jeff Hines Coronavirus and its impact on the real estate industry were top of mind at the University of Miami's Real Estate Impact Conference. During a session on development opportunities with Hines executives, Hines President and CEO Jeff Hines said coronavirus is a "major, major concern at this point." The Houston-based real estate…
2nd Annual Bilzin Sumberg South Florida Redevelopment Conference
Bilzin Sumberg's Land Development and Government Relations Practice is hosting its 2nd Annual South Florida Redevelopment Conference on March 12 & 13, 2020 in Miami, Florida. This invite-only conference will highlight the latest in the redeveloping and reshaping of the Miami skyline. Expert keynote speakers and panelists will discuss the newest South Florida…
Spotify inks lease for South Florida headquarters in Miami's Wynwood
Spotify signed a lease in Wynwood for its South Florida headquarters, The Real Deal has learned. The music streaming company has been looking for office space in the Wynwood, Brickell and downtown Miami submarkets for months, sources said. Spotify will be taking all of the 20,000 square feet of office space at the Oasis in Wynwood, a mixed-use adaptive reuse…
Spotify Signs 20,000 SF Office Lease Within Oasis at Wynwood in Miami
Spotify has signed a 20,000-square-foot lease to anchor the office component of The Oasis at Wynwood, a mixed-use development in Miami's Wynwood submarket. The music streaming company is based in Stockholm and has its U.S. headquarters in New York City. The Oasis at Wynwood will feature 20,000 square feet of office space; 17,000 square feet of retail space…
Firm Arranges Miami Lease for Addiction Institute
Avison Young has arranged a 43,895-square-foot lease for Global Institutes on Addictions at Omni Center in Miami. Principals Scott Goldstein and Keith Edelman assisted the new tenant, while landlord Resorts World Omni was represented by Laurel Oswald, Cristina Glaria and Jon Blunk of Tower Commercial. Last year, Blunk was also involved in a 12,366-square-foot…
All Aboard: Transit-Oriented Development Is Expanding Miami
Driving through Coral Gables, the enclave about five miles west of Downtown Miami that's home to the University of Miami, afternoon traffic was light from the vantage of Brent Reynolds' Land Rover: a far cry from the clogged highways you'll find in the city during the morning and evening rushes. But driving is still often the best option in a city whose public…
Bankers Healthcare buys Miramar office building for new HQ
Bankers Healthcare Group paid $29 million for an office building in Miramar where it plans to base its new headquarters. Bankers Healthcare Group, a financial provider to healthcare professionals, bought the 130,000-square-foot office property at 3700 Lakeside Drive for $223 per square foot, records show. MFC 3700 Investors LLC, led by David Berger and Ezra Katz…
Fort Lauderdale office tower sells for $18M
An office tower next to the courthouse in Fort Lauderdale sold for $18.2 million. A joint venture between Miami-based Highline Real Estate Capital and North Miami Beach-based Sefira Capital sold the 66,426-square-foot office building called Courthouse Place, at 12 Southeast 7th Street, for $274 per square foot. New Haven, Connecticut-based…
Bar Invest Group sells apartment complex in Fort Lauderdale for $58M
Serramar Apartments and Herve Barbera Bar Invest Group sold the Serramar Apartments in Fort Lauderdale for $58 million. The Miami-based company, led by Jacques and Herve Barbera, sold the 302-unit apartment complex at 6701 West Oakland Park Boulevard for $192,000 per unit, according to a press release. Manhasset, New York-based Milbrook…
.