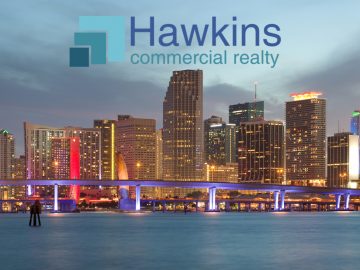 Cipriani Residences Miami 80-story condo tower planned for Brickell site
Cipriani is expanding its footprint in Miami with plans to brand Mast Capital's luxury condo tower in Brickell, joining a handful of new projects in the neighborhood. For the Cipriani family, the planned Cipriani Residences Miami adds to a growing portfolio of properties. The family operates the Mr. C Miami hotel and is branding the Mr. C Residences…
Westside Capital Buys Coral Gables Office Building for $14M
Westside Capital Group has bought the 85,000-square-foot 2000 Ponce, an eight-story office building in Coral Gables, Fla., from a private long-term owner, for $14 million, in an off-market transaction. Berkadia secured a $14.6 million, five-year bridge loan with 24 months interest-only, at a 74 percent loan-to-cost ratio. Valley National Bank provided the…
South Dade boom: D.R. Horton wants to build townhouses in Homestead, another developer proposes apartments in Naranja
Two developers are proposing new housing projects in south Miami-Dade County, showing the area has caught the eye of builders amid high demand linked to population growth. Major homebuilder D.R. Horton, based in Arlington, Texas, wants to build a 67-townhouse complex in Homestead, and D.E.V. & Associates proposes a 202-unit multifamily building…
Eighty Seven Park condo association, construction firms added to Surfside collapse lawsuit
Surfside collapse The survivors and families of the victims of the deadly Surfside condo collapse sued Eighty Seven Park's condo association and additional companies involved in the construction of the luxury condo tower next door to Champlain Towers South. The third amended complaint names the architecture firm Stantec, vibration monitoring firm…
Blank canvas: Van Gogh exhibit inks long-term lease on Lincoln Road
The Van Gogh Immersive Exhibit inked a long-term lease on Miami Beach's Lincoln Road, The Real Deal has learned. Lighthouse Immersive, the Toronto-based company that runs the experiential art exhibit, signed a nearly 23,000-square-foot lease at 420 Lincoln Road, a property owned by Paul Cejas' PLC Investments, according to Brandon Charnas…
Barlington Group sells Brickell retail building for $20M
Gazit Horizons, the U.S. subsidiary of Tel Aviv-based Gazit Globe Group, paid $20.1 million for a Brickell retail building across the street from its proposed 504-unit apartment tower. Gazit Horizons bought the fully leased property at 83-97 Southwest Eighth Street, with no immediate plan for redevelopment, according to CEO Jeff Mooallem. Records show…
Supply chain issues — not oversupply — could slow Miami's condo boom
Financing is plentiful, buyers are signing contracts with nonrefundable deposits, and developers in South Florida are keeping their sales launches rolling and their condos selling. Miami's condo market, known for its booms and busts, is in the middle of a big boom that would typically be threatened by, inevitably, an oversupply of condos. But the dreaded…
Deal can clear runway to add Watson Island seaplane base
The Miami City Commission is considering legislation to authorize a utilities deal with Miami-Dade County that is necessary for construction of a new seaplane base on Watson Island. Commissioners are set to vote today (3/10) on approving the utilities deal. The city owns the man-made island that connects mainland Miami with Miami Beach via the MacArthur Causeway.
Coral Gables project would add live-work units
Coral Gables commissioners got to hear Tuesday a newly proposed mixed-use project for the city's Craft Section. The Planned Area Development would take up about a city block at 300 Catalonia Ave. Called "Alexan Crafts," the project consists of 22 live-work units on the ground level, 263 residential units on upper levels and 364 parking spaces onsite.
New-to-market tenants spur Wynwood office demand
Wynwood is becoming Miami's busiest office submarket as demand for space is far surpassing current supply due to its attractive live-work-play environment, with more than 80% of its recently leased office tenants being new-to-market and a million square feet of office space in the pipeline. Coming up new-to-market tenants in Wynwood in the first quarter…
Miami easing way to add Brickell City Centre residences, retail
Miami city commissioners are being asked to approve a special easement for Brickell City Centre that would clear the way for the next phase of development of the sweeping mixed-use project, including construction of a temporary fire station. The next phase of construction is also to include about 350 new residential units, 106,828 square feet of new…
Norwegian fish food manufacturer plans South Miami-Dade plant
Skretting, a Norwegian global manufacturer and supplier of fish feed to land-based aquaculture companies, plans a new feed facility in South Miami-Dade close to Atlantic Sapphire, one of its largest customers. Atlantic Sapphire raises land-based salmon at its Homestead Bluehouse facility. The announcement fulfills an earlier agreement between the two…
Hopes for a Byron Carlyle cultural center rise
Hopes for the advancement of a possible Byron Carlyle cultural center are up as the city of Miami Beach gets closer to coming up with a conceptual design. After the city agreed to budget a placeholder sum of up to $400,000 for conceptual design for the Byron Carlyle movie theater cultural center last September, in late January Commissioner David Richardson…
City of Sunny Isles Beach Acquires Navarro Pharmacy Building from MMG for $16M
In a unique transaction MMG Equity Partners donated a property located at 18500 Collins Ave to the City of Sunny Isles in exchange for transfer development rights (TDR's). In a land donation agreement executed in 2018, the City granted to Navarro TDR's in the amount of 126,615 square feet and the city agreed to sell the TDR's on Navarro's behalf. The total…
Related Group proposes 382 apartments on Johnson & Wales site in North Miami
Jorge Pérez's Related Group has put a portion of the former Johnson & Wales University in North Miami under contract… proposing… a 382-unit apartment project. Related Group is seeking approval from the city of North Miami for the eight-story Manor Biscayne building with 9,335 square feet of ground-floor retail on 2.3 acres at 1650 Northeast 124th Street, according…
Miami Design District to get its first new office building
Developer Craig Robins plans to build his first Class A office building in the high-end Miami Design District… Miami Design District Associates, a partnership of Robins' Dacra, L Catterton Real Estate and Brookfield Properties, revealed plans for The Ursa, a 15-story office building at 30 Northeast 39th Street. Leasing is underway and led by the developer…
Ugo Colombo's CMC Group sells Coconut Grove office building for $11M
Ugo Colombo's CMC Group sold a Coconut Grove office building for $11 million. Cofe Properties, through an affiliate, bought the five-story building at 2950 Southwest 27th Avenue from an entity tied to Miami-based CMC Group, records show. The 39,761-square-foot Grove Professional Building is almost 53 percent vacant, with 21,030 square feet of unleased space…
Lease roundup: Sandals Resorts affiliate moving to Burger King's former Miami HQ
Unique Vacations I Waterford Business District | Miami Unique Vacations, an affiliate of Sandals Resorts, is moving and expanding to a new office at the Waterford Business District near Miami International Airport. Unique Vacations signed a long-term lease for 53,119 square feet at the 5505 Waterford building, at 5505 Blue Lagoon Drive. It is moving from…
Goldman Properties to Build Class A Office Building in Miami's Wynwood
The real estate company that put Wynwood on the map is back, with plans to leave its mark on the Miami neighborhood. Goldman Properties unveiled plans for Core Wynwood, a Class A office building located at 390 NW 25th Street. The property is slated to open in 2024 with construction commencing this December. The 140,000-square-foot development…
CGI Merchant Group Refis Miami Office, Hotel with $102M from Madison Realty Capital
Madison Realty Capital has originated two refinancing loans totaling $101.9 million for CGI Merchant Group. Surya Capital Partners brokered the transaction. The two loans include a $35.5 million loan for 3480 Main, a Class-A office building in Coconut Grove, and a $66.4 million loan for The Gabriel Miami, a luxury hotel located in downtown Miami. 3480 Main…
Judge pushes forward demolition of historic Deauville hotel in Miami Beach
The demolition of the historic Deauville hotel in Miami Beach is expected to move forward, following a contentious court hearing. Miami-Dade Circuit Court Judge Michael Hanzman on Friday denied a motion by the city of Miami Beach that could have forestalled the demolition by requesting additional evaluation of the structure and other measures. The judge…
Harvey Hernandez's condo company files for bankruptcy to stave off foreclosure
Facing the threat of a foreclosure auction, Harvey Hernandez's condo company filed for bankruptcy protection to save nine units at Centro Miami, a downtown Miami tower the developer built. Last month, Centro NGD Holdings submitted a Chapter 11 bankruptcy petition in Miami Federal Bankruptcy Court, two days before the nine units were scheduled to…
Miami Beach apartments mired in ownership dispute slapped with $1M foreclosure
A pair of apartment buildings near Miami Beach's Lincoln Road that are mired in litigation over ownership were slapped with a $1.2 million foreclosure claim. Bay Harbor Islands-based private lender Metropolitan Mortgage Company, led by Milton Raijman, filed the foreclosure suit over the buildings at 1560 Drexel Avenue and 1568 Drexel Avenue against…
The pandemic's effects on nonstore and e-commerce retail sales : A temporary boost did not change the trend
The FRED Blog has discussed how the COVID-19 pandemic changed the sale volumes of different products, from groceries and alcohol to men's clothing, sporting goods, pharmacies and drug stores. The social distancing required to manage the pandemic also impacted how people shopped, boosting online sales. Today, we compare nonstore and e-commerce retail…
As Russians seek a haven for assets, access to U.S. real estate won't be easy
News reports from Russia this week show people lining up at ATMs and banks in a rush to withdraw cash as sanctions from Europe and the United States plunge the Russian Ruble to record lows. Some are now seeking to move their money overseas. An attorney who has worked with Russian buyers said many wealthy people — not oligarchs, but people…
Pinecrest retail building sells for $6M
The Lombardi family's real estate company sold a fully leased Pinecrest retail building for $5.8 million. Miami-based Lombardi Properties, through an affiliate, sold the one-story property at 12441 South Dixie Highway to Carbonell Property Management, managed by Javier and Claudia Carbonell, according to records. The buyers borrowed $3.7 million from…
North Miami apartments sold for $10M in 1031 exchange
Javier Cervera Jr.'s real estate company sold three North Miami apartment buildings for a combined $10.1 million, part of a 1031 exchange tied to its recent purchase of Tropical Park Plaza… Cervera… sold the two-story adjacent properties spanning 1.2 ac. at 1505 and 1525 Northeast 135th Street, as well as at 1530 Northeast 136th Street. The buyer…
Berkadia Arranges Acquisition Financing for 104,356 SF Office Property in Coral Gables
Berkadia has arranged acquisition financing for 2000 Ponce, an eight-story, 104,356-square-foot office property in downtown Coral Gables, about five miles from Miami. The seller was an undisclosed private family owner. Charles Foschini, Chris Apone and Robert Iudice of Berkadia's Miami office secured the undisclosed amount of financing on behalf of the…
More than half of workers back to the office in downtown Fort Lauderdale: report
Downtown Fort Lauderdale's return to the office is outpacing that of major markets such as New York, San Francisco and Austin, as well as the national average, a new report shows. From 50 percent to 55 percent of workers were back to working in the office in February in downtown Fort Lauderdale, a 10 percentage point…
Falcone Group, Kaufman Lynn win bid to develop $149M mixed-use project in Oakland Park
Oakland Park selected a partnership of Falcone Group and Kaufman Lynn Construction to redevelop 4 city-owned acres, plus 2 adjacent privately-owned acres, into a massive mixed-use project featuring a woonerf. The Oakland Park City Commission on Wednesday approved authorizing city staff to begin negotiations on a development agreement with Falcone…
Assisted living facility in Margate sells for $16M
A Margate assisted living facility traded hands for $16 million. Property records show an entity led by Yanir Shrmaryou, president of Livewell Senior Living, sold the facility at 5850 Margate Boulevard. The buyer is an entity led by Hector Fernandez who heads Miami-based Reign Senior Residences. Fernandez financed the purchase with a $12.9 million…
Boca Raton investor allegedly concealed $3M warehouse sale from minority partner: lawsuit
A Boca Raton-based real estate investor allegedly kept a minority partner in the dark about a $3.2 million warehouse deal to avoid sharing the sale proceeds, according to a recently filed lawsuit. The partner, 1112 Development, is suing Mark Spillane, who owns the commercial real estate firm The Eire Companies; real estate attorney Mitchell McRae…
Doubling down: Grover Corlew buys another office building in Boca Raton
Grover Corlew paid $25.2 million for a downtown Boca Raton office building adjacent to another commercial property the company acquired eight months ago. The Boca Raton-based commercial real estate firm, led by Mark Corlew and Anuj Grover, bought Palmetto Park City Center at 120 East Palmetto Park Road, according to a press release. Completed in 1996…
Eretzor Group buys West Palm Beach apartments for $6M
Boca Raton-based Eretzor Group bought West Palm Beach apartments for $6 million, marking an exponential price jump in eight months, as investors' appetite for South Florida multifamily projects continues unabated. Eretzor Group investment fund IV bought the 10-unit property at 2700 Broadway from a Boca Raton-based entity led by Rhahime Bell…