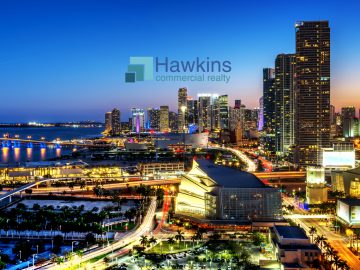 Developer Announces Plans For 111-Unit Visions At Brickell Station
Plans for a new condo-hotel have just been revealed in Brickell. Urban Network Capital Group said in a press release yesterday that it had acquired three parcels located at 1120, 1130 and 1136 SW 3rd Avenue in Miami for a combined $8.5M. The developer plans an 8-story condo-hotel called Visions at Brickell Station with 111 units. Unit sizes will range from 321 square feet studios…
More TOD: 247-Unit Merrick Parc Apartment Building Proposed At Metrorail Station
Plans were recently filed for yet another apartment building near the Douglas Road Metrorail station. The project was submitted with the name Merrick Parc Phase 1 (renderings show that there will be a second phase). Merrick Parc Phase 1 is planned to rise 20 stories, or 235 feet and include: 247 residential units and related amenities 9,485 square feet of commercial and office…
21-Story Condo Breaks Ground in North Bay Village with Design Showcasing 'Simplicity Of Japanese Living'
In North Bay Village 7918 West Drive, a 21-story condo tower, has broken ground. 7918 West Drive is planned to include 54 residential condo units, along with 15,224 square feet of common areas, 148 parking spaces and 34 storage units. Amenities will include a swimming pool, fitness center, elevated garden, club room and fully equipped Chef's kitchen. 7918 West Drive is said…
UDRB Unanimously Approves 54-Story Downtown 6th
A proposal to build a 54-story tower called Downtown 6th easily passed review by Miami's Urban Development Review Board. The UDRB vote to recommend approval was at its February 15 meeting unanimous. Two recommendations were given by the board to the designers of the tower: Evaluate the relationship between the historic building (church) across the street Simplify…
ANF Group Breaks Ground on 227-Unit Affordable Seniors Housing Community in Cutler Bay, Florida
General contractor ANF Group Inc has broken ground on Sol Vista, a 227-unit affordable seniors housing community in Cutler Bay, approximately 20 miles south of downtown Miami. MRK Partners and Cypress Equity Investments are co-developers on the project. The two companies are partnering with the Housing Finance Authority of Miami-Dade County, the Florida…
Jeffrey Soffer's Fontainebleau buys Story nightclub building
Jeffrey Soffer, who co-owns the Story nightclub with hospitality impresario David Grutman, bought the venue's South Beach building for $23 million. Soffer's Fontainebleau Development bought the 17,000-square-foot property at 124-136 Collins Avenue in Miami Beach from an entity managed by Patricia Kaine, according to records and real estate database Vizzda. The buyer financed…
Ryder System Sells Miami Headquarters, Will Select New Miami-Dade Location
Ryder System, Inc. announced it has sold its Miami headquarters campus, located at 11690 N.W. 105th Street, to Bridge Industrial, a privately-owned, vertically integrated real estate operating company and investment manager. The 16.8-acre property, which has housed Ryder's 248,989-square-foot headquarters office building since 2005, was sold for $42.1 million. "Like many…"
Logistics giant Ryder sells Miami-Dade HQ for $42M
Logistics giant Ryder System sold its Miami-Dade headquarters for $42.1 million, as it plans to move to a smaller office elsewhere in the county. In a sale-leaseback deal, Bridge Industrial bought the nearly 250,000-square-foot office building at 11690 Northwest 105th Street in an unincorporated area of northwest Miami-Dade County, and rented it out to the seller for a one-year term…
South Florida Based Talkin' Tacos to Expand Across Southeast
Talkin' Tacos, a food truck turned fast-casual Mexican eatery based in South Florida, announced its expansion of the popular concept's footprint throughout the Southeast. The brand has signed multi-unit franchise deals in Orlando, Tampa and Jacksonville with additional locations opening in New York. Two additional South Florida corporate locations are set to open in Coral Springs…
Constellation, Boschetti plan mixed-use project in North Beach
Constellation Group and Boschetti Group are planning to build a nine-story mixed-use project in the North Beach neighborhood of Miami Beach. The Miami Beach Design Review Board on Wednesday approved the joint venture's proposed mid-rise building at 6940 Abbott Avenue. Miami-based Constellation and Coral Gables-based Boschetti plan to demolish an existing one-story…
Brightline Hits Record 130 MPH, Orders 20 More Cars To Increase Capacity
Brightline is said to have broken the speed record for trains in the region while testing its new tracks to Orlando yesterday. Brightline trains operated at 130 mph during test runs yesterday, which a company representative told Fox 35 was a record speed for a train operating in the southeast U.S. The trains will normally operate at 125 mph on the segment, but rules call…
Tech Firm Kaseya Signs 101,000 SF Office Lease at Wells Fargo Center in Downtown Miami
Kaseya, an IT and security management software firm, has signed a new 101,000-square-foot office lease at Wells Fargo Center, a 47-story office tower located on the corner of Brickell Avenue and Biscayne Boulevard in downtown Miami. The firm has already begun to move into its new space, which represents the company's fourth office location. Ryan Holtzman…
Metropolitan Life Inks 101 KSF in Miami
Wells Fargo Center. Image courtesy of Cushman & Wakefield IT and security management software company Kaseya has signed a 101,000-square-foot lease at Metropolitan Life Insurance Co.'s Wells Fargo Center building in downtown Miami. Cushman & Wakefield brokered the lease agreement on behalf of both parties. The tenant has already initiated the move-in process…
County reverses decision to build new waste plant at Doral site of old one
As white-shirted Doral-area residents filled the front and center seats of the Miami-Dade County Commission chamber Tuesday to ask how the county planned to handle the Doral solid waste plant fire that started Super Bowl Sunday and smoldered more than a week, commissioners rescinded a decision to build a new solid waste plant at the same site. Former Doral mayor…
County courthouse nears apex, but completion date elusive
Twenty-two floors down, well, up really, and two to go. Well, technically, three to go on the new courthouse building. They're including a 25th floor that can accommodate four additional courtrooms in the future. Completion of the new Miami-Dade County Courthouse, tentatively, is scheduled for Jan. 24, 2024, according to Alex A. Alfonso, assistant director of the Miami-Dade…
Apartment sizes shrink nationally, but in Miami they grow
Although apartment sizes in the US are shrinking, Miami has come out as an exception, where apartments have gotten larger, adding an extra 105 square feet in the past 10 years, but current growth in the city might end the trend. According to a report by RentCafe, new apartment sizes in Miami have an average square footage of 912. Ten years ago, the average rental square…
Miami's Merrick Parc to rise near Gables' Merrick Park
The first phase of what will be dual mixed-use residential towers in Miami's southwest area has been presented to the city's Urban Development Review Board. The project, Merrick Parc, was recommended for approval by the board, with conditions. Developer Merrick Parc LLC presented Phase I, a 20-story building with 247 residential units, related amenities, 9,485 square…
Miami area apartment rental market strong and stable
Local real estate experts are still predicting the Miami residential rental market will remain strong but say it has stabilized. Overall, the market is still strong and it varies by submarket, said Johnny De La Espriella, senior vice president of operations for RKW Residential. "A couple of data points are that rents are not growing in the historical levels they were in 2021 and 2022…
Wynwood Plaza Breaks Ground: New Renderings, Expected Completion Announced
A formal groundbreaking ceremony was held March 3 for the 1-million-square-foot Wynwood Plaza. Construction has actually been underway at the site for some time, beginning shortly after the developers said they obtained $215 million in construction financing from Bank OZK in January. The Wynwood Plaza will include a residential building with 509 luxury rental apartments…
Ricardo Dunin, Edifica plan Domus Brickell Park condo-hotel
Oak Capital's Ricardo Dunin and Peruvian firm Edifica plan a condo-hotel development in Brickell, with a second site nearby under contract and more planned. North Development, a joint venture between Dunin and Edifica, is launching sales of Domus Brickell Park, a 12-story, 171-unit condo-hotel planned for 1611 Southwest Second Avenue, Dunin said. It would take about…
Urban Network plans Brickell condo-hotel
Urban Network Capital Group plans a 111-unit condo-hotel in Brickell, marking the firm's first project in South Florida. The eight-story Visions at Brickell Station will rise on 0.3 acres at 1120, 1130 and 1136 Southwest Third Avenue. Urban Network has the property under contract for $8.5 million, said Robert Thorne, founder and CEO of the Miami-based development firm.
L&L Holding, Oak Row Break Ground on 1 MSF Wynwood Project
L&L Holding Co. and Oak Row Equities have commenced construction on The Wynwood Plaza, a 1 million-square-foot mixed-use development in Miami. The companies have teamed up with co-investor Claure Group and project partner Shorenstein Properties to develop the campus, which is expected to be completed in 2025. The groundbreaking comes shortly…
1000 NW 57th Court or "1000 Sub Way." Image courtesy of Yardi Matrix Fast food chain Subway has opened a Miami office to act as a second headquarters alongside its counterpart in Connecticut. The new property's address at 1000 NW 57th Court will be known by the custom name 1000 Sub Way, a street name sanctioned by Miami-Dade County and situated within the…
"Generational real estate": Family office buys Wawa in Miami-Dade's Fontainebleau
Ferber Company sold a recently completed Wawa in Miami-Dade County's Fontainebleau neighborhood. Kit Realty, a New York-based family office managed by Diane Macari, paid $9.8 million for the gas station and convenience store at 7870 West Flagler Street, records and Vizzda show. Patrick Nutt with SRS Real Estate Partners listed the property on behalf of Ferber…
Developers Breaking Ground Soon On Two Additional 39-Story Towers At Metrorail Station
The developers of Link at Douglas announced that they are now moving forward with plans for the second and final phase of the project. 13th Floor Investments and Adler Group are partnering on the project. In a press release this week, the developers said they plan to break ground in late 2023. Miami-Dade records show that the second phase received planning approval last year.
Brightline's Tracks To Orlando Nearly Complete: Testing Begins At 125 MPH
Brightline has begun testing its brand new tracks, as it prepares to begin operations to Orlando. Test trains on the newly built tracks are running at 125 miles per hour, the company said. The new segment is around 35 miles, running from Cocoa to Orlando International Airport. The tracks are fenced off, with no public road or other grade crossings, allowing the high speeds.
Breaking down Florida's proposed affordable housing legislation
Florida's proposed affordable housing legislation, aimed at incentivizing developers with major tax breaks and hundreds of millions of dollars in funding, is advancing in the state legislature. Senate Bill 102, known as the "Live Local Act," and related legislation would be a boon for developers of attainable and workforce housing, real estate attorneys and developers say. 1.
JP Morgan: A Primer Historic Tax Credit certification
Through the federal Historic Preservation Tax Incentives program, commonly known as the Historic Tax Credit (HTC) program, real estate developers can transform buildings. The program can help convert office buildings and shuttered factories into apartments, or turn former hospitals into schools and community centers. A growing number of affordable housing projects…
Royal Senior Care Lands $27M for Luxury Senior Community in Davie
Oakmonte Village. Image courtesy of BHI Royal Senior Care has refinanced Oakmonte Village, a 199-unit luxury senior housing community in Davie, Fla., offering independent living, memory care and assisted living services. According to Broward County records, BHI Healthcare provided the $27 million loan; the financing pays off the outstanding balance of a $30 million note…
$13.9M Sale of Retail Center in Sunrise Brokered
Azor Advisory Services has brokered the $13.9 million sale of The Sawgrass Home Design Center, a retail center located at 13001-13191 W. Sunrise Blvd. in Sunrise, approximately 30 miles northwest of Miami in Broward County. The 45,000-square-foot property was 83 percent leased at the time of sale to tenants including DXL Casual Male, Bella Salon Suites, Lighting Outlet…
Topgolf to Anchor 223-Acre Mixed-Use Development in Pompano Beach
Topgolf is underway on the construction of a three-level venue located at the intersection of Powerline Boulevard and Race Track Road in Pompano Beach, roughly 35 miles north of Miami. Scheduled to open late this year, the new location will anchor Live! Pompano Beach, a 223-acre, mixed-use project currently being developed by The Cordish Cos. and Caesars Entertainment.
Related, BH Group submit plans for two-tower project near Diplomat resort
Related Group and BH Group's latest project entails building a pair of luxury high-rises adjacent to the Diplomat Beach Resort in Hollywood. The joint venture on Friday submitted a site plan application with the city of Hollywood to build a 38-story condominium with 350 units, and a 43-story condo-hotel with 500 units. The two-tower project would rise on a pair of vacant parcels…
Lynd Begins Construction on 401-Unit Luxury Apartment Community in Royal Palm, Florida
Lynd Development, a subsidiary of San Antonio-based Lynd Group, has broken ground on The Villas at Tuttle Royale, a 401-unit luxury apartment development in Royal Palm. Situated on the west side of South Florida's Palm Beach County, the property will feature 26 three-story, garden-style buildings and 55 townhomes. Lynd and partner Tuttle Land Investments recently…