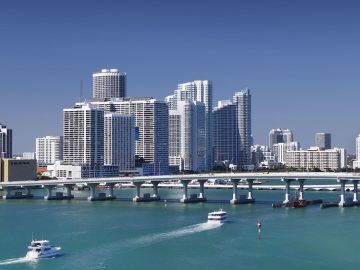 Hilton Hotel Replaces Spanish Brand at Downtown Miami Tower Along With $57M Refi
The ME by Meliá hotel in downtown Miami at 1100 Biscayne Boulevard has been replaced by the Hilton-branded Gabriel with help from a $57 million bridge loan. "We wanted to move toward a more competitive U.S. brand, and the biggest in the world are the Hilton and Marriott. Hilton just made the most sense," said Raoul Thomas, CEO and founder of the company that owns the commercial space at the…
Developer Begins Construction on Retail Project, Parking Garage at $4B Miami Worldcenter
Miami Worldcenter Associates has broken ground on a 50,000-square-foot retail project and a 922-space parking garage within its namesake development, the $4 billion Miami Worldcenter underway in the city's downtown area. The street-level retail space and new parking structure will front NE 7th Street and will ultimately be part of Miami Worldcenter's 300,000 square feet of retail, restaurant…
Miami Worldcenter to Get More Retail, Parking
The developers of Miami Worldcenter, the $4 billion mixed-use project that begun construction in 2016, have broken ground on a 50,000-square-foot, street-level retail property and a public garage of 922 parking spaces. The 27-acre site will feature residential, commercial and hospitality buildings as well as 300,000 square feet of retail, restaurant and entertainment space.
Video: CCIM Chief Economist KC Conway Discusses Strategic 2019 Real Estate Decisions ~ Part 2 of 2
CCIM Chief Economist KC Conway appears on America's Real Estate Show to discuss the state of the commercial real estate industry. In this episode he talks about the re-purposing of commercial property as commerce changes dramatically, and the importance of highest and best use analysis for owners. How does your real estate fit in the point of procurement vs. the point of sale. He notes that Walmart,,,
Fed holds interest rates steady amid housing market slowdown
The Federal Reserve said Wednesday that it will hold interest rates steady amid signs that the housing market is slowing down. The Fed will keep rates at 2.25 percent to 2.5 percent, stating the economy rose at a solid rate, but that inflation fell below its 2 percent target. The decision was expected after the Fed signaled in March that it would not raise rates for the rest of the year…
Chetrit shuts down oceanfront Miami Beach hotel for major renovation
The Chetrit Group's Miami Beach Resort is now closed for a major renovation of the oceanfront hotel. Kobi Karp, the architect for the Miami Beach Resort renovation, as well as the Collins Park project, said the Miami Beach Resort property is being completely renovated but declined to comment further. It closed within the last two weeks, according to sources. The 3-acre, 424-key hotel at 4833 Collins…
Dockerty Romer Arranges $53.1M Loan for Refinancing of Mixed-Use Asset in Miami's Coconut Grove
Dockerty Romer & Co. has arranged a $53.1 million permanent loan for the refinancing of Mayfair in the Grove, a three-story mixed-use asset in Miami's Coconut Grove neighborhood spanning 281,066 square feet. Situated adjacent to the Mayfair Hotel & Spa, the property features office and retail space spread across three buildings. Mayfair in the Grove was 94.1 percent leased at the time of financing…
Mayfair in the Grove Mixed-Use Complex Gets $53M Loan
Whalou Properties has received $53.1 million in permanent mortgage financing for Mayfair in the Grove, a 281,066-square-foot office and retail complex in the Coconut Grove neighborhood of Miami. Craig Romer and Chris Romer of Dockerty Romer & Co. arranged the financing through Guggenheim Partners. The three-building property at 3390 Mary Street, is currently 94.1 percent leased, with tenants…
Coral Gables seeks downsizing of five towers in Miami
Chalking up prior non-invitations to "an honest oversight," Coral Gables City Attorney Miriam Soler Ramos says the city still expects to talk about downsizing an immense planned project around a nearby Metrorail station with Miami-Dade commissioners "in the next month or so." "The last we heard from them… we had been told there would be an upcoming meeting," she said. "We want to go speak and…"
Naeem Khan plan for fashion studio, school under microscope
The Miami River Commission is expected to review a redesigned fashion studio and school on riverfront land owned by Miami-Dade County when it meets May 6. New York fashion designer Naeem Khan plans to build a studio for design and manufacture at a county-owned site at 1175 NW South River Drive under his long-term lease with Miami-Dade County. The project has evolved since first being…
Coral Gables public safety building a fast build
Construction is on schedule for Coral Gables' new public safety building, but plans for the art installation by the main entrance face months of delay. Construction on the public safety building continues on time for a debut in August 2020. "The contractor completed the concrete pour of the second floor slab last week," Assistant Public Works Director Ernesto Pino said by email. "They are currently…"
New trolley route deferred as consultants look
A plan to add a trolley route in the Liberty City neighborhood was deferred April 25 by Miami city commissioners for additional study and work on the proposal. Also, commissioners learned from the city manager's office that an outside consulting firm is currently conducting a route efficiency study on the popular trolley service. At its last meeting, commissioners had scheduled a resolution that if approved…
Bus terminal under casino giant's future hotel advances
The plan for a brand new bus terminal in the Omni neighborhood has taken another step forward as the City of Miami has accepted a final plat for the property. City commissioners on April 25 accepted the plat titled "Awana Forest," a replat of city property between Biscayne Boulevard and North Bayshore Drive. The city manager and city clerk are authorized to have the plat recorded in the county's…
Coconut Grove Playhouse center stage, but garage is the star
The fate of the idle Coconut Grove Playhouse is center stage next week at a Miami City Commission meeting, but city officials are considering building a garage there no matter what. Miami-Dade County plans to restore and redevelop the historic 3500 Main Highway site beside a garage lined with retail from the Miami Parking Authority. On April 25 the city commission was to hear the county's appeal…
Miller Construction Delivers $8.4M Self-Storage Facility Near Miami
Miller Construction Co. has delivered an $8.4 million, 993-unit CubeSmart facility in South Florida for the owner, Urban Storage Fund LLC. The building is situated at 19301 West Dixie Highway in Aventura, 19 miles north of downtown Miami. The two-story structure spans 107,429 square feet and offers 75 locker units. Units range in size from 25 to 300 square feet. The project team included architect WHA…
Baywalk funds flowing from Legislature
There could be some good news for Baywalk, the planned 5.7-mile pedestrian- and bicycle-friendly promenade that will hug Biscayne Bay and the Miami River. The Florida Legislature included $300,000 for the project in its 2019-2020 budget, said Elena Bondarenko, Downtown Development Authority team leader for government relations. "It's pretty great," she said. "It's now a matter of not getting vetoed" by…
Three's a charm? Michael Shvo, partners add to oceanfront assemblage in Miami Beach
Michael Shvo and his partners are planning to buy their third property, the South Seas Hotel, as they expand their oceanfront assemblage in Miami Beach, The Real Deal has learned. The partnership of SHVO, led by Shvo; Bilgili Holdings, led by Serdar Bilgili; and Deutsche Finance America, put the South Seas at 1751 Collins Avenue in South Beach under contract, according to sources. The 118-key property…
Moishe Mana is still picking up properties in downtown Miami. Here's the latest.
Developer Moishe Mana paid $2.3 million on a three-story building in downtown Miami, adding to the more than $350 million he's spent in the Flagler Street area. Mana is still "picking up the stray pieces that add to the critical mass" that he's assembled, and could spend a total of $400 million when he's done, said broker Mika Mattingly of Colliers International South Florida. Mattingly has worked on the…
Moishe Mana Is Still Buying Up Downtown Miami
There are a lot of companies and partnerships working to make downtown Miami a happening place, but standing out among them is a one-man force. Billionaire developer Moishe Mana, who since 2014 has spent $315M buying some 40 parcels in downtown Miami — about 1.65M SF of office and retail, and about 317K SF of land. Although Mana has admitted to some frustrations, another new…
Venezuela opposition leader spurs renewed interest among SoFla real estate investors amid turmoil
As Venezuela descended into economic turmoil in recent years, real estate values plummeted and investors looked elsewhere, including to South Florida. Eventually, that too dried up, as the government's grip tightened and the country grew more isolated. Now, as Venezuela's opposition leader vies for control amid a humanitarian crisis, some of those investors are turning their attention back to the…
Shiff Group sells apartment complex in Little River for $23M
A company tied to Shiff Group Holdings sold a 239-unit apartment complex in Miami's Little River neighborhood for $23.3 million as developers increasingly buy up properties in the area. Zvi Shiff, of Shiff Group Holdings, sold the 239-unit development at 1401 Northwest 103rd Street for about $97,489 per unit, records show. The buyer is a Delaware company, Newcastle Lake LLC. The Silver Blue Lake…
Related sues talent agency at former Auberge dev site for $66K in alleged unpaid rent
The Related Group sued a talent agency at an office building on the site of its scrapped Auberge Residences & Spa Miami for allegedly failing to pay rent. Related's PRH 1400 Biscayne Trustee LLC, as trustee for 1400 Biscayne Land Trust, filed a suit against Magma Talent Management LLC in Miami-Dade Circuit Court on April 1. On July 1, Magma entered into a lease for suite 304 at 1444 Biscayne…
Case Study Series: Benefits of Coral Gables Shared Parking Ordinance
Urban cities and developers alike are taking advantage of the modern utility and benefits of shared parking. Particularly in mixed-use projects, shared parking can deliver more affordable development, reduce construction waste, improve building aesthetics, and also reduce traffic. In the world of real estate development where solutions to housing affordability, massing aesthetics, and construction…
Back again: Michael Shvo, partners to buy oceanfront Richmond Hotel in South Beach
Developer Michael Shvo and his partners are bulking up in South Beach. The partnership is under contract to buy the oceanfront Richmond Hotel, marking the group's second purchase along Collins Avenue this year, sources told The Real Deal. In February, Shvo's New York-based SHVO, Bilgili Holdings and Deutsche Finance America paid Tommy Hilfiger and the Dogus Group $103 million for the…
South Florida by the numbers: Brazil is back
"South Florida by the numbers" is a web feature that catalogs the most notable, quirky and surprising real estate statistics. Parabens! After years of political and economic chaos, Brazil has made a splashy return to Miami's real estate radar in recent months. At one time a primary driver of Miami's boom cycle, South America's largest country fell into a deep recession in 2015 which, coupled with a strong…
Brazilians Are Leading Foreign Real Estate Investments in Miami
Brazil is the number one foreign country purchasing real estate in Miami, according to a report by the MIAMI Association of Realtors Commercial and the National Association of Realtors (NAR). According to the report, Brazilians were responsible for 12 percent of all foreign purchases in South Florida last year, followed by Colombians and Venezuelans (11 percent each), Argentinians and Canadians…
Transformative Mixed-Use Breaks Ground in Miami
Miami-based Coral Rock Development Group and Arena Capital Holdings broke ground on Pura Vida Hialeah, a mixed-use project in Miami. The nine-acre development at 2901-3099 W. 16th Avenue and 1571 W. 29th Street is set to be the first of its kind in Hialeah in more than 20 years. Plans call for three eight-story residential towers consisting of 260 apartment units, with one tower offering roughly…
Too many rooms at the inn? Q1 hotel occupancy falls in SoFla amid growing supply
South Florida hotels reported lower first-quarter occupancy rates, as thousands of new rooms hit the market. Still, total industry revenue edged slightly higher, according to hospitality industry monitor STR. STR data for South Florida shows that the tri-county area had about 4,400 more hotel rooms available in the first quarter than in the same period last year. The boost in supply comes amid growing…
Pier 1 Imports could close up to 15% of its stores in coming year
Add Pier 1 Imports to the list of retailers struggling to adapt to the rise of e-commerce. After posting a dramatic drop in sales in the fourth quarter, the home goods giant said it might close as many as 45 stores in the coming year, according to BisNow. Pier 1 reported comp-store sales in its final quarter as down nearly 14% year-over-year. The company has already closed 30 locations due to dwindling…
Terra founder Pedro Martin's former mistress files defamation suit; latest in ongoing feud
The former mistress of Terra chairman and founder Pedro Martin is suing him for defamation in an ongoing feud that two years ago saw Martin secure a temporary restraining order against her. Johanna Vibe Ener filed the suit on Tuesday from England — where she now lives after fleeing Miami three years ago — and is representing herself. She accuses the Miami developer of orchestrating an "elaborate…"
Scott Robins, partner restore Art Deco hotel near Faena District
Scott Robins and his business partner Rory Greenberg are in the final stretch of restoring and redeveloping the Greenbriar Hotel property in Mid-Miami Beach, near the Faena District. The partnership paid $14.5 million for the majority of the condo units that made up the Greenbriar at 3101 Indian Creek Drive. It was originally built in 1940 as a hotel, and later was converted to a condominium. Centennial…
Mixed-use project in downtown Miami Springs scores approval
The Miami Springs City Council approved plans for a nearly 100,000-square foot mixed-use project in the city's downtown. The Miami Springs Town Center, a joint venture between CIP Miami Springs and LV Lending, recently obtained site plan approval from the city to build the $12 million project, according to a release. The 1.5-acre property, at 1 Curtiss Parkway, is next to Circle Park and near a strip of…
"I love your concept, but I don't believe in it." TRD Shark Tank real estate judges take on UM grad proposals
A panel of real estate sharks that included Lennar Corp. COO Fred Rothman and Miami developer Lissette Calderon offered sage advice to a group of University of Miami graduate students pitching their real estate projects at The Real Deal's Shark Tank: Future Leaders of Real Estate Challenge. The sharks – Rothman, Calderon, developers David Arditi and Jay Massirman, and investor Richard…
South Florida construction starts fall in March
Construction starts continued to decline in South Florida in March, led by a big drop in new residential construction. Year-to-date, total construction has declined 40 percent, according to a recently released report by Dodge Data & Analytics. It's another indicator that South Florida's real estate market is slowing down due to high land and construction costs that are making building more expensive. In March…
Broker sues Avenues school over unpaid commissions for role in Miami location search
Cushman & Wakefield alleges Avenues: The World School owes the commercial brokerage $500,000 in unpaid commission for its role in finding the site for the private school's new Miami location. The brokerage alleges in a suit filed earlier this month in Miami-Dade Circuit Court that after it was contracted by Avenues in May 2018, it found the school a location on the former site of Archbishop Curley
South Florida Investment: Opportunity Zones Survey
With the issuance of the long-awaited Opportunity Zone regulations by the U.S. Department of the Treasury on April 17, 2019, real estate investors, owners, and operators in the State of Florida are anxious to seize the "opportunities" afforded by the Opportunity Zone program, which will offer participants significant tax benefits. While the Opportunity Zone program appears to hold a lot of promise…
Is Florida Running Out Of Mitigation Sites?
Florida developers have long depended on the state's mitigation banking system — through which they can build on wetlands so long as they offset their impact by paying for wetlands to be improved on another site using mitigation credits. But lately, builders have been told by some mitigation banks that no credits are available, potentially delaying projects for months or years. "It's a very easy system" when…