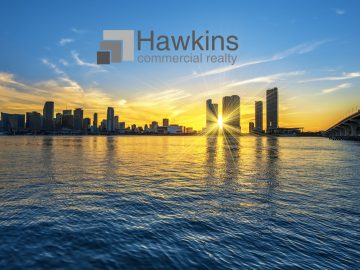 Vertical Cold Storage buys Medley freezer facility for $66M
A North Sioux City, South Dakota-based cold storage real estate firm breezed into South Florida's industrial market with a $66 million deal in Miami-Dade County. Vertical Cold Storage, led by President and CEO Curt Mastbergen, bought a 274,191-square-foot freezer facility at 11801 Northwest 102 Road in Medley, according to records. The deal worked…
Seagis doubles down in Medley, paying $24M for two industrial facilities
Seagis Property Group is developing a taste for Medley. The Conshohocken, Pennsylvania-based logistics firm picked up a pair of adjacent industrial facilities for $23.7 million… It's less than a month after purchasing a nearby trailer parking lot for $14.8 million. Seagis bought the property at 11100 Northwest 112th Court and the site at 10900 Northwest 138th Street…
Seagis Property Group Completes Acquisition Of Two Prime Industrial Real Estate Properties In Medley
Seagis Property Group LP ("Seagis"), one of South Florida's most active industrial real estate investors and owners, closed on a two-property industrial real estate portfolio located in Medley. Both properties were sold by Cemex USA, a global building materials company. Located at 10900 NW 138th Street, the first property is a seven-acre site, home to…
Tri-Rail says trains will be in downtown Miami by November
In a more optimistic presentation to the Citizens' Independent Transportation Trust, Steven Abrams, executive director of the South Florida Regional Transportation Authority, reassured members that the Tri-Rail trains the authority oversees are going to roll into the downtown Miami station in November. "We do anticipate commencement…
Miami Gardens deals for logistics complex
As part of sale plans for 13 City of Miami Gardens-owned properties, city staff is seeking a sale-leaseback agreement with Ambrose Property Group to construct the Miami Gardens Logistics Complex. Following a request for proposals, a project would be developed at 1020 NW 163rd Drive and 1050 NW 163rd Drive, along with a parking lot separating the two properties.
October contract expected for a Miami International Airport hotel
The county has extended the second phase of a request for proposals to build a 4-star, 350-key hotel at Miami International Airport until May 25 at bidders' request. "The county considered the requests reasonable," an Aviation Department spokesperson emailed to the newspaper. The second phase is to be followed by the contract award, which is now anticipated…
Office buildings on Miami Beach-owned parking lots advance
As the City of Miami Beach has worked to diversity its economy and growth to reduce dependence on tourism, two major Class A office space developments in Lincoln Lane have been approved to continue contract negotiations with the city administration. The commission approved the land use amendments and term agreements for both projects on what…
Waldorf Astoria name sells residences in 100-story tower
Sales at what will be the tallest residential building south of New York City – Waldorf Astoria Residences Miami – continue to grow at a healthy rate. The 100-story assemblage of glass boxes in downtown Miami is the product of a partnership between New York and Miami-based developer PMG, Toronto-based private equity firm Greybrook Realty Partners and global…
Shoma details residences at Deel Volvo site
Miami-based developer Shoma Group has purchased a 2.5-acre site at 3650 Bird Road, currently home to Deel Volvo, near Coral Gables for $34 million. The property is to become the site for a mixed-use residential project called Shoma One, with 391 apartments and a Shoma Bazaar food hall. The development is expected to cost $220 million to construct, with…
Developers Unveil Plans For The Gardens at Lincoln Lane, Designed By Brandon Haw
Miami Beach commissioners voted last week to move forward with several mixed-use developments to replace surface parking lots serving Lincoln Road in South Beach. One of the development teams also revealed more details of the project they plan to build, to be called The Gardens at Lincoln Lane. The Gardens at Lincoln Lane will be developed by a joint…
Third time's a charm? Hyatt and Gencom unveil new plan for hotel, apartments on James Knight Miami River site
Hyatt Hotels' stalled plan to redevelop its downtown Miami River site and adjacent James L. Knight Center is back. Hyatt and Coconut Grove-based Gencom are partnering on a new proposal for three towers with a 615-key hotel and more than 1,500 apartments, and are seeking an extension of Hyatt's ground lease for the city-owned property, according to the…
Scale Model Of Major Supertall Tower Planned In Brickell: Planning Comments Released
Developer JDS has released a photo of a scale model of their Major supertall tower planned on Brickell Avenue. The 82-story, 1,049-foot project also continues to move through the approval process with Miami-Dade planners. On April 14, Miami-Dade planners released comments to the initial design, with a request for: Wider sidewalks; More landscaping…
Chicago developer buys four waterfront Bay Harbor Islands dev sites for $23M
Regency Development Group is diving into booming Bay Harbor Islands, paying a combined $22.5 million for four waterfront development sites. In the largest of the deals, an entity with ties to Chicago-based Regency, led by Igor Michin and Alex Troyanovsky, acquired two adjacent properties totaling nearly an acre at 9927 and 9955 East Bay Harbor Drive…
Prologis offers $24B for Duke Realty in industrial megadeal
Prologis has proposed to buy Duke Realty for $24 billion in an all-stock deal that would add about 160 million square feet to its industrial real estate portfolio. The San Francisco-based logistics specialist offered to buy the REIT for $61.68 per Duke Realty share, Prologis announced on Tuesday. Yesterday, Duke Realty's share price closed at $47.71. Shares of…
Schulman Properties Lands Equity Financing for Self Storage Project
Schulman Properties has obtained $8.7 million in joint venture equity financing for Dixie Self Storage, a 1,068-unit self storage facility underway in North Miami Beach, Fla. An opportunity zone fund entered the 10-year partnership arranged by Northmarq. In July, the developer acquired the 1.37-acre site for $5.3 million, with the assistance of Lee & Associates.
"WeCrashed" offers few heroes but plenty of reflections for real estate
A V-neck? For a meeting? With an investor? Oh, Adam Neumann. You sweet summer child. Whether comedy or drama, some of the best television centered around the workplace takes a deeper look at the spirit of the times. Behind the three-martini lunches, "Mad Men" showed us ugly truths about American society in the 1960s. "Silicon Valley" satirized tech…
Starwood Capital JV Plans $116M Miami Mixed-Use Project
Miami Beach's Lincoln Road District is primed for a transformation now that the City Commission is preparing to vote this summer on the approval of Lincoln Road Property Owner LP's proposal for The Gardens at Lincoln Lane, an approximately 155,000-square-foot mixed-use development. Lincoln Road Property Owner—a joint venture spearheaded by an…
$57M double play: JV acquires two downtown Miami office buildings
Triple Double Real Estate and Stonerock Capital Partners paid $56.7 million for two office buildings in downtown Miami. The joint venture acquired a 12-story building with a data center and ground-floor retail at 200 Southeast First Street, as well as a 26-story building anchored by First Horizon Bank at 44 West Flagler Street near the Miami…
$56.7M Sale of Two Office Buildings in Downtown Miami Brokered
A partnership between Triple Double Real Estate and Stonerock Capital Partners purchased the portfolio from an undisclosed seller. Mike Davis, Dominic Montazemi, Miguel Alcivar, Adam Spies, Rick Brugge and Rick Colon of Cushman & Wakefield represented both parties in the transaction. The properties include a 12-story building at 200 S.E. 1st St. and a…
Office space up for sublease back on the rise
The office sublease surge showed signs of abating late last year as companies juggled hybrid work plans and signed for space, but the rise in nationwide availability was back on in the first quarter of 2021. Sublease available rose 3.6 percent to 159 million square feet across the country, according to CBRE data reported by the Wall Street Journal. The…
Abbhi Capital, Peter Gardner pay $19M for Coconut Grove apartments dev site
Abbhi Capital is betting on multifamily in an Opportunity Zone in Miami's Coconut Grove, paying $18.8 million for a development site that spans a full city block. Abbhi and investor Peter Gardner, through an affiliate, bought 2.4 acres in an Opportunity Zone on the southeast corner of Grand Avenue and Plaza Street. The seller is GV Bimini, managed by Gardner and…
Lease roundup: Gateway at Wynwood, Goodtime Hotel score tenants
OpenStore, Baseline, Daliyah and Mizu Rooftop Garden I The Gateway at Wynwood Tech e-commerce firm OpenStore has more than doubled its office space at The Gateway at Wynwood four months after first relocating to the office building. The 13-story property, at 2916 North Miami Avenue in Miami's Wynwood neighborhood, also scored two new tenants.
Kushner to co-develop multifamily project south of Hard Rock Stadium
Gilbert Benhamou, Charlie Kushner, Laurent Morali and Nicole Kushner Meyer with 19199 Northwest 27th Avenue: Kushner Companies is diving into Miami Gardens real estate, The Real Deal has learned. Sources told TRD that New York-based Kushner is now a 50-50 partner on the multifamily component of Immocorp Capital's planned mixed-use development…
Jobs report shows more workers returning to office
Hiring at restaurants, bars and hotels slowed in April, falling about 20 percent from March, according to government figures released Friday. Still, leisure and hospitality, the industry most affected by the pandemic, hired more workers than any other last month as the overall economy added a robust 428,000 new jobs. The unemployment rate remained…
Moishe Mana pays $16M for commercial assemblage in Allapattah
Moishe Mana fattened up his Allapattah portfolio with a $16 million acquisition of properties. The parcels include Las Rosas bar and lounge at 2898 Northwest Seventh Avenue, four retail buildings at 2800, 2820, 2840 and 2850 Northwest Seventh Avenue and a former grocery market at 728 Northwest 29th Street. The four other properties are a single-family…
Shoma pays $34M for Miami apartment towers dev site
Masoud Shojaee's Shoma Group paid $34 million for a Miami auto dealership, with plans to redevelop it into a pair of apartment towers. Shoma bought the 2.5-acre property at 3650 Bird Road, steps from a Metrorail stop, from an affiliate of Deel Volvo, the dealership currently on the site, records show. Michael Fay of Avison Young represented…
The fall and rise of Marc Roberts, Miami nightclub and condo impresario
From the second floor VIP lounge of E11even nightclub in downtown Miami, Marc Roberts gazed down at a parking lot he bought in the city's Park West neighborhood. It was late in the afternoon on a recent Thursday, hours before hordes of YOLO partygoers were set to pack Roberts' lucrative nightlife venue for an early start to the weekend. "I don't do any other…"
Vive la Miami: French developer acquires Edgewater site for $15M for first U.S. project
In two deals totaling $14.8 million… PR Group Florida, a subsidiary of the French development company led by Christophe Petit and Julien Ridon, paid $13.1 million for an assemblage in the city's booming Edgewater neighborhood… included a low-rise apartment complex and three houses that were combined into one parcel at 423 Northeast 27th Street.
Sunstone puts The Confidante Miami Beach under contract for $232M
California-based Sunstone Hotel Investors put The Confidante Miami Beach under contract for $232 million, marking the real estate investment trust's debut in South Florida. Sunstone agreed to buy the 339-key oceanfront hotel at 4401 Collins Avenue from an affiliate of Hyatt Hotels Corporation, according to the buyer's news release. The deal is expected to close…
Land of development opportunity: Builders bet on south Miami-Dade
The South Dade Logistics & Technology District, a largely industrial complex with some offices and retail proposed for 800 acres outside the Urban Development Boundary in south Miami-Dade County: Miami real estate development duo Jose Hevia and Stephen Blumenthal are not afraid of taking risks, let alone catching heat. While developers' proposals…
Class A Distribution Building In Medley Trades
Medley 104 Industrial Center, a 263,188-square-foot Class A distribution building in Medley, to an Ares Management Fund. CBRE represented the seller, Dallas-based Lincoln Property Company. The terms of the transaction were not disclosed. Located at 9400 NW 104th Street, the building is fully leased to three tenants: USPLY, PGT Industries, and Artefacto. It features…
Surfside investor completes $34M Hollywood bulk condo purchase
A Surfside-based real estate investment firm completed a $33.9 million bulk condo purchase in Hollywood. An affiliate of Infinity BH Corp., led by Ighal Goldfarb, acquired 160 condos at the 192-unit Luna at Hollywood at 3600 Van Buren Street, according to records. Infinity BH paid $212,000 per unit and obtained a $22 million mortgage from First Republic Bank.
Yamato Office Center in Boca Raton trades for $46M
The Yamato Office Center in Boca Raton traded for $45.9 million. A joint venture of MHCommercial Real Estate Fund II and an unidentified New York-based institutional real estate fund bought the two-building complex at 999 and 1001 Yamato Road from Adler Real Estate Partners, according to a news release from MHCommercial Real Estate. This is…
Pebb, Banyan sell Wawa-leased building at Mainstreet at Boynton
An aerial of the Mainstreet at Boynton with Banyan Development principal Jason Sher and Pebb Enterprises CEO Ian Weiner (LinkedIn, Pebb Enterprises, Aerial via Andy Traficante – Atlantic Aerial Imaging) Pebb Enterprises and Banyan Development sold the Wawa-leased outparcel at their Mainstreet at Boynton mixed-use project for $9.5 million. The…
Pebb, Banyan pay $37.5M for Research Park at FAU in Boca Raton
Pebb Enterprises and Banyan Development picked up Florida Atlantic University's tech and innovation-focused Research Park in Boca Raton for $37.5 million. The joint venture bought the seven-building office portfolio at 3600-3998 FAU Boulevard, although the deal was for the long-term ground leasehold interest, according to…
Starwood, Hyperion and Winter Properties score $96M construction loan for West Palm mixed-use project
The project at 201 Clearwater Drive in West Palm Beach, Starwood Capital CEO Barry Sternlicht, Hyperion Group CEO Rob Vecsler and Winter Properties co-CEO David Winter: A joint venture among Starwood Capital Group, Hyperion Group and Winter Properties is charging ahead with a downtown West Palm Beach mixed-use project after securing a $96.4…
Ex-Neiman Marcus building on Palm Beach's Worth Avenue trades for $78M
The ex-Neiman Marcus building along Palm Beach's ritzy Worth Avenue traded for $78 million. Jeffrey Camp, through an affiliate, bought the three-story property at 151 Worth Avenue from an entity tied to New York-based O'Connor Capital Partners, according to a deed. Camp purchased the building through a Delaware-registered limited liability company…
Centaur scores $170M financing package for residential golf community at Avenir
Kyle Asher, managing director, Monroe Capital and Lotus Capital managing partner Faisal Ashraf along with a rendering of Panther National in Palm Beach County: The developer of Panther National, a planned single-family home community with a Jack Nicklaus-designed golf course in the Avenir development in Palm Beach County, secured a $170 million financing…
Pantzer pays $78M for West Palm Beach apartment complex
With its recent purchase of a Palm Beach County apartment complex, Pantzer Properties has dropped $145 million — in a one-month span — on two recently completed multifamily projects. An entity managed by Jordan and Jason Pantzer, co-CEOs of the New York-based multifamily investment firm, paid $78 million for The District Flats, a 178-unit apartment…
Woodmont beefs up Palm Beach Park of Commerce portfolio with $21M warehouse deal
Four months after acquiring a massive development site at Palm Beach Park of Commerce, Woodmont Industrial Partners paid the same seller $21 million for a recently completed warehouse nearby. An affiliate managed by Eric Witmondt, CEO of the Fairfield, New Jersey-based commercial real estate firm, bought the 212,000-square-foot facility at 15501 Park of…