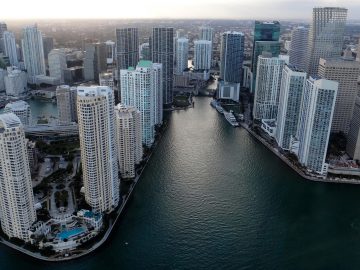 636-Unit Self-Storage Property in Miami Trades
JLL has arranged the sale of 21st Century Self Storage, a 636-unit facility in Miami. The 37,242-square-foot asset features climate-controlled units and 26 parking spaces. The building was originally constructed in the 1950s and was converted to self-storage in 2003. The building is located at 200 NW 79th Street eight miles north of downtown Miami. Steve Mellon…
Compass Self Storage Expands Miami Footprint
Self storage company 21st Century has finalized the disposition of a 37,242-square-foot property in Miami. Amsdell Cos., operating under its Compass Self Storage brand, acquired the property for $7.2 million, according to Yardi Matrix. JLL Capital Markets negotiated the transaction on behalf of the seller. As part of the deal, the new owner assumed an existing $5.2…
Miami Developers Tweaking Plans To Include Less Retail, Bigger Offices
Businesses and individuals have started to see some relief to get them through the coronavirus, but "there's only so much the government can do," said Deco Capital founder Bradley Colmer during a Bisnow webinar Wednesday. "There's going to be sectors that are going to be [an] absolute bloodbath." "Thankfully, we sold some of our retail holdings," Colmer…
Hotel occupancy inches up in major US cities
It may not be saying much, but hotel fundamentals are up in some major U.S. cities. Overall, hotel occupancy in the U.S. has been improving since early April and last week hit 30.1 percent, up from 28.6 percent the week prior, according to the latest data from STR. STR's Jan Freitag said that Transportation Security Administration checkpoint counts show that…
Report: Industrial Looks Like a Smart Play in the Current Environment
As national stay-at-home orders have shifted much of the economy toward a delivery model, the negative implications have been broadly felt, extending in the commercial real estate arena. However, Marcus & Millichap says industrial appears to be an exception to the rule. "Offices, restaurants, hotels and most other retailers have been forced to close…
Wynwood Site Claimed, Mixed Use Development Envisioned
A former medical manufacturing facility on a combined 2.27-acre assemblage in Miami's vibrant Wynwood Arts District traded hands for $18.5 million… T6-8 and allows for higher density mixed-use development. The… sites included in the sale are at 2141–2127–2115 N Miami Avenue, 2150–2160 N Miami Avenue, 38 NW 22nd Street, and 2155 NW Miami Court.
Related Group pays $19M for Wynwood development site
The Related Group closed on a development site in Wynwood for $18.5 million. PRH Investments LLC, an affiliate of Miami-based Related, acquired a 2.27-acre assemblage of land at North Miami Avenue and Northwest 22nd Street, according to a press release from Cushman & Wakefield. The site is zoned T6-8, which allows for eight stories of mixed-use development.
Miami-Dade outlines proposed reopening plan to start Monday, but it's far from a return to normal
Miami-Dade County Mayor Carlos Gimenez released a 184-page guide for reopening, with the first businesses opening their doors on Monday, pending approval from the governor's office. The color-coded guide outlines proposed rules for retail, office buildings, shopping centers, trade and logistics, restaurants and hotels, as well as other businesses. The county's…
Turbulence ahead as Covid-19 stimulus aid keeps rents afloat in SoFla CRE
Stimulus aid to small businesses has kept commercial landlords afloat since the coronavirus pandemic shut down most aspects of everyday life in South Florida. Yet, the future landscape remains uncertain amid an impending recession, according to brokers, bankers and lawyers. "So much stimulus money is backing up tenants," said Lloyd Berger, president of Fort…
Miami's Trendy Wynwood District Thrives On Small Business. How Can It Survive Coronavirus?
Daniel Levine stepped outside of his Wynwood ice cream shop, Dasher & Crank, this week to look at the neighborhood. "It's an absolute ghost town," he said. "I don't see a single person around." Sweet Spot, a candy shop that had opened just a few months ago, was gone. There was brown paper covering the windows at Laid Fresh. A gelato place was dark, as was every…
Rieber Developments Breaks Ground on 10-Story Mixed-Use Project in Aventura
Rieber Developments has broken ground on 12|12 Aventura, a 10-story mixed-use project featuring medical office, luxury senior residences and a food hall. The property is situated in Aventura, approximately 20 miles north of Miami. Arquitectonica designed the development, which will include a 30,000-square-foot gourmet marketplace and food hall, 25,000…
Project in Aventura Health District Breaks Ground During Pandemic
The developer of a 10-story mixed-use project in Aventura is breaking ground despite the coronavirus pandemic. 12|12 Aventura will include a 30K SF food hall, 25K SF of mostly medical offices and 160 luxury residential units for seniors. The offices are broken into 30 condos, 40% of which are already sold, developer Rieber Developments said. The…
Triarch Capital scores $35M refinancing for One Turnberry Place
Triarch Capital Group scored a $35 million loan to refinance One Turnberry Place in Aventura. Triarch Capital secured the loan for the office building at 19495 Biscayne Boulevard, in front of Aventura Mall from Nationwide Life Insurance, according to a spokesperson for CBRE. CBRE's Paul Ahmed and Mackenzie Fry represented Triarch Capital Group in the deal, according to…
Here's when Miami Beach is proposing to reopen non-essential businesses
The city of Miami Beach is proposing to allow non-essential businesses to reopen on Wednesday, May 20, two days after Miami-Dade County is considering entering the first phase of reopening. In the proposed phase 1A, 761 Miami Beach businesses could reopen in one week. That would include 602 retail stores, 18 museums, and 141 hair and nail salons and barber…
Small landlords call for rent relief package, fearing Wall Street takeover
Small landlords, such as Jan Lee, a New York landlord who owns two buildings, say Wall Street players will take their place unless rent relief comes soon. Calls for the government to bail out the rental housing market are getting louder, and they're not just coming from tenants. As financial…
PortMiami working to redrawn agreements with multi-billion impact
Two months after cruise lines ceased operations worldwide, the "Cruise Capital of the World" and its industry partners are in talks to redraw details in their long-term agreements to adjust to post-coronavirus expectations. How those talks will affect four massive terminal deals PortMiami struck with Carnival Cruise Line, MSC Cruises, Norwegian Cruise Line and…
Coconut Grove Playhouse case heads to June hearing
The future of the Coconut Grove Playhouse remains in the hands of the Appellate Division of the 11th Judicial Circuit Court with a hearing set for June 16 – if the pandemic permits. With building permits and drawings set to begin construction at the playhouse property at 3500 Main Hwy., Miami-Dade County Department of Cultural Affairs Director Michael Spring…
Rolando Aedo: Preparing new Miami Shines campaign to rebuild tourism
South Florida was still reeling from Hurricane Andrew when Rolando Aedo began working with the Greater Miami Convention & Visitors Bureau, the region's nonprofit promotional arm for hospitality and tourism. His role, developing a recovery marketing campaign to reattract interest here, was meant to be temporary. Twenty-six years later, he's served in several…
Miami-Dade, Broward reopening expected May 18
Broward County is expected to start reopening May 18, along with Miami-Dade County, according to multiple news reports. Broward Mayor Dale Holness had a conference call on Monday with city mayors and there seemed to be consensus that May 18 would be targeted. "The sentiment is that, whether or not Miami goes on the 18th, we will go on the 18th…"
Mall free fall: Macerich collects just 26% of April rent payments
We know it is a bad time to own malls, but retail landlord Macerich's Tuesday earnings call highlighted how dire matters are. Tom O'Hern, CEO of the Santa Monica retail real estate investment trust, reported that the company "collected about 26 percent of rent" from tenants at the 47 shopping centers Macerich owns throughout the country, malls replete…
WATCH: Sandeep Mathrani says WeWork paid 80% of its rent
As WeWork makes headlines for rental woes, disputes with members and co-founder Adam Neumann's SoftBank feud, Sandeep Mathrani sought to assuage concerns in his first TV appearance since becoming CEO. The office-space giant paid rent at 80 percent of its locations in April and May and collected rent from 70 percent of its members, Mathrani said on CNBC's…
North Miami Beach apartment project nabs $71M refinancing
A development group led by Eden Multifamily scored $71.3 million in refinancing for an apartment building in North Miami Beach. North MB Owner, consisting of Eden Multifamily, Florida Value Partners, and Hunt Companies, secured the loan for the 356-unit Lazul Apartments at 2145 Northeast 164th Street. Hunt Real Estate Capital provided the financing…
Hunt Real Estate Capital Provides $71.3M Refinancing Loan for New Multifamily Property in Metro Miami
Hunt Real Estate Capital has provided a $71.3 million Freddie Mac refinancing loan for Lazul Apartments, a 365-unit multifamily community in North Miami Beach. The 11-year, nonrecourse loan features a fixed interest rate in the 3 to 3.5 percent range, a 30-year amortization schedule and interest-only payments for the full term. The borrower, a limited…
Hunt Real Estate Capital Provides $71M Refi for Miami Beach Rental Property
A joint venture partnership between EDEN Multifamily, Hunt Companies and Florida Value Partners has nabbed $71.3 million in Freddie Mac-backed debt from Hunt Real Estate Capital to refinance the Lazul Apartments in North Miami Beach, Fla., according to information released by Hunt. The 11-year, fixed-rate and interest-only loan from Freddie's pre-stabilization…
JV Secures $71M Refi for Miami Beach Property
A partnership including borrower North MB Owner LLC, EDEN Multifamily, Hunt Cos. Inc. and Florida Value Partners has secured a $71.3 million Freddie Mac conventional loan via the pre-stabilization program, for Lazul Apartments, a Class A, 356-unit, mid-rise community in North Miami Beach, Fla. The LLC arranged for modified zoning to allow retail to become…
Simon says malls will reopen but some states say otherwise
Simon Property Group's plan to reopen several dozen malls across the U.S. has not gone as smoothly as expected. While more than three dozen states have partially reopened to business — or will be soon — some cities within those states remain under quarantine. Simon has postponed the opening of at least seven malls in New…
Developer of Aman-branded towers in Miami Beach scores $35M loan
Billionaire Len Blavatnik's Access Industries closed on a loan for the first Aman-branded development in South Florida. The developer, 3425 Collins LLC, secured $34.8 million in financing from Bank OZK for the site of the former Versailles Hotel in Miami Beach, property records show. Blavatnik and fellow billionaire Vlad Doronin plan to build a two-tower hotel and…
Does COVID-18 Provide an Excuse for Non-Performance of a Contract?
The question of almost every party to a contract that remains to be fully performed is whether Covid-19 is an act of God that will excuse performance by the party who has yet to complete performance. The starting point in any such inquiry is the written agreement between the parties-assuming there is a written agreement. If there is no written…
Jimmy Resnick sells Alton Road retail building for $9 million
Miami Beach investor Jimmy Resnick sold a retail building on Alton Road for $9.25 million. Hibiscus Alton Inc. sold the 16,441-square-foot building at 955 Alton Road in South Beach to 955 Alton Road MIA LLC, property records show. The building was previously home to Coco Bambu, a Brazilian seafood restaurant that closed more than a year ago. Resnick bought…
WeWork's rental woes slam CMBS market
WeWork's efforts to renegotiate several of its leases and skip rent payments is causing the price of bonds backed by payments from the company to plummet. Many WeWork tenants have requested rent relief or the termination of their contracts since the onset of the coronavirus pandemic, which has hurt the commercial mortgage-backed securities that rely on…
Coronavirus could set back the pro-density movement
The movement toward dense, transit-adjacent development picked up steam over the last few years, but the coronavirus pandemic might prove to be a big setback. The pandemic has forced a quick national pivot toward telecommuting, which some think could undercut the utility of living near transit, according to the New York Times. If you don't need to go into…
Bars and music venues across America worry they'll never reopen
The coronavirus pandemic has forced scores of small bars and clubs across the country to shut their doors and some owners fear they won't open back up. Entertainment operators, both corporate-backed large companies like Live Nation and small independent proprietors, are feeling the crunch of the coronavirus pandemic. But many smaller outfits don't have the…
Will insurers cover coronavirus-related business losses? We may soon find out
CNA Financial CEO Dino Robusto A business insurer's position that it isn't required to cover coronavirus-related losses is set to face a legal litmus test. A Las Vegas-based company with a CNA Financial's subsidiary's policy filed a class-action lawsuit against the company in a Chicago federal court on Monday, according to Crain's. The company, Vegas Image, owns a…
Brookfield Property's Q1 losses come as retail tenants miss payments
Brookfield Property Partners is now negotiating with 2,400 of its retail tenants across the country who have been unable to come up with the rent. That inability to pay has cut deeply into Brookfield's bottom line. Its first quarter was dismal. The real estate wing of the Canadian giant Brookfield Asset Management had a net loss of $373 million from January through…
What April's record-high unemployment means for real estate
Following an unprecedented 20.5 million drop in payroll last month, the April unemployment rate reached a record 14.7 percent, the U.S. Bureau of Labor Statistics reported Friday. That figure is the highest unemployment percentage on record, since seasonally adjusted data became available in 1948. The unemployment rate is estimated to have reached about 25…
"Unlawful" and "hypocritical": WeWork members threaten legal action over fees
A group of WeWork members is threatening the co-working giant with legal action if it continues to collect fees even though the coronavirus has prevented them from using the space. In a letter to WeWork's general counsel on Thursday, an attorney for the members said WeWork's collection of fees was "unlawful" because state and local authorities have directed…
Virus will leave lasting impact on retailers and their landlords, industry pros say
The near-total shutdown of New York City shops and restaurants during the coronavirus crisis will likely be felt for years to come in the retail real estate world. In the short-term, landlords and tenants will have to come up with creative solutions to help commercial tenants back on their feet, according to some of the city's top retail brokers who discussed the state of the…
Gov. DeSantis discussing next steps for South Florida
Gov. Ron DeSantis is in discussions with South Florida officials about the next step for the three counties, which were left out of the first phase of statewide reopening. At a press conference on Wednesday, the governor said officials were monitoring an easing last week that saw parks, marinas and golf courses reopen—"they want to see how that's going." There has…
After submitting a winning bid in bankruptcy court, investor Moishe Mana has closed on the $16.5 million sale of two McArthur dairy sites, including prime property in Little Haiti. The McArthur Dairy plant in Little Haiti Mana plans to build and expand the McArthur brand to have both dairy and non-dairy milk products, saving the company from total liquidation…
Russell Galbut's Crescent Heights wants a rooftop movie theater at 1212 Lincoln project
Rendering of Rooftop Cinema Club at 1212 Lincoln and Russell Galbut Russell Galbut's Crescent Heights wants to open an outdoor rooftop movie theater at its 1212 Lincoln Road project on Alton Road in Miami Beach. Miami Beach's Land Use and Sustainability Committee on Wednesday moved to have the Miami Beach City Commission vote on a proposal…
What Sam Zell is offering renters to keep occupancy rates high
Sam Zell's Equity Residential had a collection rate of about 97 percent for April despite widespread concerns that tenants would be unable or unwilling to pay their rent amid the pandemic, the company reported on its first quarter earnings call. Equity Residential held its call on Wednesday morning, and CEO Mark Parrell maintained that the company was…
Florida restarts plans for bridge at FIU, two years after deadly collapse
The Florida Department of Transportation will begin the design process for a pedestrian bridge at Florida International University, more than two years after the bridge's fatal collapse. FDOT announced it would manage and oversee the new project for the intersection at Southwest Eighth Street and Southwest 109th Avenue in Sweetwater, connecting the city to FIU's…
Resort-town hotels bounce back in reopening states, providing industry with hope of a return
Hotels bounced back last week at tourist destinations in states like Florida and Texas which have begun reopening — a sign that the industry could rebound once more states relax pandemic restrictions. Texas cities like Galveston and Corpus Christie led the boost in occupancy last week, alongside Florida destinations…
Even Sam Zell isn't ready to dance on graves
The investor has made a fortune playing the distressed game. But even he's on the sidelines for now. When the markets begin to melt, people usually look to see what Sam Zell is up to. The billionaire real estate investor made his fortune and reputation by acquiring distressed assets on the cheap and disposing of properties at the zenith of the market. He sold Blackstone…
The days of long-term retail leases may be over
As retailers and other businesses seek relief from landlords, one potential long-term fix to rent woes is on the horizon. Michael Phillips, who leads real estate investment manager Jamestown, told the Wall Street Journal that the days of reliance on standard long-term leases with fixed payments in retail are done.
Welcome back to your post-corona office. You probably won't recognize it
Thermal cameras, bacteria-fighting HVAC systems and contactless coffee machines. Welcome back to the office – you may not recognize it. As New Yorkers gear up to go back to work, landlords are scrambling to cater to a totally different set of priorities. Over the past few years, office spaces have been designed to maximize social interaction. Now, however, minimizing…
Neiman Marcus Files For 'Prepack' Bankruptcy, Joining J Crew
Just three days ago, we reported that Neiman Marcus – aka "Needless Markups" – was on the cusp of striking a deal with creditors for financing that would help tide it over through bankruptcy. Well, it looks like the big day has finally arrived. Bloomberg reports that Neiman Marcus Group has officially entered into a Restructuring Support Agreement with a…
Hotels Are Being Impacted by COVID-19. What Can Owners and Lenders Do to Limit the Fallout?
COVID-19 is causing tangible disruption throughout the hotel industry. Daily decreases in travel and cancellations of meetings lead to quick drops in occupancy, followed by hotel pricing decreases (often irrational) that further exacerbate market jitters. A hotel market rate and occupancy shopping app, MSight, estimated downtown Los Angeles hotels had a…