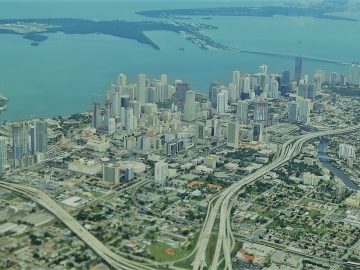 Live Nation Entertainment Becomes First Tenant of Office Building in Miami's Wynwood Arts District
Live Nation Entertainment has signed an 8,000-square-foot lease at Wynwood Annex at 215 NW 24 Street in Miami. East End Capital and The Related Group are developing Wynwood Annex, which is slated to open this summer and will offer 52,000 square feet of office space in the Wynwood Arts District. The building's suites range from 6,300 to 8,000 square feet. The building also offers a covered outdoor…
VirginTrains USA owner sells MiamiCentral office buildings for $159 million
The parent company of VirginTrains USA, Florida East Coast Industries, sold the office portion of its MiamiCentral station for $159.4 million. Coral Gables-based FECI sold the ground floor retail, two office buildings and the parking space at 600 Northwest First Avenue to San Francisco-based Shorenstein, property records show. Wells Fargo provided a $126 million mortgage to Shorenstein Properties to…
Trump's Doral Resort 'Severely Underperforming' As President's Brand Takes More Hits
In federal disclosures, President Donald Trump has listed his 643-room resort in Doral, Florida — home of the famed "Blue Monster" golf course — as his biggest moneymaking resort. But a company representative seeking to lower the resort's property tax bill told local officials the resort was suffering and needed a discount on its taxes, the Washington Post reports, the first instance of a Trump…
Washington Post: Business down sharply at Trump National Doral
Net operating income at Trump National in Doral fell 69 percent over two years ending in 2017, according to a Washington Post article. The article indicates that some consumers may be avoiding the hotel because they dislike the president and his policies. The Trump Organization told the Post that hurricanes and the Zika virus scare were factors. The article indicates the Trump hotel in Chicago has…
Trump Doral's financial results falter due to Trump name: report
President Trump touted South Florida's Trump National Doral Miami in federal disclosures as the Trump Organization's most profitable resort. But the resort's finances paint a different story, according to a report by the Washington Post. Overall revenue at the golf resort is down since 2015 and net operating income declined by 69 percent from 2015 to 2017. The property is "severely underperforming…"
Trump's Doral Golf Resort Is Hemorrhaging Money, According to New Report
Last year, first son Eric Trump bragged to the Associated Press that his family's Miami-area golf resort, Trump National Doral at 4400 NW 87th Avenue, was absolutely crushing it. "The Doral is on fire," he gloated. What he should have said is that Trump Doral is, in fact, a garbage fire: According to a story today by Washington Post reporters David Fahrenthold and Jonathan O'Connell, revenue has been…
The Case for the Continued Strength of the Multifamily Sector in 2019
Capital One's survey conducted at the National Multifamily Housing Council's annual conference earlier this year offered a lot of food for thought regarding the outlook for the multifamily sector in 2019. The vast majority of respondents — 70 percent — believe that we're nearing the end of the current economic cycle. But despite that notion and despite the 70 percent who are concerned about either…
DeSantis Urged To Veto Bills That Could Restrict Challenges To Development
Florida's state legislature just finished its annual session, during which it passed almost 200 bills. Among them is HB 7103, which is seen as a boon to developers. Under the bill, residents who oppose a development that applies for an exemption to a local comprehensive plan would be forced to pay a developer or city's attorney's fees if they lose the legal challenge. Nonprofit 1000 Friends of Florida…
Quest Workspaces Opens Fifth Metro Miami Location
Quest Workspaces has opened a second coworking space in Coral Gables, Fla., at 2000 Ponce Business Center. The company has leased the fifth and sixth floor of the office building, adding 23,800 square feet to its portfolio. The addition is Quest's fifth metro Miami location and now ties the company with WeWork for the most coworking locations in Miami… Located at 2000 Ponce de Leon Boulevard…
"No one should be lending for 30 years in most of Florida," financial climate analyst warns
Real estate lenders and investors are ignoring the rising threat that climate change poses in Florida, which could spell disaster for the state's economy, according to an expert on climate change's impact on financial markets. By continuing to provide mortgages and by buying long-term debt, financial institutions are ensuring Florida's economy can "go to hell," said Spencer Glendon, who studies the…
Miami-Dade looks at redeveloping Government Center
Ten months after Miami-Dade lawmakers reclaimed control over properties around Government Center, they're one vote from looking at redeveloping the area. Commissioners in committee Tuesday voted for an item that would, if approved June 4, order a "visioning study" by December of 16 properties around the county's downtown hub. The goal, says Commissioner Eileen Higgins' item, would be to…
Cuba ties intercede in David Beckham's Golf Course deal
Debates about law firms' business ties to Cuba have stalled hiring a consultant to help Miami negotiate a lease with David Beckham's group for what is today the Melreese Golf Course. With a Sept. 12 deadline looming, commissioners had intended May 9 to hire one of 16 law firms that sent letters of interest in the deal, but potential conflicts of interest led to another deferral. The move to hire had been…
Jackson Health System pushes on for a Doral hospital
Jackson Health System remains in active litigation against Florida's Agency for Healthcare Administration to obtain a certificate of need for its proposed José Milton Memorial Hospital at the Jackson West Medical Center in Doral. In the latest step in that effort, Judge William David Watkins' recommended April 30 that the state deny Jackson's request. A certificate of need (CON) is required to open a hospital…
Miami moves toward filling in FEC Slip
The Miami City Commission has taken the first step toward filling in the large FEC Slip abutting Maurice A. Ferré Park downtown. The potential move would add nearly 10 acres to the park, recently renamed in honor of Mr. Ferré, a former mayor and long-time community leader. Championed by Commissioner Joe Carollo, the commission passed a resolution directing City Manager Emilio González to…
Solar power plants may sit atop Miami-Dade County lakes
Solar power in Miami-Dade may come partly from floating solar power plants, as an item calling for a study of developing "float-o-voltaic" systems on artificial county lakes cleared committee by a 5-0 vote Tuesday. County commissioners will decide June 4 whether to direct Mayor Carlos Giménez's administration to study the feasibility and by December deliver a report, which would also detail how to…
Broker Negotiates 192K SF Lease Renewal in Miami
Logistics firm Miami International Freight Solutions has renewed their full-building lease at a 192,454-square-foot industrial asset in Miami Lakes, Fla. Owner Terreno Realty Corp. purchased the asset in 2010 for $7.8 million, according to Miami-Dade County Assessor. Cushman & Wakefield Executive Director Wayne Ramoski… Located at 14100 N.W. 60th Ave. within both the Miami Lakes Business Park East…
Tequesta Indians' Miami Circle Park to get state upgrade
The state is preparing to make long-term improvements to Miami Circle Park, home to a 2,000-year-old Tequesta Indian artifact at the mouth of the Miami River. The Department of State has set aside about $500,000 for an improvement plan for the state-owned 2.5-acre site on the northern edge of Brickell. Timothy A. Parsons, representing the department, presented the plan to improve the famous…
NAR inks partnership with Crexi
A year-and-a-half after the National Association of Realtors' commercial tech partner, Xceligent, shut down, NAR is partnering with another real estate platform. And it's not the CoStar Group. NAR, the largest trade association in the U.S. with more than 1.3 million residential and commercial real estate members, finalized an agreement with the Commercial Real Estate Exchange Inc., known as Crexi…
Florida Legislature passes bill that could boost foreign investment in real estate
The Florida Legislature recently passed a bill that would make remote online notarizations legal, a move that could speed up foreign and out-of-state real estate investment in the Sunshine State. Florida's House of Representatives and Senate approved House Bill 409, which now heads to Gov. Ron DeSantis' desk. If DeSantis signs it into law, Florida would become one of only a few states that accepts remote…
Bacardi partnership plans mixed-use tower in downtown South Miami
A joint venture led by the Bacardi family is planning to replace a decades-old Winn-Dixie in South Miami with a mixed-use residential tower. Records filed with the city show 5850 S.W. 73 Street LLC is going before the South Miami Planning Board on Tuesday for approval to build an 11-story building with about 300 residential units, a market and retail space on the ground floor of the property at…
Senate bill would expand Fair Housing Act to protect LGBTQ households
A new bill seeks to expand federal anti-discrimination protections to LGBTQ renters and homeowners. A bipartisan group of senators last month introduced the "Fair and Equal Housing Act of 2019," which would add language to the federal Fair Housing Act banning discrimination in renting, or mortgage lending, based on sexual orientation or gender identity. As currently written, the federal law…
Ram Realty CEO isn't buying into Opportunity Zones
Opportunity Zones are top of mind in the real estate industry today, with funds raising north of a billion dollars. But Ram Realty Services' CEO Casey Cummings isn't buying in. "I don't see the potential that other buyers are seeing," said Cummings, whose Palm Beach Gardens company invests in distressed properties across the Southeast. "Anyone who has [Opportunity Zone properties] for development thinks…
Video: Crown Bay Group Managing Partner Steve Firestone Provides an Operator's Perspective on Class C Multifamily Investing
Steve Firestone, Managing Partner with Crown Bay Group, joins Michael in Studio One to discuss tips for managing and investing in C-Class apartment properties also referred to as workforce housing. Crown Bay Group typically has 200 to 400 C+ to B- multifamily housing. He notes that they've seen great rent growth in recent years. He notes that investing in such properties is not rocket science, but you…
Miami investors buy apartments in Overtown Opportunity Zone
BrickOne Group paid $5.8 million for a group of apartments in Overtown, marking its second Opportunity Zone purchase this year, The Real Deal has learned. Miami-based BrickOne Group, led by Costantino Cicchelli, Frank Rodriguez Melo and Stefano Garofoli, acquired 72 units for nearly $81,000 per door at 419 to 439 Northwest Eighth Street. The…
Little Havana developer calls commissioner Joe Carollo a fraud in ongoing feud
Miami developer Bill Fuller is taking a swing at commissioner Joe Carollo, who has led a "code enforcement crusade" at Fuller's Little Havana properties. Fuller, a principal at the Barlington Group, held a press conference outside of Miami City Hall on Thursday displaying poster boards with photos taken outside of the Miami commissioner's home, and showed Google street view images with new roofs…
Shoemaker lists Wynwood assemblage for $16 million
Roughly four years after being listed for about $10 million, a Wynwood site is back on the market for $16.4 million as development ramps up in the area. Makers Shoes, a shoe wholesaler, owns the nearly 1-acre assemblage at 2045 Northwest First Avenue, 50 Northwest 21st Street and 2048 Northwest Miami Court. The property totals 39,600 square feet of land and nearly 30,000 square feet of buildings.
Cofe Properties sells warehouse portfolio near MIA for $25M
Institutional investors are continuing to pay high prices for South Florida industrial properties. Boston-based AEW Capital Management bought four warehouses at 7200 Northwest 25th Street for $25 million, records show. The price for the 178,521 square feet of industrial properties equates to $140 per square foot, records show. The seller is Miami-based Cofe Properties. The properties are part of a…
Coral Gables Zoning Law: New Electric Vehicle Charging Station Laws
In 2016 the City of Coral Gables introduced its new Green Fleet of 20 electric Nissan Leaf vehicles. The City of Coral Gables currently has a total of 43 electric vehicles in its fleet which is one of the largest government electric vehicle fleets in the State of Florida. The City's goal is to have a fleet of 78 electric vehicles by fiscal year 2021. It should come as no surprise then, that the City of Coral Gables is now joining…
On-Demand Warehousing: Coming Soon To An Industrial Property Near You?
On-demand warehouse space involves short-term leases of various sizes and durations — as much space as the customer needs, when it needs it, in a convenient location. "It's about agility," Jon Sleeman, JLL's EMEA Logistics & Industrial research director, wrote in an article published on the company's website. "Retailers need to be able to scale up and down and have highly variable requirements — be that…
Partnership that developed Marathon hotel allegedly squeezed out investor: lawsuit
An eight-year-old deal to develop a Courtyard by Marriott hotel on a prime slice of waterfront land in Marathon is at the center of a shattered business partnership between a real estate lawyer and his former client and family friend. Reynaldo Gonzalez sued attorney Carlos Triay in Miami-Dade Circuit Court two weeks ago for allegedly cutting him out of an ownership stake in Keys MV Two R…
South Florida office market has upside potential for developers, investors: panel
South Florida office vacancy rates are likely to remain low this year as the area's inventory of office space grows at a moderate pace, a panel of commercial real estate experts said Wednesday. "In the last cycle, the inventory grew by 27 percent. In this cycle so far, if all the [office] construction projects in South Florida are completed, we will have added 7 percent to the inventory," said Kyle Jones, senior…
City commission approves county's restoration plan for Coconut Grove Playhouse
After listening to hours of public comment at a special meeting Wednesday, the Miami City Commission sided with Miami-Dade County regarding the fate of the idled Coconut Grove Playhouse. The commission voted 3 to 2 to grant the county's appeal of a March 5 decision by the city's Historic and Environmental Preservation Board (HEPB), which had voted 6 to 4 to deny the county plan for the aging…
Coral Gables developer moves forward with mixed-use tower on Miracle Mile
The city of Coral Gables approved plans for a new mixed-use apartment tower on Miracle Mile. AJP Ventures, led by president Alberto J. Pérez, and its partners Mas Group and TAZ Partners are now moving forward with 100 Miracle Mile, a two-building project with a 14-story building with 135 luxury rental units, about 13,000 square feet of ground-floor commercial space, and 4,236 square feet of office space…