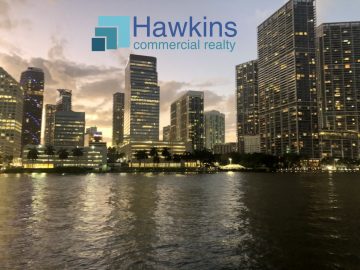 Dacar scores $81M loan for Publix-anchored mixed-use project in Hialeah
Dacar Management will crank up construction on a Hialeah mixed-use project with 244 apartments and a retail component anchored by Publix, Burlington and HomeGoods. Affiliates of the Dania Beach-based commercial real estate firm scored an $81 million construction loan from New York Life Insurance Company, according to records. The fixed-rate…
David Arditi completes long-delayed YotelPad tower in downtown Miami
David Arditi with YotelPad (Yotel) Aria Development Group completed YotelPad Miami, the first new flexible, short-term rental-friendly condo and hotel project in downtown Miami. Aria, led by principal David Arditi, partnered with the Kuwaiti firm AQARAT to develop the 31-story building at 227 Northeast Second Street. The project has been in the works since…
Developer proposes Urby-branded apartments on former Art by God site in Wynwood
Ironstate Development and partner Brookfield Properties want to build an Urby-branded apartment building on the former Art by God site in Wynwood. Hoboken, New Jersey-based Ironstate, led by brothers David and Michael Barry, proposes the eight-story building on 1.3 acres between Northeast 26th and 27th st…
Mike Zoi's Motorsport firm proposes offices at Magic City Innovation District
Race car driver and digital media tycoon Mike Zoi wants to develop a mid-rise office building at the Magic City Innovation District in Miami's Little Haiti neighborhood. Zoi proposes a 13-story building west of Northeast Fourth Avenue and between 59th and 60th streets, according to a letter submitted by a Zoi-led entity to the city. The Miami Urban…
Pebb JV sells CVS-anchored retail space in Miami Beach for $18M
Pebb Capital and LeaseFlorida sold a CVS-anchored retail condo in Miami Beach for $18 million to a Torrance, California-based real estate investment firm. Capital Cove Investments acquired the two-story, 8,896-square-foot space underneath a four-level parking garage at 4000 Collins Avenue, according to a press release. It is adjacent to Pebb Capital and…
Crashing the party: New SPAC rules could slash proptech deals
Taking a proptech firm public will never again be so easy — if regulators have their way. Many feel it would be good if they did. Shares in proptech firms that went public over the last two years in a series of mergers with special-purpose acquisition companies, or SPACs, have continued a long downward slide into 2022, reflecting just how frothy that market…
South Florida inflation dips, still outpaces nation
Inflation in South Florida moderated slightly in the 12 months ended in April but remained far more than a percentage point above the average price rise for the nation as a whole. Inflation in this area as measured by the Consumer Price Index dropped from an annual 9.8% in March to 9.6% in April, according to figures the US Bureau of Labor Statistics…
A Luxury Development Boom Is Reshaping Miami's Edgewater
Along Biscayne Bay just north of downtown Miami, the Edgewater area has emerged as a sweet spot for real estate investment amid South Florida's wider migration-driven boom. In the years following the Great Recession, Edgewater received little attention from developers despite its central location between the bayfront and the popular Wynwood area…
Tunnels could speed mass transit under downtown, Kendall
The Miami-Dade Transportation Planning Organization is looking at the possibility of expanding the transit system underground. It just completed a study evaluating emerging technologies to assess the use of tunnel corridors in the county. The study used a tiered level analysis to identify potential projects, and the report only includes tier 1 and tier 2. The 78-page…
Bakehouse Art Complex gets city grant for building upgrade
Miami city commissioners have chosen to give a sizable federal grant to help fund an organization that supports city artists. At their latest meeting, commissioners allocated $2 million to the Bakehouse Art Complex Inc., a Florida not for profit corporation, to help pay for major improvements to its historic building at 561 NW 32nd St. in the Wynwood Arts District.
Surfside collapse unit owners ask court to up their $83M payout
Unit owners of Champlain Towers South in Surfside are asking the court to boost their $83 million payout, following a much larger $997 million settlement reached last week for the families who lost loved ones in the collapse. Roughly 50 unit owners are asking for a reconsideration of their allocation, citing the milestone future payout to the…
David Edelstein, partners buy Midtown Miami dev site, plan office tower
A long vacant piece of land at the entrance to Midtown Miami and the Design District at 3601 N Miami Avenue could finally be developed after a trio of prominent developers bought the assemblage, The Real Deal has learned. David Edelstein's Tricap, Integra Investments and Alex Karakhanian's Lndmrk Development paid $23 million for the…
Self storage still rising after pandemic surge
Eased pandemic restrictions mean fewer people are stuck at home with their extra stuff, but the nationwide interest in self storage doesn't appear to be going anywhere. Rent performance and demand are still on the rise for self storage, according to a report from RentCafe. While the sector formerly relied on business from major life events such as death…
Frontier pays $18M for Best Buy-anchored shopping center in Kendall
Frontier Companies, a Coconut Grove real estate investment firm, paid $17.8 million for a southwest Miami-Dade shopping center. An entity managed by Eric Gordon, principal of Frontier Companies, bought the 49,456-square-foot retail center at 12495 Southwest 88th Street in the unincorporated neighborhood of Kendall, records show. City National…
Lease roundup: Nuveen moving Southeast HQ to 801 Brickell
Nuveen Real Estate, StoicLane I 801 Brickell I Miami Nuveen Real Estate is moving its Southeast headquarters to its 801 Brickell building in Miami's financial district. Nuveen, the investment arm of TIAA, will relocate in January into a 3,487-square-foot space at the 28-story tower at 801 Brickell Avenue from its current office on Brickell Key. Nuveen also scored…
Developers win approval for downtown Miami medical marijuana dispensary
Miami's de facto ban on medical marijuana dispensaries went up in smoke after elected officials voted… On Thursday, the Miami City Commission, by a 3-2 vote, upheld a February 2021 planning and zoning appeals board decision that granted a certificate of use for a medical marijuana dispensary at 90 Northeast 11th Street. The property, which currently…
Boutique South Beach hotels trade amid heightened demand
The Villa Paradiso at 1415 Collins Avenue and The Orchid House Hotel at 1350 Collins Avenue with Randall Smith of Alden Global Capital and Joe Nakash: Two prominent buyers acquired boutique hotels in South Beach in separate deals, as demand for such properties continues to rise. In the most recent of the two purchases, a company linked to the "vulture" hedge…
Praying for a profit? Developers plan multifamily project on North Miami church site, adjacent property
the Church of God Evangelical at 12830 Northeast Sixth Avenue in North Miami with Daniel Jaramillo and Tomas Sinisterra of Strategic Properties based in Miami: An apartment project with at least 220 units is poised to replace the Church of God Evangelical in North Miami, marking the latest redevelopment of a house of worship in a hot market where no site…
Tucandela Buys Wynwood Building to Open Latin-Themed Nightclub
Tucandela Group bought a Wynwood building for $9.2 million with plans to open an outpost of its Latin-themed nightclub, according to Metro 1, which brokered the deal. There are two Tucandela clubs The Wynwood club is slated to open the first quarter of next year at 2445 N Miami Avenue on the corner of 25th Street. The 12,404-square-foot site includes a two-story…
Blue Road plans 20-story, 139-unit multifamily project in North Miami
Developer Blue Road won conditional approval to build a 20-story, 139-unit multifamily project in North Miami. Emblem Tower Apartments is planned for a site just west of I-95, along Northwest 7th Avenue, a major north-south artery that doubles as State Road 7. "This project probably will be the first development of any kind on this part of…"
Office Deals Cooled Off in Miami During Q1
In the first quarter of 2022, a total of $209 million in office deals have transacted within the Miami metro, according to CommercialEdge data. The market's transaction volume has decreased since the same period last year, when it reached $395 million. Office deals seem to have slowed in 2022 compared to 2021 levels, but were still significantly up since 2020…
What Higher Interest Rates Mean for Miami CRE
Earlier this month, the Federal Reserve lifted its benchmark interest rate 50 basis points—its biggest increase in 22 years. The move represented the U.S. central bank's second interest rate hike in less than two months and had been long anticipated by many. To find out what the recent interest rate hike means for the Miami commercial real estate market…
Brazilian investor Michael Krymchantowski gets Miami board's OK to build Wynwood hotel
Brazilian businessman Michael Krymchantowski wants to develop a 60-unit hotel and residential building in Miami's Wynwood. Krymchantowski got the green light from the city's Wynwood Design Review Committee on Thursday for his planned eight-story Krymwood Hotel at 176 Northwest 28th Street. The committee suggested design tweaks, including…
Soil Testing Underway At Former Miami Arena Site Where Thousands Of Residential Units Planned
Soil testing appears to now be underway at the former Miami Arena site, according to a tweet by Kyle Merville. The biggest residential project in downtown Miami's history is now moving through the approval process for the property. Developer Witkoff Group submitted preliminary plans to Miami-Dade in January for a development on the site with: 2,351…
Lennar proposes 1,335 homes and revamped golf course in Homestead's Keys Gate
Lennar is teeing up a 1,335-home and golf course project in Homestead's Keys Gate development that will be called Altimira. The Miami-based homebuilder recently submitted a proposed site plan and two zoning amendments to the city of Homestead. The city's development review committee will consider the proposal at a meeting next Tuesday, and…
Surfside collapse lawsuit reaches nearly $1B settlement
The Surfside collapse litigation reached an almost $1 billion settlement, a landmark development in the court battle to bring some justice to the families of the 98 people who died less than a year ago. The milestone agreement follows weeks of mediation between attorneys for the plaintiffs and the slew of parties sued over allegedly contributing to the deadly…
Miami Office Pipeline Doubles Since 2020
As of March, Miami had 5.4 million square feet of office space under construction, according to CommercialEdge data. The pandemic seems to have had a positive impact on the metro's office sector: at the end of the first quarter the pipeline more than doubled since the same period in 2020, when it reached 2.5 million square feet. The Magic City has been one…
Redevelopment ploy? Chetrit buys 102 condos at aging, oceanfront Hollywood Beach Resort
New York City-based Chetrit Group has acquired 102 condo units over the last six months at the Hollywood Beach Resort, an oceanfront property in Hollywood that the city's founder built almost a century ago. Chetrit's move further marks the trend among developers to buy out waterfront condo owners, which has accelerated since the tragic collapse of Champlain…
Philly firm pays $14M for Pompano Beach warehouse
A Philadelphia-based commercial real estate firm picked up a Broward County warehouse for $14.3 million. An affiliate of Alterra Property Group, led by co-founder and Managing Partner Leo Addimando, acquired the 21,306-square-foot industrial building at 1645 Northwest 33rd Street in Pompano Beach, according to records. The seller is an entity managed…
Industrial play: Alliance HP trades one West Palm complex for another
Clay Hamlin III is playing a game of Monopoly with Palm Beach County industrial real estate, replacing one property for another. Affiliates of Hamlin's Alliance HP bought the Skees Industrial park at 1426 Skees Road just south of West Palm Beach for $15.9 million — shortly after it sold a distribution center at 1100 25th Street in West Palm for $12.2 million…
Benchmark drops $17M for historic Palm Beach apartment building
A New York-based multifamily real estate investment firm bought a historic apartment building in Palm Beach for $17 million. An affiliate of Benchmark Real Estate Group, led by principals Aaron Feldman and Jordan Vogel, acquired the 23-unit property at 184 Sunset Avenue, according to records. The buyer obtained an $8 million loan from Valley National Bank.