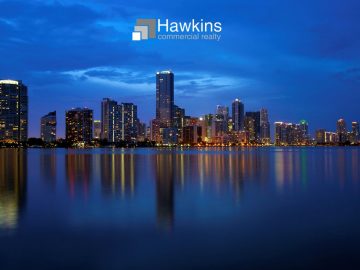 Bill Seidle's Nissan dealership buys Doral building for $16M
A Nissan dealership bought a Doral building where it operates its service center for $16 million. An affiliate of Bill Seidle's Nissan, which sells and repairs vehicles, bought the property at 10688 Northwest 12th Street from The Miami International Grantor Trust, according to public records. The trust, whose trustee is accounting firm DiSanto, Priest & Company…
Multifamily developer buys piece of Little Havana assemblage
A market-rate multifamily developer paid $15 million for land in Miami's Little Havana neighborhood. Premium Development bought the 2.3-acre property at 700 West Flagler Street from Presidente Supermarkets, according to a broker involved in the deal, Carlos Fausto Miranda of Fausto Commercial. Premium Development, an Austrian company that has…
13th Floor Investments, Adler Group to Open 22-Story Apartment Tower in Miami
Developers 13th Floor Investments and Adler Group have opened leasing for CORE Link at Douglas, a new 312-unit residential tower underway in Miami. Slated to open in August at 3060 SW 37th Aveenue, CORE will become the first tower to open at Link at Douglas, a seven-acre mixed-use development located adjacent to Miami's Metrorail and The Underline…
In Coconut Grove — Miami's 'Neighborhood With A Soul' — Retail Is Reimagined
When retail plaza CocoWalk opened in Miami's Coconut Grove neighborhood in 1990, the three-story, open-air mall was the place to stop for a fro-yo, a fruity cocktail or some khakis. Planet Hollywood, Cheesecake Factory, Gap — big retail tenants all cycled through over the years. Now, as CocoWalk emerges from a multimillion-dollar renovation and another…
South Florida Retail Real Estate Summary: Leases, Sales & Construction Projects
Market Snapshot for South Florida Retail Real Estate A summary of the statistical highlights, latest retail transactions, vacancy / lease trends, and current market activity for South Florida commercial real estate focusing on Miami-Dade County. The retail real estate report is updated every quarter by our CRE experts. The analysis is derived and compiled from…
Eichner plans waterfront condo projects in Bay Harbor Islands
Continuum South Beach developer Ian Bruce Eichner acquired two waterfront sites from Bay Harbor Islands-based Taubco, with plans to build two condo projects. Eichner's Continuum Company paid $29.5 million for the land at 9201 and 9461 East Bay Harbor Drive, according to a press release. He's planning to build two buildings with a combined 142 units…
Miami Beach "declared war" on nightlife, Clevelander alleges in lawsuit
The Clevelander South Beach's owner is suing the city of Miami Beach, alleging that the rollback of alcohol-serving hours, the removal of noise exemptions, and the closure to vehicular traffic on its street have ruined its multimillion-dollar investment at the Art Deco hotel on Ocean Drive. The lawsuit comes in response to the rollback of alcohol-serving hours…
Downtown Miami dev site zoned for 80-story tower hits the market
The assemblage in downtown Miami A downtown Miami investor is looking to sell his assemblage near Miami Dade College's Wolfson campus. The 1-acre assemblage at 222 Northeast First Avenue, and 50 and 60 Northeast Third Street, hit the market unpriced. The three lots are zoned T6-80-O, which means they can be developed into an 80-story tower, or even…
Wynwood project's design returns to win Round Two
A plan to construct a 12-story building containing commercial space and workforce housing in Wynwood garnered the approval of the Wynwood Design Review Committee after some recommended changes were made. The owner-developer, New Urban Development LLC, plans to construct View 29 at 2901 NW Second Ave. At its April meeting the committee…
New construction OK'd at 70-year-old MiMo motel
A 70-year-old motel in the MiMo or Miami Modern Historic District will be allowed some new construction after a recent decision of the city's Historic and Environmental Preservation Board. At its May meeting the board unanimously approved a request from Domingo Rodriguez, on behalf of owner Sandip Patel, to make alterations to the motel at 6200 Biscayne…
Estate Companies scores $76M construction loan for North Miami Beach apartments
The Estate Companies will start building a North Miami Beach apartment project, after scoring a $76 million construction loan. The South Miami-based group is developing the 367-unit Soleste NoMi Beach on 1.8 waterfront acres at 16395 Biscayne Boulevard, according to a news release. Little Rock, Arkansas-based Bank OZK is the lender. The 23-story…
Estate Cos. Lands $76M Loan for Miami Project
The Estate Cos. has secured a $76 million construction loan for its latest luxury Miami-area community. JLL's Brian Gaswirth and Michael DiCosimo brokered the construction financing for Soleste NoMi Beach between the developer and lender, Bank OZK. The 23-story community is expected to break ground this quarter and will span 685,957 square feet. The luxury…
Ocean Drive property owned by Gloria and Emilio Estefan lists for $45M
It's time for the listing agents of an Ocean Drive property owned by Gloria and Emilio Estefan to get on their feet and make a sale happen. The Estefans listed the mixed-use commercial building at 820 Ocean Drive in Miami Beach for $45 million, an online listing shows. They've owned the Shore Park Hotel property for nearly 30 years. It is the longtime home…
Developers' attempts to change Opportunity Zone boundaries fail
Developers who had hoped for potential expansion of Opportunity Zones won't be getting their way. The Internal Revenue Services announced last week that the boundaries of about 8,700 Opportunity Zones "were established at the time they were designated and are not subject to change," Bloomberg News reported. Developers and investors had lobbied…
Doral Seeks To Take Over Business-Rich County Lands
Doral wants to absorb two square miles on its southwestern corner that contain big-name commercial and industrial tenants. Miami-Dade is now reviewing the annexation request. If the county approves Doral's application, business additions to the city will include tenants at 436-acre Beacon Lakes Industrial Park, which hosts distribution centers…
Tibor Hollo, Pam Liebman and Housing Trust Group latest to donate to Miami mayor's campaign
Miami Mayor Francis Suarez's public relations campaign is continuing to pay off for his run for re-election. Since mid April, Suarez has raised an additional $777,000 from real estate, healthcare, tech and private equity, according to state and local campaign finance records. That brings his total raised via his campaign and his political action committee, Miami…
Demand for short-term rentals surges past pre-pandemic levels
It's gearing up to be the best summer ever — for short-term vacation rentals. Last month, demand for short-term rentals was 5.4 percent greater than in the same period of 2019, according to data from AirDNA reported by Inman, and 66.4 percent more than last year. Read more Bonkers season on tap for summer vacation rentals Covid-19 brings single-family rentals…
Deco Capital moves forward with new version of long-planned Sunset Harbour mixed-use development
A mixed-use development backed by the family office of Marc Rowan, the billionaire co-founder of Apollo Global Management, is moving forward in Miami Beach's Sunset Harbour neighborhood. Deco Capital Group secured Miami Beach commission approval on Wednesday for its latest iteration of the project, now called Eighteen Sunset. The five-story building…
Fight Over Miami Curfew Takes On Racial Tone, As Business Owners Blame Hip-Hop Culture
The Miami Beach City Commission on Wednesday voted 4-3 to roll back alcohol serving times from 5 a.m. to 2 a.m. in the beachfront Entertainment District along famous Ocean Drive. It will affect businesses on Ocean Drive and Collins Avenue from Fifth to 16th streets. The issue pitted some of Miami's top developers and investors against one another. But it also…
Cold-storage to classrooms: School pays $13M for Doral warehouse, retrofitting as campus
A private school bought a Doral warehouse for $13.2 million, with plans to retrofit it and reopen the facility as a campus next year. Shelton Academy, a Catholic school for students pre-K through high school, bought the property at 9455 Northwest 40th Street Road. It was previously used as cold-storage by food distributor Swiss Chalet Fine Foods, according to a broker…
Miami Beach residents rally against proposed hotel in Sunset Harbour
The Miami Beach City Commission moved forward with approving a zoning overlay district in Sunset Harbour that encourages office development, as some residents tried to stop a hotel project in the same neighborhood from being grandfathered in. The overlay district, which was passed on first reading at Wednesday's meeting and will head to a second reading vote…
Location Ventures buys South Beach office, retail property for $20M
Location Ventures scooped up two commercial buildings along Miami Beach's Washington Avenue for $20 million. The Coral Gables-based real estate investor bought the retail property at 1260 Washington Avenue and the adjacent office building at 1234 Washington Avenue from an affiliate of Miami Beach-based Fryd Properties, led by Jonathan Fryd, records…
Alcohol rollback on Ocean Drive pits developers against business owners
The Miami Beach City Commission's vote to roll back alcohol hours in South Beach to 2 a.m. was met with support from prominent developers Jorge Pérez, Don Peebles and Barry Sternlicht, as well as the threat of a lawsuit from the Clevelander hotel. The commission voted to move up last call by three hours from 5 a.m. only in the mixed entertainment district…
CRE Confrontation Pressures Developers To Improve Pay, Conditions
About 10 janitors and union organizers on Monday afternoon confronted developers in Downtown Doral, Codina Partners' massive mixed-use development near Miami, over alleged unfair labor practices. Seven janitors allegedly lost their jobs after they tried to organize a union and Codina switched cleaning contractors. Service Employees…
Regalia association scores $18M settlement in construction defects lawsuit
The Regalia condo association settled its lawsuit alleging a slew of construction and design defects and building code violations at the luxury oceanfront tower for $17.5 million. In 2018, the Regalia on the Ocean Condominium Association sued the developers, architect, general contractor and subcontractors over alleged flaws such as improperly…
Development site near MiamiCentral hits the market
A downtown Miami development site where an 80-story tower could be built hit the market. The property, across from Brightline's MiamiCentral station, could sell for more than $40 million, according to the listing brokers. The Citadel Arena Corporation is selling the nearly 1-acre site at 49 Northwest Fifth Street, which includes a parking lot and a three-story…
Miami To Get A $300 Million Eco-Adventure Park And Hotel
Miami's Jungle Island will be receiving a $300 million facelift, which will include a new aerial adventure course with zip lines, animal encounters, water attractions, entertainment and nightlife, and a new hotel. ESJ Capital Partners (ESJ), an Aventura, FL-based commercial real estate firm, has secured the final approvals necessary to move forward with developing…
New Laws Benefit Developers, But Will They Hurt Local Governments?
Florida Gov. Ron DeSantis is being asked to veto several bills that passed the Florida legislature and are now poised to become law, with critics alleging they would benefit real estate interests but hurt local governments, ordinary citizens and the environment. The Daytona Beach News-Journal Editorial Board opined that 2021's annual lawmaking session…
Fresh Recruits Mitigate Pandemic's Blows to South Florida Office Leasing
Office tenants new to South Florida – many with roots on Wall Street – are easing the impact of the COVID-19 recession on office owners and developers, particularly in Miami and West Palm Beach. The biggest city between them, Fort Lauderdale has been bypassed by corporate newcomers looking for ample space in South Florida. But that may change as a…
Duke Realty Starts 500K SF Spec Development In Miami
The South Florida office of Duke Realty Corporation is breaking ground on a speculative development totaling 501,224 square feet of logistics space. The planned project is the second of two distribution facilities in Duke Realty's Miami 27 Business Park in Medley. The development is immediately adjacent to U.S. Highway 27, with convenient connectivity to the Florida…
Industrial facility serving Fort Lauderdale International Boat Show, other events sells for $29M
Realterm Logistics bought a Fort Lauderdale industrial facility used by major local events for $28.6 million. The Annapolis, Maryland-based industrial and logistics real estate investor bought the property at 1900 Northwest 21st Avenue from an affiliate of Jonathan Cox, founder and
Shoma pays $16M for North Bay Village site, plans Publix-anchored apartment project
North Bay Village is poised to get a 19-story multifamily and retail project anchored by Publix. Masoud Shojaee's Shoma Group bought a development site, consisting of a 1.8-acre parking lot at 1850 79th Street Causeway and the next-door retail building at 1872 79th Causeway, for $15.8 million, records show. Shoma Bay will feature an apartment building with 333..