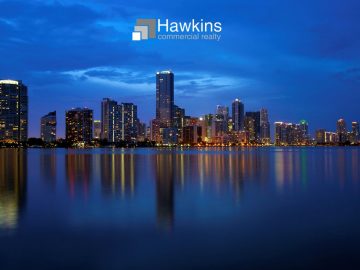 Miami-Dade County's Industrial Market Sees Healthy Activity Amid COVID-19 Headwinds
The Miami-Dade industrial market saw a prolific year in 2019, followed by a healthy, yet slower first quarter in 2020. PortMiami's record-shattering fiscal year 2019, with cargo operations posting 1.1 million twenty-foot equivalent units (TEUs) and cruise passengers totaling a world's best 6.8 million passenger total, correlated with the robust warehouse and…
Could COVID-19 Benefit the Industrial Real Estate Market?
There is no doubt COVID-19 will negatively affect many sectors of the real estate market, but not all industries will be impacted in the same way. Industrial real estate, in particular, may actually benefit from the current crisis. CBRE Group (NYSE: CBRE) published a market update on April 8, 2020, specifically relating to the impact of COVID-19 on the industrial…
Warehouse Prices Jump 5%, Supply Expected to Exceed Demand Post-COVID-19 [Report]
The CBRE 2020 Real Estate Market Outlook Report examines the current state of U.S. commercial real estate, outlining the many possible challenges and opportunities the industry could face throughout 2020. Authored in late 2019 before the economic impacts of the COVID-19 crisis began to bite, the report predicts an increased focus on outsourcing and significant growth…
Construction industry looks for solid ground
In the best of times, construction is a complicated business. Labor problems, demanding developers, financing issues, bad weather — any number of things can disrupt a project. Now add a global pandemic, government-ordered shutdowns and a collapsing economy. In New York, the epicenter of the coronavirus pandemic in the U.S., changes to…
"There's a lot of concern about going back to an office": how companies are returning to work in South Florida
At Zyscovich Architects' headquarters in downtown Miami, returning to work will be a little different. Guided by arrows, employees and guests will enter the office one way, and exit another. Packages will be rerouted to a room on a separate floor to be unpacked and disinfected. And workers will be encouraged to eat their lunches at their desks. Like going to a restaurant or entering a residential building, going to work after two months of…
Czech billionaire who bought Macy's stake just acquired 6% of Foot Locker
Daniel Kretinsky's shopping spree continues, this time at Foot Locker. Earlier this month, the Czech investor bought a 5-percent stake in Macy's department store and now he's added a 6-percent stake in Foot Locker, Bloomberg reported. Kretinsky's bet on the shoe company is valued at about $169 million. The 44-year-old billionaire — known as the "Czech sphinx" because of his inscrutable demeanor &md…
Hotel occupancy is up for fifth week in a row
Hotel occupancy increased for the fifth week in a row, though the industry remains in a deep rut. U.S. hotels saw nearly 11 million room nights during the week ending May 16, bringing occupancy up a little more than two percentage points from 32.4 percent the week prior, according to the latest figures from hospitality data firm STR. Still, occupancy was down roughly 54 percent from the same time last year. STR senior vice president Jan Freitag called the improving weekly number…
How Blackstone plans to keep its upper hand in the downturn
Seated in the New York State Capitol's Red Room, Gov. Andrew Cuomo introduced the team that would restart the state's economy. He knew them well. "In some ways it's like putting the band back together," Cuomo said in late March, introducing Bill Mulrow, a senior executive at the Blackstone Group, and Steve Cohen, executive vic…
Major housing development on US 1 advances
The vastly changed area of Bird Road and US 1 in Miami is getting another major mixed-use residential development. Called Shoma Douglas, the multi-family rental project was reviewed May 12 during a special virtual meeting of the city's Urban Development Review Board, with board members and city staff participating through video conferencing. The board recommended approval with a few recommendations. Masmar Investments LLC is the applicant and plans the large project on property at 3650 Bir…
Paycheck Protection Program loans require smart steps by recipients
Banks issuing loans to businesses in need of aid during the pandemic are still awaiting more details on forgiveness. In the meantime, they're taking smart steps to make matters easy once those Paycheck Protection Program (PPP) loans come due and are encouraging borrowers to do the same. That starts with tidy bookkeeping, said Chris Cruzpino, market executive for the Miami-Dade market for Regions, who recommends borrowers maintain a thorough paper trail. "Keep detailed records on how …
SeaVee Boats build new factory at right time
SeaVee Boats' move to a new 220,000-square-foot production hub in Medley in December is helping the custom boat maker navigate the Covid-19 crisis, says Sales and Marketing Director John Caballero. The new site, which replaces three smaller South Florida facilities that SeaVee had previously operated, was built by T.A. Builders in just under 18 months. Mr. Caballero said the new hub's increased functionality has been essential in getting…
Alex Sapir wants to take his firm private. This could be the right time
Alex Sapir has another chance to do something he failed to pull off three years ago — seize greater control of his eponymous real estate investment firm by buying out its outstanding shares and going private. In the middle of a pandemic that has slammed stock prices on the Tel Aviv Stock Exchange, where the firm is listed, may be just the right time. An LLC controlled by Alex Sapir is offering to buy up about 5 million share…
Game point: Lacoste USA is restructuring, renegotiating retail leases
A nearly 90-year-old French sportswear label is calling the game for its American retail business. Earlier this month, Lacoste USA's chief financial officer Karine Sansot-Vincent sent a letter to its landlords announcing that it would seek to renegotiate leases as reducing costs would be "vital" to its "ability to be a viable company in the future." The letter, seen by The Real…
Major restaurants and cafes seek rent cuts, irking landlords
Even as the economy begins to reopen, many restaurant and cafe tenants like Chipotle and Starbucks are requesting rent reductions amid projected declines in revenue. (Photos by Roy Rochlin/Getty Images and Alex Tai/SOPA Images/LightRocket via Getty Images) As coronavirus closed stores across the country in March and April, many landlords proved willing to work with tenants and defer rent payments to a later date. Reducing rent outright, however, is another story. According to accounting rules, d…
Cast away: Pier 1 to liquidate assets, shutter business
Pier 1 Imports' plan to sell the home decor company has turned into a plan to shut down, becoming the latest retail casualty of the coronavirus pandemic. The chain has filed a motion seeking approval from a bankruptcy court to start winding down its retail operations as soon as possible once its 540 remaining stores nationwide are allowed to reopen.
Pier 1 wants to close all its stores for good
The final nail is being driven in Pier 1's wicker casket: It's on the verge of completely shutting down three months after it filed for bankruptcy. Pier 1 announced Tuesday that it's asking the bankruptcy court to cease its retail operations "as soon as reasonably possible." It blames temporary store closures caused by coronavirus and failing to find a buyer for the drastic…
Zaragon pays $8 mil for industrial property near Hialeah
Zaragon purchased an industrial facility near Hialeah leased to RAM Steel Framing for $7.55 million, as industrial demand remains strong even during the coronavirus pandemic. The Chicago-based real estate firm bought the 105,000-square-foot industrial building at 7400 Northwest 37th Avenue in Miami for $71.90 per square foot…
Video: COVID-19 Effects on Downtown Miami Discussed in DDA Executive Committee ZOOM Meeting
In this Miami DDA Executive Committee meeting of May 15th, 2020, as one might imagine the talk is COVID-19 this and coronavirus that, and how it is expected effects on downtown Miami and the Miami DDA organization itself. The Executive Committee of the Miami DDA (Downtown Development Authority) guides the Miami DDA's efforts to fulfill its mission to grow…
Report: Warehouse Prices Jump 5%, Supply Expected To Exceed Demand Post-COVID-19
The CBRE 2020 Real Estate Market Outlook Report examines the current state of U.S. commercial real estate, outlining the many possible challenges and opportunities the industry could face throughout 2020. Authored in late 2019 before the economic impacts of the COVID-19 crisis began to bite, the report predicts an increased focus on outsourcing and significant growth…
Reservations only: Salons, restaurants adapt to new normal in South Florida
When The Spot Barbershop restarted online reservations Friday night, more than 500 people tried to book appointments, crashing the site. The local barbershop chain with 15 locations in Miami-Dade and Broward counties is among thousands of businesses reopening their doors beginning on Monday, after being closed for roughly two months due to the…
Jeffrey Soffer's $800M Diplomat resort purchase called off
Jeffrey Soffer's planned purchase of Brookfield Property Partners' 1,000-room Diplomat Beach Resort Hollywood is called off, as hoteliers nationwide reel from the impact of the coronavirus pandemic. Brookfield reported in its first quarter earnings filing that its sale agreement was "terminated by the third-party purchaser." Soffer's Aventura-based…
J.C. Penney to close 242 stores in bankruptcy restructuring
Department store J.C. Penney announced Monday it plans to close 242 stores across the country as part of its bankruptcy restructuring. The 118-year-old company filed for bankruptcy Friday. The stores to be closed comprise about 30 percent of J.C. Penney locations and will leave it with just over 600 stores nationwide, according to the New York Times. While the…
Mystery investor dumps big stake in real estate fund
As stocks tumbled last week, an unknown institution sold more than 10.5 million shares of an exchanged-traded fund that tracks the S&P 500's real estate sector. The $333 million securities dump represented 7.4 percent of outstanding shares of the Real Estate Select Sector SPDR Fund, a macro indicator of the industry's largest…
April's 16.4% drop in retail sales is worst on record
The numbers are in for last month's retail sales and they aren't pretty. Despite an increase in online purchases, total sales fell 16.4 percent in April — the largest monthly drop ever recorded, the New York Times reported, citing the latest report from the U.S. Department of Commerce. The amount of money spent was the lowest it'd been since 2012, even without…
Harvey Hernandez sued over delinquent loan for downtown Miami condo project
Harvey Hernandez, Centro Condo Miami developer Harvey Hernandez is facing another lawsuit — this time alleging his company is delinquent in payments on his downtown Miami condo tower. The lender is suing Hernandez, after his company allegedly defaulted on a $2 million loan for the Centro tower. The owner of the loan is now seeking to foreclose on…
Almost 90% of renters have made payments in May: report
A new study found that almost nine in 10 households have paid at least some rent in May (Credit: iStock) Nearly 9 in 10 apartment households had paid at least some May rent as of Wednesday, according to the National Multifamily Housing Council. Through May 13, the organization said, 88 percent of the 11.4 million market-rate rental properties it tracks had…
Realterm Logistics Buys Cold Storage Warehouse in Miami
In the midst of the current pandemic, cold storage buildings totaling 157,000 square feet at 12401, 12701, 12725 NW 38 Avenue on 12.5 Acres in Opa-Locka, Florida have sold for $26,000,000. Stephen M. Greene, seller, held the single member LLCs of the parcels. The buyer was Realterm Logistics. In 1966, Don Greene and son Stephen Greene formed Don…
Notable Retail Leases Signed in South Florida Q1 2020
South Florida Retail Leases 2020: We've compiled a comprehensive list of the top retail leases signed by square footage in South Florida during Q1 2020. This quarter was busy overall, especially considering the current pandemic, and saw several big box leases signed and sealed. Despite the sentiment that the traditional retail market is suffering due…
Pandemic kills some retailers, but others could reboot
E-commerce has been gobbling up market share from brick-and-mortar retailers for years and the coronavirus pandemic is accelerating it. UBS estimates that 100,000 stores will close in the next five years and that e-commerce will grow to 25 percent of sales this year from 15 percent in 2019, according to the Wall Street Journal. Meanwhile, the U.S. gov…
Mast Capital wants to build a 290-foot tall Miami Beach condo tower
Mast Capital CEO Camilo Miguel Jr. wants to build a 290-foot tall condo project near the Julia Tuttle Causeway in mid-Miami Beach. And despite apprehension from some city officials, the proposal is moving forward. The Miami Beach City Commission on Wednesday agreed to transmit Mast Capital's request for additional height and other zoning variances to…
Holding pattern: Unemployment claims dip to eight-week "low"
The number of weekly unemployment claims dipped below 3 million last week, for the first time since the beginning of the current economic crisis.  Unemployment claims totaled 2.98 million last week. That's the good news. It was the first dip below 3 million since mid-March, when claims numbered a mere 282,000 (and represented a jump at the time from…
Hotel occupancy inches up in major US cities
It may not be saying much, but hotel fundamentals are up in some major U.S. cities. Overall, hotel occupancy in the U.S. has been improving since early April and last week hit 30.1 percent, up from 28.6 percent the week prior, according to the latest data from STR. STR's Jan Freitag said that Transportation Security Administration checkpoint counts show that…
Triarch Capital scores $35M refinancing for One Turnberry Place
9495 Biscayne Boulevard, CBRE's Paul Ahmed and Mackenzie Fry Triarch Capital Group scored a $35 million loan to refinance One Turnberry Place in Aventura. Triarch Capital secured the loan for the office building at 19495 Biscayne Boulevard, in front of Aventura Mall from Nationwide Life Insurance, according to a spokesperson for CBRE. CBRE's Paul Ahmed and…
Triarch Capital Lands $35M Refi for Aventura Asset
Triarch Capital Group has received $35 million in refinancing for One Turnberry Place, a 137,000-square-foot office building in Aventura, Fla. According to Yardi Matrix data, Nationwide provided the 10-year loan that retires a previous $35 million mortgage from Column Financial Bank. Triarch Capital purchased the Class A asset for $53 million in 2011.
Developer of Aman-branded towers in Miami Beach scores $35M loan
Billionaire Len Blavatnik's Access Industries closed on a loan for the first Aman-branded development in South Florida. The developer, 3425 Collins LLC, secured $34.8 million in financing from Bank OZK for the site of the former Versailles Hotel… and fellow billionaire Vlad Doronin plan to build a two-tower hotel and branded condo project at 3425 Collins Avenue…
"Czech sphinx" makes big bet on Macy's
Czech billionaire Daniel Kretinsky has acquired a 5-percent stake in Macy's, with plans to work with management to turn around the struggling retailer as it prepares to reopen its stores. Kretinsky, who has a net worth of about $3.4 billion and recovered from a coronavirus infection in March, is known as "Czech sphinx" for…
Retail rent collection plunges to 58% in April
If retail landlords opened a Tenant Hall of Shame right now, they might begin by inducting Supercuts, Barnes & Noble, Red Robin, General Nutrition Centers, Gap, H&M, Foot Locker and Men's Warehouse. Those big names were among the 21 percent of the 135 major chains paying no rent or a small fraction of it in April, according to a new report. Overall, national…
Marc Shulman sells Normandy Isles multifamily to French family office
Investor Marc Shulman sold a Miami Beach apartment building in Normandy Isles to a family office from France for $9.25 million, according to agents involved in the deal. Shulman's Duval Apartments LLC sold the 49-unit building at 2101 Normandy Drive to Alston LLC, a company led by Riad Belarbi. The deal closed last week, said Samuel Heskiel of Beachfront…
Miami Industrial Sale-Leaseback Spearheaded
The buyer financed the purchase with a $5.7 million loan from CIBC Bank, according to public records. The note matures in 2027 and carries two one-year extension options. RAM Steel Framing will continue to occupy its headquarters on a long-term, absolute triple-net lease. Located on 3 acres at 7400 NW 37th Avenue, the single-story warehouse was completed in 1955…
Florida, Tribes Among The Latest To Get Federal OK For Hemp Production
The Miccosukee Tribe of Indians, which controls more than 270,000 acres in and around the Florida Everglades, has won a key approval from the U.S. Department of Agriculture that opens the door to hemp production on tribal lands.Hemp was traditionally used to make rope, sails, flags, oils and foods. But it is derived from cannabis, the same plant as marijuana, and…
Coral Gables developer Masoud Shojaee and daughters locked in dispute over rock mining rent
Masoud Shojaee Father's Day could be awkward for Masoud Shojaee, as he finds himself in a legal tussle with a trust benefiting his daughters. M&M Life Insurance Trust is suing the Coral Gables-based developer over a lucrative family business that leases land in the western fringes of Miami-Dade County to rock miners and farmers, according to a recently filed…
Trust CEO: Hotel Operators Not 'Receiving Any Income For The Remainder Of Year Of Any Kind'
Trust Hospitality CEO Richard Millard said the coronavirus has eliminated his company's revenue. Trust operates 31 boutique hotels, and as an operator, he said 2021 might be the next time his company takes in revenue. "I don't see most of us that operate hotels, certainly as a pure operator, are receiving any income for the remainder of the year of any kind," he said…
Miami Commercial Real Estate Sales to List Price Ratio Holds Up in April ~ MLS Chart
Miami Association of Realtors Jan 2015 to Apr 2020 Property Types  'Commercial, Industrial' and 'Land-Commercial, Business, Agricultural, Industrial', Sales to List Price Ration Calculated from 15,543 Listings. Granted, one month does not a recession make. However it is worth noting that commercial properties traded at…