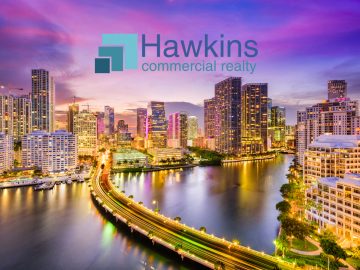 Hidrock Properties partners with Alex Karakhanian on Miami A&E dev site
Alex Karakhanian sold a development site in Miami's Arts & Entertainment District to a joint venture between New York-based Hidrock Properties and Karakhanian's Lndmrk Development, The Real Deal has learned. The joint venture paid $19 million for the 0.9-acre property at 1601 North Miami Avenue, home to Elev8tion Fitness, the partners said.
Video: AFIRE CEO Gunnar Branson Discusses his Org's Institutional CRE Investor Survey
For thirty years, AFIRE (Association for International Real Estate Investors) has conducted a survey each year in order to understand the goals, challenges and long-term views of international investors in United States based real estate. A chart on deployment, funds invested and allocation changes along with anticipated volume in the coming year, starts of…
Two Roads closes on $150M bulk condo purchase in Edgewater, plans three towers
Two Roads Development closed on a $150 million bulk condo purchase in Miami's Edgewater, where it plans to develop a multi-tower luxury project. Two Roads, a West Palm Beach and Miami-based developer, gains a 3.5-acre waterfront site with the purchase of Biscayne 21, a 1960s-era condo. The deal is part of a growing trend of developers targeting older properties…
North Miami Beach development site assembled for $14M
A developer assembled a North Miami Beach development site for $14.12 million, with plans to build a 28-story apartment project. In the bigger deal, NMBPlace LLC, managed by Victor F. Dante in North Miami Beach, sold the 1.59-acre site at 1959 NE 164th Street for $12.9 million to NMB Place Owner, in care of Baltimore, Maryland-based JSB Capital Group. The same…
Interdevco pays $16M for Aloft Miami Dadeland hotel
Interdevco paid $16.1 million for a South Florida Aloft hotel that spent more than a year under receivership. The Miami-based real estate development and investment firm acquired the 119-room Aloft Miami Dadeland hotel at 7600 Southwest 88th Street in Kendall, according to records. Interdevco, led by President and CEO Josep Maria Suriol, paid $135,294 per room.
Settlement in Surfside condo collapse now over $1 billion
Families of those who lost loved ones in the Surfside condo collapse are now poised to get $1.004 billion, while the payout to unit owners has also swelled. Condo owners are now in line for a $96 million settlement, up from their original $83 million payout, and the payout to the families of those who died is up over $4 million from the previous nearly $1 billion…
JDS, Major Food Group to launch condo sales of Brickell skyscraper
Michael Stern's JDS Development Group and Major Food Group are moving forward with their planned Brickell skyscraper. Renderings of the tower (JDS) Condo sales of The Major, a 259-unit tower planned for the site at 888 Brickell Avenue, are expected to begin this summer, with prices ranging from $1.6 million to $11 million, excluding penthouses, a….
Developer says he still can finance Rickenbacker Causeway upgrade
Improve safety for cyclists, replace and enhance Bear Cut Bridge, deal with resiliency and sea level rise, and create a 20-acre park and beach on Virginia Key were improvements the Plan Z Consortium intended to develop as part of an unsolicited proposal for the Venetian and Rickenbacker causeways. First presented to the county last summer…
Archaeologists dig into Miami history at Baccarat tower site
The very first beneficiary of the new Baccarat building at 444 Brickell Avenue is likely to be not tenants of a 75-story luxury residential tower but a museum, as archaeological work at the site uncovers shards of pottery and bones of millennia-old early residents of Miami. The 4-acre property, bought in 2013 by the Related Group, Florida's largest developers…
Culmer Village to provide 612 affordable housing units
A large affordable housing development is planned for Overtown in the City of Miami. Richman Group of Florida Inc. is developing Culmer Village, two buildings hugging a parking garage proposed for a site at 690 NW 13th Street. The city's Urban Development Review Board recommended approval, with a few recommendations. The project is described…
Auto Club towers coming to Magic City district
An auto club for motorsport enthusiasts is coming to the new Magic City Innovation District, riding the top floors of a sleek glass structure. Motorsport Tower, planned for 350 NE 60th Street, promises more than 200,000 square feet of offices in the new mixed-use development rising in the Little Haiti area. Miami's Urban Development Review Board…
Brick & Timber Collective is piling up Wynwood properties, pays $9M for new office/retail building
Brick & Timber Collective doubled its Wynwood portfolio with a $9 million off-market purchase of a recently completed mixed-use project. The San Francisco-based developer and real estate asset manager bought a three-story office and retail building at 2724 and 2734 Northwest First Avenue. Brick & Timber Collective, led by partners Jesse Feldman and Glenn…
Dacar pays $22M for 119 acres outside Miami-Dade's Urban Development Boundary
Dacar Management scooped up 119 acres outside the Urban Development Boundary in western Miami-Dade County. The Dania Beach-based company bought the property on the southwest corner of Southwest 72nd Street and Southwest 167th Avenue for $22 million, according to a deed. Seller HL Mills Family is managed by Cathy Mills, state corporate records show.
Prestige JV pays $15M for Salvation Army site in Hialeah, plans 112 rentals
Prestige Companies is a big believer in Hialeah. After building several residential projects in the city, it is now targeting a new multifamily development site. A joint venture between Prestige and Florida Value Partners bought the closed Salvation Army at 7450 West Fourth Avenue for $15 million, according to a deed. Seller Hialeah 4.9 QOZB is managed…
National Industrial Real Estate Prices Climb 20 Percent, Sales Nearing $19B in 2022
A backsliding economy and soaring inflation weren't enough to slow record demand for industrial space nationwide in April. The average national industrial rent hovered around $6.47 per square foot and vacancies remained at 5 percent in April, all while the construction pipeline had over 640 billion square feet of additional space in the works, according to…
Stephen Ross wants to redevelop the Deauville Miami Beach with architect Frank Gehry
New York developer and Miami Dolphins owner Stephen Ross wants to buy the historic Deauville Miami Beach, with plans for a luxury oceanfront development. The 3.8-acre resort at 6701 Collins Avenue is in the midst of demolition, following a yearslong legal saga between the city and the property owner, as the building continued to fall into disrepair. Ross…
Damac to buy Surfside collapse site for $120M — no other bidders for property
Damac Properties is poised to buy and redevelop the Surfside collapse site where 98 people died last summer, after no other developers met the deadline to bid on the property. The Dubai-based developer was the stalking horse bidder, setting the minimum price last year for the property at 8777 Collins Avenue at $120 million. Earlier this month, in a move that…
Lionstone roars into Miami Gardens with $17M office building acquisition
Lionstone Development leapt into the South Florida office feeding frenzy with a $16.8 million acquisition in Miami Gardens. An affiliate of the Bal Harbour-based real estate investment firm acquired Commons Plaza, a newly renovated, three-story office building at 5901 Miami Gardens Drive, according to records. Lionstone, led by CEO Diego Lowenstein, paid $297…
MG plans $204M luxury apartment project near Coconut Grove
MG Developer is teaming up… to build a $204 million luxury apartment project near Coconut Grove and Coral Gables. Coral Gables-based MG and its partner, Baron Property Group, plan to build two towers with 450 apartments with parking, along with shops and restaurants on a 43,785-square-foot redevelopment site at 3898 Shipping Avenue, according…
MG Developer to Bring $204M Project to Miami
MG Developer is looking to expand its multifamily rental presence in Miami and has announced plans for its next luxury rental community. The company partnered with The Baron Property Group to develop Merrick Parc, a $204 million multifamily development. The project already received an initial $24 million tranche with $13 million in equity financing…
Ex-Kushner exec Jenny Bernell picks up A&E District development site in Miami for $20M
Jenny Bernell bought an Arts & Entertainment District property for $19.8 million, her third Miami multifamily development site purchase over the past year. Bernell, through her Clearline Real Estate, acquired the almost 0.9-acre Block E property at 1550 Northeast Miami Place from the Kluger Family Trust, according to a news release from the seller's broker.
Tricera Capital co-founder Ben Mandell buys out partner Scott Sherman
Tricera Capital's co-founders are going their separate ways, with Ben Mandell now controlling a majority stake in the Miami investment firm, The Real Deal has learned. Mandell took over as CEO, while Sherman will take a seat on the firm's new advisory board, according to a statement provided to TRD. Sherman is keeping some control and…
Video: NAR Senior Economist Gay Cororota Discusses Their Economic Outlook 2022
In this 25 minute videos, NAR Senior Economist Gay Cororotan shares their outlook. This discussion includes the impact of inflation, rising interest rates, the infrastructure bill, and the Russian invasion of Ukraine (and knock-on effects). Gay notes that the recent inflation number of 8.5% is the highest in 40 years. The discussion moves on to general economic…
AMAC, ROVR Development Break Ground on Aventura Community
AMAC and ROVR Development are working together yet again for a project in South Florida. The two developers have started construction on a 290-unit community located at 17990 W Dixie Highway in Aventura. The developers also landed a $67 million construction loan from Ocean Bank for the project, which is slated to complete in the first quarter of 2024.
75,000 SF Office Lease Arranged in Miami for Medical Research Firm
JLL has arranged a 75,000-square-foot office lease at Quattro Miami, a four-building office park in the city's Airport West submarket. The tenant, medical research firm Evolution Research Group (ERG), is relocating its South Florida regional headquarters to Quattro Miami from Hialeah. The move expands ERG's office footprint by 45,000 square feet, according…
Aimco Says Construction Will Begin In 2023 On 1M SF Mixed-Use Edgewater Project
A major project is expected to begin construction in Edgewater in 2023, developer Aimco told investors. The construction start date was revealed last week in the company's first quarter financial results. Aimco has a 20% stake in the project, and will serve as the project's development manager. The company said it contributed an eighth of an acre of land purchased…
42,000 SF Office Lease Arranged at 800 Brickell in Miami
Cushman & Wakefield has arranged a 42,000-square-foot office lease at 800 Brickell, an office tower in Miami's Brickell district. The tenant, IT management software provider Kaseya, is slated to officially move into the top three floors of the 15-story building next year. The 800 Brickell location will be Kaseya's third office in Brickell. Tony Jones of Cushman…
Aztec Group Arranges $81M Construction-to-Perm Loan for Metro Miami Mixed-Use Development
Aztec Group has arranged an $81 million construction-to-perm loan for the development of Residences and Shoppes of Highland, a mixed-use development underway in the Miami suburb of Hialeah. The developer/borrower is an affiliate of South Florida-based Dacar Management, a development firm led by Alberto Micha. An affiliate…
Commercial real estate landscape remains in flux, experts say
An unstable economy and its impact on commercial real estate makes institutional investors nervous, South Florida innovator Stephen Bittel recently shared with FIU Business real estate students. "Inflation is a big problem," said Bittel, chairman of commercial real estate developer Terranova Corp. "We're set for a repricing on all of our asset classes."
Lease roundup: Ryder Logistics leases 150K sf at Miramar Centre Business Park
Ryder Logistics I Cabot Miramar I Miramar Centre Business Park Ryder Logistics, which runs transportation, fleet and supply chain operations, moved its third-party logistics space from Pembroke Pines to the Miramar Centre Business Park. Ryder moved into a roughly 152,573-square-foot space at Cabot Miramar, 15501 Southwest 29th Street, from its…
Sterling drops $37M for Coral Springs shopping center anchored by Best Buy
Sterling Organization is sliding into the Broward County retail market with a $37.4 million shopping center acquisition in Coral Springs. An affiliate of the West Palm Beach-based private equity real estate firm acquired Coral Landings III, a 172,526-square-foot retail center at 6166 and 6200 West Sample Road, records show. Sterling, led by Managing…
SROA Capital pays $20M for Hallandale Beach industrial-flex property
SROA Capital picked up a warehouse-flex building in Hallandale Beach for $20 million, amid continuing investment appetite in the robust industrial market. SROA, through an affiliate, bought the property at 1000 Pembroke Road from an affiliate of Patricio Ureta's Megacenter, according to a deed. The building spans 175,863 square feet and was constructed in 1986 on…
KVR Properties pays $26M for Pompano Beach apartment complex
KVR Properties bulked up its South Florida multifamily portfolio with the $26.3 million purchase of a 124-unit apartment complex in Pompano Beach. An entity managed by Arvind Reddy, founder and president of Coral Springs-based KVR, bought The Boardwalk Apartments at 460 East McNab Road, records show. New York-based The Bancorp provided the buyer…
Moderno nabs $102M construction loan for Fort Lauderdale apartment tower
Moderno Development Group scored a $102 million construction loan for an apartment tower in an emerging Fort Lauderdale district south of the New River. Doron Broman's Moderno and project partner Robert Mathias of Boca Raton-based NCC Development are set to start building the 29-story Rivr Lofts on the west side of Southwest Third Avenue, and between…
Chetrit scores $94M construction loan for oceanfront condo project in Pompano
The Chetrit Group secured a $94 million construction loan for a planned waterfront luxury condo development in Pompano Beach. New York-based Madison Realty Capital provided the financing for Chetrit's site at 2629 North Riverside Drive, said Henry Bodek of Galaxy Capital, who arranged the loan. A rendering of 2629 North Riverside Drive The New York…
Sean Conlon pays $18M for historic apartment and retail building in downtown West Palm
Sean Conlon, a merchant bank founder with a soft spot for old buildings, scooped up a historic apartment property in downtown West Palm Beach for $18 million. He bought the six-story, 38-unit Harris Music Lofts at 206 Clematis Street, which includes about 5,000 square feet of ground-floor retail, according to Zachary Baraf of the Stanwich Group, who was the…
Wellington real estate investor pays $16M for shopping center in own backyard
The son of an Andy Warhol muse galloped into Palm Beach County retail real estate, paying $16 million for a shopping center near the Wellington International equestrian center. An entity managed by Charles "Rusty" Holzer, owner and CEO of Wellington-based Worth Capital Holdings, bought the 46,848-square-foot retail site at 13501 South Shore Boulevard…