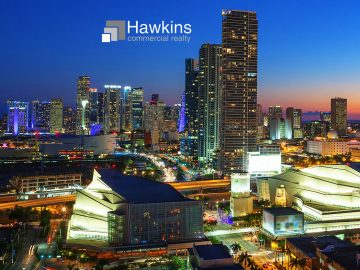 Virgin Trains seeks $350M to build five stations in Miami-Dade
Virgin Trains is proposing a major expansion of the commuter rail service, funded mostly by Miami-Dade County. Virgin Trains USA is seeking $350 million from the county to build up to five train platforms between downtown Miami and Aventura, as well as related infrastructure that would be required, according to a county memo. The proposed stations…
AJP Ventures, Mas Group to Develop 37,000 SF Medical Office Building in Miami
A joint venture between AJP Ventures and Mas Group will develop MedSquare Place, a planned 37,000-square-foot medical office building in Miami's Westchester neighborhood. The developers plan to break ground this summer at the property, which is situated at 9101 SW 24th Street, 11 miles west of downtown Miami and five miles north of Baptist Hospital of Miami. WellMed Medical Management, a healthcare delivery company…
Tri-Rail locked out of downtown while Brightline is shut
Several steps remain before Tri-Rail can run on Brightline tracks to MiamiCentral Station downtown, which at earliest will happen next year but could take longer due to coronavirus-related complications, Tri-Rail spokesperson Victor Garcia said. Still not completed, he said, is the certification of both services' positive train control (PTC) system, a…
Lockdown let state accelerate massive I-395 project
The dramatic drop in traffic on Miami's streets and freeways resulting from the health crisis has allowed the state transportation department to accelerate the progress on the I-395/SR 836/I-95 Design-Build Project. Two months ago, on a directive of the governor, the Florida Department of Transportation (FDOT) announced the speeding up of several critical…
Olympia Theater program puts preservation ahead of profit
The Olympia Theater's (future has been uncertain for some time now, with several ventures bringing forth plans for the historic building at 174 E Flagler Street – only to fall to the wayside.  Now a new vision is being put forth by the Flagler District Business Improvement District (BID) and the Downtown Neighbors Alliance (DNA). And while past developers have proposed projects that focus on…
Coral Gables Art Cinema readies expansion plans
Movie theaters might not be physically open in Miami-Dade yet, but that hasn't stopped 10-year-old Coral Gables Art Cinema from providing a plethora of virtual programming for patrons and eying an ambitious city-backed expansion that is to include adding a second auditorium. An update and discussion of the project was planned for the May 26 Coral Gables…
County climbs aboard trip toward Casinoland transit stop
When county commissioners voted 11-1 last week to evaluate and negotiate a monorail linking Miami Beach to a Miami site ticketed for a mega-casino, they wrestled with what their vote could mean to other transit plans. But other issues may be key to a deal with the sole bidder. The biggest is where funds would come from, because government would fully pay casino…
Fort Lauderdale International Boat Show has $1.3 billion economic impact
The 2019 Fort Lauderdale International Boat Show generated $1.3 billion in statewide economic output, up 51 percent from a 2015 study that found $857 million in output. Thomas J. Murray and Associates Inc. conducted the study of the world's largest in-water boat show, which was released this week by The Marine Industries Association of South Florida, owners of…
South Florida lenders and landlords battle new coronavirus reality
As businesses shutter across South Florida and unemployment skyrockets to record highs, landlords are facing a difficult dilemma: How to offer rent deferrals to tenants and at the same time pay their mortgages? Landlord Shane Neman said he has offered deferrals to commercial tenants, but claims two of his lenders have yet to give him final guidance on whether he can modify his loans and delay his mortgage payments. "Most mortgages…"
Could Bob Zangrillo's legal troubles imperil Magic City?
Bob Zangrillo walked out of federal court on a rainy day in Boston in late March 2019 wearing a black heavy coat, a charcoal suit and a blue tie. His face was drawn, forehead furrowed. The gloomy scene was a far cry from Zangrillo's carefree days as a playboy in Los Angeles just a few years ago, when he roamed shirtless at Burning Man-themed birthday parties and…
Video: May 20th Miami DDA Small Businesses Getting Back to Business Webinar
The Miami Downtown Development Authority (Miami DDA) held a webinar on May 20th, 2020, entitled Small Businesses Getting Back to Business. This was a presentation a video conference to allow professionals, entrepreneurs, and area residents to come together to network and to expand their knowledge of the best #HowToDWNTWN practices from…
Facing the music: Entertainment venues, restaurants weigh reopening options
Bars, restaurants and live entertainment venues around the world are now weighing their reopening options. Some owners say they can't cover the cost of operating at reduced capacity. (Getty) As the U.S. and countries across the globe begin easing some restrictions on nonessential businesses, bars, restaurants and live entertainment venues face tough decisions.
Miami Beach votes to reopen beach, hotels
One of the biggest tourism engines in South Florida, Miami Beach, is planning to let its beach and hotels reopen on June 1, pending county approval. The commission approved the move in a meeting on Friday morning. City officials indicated that they have been in touch with county officials and a countywide reopening of beaches and hotels is likely to…
Here's what the office industry is up to as lockdowns lift
As lockdowns lift and the work-from-home debate ranges on, office landlords are eager to get back to leasing and building out their spaces. "We have various construction projects we want to get back to," said Grant Greenspan, senior vice president of leasing at the Kaufman Organization. In New York, all nonessential construction work and in-person real estate…
Revenge of the hoodies: Big Tech may be breaking up with Big Office for good
On Thursday, Mark Zuckerberg took direct aim at real estate's holiest of holies: The L word. "Over time, location will hopefully be less of a factor in how many people work," he said in a note on Facebook, the $659 billion social media giant he built and leads. "And we'll have the technology to feel truly present no matter where we are." Zuckerberg was announcing the…
Mixed-use Le Jeune Road dev site heads to market for $17M
Ocean Bank is listing a 3-acre site near Le Jeune Road in Miami by its headquarters that could be developed into a mixed-use project. The bank is listing the 10-parcel site at 4238/4250/4262/4276 Northwest 7th Street for $16.5 million, according to a spokesperson for Avison Young. The Le Jeune Station site allows for eight stories and 260 residences…
Empty office buildings may give rise to other health risks
Workers abandoned their office buildings in mid-March to heed stay-at-home orders. But their absence may allow for the accumulation of other health risks. A new study, conducted by Purdue University researchers Dr. Caitlin Proctor and Dr. Andrew Whelton, argues that standing water — and bacteria — may proliferate in unused office buildings, the New York Times…
Bed Bath & Beyond to reopen 600 US stores
Bed Bath & Beyond is planning to reopen 600 stores across the country, the latest chain retailer to unlock its doors as states wind down shelter-in-place orders. The home-goods company estimates about half its stores will be open by June 13 — subject to local regulations — and it will roll out curbside delivery at an additional 600 stores. Curbside pickup will…
How the pandemic is shaking up property taxes in Miami and other major markets
With property tax deadlines quickly approaching — or having already passed — many state and local governments are in a bind. Taxes from real estate bring in huge chunks of revenue to cover essential services for municipalities, which are at a high need during the pandemic. And without that money, some cities may have to float bonds or file for bankruptcy.
Whole Foods-anchored retail in Coral Gables sells for $47M
A fund managed by Zurich Alternative Asset Management purchased the Whole Foods-anchored retail portion of a building in Coral Gables, as demand for South Florida's grocery-anchored shopping centers continues to be strong. The Zurich-managed fund paid $46.75 million for the nearly 60,000-square-foot retail share of Plaza San Remo, The Real Deal has…
$46.8M Sale of Whole Foods-Anchored Property in Metro Miami Negotiated
JLL has negotiated the $46.8 million sale of Plaza San Remo, a 59,694-square-foot mixed-use property in Coral Gables. Whole Foods Market occupies the ground floor of the seven-story property. Built in 2007, the building was fully leased at the time of sale to tenants including Pediatric Associates and OXXO Care Cleaners and also features a seven-story…
Stephen Ross to retailers: Brace yourself for bankruptcies
Stephen Ross predicts the coronavirus pandemic will result in a "flood of cases going to the bankruptcy court." The chairman of Related Companies appeared on CNBC's "Squawk Box" Tuesday to discuss the impact of the virus, and said he's especially concerned about the effect on retailers and small businesses. "Many of them probably don't have the wherewithal,,,
Stephen Ross-owned Miami Dolphins plan drive-in theater at Hard Rock Stadium
As Miami Dolphins owner Stephen Ross forges ahead with plans to host fans for the upcoming NFL season, he's also planning to offer open-air and drive-in theaters at Hard Rock Stadium. The drive-in theater will play Miami Dolphins footage and games, classic movies and will host commencement ceremonies and other events, all viewable from the…
CIM Group Tops Out Miami Mixed-Use Development
CIM Group has topped out Wynwood Square, its mixed-use development in Miami's Wynwood Arts District, and is on track for completion in mid-2021. CIM is co-developing the project with One Real Estate Investment. The project, which features two eight-story towers, will have about 60,000 square feet of office space, 27,000 square feet of street-level retail and…
Facebook, Mastercard rethink office footprint
Facebook and Mastercard are the latest major employers to rethink their office needs as remote work grows in appeal. Mark Zuckerberg informed Facebook's 45,000 workers on Thursday that the tech giant would shift toward more working from home, the Wall Street Journal reported. Over the next decade, the Facebook chief expects that nearly half of the…
HTG scores financing for senior affordable housing in Overtown
Housing Trust Group closed on financing for a senior affordable housing development in Miami's Overtown neighborhood. HTG broke ground on the project, called Father Marquess-Barry Apartments, at 301 Northwest 17th Street. The 60-unit development is named after the late Rev. Canon Richard Marquess-Barry, the former pastor of The Historic St. Agnes Episcopal…
Housing Trust Group Breaks Ground on 60-Unit Seniors Housing Community in Downtown Miami
The Housing Trust Group (HTG) has broken ground on Father Marquess-Barry Apartments, a planned 60-unit seniors housing community in downtown Miami. The units are reserved for residents 62 years of age and older earning between 28 and 60 percent of the area median income (AMI). Rents will range from $372 to $1,200 a month for qualifying residents.
Goldman Sachs to juice cash-strapped RE owners with $3B fund
Big money will be deployed into cash-deprived real estate funds that have been hit by the coronavirus pandemic. Goldman Sachs announced it closed a $2.75 billion fund, known as Vintage Real Estate Partners II, vastly exceeding the investment firm's $1.25 billion target. The fund will target the real estate secondaries market, such as limited partnerships and other…
"There's a lot of concern about going back to an office": how companies are returning to work in South Florida
At Zyscovich Architects' headquarters in downtown Miami, returning to work will be a little different. Guided by arrows, employees and guests will enter the office one way, and exit another. Packages will be rerouted to a room on a separate floor to be unpacked and disinfected. And workers will be encouraged to eat their lunches at their desks. Like going to a…
An Industrial Developer's Insights on the Pandemic's Impact
Although there are some rising uncertainties, the industrial sector appears to be weathering the current crisis caused by the coronavirus outbreak better than other industries. Despite nationwide shutdowns of construction sites, warehouse developments were deemed essential in most states. In 16 of the current top 20 markets for industrial space construction, workers…