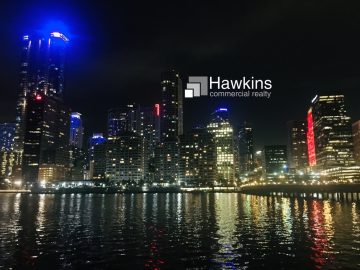 3 Of 5 Top Office Transactions in Florida in Q1 were in Miami-Dade
Florida's second-largest office deal was EQ Office's purchase of Two and Three MiamiCentral, a 333,438-square-foot office portfolio in Miami. The Chicago-based REIT paid Shorenstein $230 million for the buildings, which previously traded for $159.4 million in 2019, one year after their completion. Shortly before deciding to purchase the assets, the new…
Judge strikes down federal eviction ban
A federal judge in the District of Columbia on Wednesday voided the nationwide moratorium on evictions. U.S. District Court Judge Dabney Friedrich wrote in an opinion that although the pandemic is a health crisis, the Centers for Disease Control and Prevention lacks the legal authority to ban evictions. The order does not supersede statewide moratoriums…
RealOp Investments buys Waterford office complex for $110M
RealOp Investments paid $110.1 million for three office buildings at the Waterford Business District near Miami International Airport. The Greenville, South Carolina-based commercial real estate investor bought the Waterford Atrium complex at 6100, 6303 and 6505 Blue Lagoon Drive in two deals from different affiliates of MetLife, records show. RealOp…
East End Capital, Australian investors lose suit over $6M deposit in failed downtown Miami office tower sale
East End Capital and a pair of Australian investors were ordered to pay back a $5.5 million deposit tied to the failed $98.8 million sale of their office tower in downtown Miami. BentallGreenOak had put the funds in escrow last year as part of its planned purchase of the 30-story 100 Biscayne office building at 100 Biscayne Boulevard and garage at 130 Biscayne Boulevard…
Miami Market Update: Planned Inventory Increases
By the end of March, there were 4.1 million square feet of office space under construction within the greater Miami area, including Fort Lauderdale and West Palm Beach. The majority of projects are scheduled for delivery by year's end. Construction within the office sector has somewhat slowed down in Miami, with 2.2 million square feet underway…
Kushner Companies violated multiple laws in massive tenant dispute, judge rules
It's been six years since Dionne Mont first saw her apartment at Fontana Village, a rental housing complex just east of Baltimore. She was aghast that day to find the front door coming off its hinges, the kitchen cabinet doors stuck to their frames, mouse droppings under the kitchen sink, mold in the refrigerator, the toilet barely functioning and water stains on every…
Hialeah Trade Among Top 5 Industrial Transactions in Q1
The largest industrial deal in Florida through the end of March was CenterPoint Properties' $184 million acquisition of 4040 and 4210 W 108th Street in Hialeah, just outside Miami. The two buildings delivered at the end of 2020, marking the market's largest industrial completion of the year. The developer and seller, Florida East Coast Industries, financed the…
More urban areas lost population in 2020
Americans made some major moves in 2020, draining the population of key cities. Urban counties saw the greatest impact of pandemic-year migration, according to an analysis of census data by the New York Times. Urban populations had also fallen in 2019 after seeing growth slow since 2012, largely from a lack of housing, but last year accelerated that trend.
Sam Zell acquires industrial firm Monmouth Real Estate for $3.4B
As the industrial real estate sector booms, Sam Zell's Equity Commonwealth is expanding into the field. The billionaire's company, which focuses on office real estate, is acquiring the big industrial firm Monmouth Real Estate Investment in a $3.4 billion, all-stock deal, according to Crain's Chicago Business. Based in Holmdel, New Jersey, Monmouth owns 120 properties…
Notable Retail Leases Signed in South Florida Q1 2021
South Florida Retail Leases 2021 – 2020 We've compiled a comprehensive list of the top retail leases signed by square footage in South Florida during Q1 2021. This quarter was busy overall, especially considering the current pandemic, and saw several big box leases signed and sealed. Despite the sentiment that the traditional retail market is…
Rent relief hinges on dwindling goodwill
Sometime this month, New York landlords and tenants will gain access to $2.3 billion in federal aid allocated by the state. The catch: They'll have to work together to get it. In a year that's pushed the cat-dog dichotomy of the landlord-tenant relationship to extremes, cooperation could be elusive. The law allows either party to start an application for relief. But for money…
Investors team up with pastry chef and chocolatier for planned Wynwood market
Chef Jorge Kauam and 310 Northwest 25th Street A new high-end market with a restaurant, bean-to-bar chocolate station, patisserie and cocktail bar is coming to Wynwood. Ananda Market, led by partners Antonio Ortega and Piero Pini, signed a 10-year lease for nearly 12,500 square feet at 310 Northwest 25th Street, The Real Deal has learned. Forte Capital…
Renters prepare for eviction crisis as aid is held up
The U.S. may be past the worst of the pandemic, but it could be in for another major crisis. With a federal moratorium on evictions scheduled to end June 30, millions of people who owe back rent could lose their homes if federal aid does not arrive in time, according to Politico. Congress has allocated about $50 billion to help struggling tenants and landlords…
Easton scores $24M construction loan for Hialeah Gardens spec warehouse
The Easton Group's Edward Easton and a rendering of the warehouse project The Easton Group scored a $24 million construction loan for a Hialeah Gardens spec warehouse, aiming for e-commerce, distribution or logistics tenants. Doral-based Easton Group, founded and led by Edward Easton, already is building the 266,000-square-foot industrial project…
The next big boom in North Miami
At long last, North Miami is ready for its close-up. Before leaving office in 2019, former Mayor Smith Joseph called it the "city on the move," but he was just a tad early. The big action was happening solely at the 184-acre, $4 billion Solé Mia project, which runs pretty much as a self-contained principality within North Miami's boundaries. It includes the eye…
Wynwood mixed-use project deferred amid concerns
A plan to build a 12-story mixed-use structure containing commercial space and affordable/workforce housing met with a chilly reception before the Wynwood Design Review Committee. The developer, through representatives, chose to voluntarily defer the project in order to address concerns and suggestions from committee members. Members…
City seeks yet another advisor on Miami Marine Stadium
More than four years have passed since the Miami City Commission made the restoration of Marine Stadium on Virginia Key a reality by approving bond funding for the project. Yet the project remains in limbo, costs have risen, and now city staff is hiring even more consultants to check the work that's already been done by architects and scores of other consultants.
2021 Legislature Clarifies Use of Contract Deposits by Condominium Developers
Section 718.202 of the Florida Condominium Act sought to address the extent that condominium developers could apply contract deposits to pay costs involved in construction of a project. This Section of the Condominium Act allowed deposits in excess of 10% of the purchase price to be used, with appropriate language in the sales contracts for expenditures used in…
Fisher Brothers pays $18M for Wynwood assemblage owned by RedSky venture
RedSky Capital and JZ Capital Partners sold the former Miami Rescue Mission site for $17.6 million, as the joint venture continues to offload its Wynwood portfolio at a discount. New York-based Fisher Brothers purchased the buildings… RS JZ NW1 2200 sold the parcels at 2201, 2229 and 2159 Northwest First Court, and 2200 and 2250 Northwest First Avenue.
CoStar lures workers back to offices with cash prizes, Teslas
Three lucky CoStar employees and their guests will be heading to Barbados on a private plane, with all expenses paid by their employer. Who gets to take the fancy trip? Winners of a lottery that's available only to workers who are vaccinated and physically present in their office, according to the Wall Street Journal. Office occupancy rates remain low as employees…
Don Peebles Maps Out Opportunities in Miami and Beyond
While developer Don Peebles calls Miami and New York home, he is all over the map. Literally. With a focus on large-scale projects developed by public/private partnerships, Peebles and his development firm, the Peebles Corporation, are seemingly everywhere. Los Angeles, San Francisco, Washington, D.C., and Boston, in addition to his two home bases, are just…
Major plans: Major Food Group to open four more restaurants in Miami, Miami Beach
Major Food Group is serving up four new restaurants as part of its expansion in South Florida, The Real Deal has learned. The New York-based restaurant group, led by founders Mario Carbone, Rich Torrisi and Jeff Zalaznick, will open an Israeli concept in the South-of-Fifth neighborhood of Miami Beach and a French steakhouse in Brickell. It will also open…
Prologis plans to expand its Beacon Lakes business park in Miami-Dade
Prologis wants to expand its massive Beacon Lakes business park in northwest Miami-Dade County by building two logistics and distribution warehouses. The San Francisco-based real estate investment trust submitted a proposal to Miami-Dade County for two 164,435-square-foot facilities on the southeast corner of North…
Miami Design District refi loan wrapped into BofA's latest conduit
Four investment-grade quality loans – including one refinancing the tony Miami Design District luxury retail development – highlight a new $1 billion commercial mortgage securitization being placed by Bank of America. BANK 2021-BNK33, the third CMBS offering on the conduit trust shelf of BofA Merrill Lynch Commercial Mortgage Inc., includes 68…
Biden's proposal to cut 1031 exchanges may be "tremendous blow" to real estate: experts
Last spring, Newmark broker Ken Zakin was hustling to find a buyer for a client's retail property in Queens. The tenants had stopped paying rent because of the pandemic, leading to a major loss in income for the landlords, a family that owned the building for four decades. Zakin planned to take advantage of the 1031 exchange program, which allows real…
Russell Galbut wants to turn South Beach hotel and adjacent building into offices and restaurants
Russell Galbut is looking to revive the shuttered Bancroft Hotel and an attached commercial building in South Beach as offices and restaurant space. According to plans submitted to the Miami Beach Planning Board, Bancroft Ocean Five Holdings, LLC, a company managed by Galbut, wants to convert the Bancroft's rooms into executive office suites and offer…
South Florida by the numbers: Formula One revs up Miami real estate
"South Florida by the numbers" is a web feature that catalogs the most notable, quirky and surprising real estate statistics. Miami…start your engines! The region's hopes for post-pandemic momentum was super-fueled by Formula One's recent commitment to hold annual races at Hard Rock Stadium, beginning in the second quarter of 2022. This will…
Guess it didn't work out: Guess loses suit seeking rent break at Lincoln Road store in Miami Beach
After Guess stopped paying rent unilaterally at all its stores last year, the clothing and accessories brand's landlord on Miami Beach's Lincoln Road sued — and won. The Denison Corporation, a Miami Beach-based family business led by Robert Quittner, sued in May for $291,162 in rent and other expenses owed over three months. Guess made good on what it owed…
Harbor buys nearly 5,500-unit portfolio from Chetrit for $390M
In one of the largest multifamily transactions of the year, the Chetrit Group sold a nearly 5,500-unit multifamily portfolio to Harbor Group International for $390 million, The Real Deal has learned. The apartments are in 56 communities across Florida, Indiana, Kentucky, Ohio and Pennsylvania. Harbor Group International, which is led by Jordan…
Video: Avra Jain discusses Miami development, "getting off the Beach"
Developer Avra Jain is "not afraid to go west." The Vagabond Group founder spoke with The Real Deal's Amir Korangy on the latest episode of Coffee Talk, sharing insights about what it means to be a developer and what's next for Miami's hottest neighborhoods. An early investor in now-trendy Wynwood, Jain is out amidst a zoning overhaul in the area. "When they…"
Miami Beach to prohibit hotels in Sunset Harbour? Zoning overhaul could derail Ronny Finvarb's project
New proposed zoning regulations for Miami Beach's Sunset Harbour neighborhood would encourage office development, but shun future hotels, putting a new project by Ronny Finvarb in a perilous position. The Miami Beach Planning Board on Tuesday recommended the city commission approve the new overlay district for Sunset Harbour, along with an…
Melo Group scores $99M refi for apartment tower north of downtown Miami
Melo Group secured a $99 million refinancing for its recently completed Miami Plaza apartment tower, after reaching 95 percent occupancy. Freddie Mac is the lender and Berkadia's Miami office is the seller servicer for the 10-year, interest-only loan, according to a press release from Aztec Group. Peter Mekras, president of Miami-based Aztec, represented Melo in…
Distress investing is dead. Long live distress investing
Churchill Real Estate's Justin Ehrlich and Oaktree Capital's Howard Marks When Howard Marks' Oaktree Capital set out to raise billions of dollars targeting troubled debt last spring, loan defaults seemed inevitable. Companies were teetering, people were hunkered inside and travel had come to a halt. "The firewood had been stacked," Oaktree wrote in…
What Biden's first 100 days meant for real estate
President Joe Biden's administration on Wednesday unveiled a $1.8 trillion spending plan that would eliminate a "special real estate tax break" for certain investors. The partial demise of that tax break, mentioned briefly as part of the American Families Plan, is just one of several policy initiatives affecting real estate that have started to take shape under Biden, some…
R.O.I. Capital buys Oakland Park multifamily complex for $59M
R.O.I. Capital founders Noam Avrahami, Shay Atiya, Shay Milch and Northland Investment founder Lawrence Gottesdiener R.O.I. Capital Group made its first venture into the South Florida multifamily market, buying a 296-unit Oakland Park complex for $58.5 million. Israel-based real estate investor R.O.I. Capital bought Green Tree Apartments at 5201 North Dixie…
Safe Harbor pays $340 million for Fort Lauderdale mega-marina
Safe Harbor Marinas paid $340 million for a superyacht storage and repair facility in Fort Lauderdale. Dallas-based Safe Harbor Marinas, led by Baxter Underwood, bought the Lauderdale Marine Center at 2029 Southwest 20th Street from The Carlyle Group, records show. The property spans 60 acres along the New River's South Fork. Lauderdale Marine Center was founded…
Midtown Capital Partners buys Plantation office building for $78M
Midtown Capital Partners bought a newly built office building at the Plantation Pointe business park for $78 million. Miami-based Midtown Capital bought the four-story property at 1700 North University Drive in Plantation and the adjacent 900-space garage from Northbrook, Illinois-based Torburn Partners, according to a deed. Midtown Capital took…
Universal Technical Institute Picks Miramar for Latest Campus
Phoenix-based University Technical Institute Inc. has leased an approximately 100,000-square-foot facility in Miramar, Fla., in southern Broward County, for its newest campus. The new space will be UTI's 14th campus nationwide and second in Florida and is expected to open in late 2022, subject in part to completing the campus buildout. The provider…