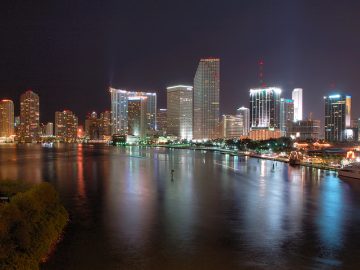 Miami River site in Brickell hits market, could sell for $90M
One of the last remaining large-scale development sites in Miami's Brickell neighborhood just hit the market – 99 Southwest Seventh Street, 625 Southwest First Avenue, and 66 Southwest Sixth Street  – and could fetch more than $90 million, according to the listing broker. The Trust of Norman Superstein and Benzol Properties Corp. combined three parcels totaling 2.08 acres next to Brickell City…
Edgewater Opportunity Zone site hits market, could sell for more than $100M
A block-long Opportunity Zone development site in Miami's Edgewater neighborhood just hit the market and could go for more than $100 million, the listing broker says. The 3-acre property at 1700 Biscayne Boulevard currently has a Burger King and a commercial building owned by a Florida company Biscayne Arts. The investment group spent more than $7.5 million…
Commercial Property Executive Miami Office Report – Winter 2019
Healthy demand, job growth and company relocations are the main factors driving growth in Miami's office sector. Rising wages and grow­ing demographics indicate economic stability. With unemployment at an all-time low of 3.2 percent as of November, the metro is well-positioned for further expansion. Miami had 276,000 office-using jobs at the end of November, with information and financial…
More Co-Everything Is Coming To Miami
A Miami developer is gearing up to deliver co-living and coworking — with a side of wellness — all around the world. Rishi Kapoor's Location Ventures is launching Urbin, one of several new co-everything ventures springing up in Miami, the city that reportedly has the most coworking in America, making up 3% of its office space. Kapoor grew up Atlanta, where his dad invested in commercial real…
Zoning Appeals Law Update: Miami PZAB Applies Incorrect Waiver Standard
In CUBE 3585, LLC, v. CITY OF MIAMI, et al., Circuit Court, 11th Judicial Circuit (Appellate) in and for Miami-Dade County[i], an appeal was filed by Cube 3685, LLC ("Cube") from proceedings involving application for a zoning waiver[ii] for a demolition permit with the required tree survey to demolish the single-family residence (cottage). The City of Miami Zoning Administrator ("Zoning Administrator") approved…
Here's what's happening with Related's $250 million Opportunity Zone fund
Add Related Companies to the growing list of institutional investors that have launched a dedicated Opportunity Zone fund, all hoping to benefit from the popularity of the federal tax incentive program. According to public filings, the developer behind Hudson Yards is more than halfway to its goal of raising $250 million. It set up the fund last year through a limited partnership, but did not immediately start…
South Florida hotel investment firm launches $50 million Opportunity Zone fund
Add one more South Florida company looking to get into the most talked-about program in real estate. Coral Gables-based Driftwood Acquisitions and Development is launching an Opportunity Zone fund with the goal of raising at least $50 million to invest in hotel assets throughout the country. The company has already closed two deals in its fund: a 218-key dual-branded hotel Home 2/Tru by Hilton in…
192,454 SF Warehouse Lease Renewal  Arranged in Metro Miami
Cushman & Wakefield has arranged a 192,454-square-foot warehouse and distribution lease renewal for Miami International Freight Solutions (MIFS) in Miami Lakes. MIFS fully occupies the facility, which is situated at 14100 NW 60th Avenue in Miami Lakes Business Park East, 10 miles north of Miami International Airport. The property was built in 1971 and sits on 13.2 acres. It offers numerous loading…
Miami deadline crush seeks Melreese Golf Course deal help
Facing a deadline crunch, Miami officials await city commission approval to hire a consultant to help negotiate the best lease with David Beckham's group for what is today the Melreese Golf Course. That move could come today (5/9), after the issue was deferred two weeks ago when one commissioner was out sick. A successful lease would turn the city-owned course into Miami Freedom Park, a sweeping…
Miami Jewish Health Systems advances memory care village
Miami Jewish Health Systems sees its garage taking shape during phase one of constructing its S. Donald Sussman Empathicare Village. hase one is to be completed by the summer and lead to construction for another year and six months of the residences and programming centers for individuals with Alzheimer's disease and other forms of dementia. The S. Donald Sussman Empathicare Village is expanding…
Former South Florida bank chairman sues over Miami Gardens shopping center partnership
Guy Lazzeri, the former chairman of Home Federal Bank of Hollywood, is suing his business partner in a Miami Gardens shopping center, alleging intimidation tactics and breach of a shareholders agreement. According to the suit… Lazzeri received a heated email from his partner Peter Izaak in April over a refinancing for the shopping center at 18400 Northwest Second Avenue in Miami Gardens.
Spaces inks first Brickell-area lease
Spaces is making moves in South Florida. The co-working operator, which is owned by Regus' parent company IWG, signed a lease at 801 Brickell Avenue, a 28-story office building. Spaces will have a total of 49,000 square feet. It will take over Regus' existing 18,000 square feet, plus it will have a new 31,000-square-foot extension. Regus, which acquired Spaces in 2015, has leased space at 801 Brickell since…
Spaces Expands Miami CBD Footprint
Regus—the workspace provider part of IWG—has extended and expanded its lease at 801 Brickell, a Class A office tower in Miami's Brickell Financial District. A tenant at the location since 1991, the company has previously occupied the entire ninth story of the building. The new rented space encompasses a portion of the seventh and the whole eighth and ninth floors, totaling 48,913 square feet and…
Video: REIS Senior Economist Barbara Denham Office Market Update with Reis
Barbara Denham, Senior Economist with REIS, a leading commercial real estate data source, appears on a commercial real estate related show to discuss the status of the office market market, including performance, trends, construction costs, and what investors might expect for the remainder of 2019. She notes how, regardless of the length of the expansion, that vacancy rates persist, not having fallen below…
Florida History: The rise and fall of real estate in South Florida
Welcome to Florida Time, a weekly column about Florida history. Today, we hear about the real estate boom and all of its madness from the 'Binder Boys' to negative campaigns about hurricanes. Q: Who were the 'Binder Boys' and how did they change South Florida? A: Boom. Frenzy. Free-for-all. Pick your metaphor. None come close to the madness that was Florida's 1920s real estate boom. With World…
More buyers want deposits back at Parque Towers due to construction delays: lawsuits
Eight buyers are now seeking to get out of their contracts and have their deposits refunded at J. Milton & Associates' long-delayed Parque Towers luxury condo project in Sunny Isles Beach. Since March, four buyers filed lawsuits in Miami-Dade County Circuit Court against the development group of the two-tower, 320-unit project at 300-330 Sunny Isles Boulevard, after construction delays of more…
Statute of limitations for a contract dispute
There may have been a time when people in Florida would make agreements based on conversations and a handshake. Some may wish this was a viable option for operating a business, but the reality is that people and business need to have written contracts to ensure that people will keep their word after agreements are reached. While written contracts make the terms clear and state specifically what each…
Will Flagstone Island Gardens continue its legal winning streak against the city of Miami?
The city of Miami could be facing a losing — and very expensive — legal battle. More than a year ago, a Miami-Dade Circuit Court judge ruled that the city of Miami illegally derailed Mehmet Bayraktar's often-troubled $1 billion resort project on Watson Island. Since then, the city has made several unsuccessful attempts to limit the dollar amount in damages owed to the Turkish developer, who is seeking to…
Will new Opportunity Zones rules propel an office boom?
When Michael Tillman's PTM Partners bought property in Overtown in February to build an 18-story apartment complex, it became one of the first Miami-based real estate firms to utilize the Opportunity Zone program. The federal program is seen by many as the biggest economic boost to the real-estate industry since the 1031 Exchange. But given the murkiness of the Opportunity Zone guidelines…