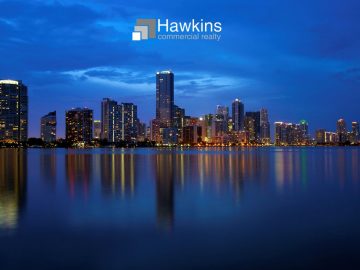 Miami, West Palm Beach, Fort Lauderdale Among Markets Where Apartment New Lease Trade-Out is Much Higher
With new lease trade-out reaching historic peaks recently, some apartment markets are seeing incredible momentum pace significantly ahead of renewal lease trade-out. In the nation overall, a surge in leasing activity in recent months led to an all-time high in occupancy at 97.3% in September. With limited vacancies, new lease trade-out, which measures the…
Moishe Mana employee indicted in $7.8M tax avoidance scheme
Eugene Lemay, a longtime Moishe Mana employee who led the billionaire developer's multi-city arts hub, Mana Contemporary, has been indicted for tax evasion and conspiracy to defraud the IRS. Joel Lingat, the gallery-cum-studio's bookkeeper, has also been indicted. NJ.com first reported the news. Prosecutors allege that Lemay, 61, evaded nearly $8 million in payroll…
Miami Market Update: Fintech Firms Follow the Sun
In September, Miami's office vacancy slipped to 13.6 percent, registering a 60-basis-point drop from the previous month, but still 100 basis points higher than in September 2020, according to CommercialEdge data. The metro outperformed the national vacancy rate of 14.9 percent, which decreased by 50 basis points through September, but was still up 130…
Video: RealPage Market Analytics Senior Manager Carl Whitaker on Multifamily Opportunities and Forecast
Could central business district multifamily performance be the canary in the coal mine for primary markets? How have eviction moratoriums, rising construction costs, and supply issues impacted the multifamily proeprty market? What should multifamily investors expect in the future for performance and cap rates? These questions and others related to…
What 3 big mall bankruptcies say about the state of retail
In "Mallrats" — the quintessential movie about '90s mall culture — a character is driven mad trying to find a sailboat hidden in a Magic Eye poster. Assessing the state of American malls today can trigger the same frustration. Three of the country's largest mall landlords — all coping with similar problems even before Covid shuttered their doors last year…
Warehouses in the sky: Multi-level projects ramp up
There was nowhere to go but up. In 2016, Dov Hertz, the No. 2 person at Gary Barnett's Extell Development, made a late-career leap and started his own shop. He decided to focus on industrial, though as a New York City developer he had no experience with it: New Jersey's sprawling industrial parks, comprising some 800 million square feet, had long served as the…
Report Predicts Remote Work Trends Will Cause Steep CRE Losses, Problems For Cities
The coronavirus pandemic created a work-from-home revolution that may lead to a decline in tax revenues from commercial properties, and cities will suffer as they cannot provide important services to residents, a new report warns. If current trends persist, demand for commercial real estate space could drop by 12% to 25% in key cities, leading to a correlated drop…
Glimmers Of Hope Ahead For Downtown Retail Markets Still Struggling To Recover From Pandemic
It has been a long slog back to normalcy for retailers located in U.S. central business districts, as the coronavirus pandemic kicked off low office occupancy rates in March 2020 that have yet to recover. As business dried up, many downtown retail shops — especially independents — closed. While survivors are still struggling, there are glimmers of hope…
WeWork Former CEO Adam Neumann breaks his silence
Meet the new Adam Neumann, same as the old Adam Neumann. The WeWork co-founder, who presided over one of the most spectacular rise-and-fall stories in modern business, made his first public remarks since he was forced out of his startup two years ago. From listening to Neumann's account, relayed to New York Times DealBook's Andrew Ross Sorkin…
Florida Developer Leads Largest Shipping Container Multifamily Project In The U.S.
A development team is building a 52-unit multifamily project out of 130 used shipping containers in West Palm Beach, Florida. When complete, it will be the largest shipping container housing project in the country, according to Shelterforce. The project, called Arts on Broadway, is in an opportunity zone in the long-distressed but gentrifying Northwood…
Bittersweet tenant: Sugar Factory owner sues Nakash over Ocean Drive lease
In a tenant-landlord dispute laden with sugar and spite, a candy-themed chain restaurant operator is accusing Nakash Holdings of engaging in an unlawful eviction in Miami Beach. In a countersuit filed last month in Miami-Dade Circuit Court, ILov305 accuses a Nakash affiliate of attempting to collect nearly $1 million in rent payments that are allegedly not owed…
"Good luck finding people": Barry Sternlicht warns of labor shortage for infrastructure bill
On a call where Barry Sternlicht and executives at his Starwood Property Trust touted the strength of their portfolio and the global real estate market, Sternlicht took a minute to sound off on the government's $1 trillion infrastructure bill. Sternlicht, chairman and CEO of the real estate investment trust, citing construction costs increasing 2 percent monthly…
Federal Team Gives Insight Into Investigation Of The Surfside Condo Collapse
A federal agency investigating the technical reasons for the collapse of the Champlain Towers South condominium in Surfside, Florida, has assembled a six-pronged team and begun its fact-finding process. But answers won't come quickly. "We think it will take two years" to draw conclusions, Jennifer Huergo, director of the public affairs office for the National Institute…
More apartments on tap: Alta nabs $77M loan for project near Pinecrest
Developers can barely build apartments quickly enough to quench the deluge of demand in South Florida. Construction financing, at least, has been flowing their way amid the robust market. In the latest example, Alta Developers scored a $77.1 million loan for a 296-unit multifamily building just outside Pinecrest. New York City-based Mack Real Estate Group is…
Workers wield the bargaining power in return-to-office plans
As return-to-work plans gather more steam, a survey of building managers and commercial real estate advisors found firms are largely deferring to their employees to determine what shape office life will take. There's one facet of the office's future where workers are getting the most wiggle room: their schedules. Most organizations plan to let employees pick how…
Coral Gables Mobility Hub weathers a design critique
Coral Gables commissioners got another look at how the city's mobility hub is coming along on Tuesday and suggested some detailed improvements moving ahead. Then, despite some concerns about a modern building's looks, they voted to move the project forward. During the commission meeting, city officials gave their input on what should be added into…
Extended care facility seeks 269 units on Coral Way
A developer plans construction of an extended care facility in the City of Miami's Coral Way neighborhood. To be called Renaissance at the Gables, the eight-story structure would have 208,545 square feet of floor area, offering 269 residential units and parking for up to 122 vehicles. It is being defined as a community support facility, and the owner is named…
Okan Tower is back: Developer relaunches sales of downtown Miami tower
The developer of Okan Tower in downtown Miami relaunched plans for the project — now that international travelers can enter the U.S. again. Okan Group, led by chairman Bekir Okan, put sales of the planned 70-story Hilton Hotel & Residences-branded tower on hold when the pandemic began last year. Now that the U.S. lifted the ban on foreign travel from 33 countries…
Despite no mass-eviction event, filings are on the rise
The end of the national moratorium didn't spark an eviction surge, but gaps in federal rental assistance and tenant protections have reportedly given way to a swelling trend. The mass-eviction event many feared would follow the federal moratorium's expiration in August didn't come to pass, but tenants across the U.S. are facing a steady rise in filings. Evictions are…
Melo's second downtown Miami apartment project scores $75M construction loan
Melo Group's second apartment project in downtown Miami got a boost in the form of a $75 million construction loan. The 57-story tower, dubbed Downtown 1st, will have 560 market-rate units steps from the Third Street and Miami Avenue Metromover stations. The tower also will have 3,000 square feet of retail space and 10,000 square feet of offices. Records…
Jared Galbut, Keith Menin buy Coconut Grove building from Federal Realty
Bodega Taqueria y Tequila owners Keith Menin and Jared Galbut are going from tenant to landlord in Coconut Grove, even before the opening of their restaurant and bar. 3419 Main LLC, led by Menin and Galbut, paid about $4.3 million for the two-story, 2,250-square-foot building at 3419 Main Highway. Property records show the seller is an affiliate of Federal…
Taxing endeavors: Real estate accountants brace for change out of D.C.
As Washington lawmakers tangle over the details of President Biden's economic agenda, real estate investors and their tax advisors are trying to figure out what it all means — often in the heat of the deal. "Life is going on and transactions are being done," said Michael Greenwald, a partner at the accounting firm Friedman. "It makes it very difficult for people to plan."
Seagis Property Group Acquires 53,000 SF Warehouse In Doral
Seagis Property Group announced today that it has acquired a 53,000 square foot distribution facility located at 10005 NW 58th Street in Doral. The two-unit warehouse was purchased through a 50% sale-leaseback. There is currently a 26,500 SF vacancy available for immediate occupancy. The acquisition increases the Company's South Florida portfolio to 110…
Big Tech's appetite for real estate continues to grow
They're digging their teeth into real estate. Big Tech's explosive profits and growth are leading to a boom in real estate acquisitions and developments for companies including Facebook, Amazon, Apple, Netflix and Google's parent company, Alphabet — collectively known in industry parlance as FAANG. The five tech titans own or lease terabytes of space across the…
House passes $1 trillion infrastructure bill
The House passed a bipartisan $1 trillion bill aimed at rebuilding the country's aging infrastructure Friday night, fulfilling a promise by President Joe Biden to pour money into highways, bridges and mass transit while also investing in climate resilience and expanding high-speed internet access into rural areas. Meanwhile, a second bill zeroing in on climate change…
Workers return to offices as jobs recovery accelerates
The stop-and-go jobs recovery was on the move again last month. The U.S. economy added 531,000 new jobs in October, dropping the unemployment rate to 4.6 percent, according to the Labor Department, which revised September's tepid hiring from 194,000 to 312,000. "Job growth bounced back in October," said Mike Fratantoni, chief economist of the…
$10M deal in its backyard: Finvarb Group picks up Bay Harbor Islands hotel
A Bay Harbor Islands-based hotel development and investment firm is making a $10 million bet in its own backyard. Finvarb Group, led by Ronny Finvarb, bought The Landon Bay Harbor-Miami Beach at 9650 East Bay Harbor Drive, The Real Deal has learned. The seller is BHI Hotel, an entity managed by Samuel Spiritos, a managing shareholder with Shulman…
Big win: A-Rod prevails on civil RICO, theft claims tied to multifamily empire
Alexander Rodriguez is so far hitting it out of the ballpark in a suit filed by his ex-brother-in-law, Constantine Scurtis, over their unraveled real estate empire. A Miami judge on Wednesday struck Scurtis' racketeering and theft counts, both civil claims, against A-Rod, saving the former baseball slugger from tens of millions of dollars in damages. The ruling came on the…
Dead end: Nakash entities sue Miami Beach for closing off Ocean Drive to vehicles
The New York-based Nakash family that owns four Art Deco hotels, the former Versace mansion and the commercial space in an Art Deco condominium is accusing Miami Beach officials of creating check-in chaos for their customers by banning vehicular traffic on Ocean Drive. In a lawsuit filed in Miami-Dade Circuit Court last month…
Office broker explains high hopes for WeWork partnership
Cushman & Wakefield's Brett White and John Forrester Two years ago, the real estate industry wondered if WeWork would collapse under its own weight. Now, commercial brokerage giant Cushman & Wakefield is counting on the flex-office provider to help it attract and retain corporate service clients. Late last month, the company closed on a $150 million…
Developers are finding new lives for "zombie" malls
It took two weeks for the body to be discovered. Police in Gwinnett County, Georgia, revealed the grisly finding: A woman's remains had somehow gone unnoticed near the food court of the Gwinnett Place Mall through what should have been the height of the holiday shopping season in 2017. Beyond the inherent tragedy, the incident was a macabre reminder of the decline…
Chetrit scores $310M construction loan for Miami River mixed-use project
Chetrit Group secured a $310 million construction loan for its $1 billion mixed-use mega development planned for the Miami River. Madison Realty Capital provided the loan for the first and second phases of the multi-phased project, according to a release. New York-based Chetrit has long planned to develop the 6.2-acre site, south of the river, between I-95…
$310 Million Loan Granted To Build First Two Phases Of Miami River Project
The Miami River project has obtained a construction loan and is now moving forward with the first two phases. The financing is to build both a residential high-rise tower, and a river walk that will be open to the public. Foundation construction is already underway at the project site. The loan totals $310 million, enough to build the first two phases of the project…
Secretive real estate purchases driving offshore economies
Major investors spending millions on real estate via offshore companies or trusts are increasingly dodging authorities, and in turn, setting off sizable ripple effects in global markets. An investigation by the International Consortium of Investigative Journalists outlines growing evidence that massive offshore real estate purchases could negatively impact those…
Alberto Campo Baeza reveals Miami office building design
Spanish architect Alberto Campo Baeza has unveiled his first commercial project to be built in the USA – a Miami office building for developers Bizzi & Partners and Sumaida + Khurana. The two real estate experts have joined forces for the very first time for this workspace architecture scheme, which is set to bring the Spanish master's powerful brand of minimalism…
3 Trends That Will Drive Real Estate in 2022
If there are three words real estate professionals should consider heading into the next year, they are flexibility, convenience and resiliency. Those are the defining themes that came out of the annual Emerging Trends in Real Estate 2022 report, released last week by PwC and the Urban Land Institute. So, here's the good news: The narrative of the past year is that real…
JP Morgan: Is Inflation Still Transitory?
Despite its billing as "transitory" this summer, inflation has proven more durable than many expected. Instead of resolving as the economy rebounded, supply chain disruptions persisted through the summer. In late October, Federal Reserve Chair Jerome Powell acknowledged the supply chain disruptions could persist well into 2022, continuing to drive prices…
MLB's Mo "The Hit Dog" Vaughn scores Edgewater development site for apartments
Former baseball first baseman Mo "The Hit Dog" Vaughn plans to build market-rate apartments in Miami's Edgewater neighborhood, marking a shift for his company that has so far focused on affordable housing. Vaughn's Omni New York, through an affiliate, paid $7.2 million for the development site at 116 Northeast 24th Street, according to records.
LA firm nabs Sunrise industrial building for $13M
A Los Angeles-based commercial real estate firm scored a fully leased, single-tenant industrial building in Sunrise at a time available properties in South Florida are becoming scarce. An affiliate of Safco Capital Corporation, headed by President John Safi, bought the 75,026-square-foot warehouse in the 612-acre Sawgrass International Corporate Park for $13.4 million…
Brian Tuttle wins approval for 205 single-family home project in Parkland
Developer Brian Tuttle won rezoning and site plan approval last week for his planned cluster of 205 single-family homes on 76 acres in Parkland. The Parkland Royale Phase 2 development site includes a property known as Gator Acres, with nearly 5 acres of land in unincorporated Broward County that the city of Parkland plans to annex under an agreement with Tuttle.
GL Homes drives home $66M deal for Boca Raton golf course
After a one-year delay, a Sunrise-based residential developer closed on a 190-acre, city-owned golf course where it plans to build more than 500 homes. GL Homes, led by President Misha Ezratti, paid $65.7 million for the Boca Raton Municipal Golf Course, according to records. The seller is the city of Boca Raton. Due to the postponement of the closing last November…
TA Realty buys Delray Beach apartments for $83M
TA Realty bought an apartment complex in Delray Beach for $82.8 million, in the ongoing flurry of investment sales in South Florida's booming multifamily market. The Boston-based real estate investment firm purchased the SofA complex at 150 Southeast Second Avenue and 151 Southeast Third Avenue from Mesirow Financial, according to records.
Billionaires Teddy Sagi and Jorge Pérez invest in major transit development in West Palm Beach
Teddy Sagi and Jorge Pérez with a rendering of the development Billionaire real estate moguls Teddy Sagi and Jorge Pérez are investing in Transit Village, a long-planned, transit-oriented mixed-use development planned for West Palm Beach. Sagi's Globe Invest and Pérez's Related Group, along with BH Group, formed a joint venture to invest in developer Michael…
Judge orders developer Glenn Straub's Palm Beach Polo Club to pay $86K. "Big deal," Straub responds
Developer Glenn Straub lost another round in a yearslong dispute with Wellington tied to his Palm Beach Polo and Country Club and the Big Blue Preserve ecological site embedded within the club. Straub, who owns the 2,250-acre Palm Beach Polo with golf and tennis courses as well as a clubhouse, and Wellington have been locked in litigation, in part…
JV Backs $500M West Palm Beach Project
Transit Village, a $500 million mixed-use project that will span 10 acres in downtown West Palm Beach, Fla., has some well-funded investors supporting it now. Related Group, BH Group and Globe Invest Ltd., the investment arm of billionaire London-based Israeli businessman Teddy Sagi, have formed a joint venture to invest in the transformative…