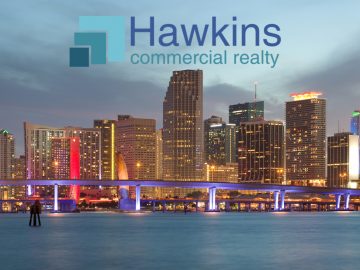 Miami-Dade's Retail Market Posts Net Negative Absorption, Rent Declines in Third Quarter
Miami-Dade County's retail market posted 120,934 square feet of negative net absorption in the third quarter, according to research from Colliers International. The decline is a sizable improvement from the second quarter, a period where the market gave back 230,698 square feet of retail space. Year-to-date absorption remains positive for Miami-Dade County…
IHG Breaks Ground on First Atwell Suites Hotel
IHG Hotels & Resorts has begun construction on the first property of its latest all-suites brand. The Atwell Suites hotel, which is owned by Francisco Arocha, Pedro Villar, Albert Ovadia and Sunview Cos., is located in Miami and is expected to open by the summer of 2021. The 90-key Atwell Suites hotel is aimed at the upper-midscale traveler who opts for longer stays…
Sweetwater District Industrial Building Brokered for $44 Million
Newmark has brokered the $44 million sale of a 312,000-square-foot industrial facility located within Dolphin Commerce Park in Miami. Tech Data Corp. sold the property to Badia Spices, a local manufacturer and distributor of spices and herbs that will eventually move into the building. Built in 2002, the property at 2200 NW 112th Avenue is situated…
Trump plan would let real estate firms avoid SALT deduction cap
The Treasury Department has announced a new measure that would allow many businesses to get around the cap on state and local tax deductions. Congressional Republicans and the Trump administration implemented the $10,000 cap as part of their 2017 tax overhaul. But it has been met with heavy resistance from both the real estate industry and Democrats…
Federal Realty's Proposed Redevelopment Of The Shops at Sunset Place Falls Through
The Shops at Sunset Place in South Miami will not be redeveloped as planned, its lead developer said in Securities and Exchange Commission filings and on a conference call last week. The long-struggling mall had been slated for a partial teardown and the addition of three new 17-story towers that would house apartments and hotel rooms. "There's nothing…"
Logistics Firm Clover Systems Completes $16.2 Million Sale-Leaseback of Warehouse in Doral
Logistics firm Clover Systems has sold a 113,891-square-foot warehouse in Doral for $16.2 million. The family-owned company signed a short-term lease to remain at 1910 NW 97th Avenue, which is situated nine miles east of Miami International Airport and 15 miles east of downtown Miami. The buyer was Los Angeles-based 1910 NW 97th Ave Owner LLC, an…
Studies suggest targeted lockdowns of restaurants, gyms, hotels to curb Covid
Going to a restaurant, gym or hotel? It may not be as safe as you'd think. A new study by researchers at Stanford University and Northwestern University tracked the movement of people and compared it to Covid outbreaks, according to Bloomberg. The study estimated that just 10 percent of locations account for 85 percent of predicted infections. In Chicago, for…
Terra proposes 1,384-unit apartment complex near Magic City Casino
David Martin, Central Shopping Plaza, and a rendering of the apartment complex Terra, one of South Florida's most prolific developers, is looking to build a seven-building apartment complex behind the Central Shopping Plaza in Miami's Flagami neighborhood. The proposed development would take up 2.5 million square feet and add 1,384 apartments to the 38-acre…
Third time's the charm: North Miami Beach approves $1.5B Dezer project
For the third time, and in spite of opposition from many nearby Eastern Shores dwellers, the North Miami Beach City Commission narrowly approved a development agreement and new zoning plan that will enable Dezer Development to move forward with its $1.5 billion plan to redevelop the Intracoastal Mall. Next, the developer will need to obtain Florida…
'Nowhere To Put 'Em': Boating Craze Pushes Marinas Into Hot Property Territory
Integra Investments principal Victor Ballestas accidentally stumbled into the marina industry. After having worked on numerous condominium developments, he co-developed a project in Bay Harbor Islands, near Miami, that had a marina component with 14 slips. Seeing the high demand for them, his firm went on to buy marinas in the Florida Keys and even…
Downtown Miami developer seeks 37-story tower with all off-site parking
A 37-story mixed-use residential tower is planned for the heart of downtown Miami. To be called The District, the project will include 343 residential units, 2,297 square feet of commercial-retail use, and zero parking. The developer is requesting a waiver to allow all parking off-site. The city's Urban Development Review Board has voted unanimously to…
Ocean Drive overhaul won't come quickly, mayor says
Updating Miami Beach's newly-named Art Deco Cultural District has been the talk of the city commission all fall, but a major change isn't likely overnight. At a workshop Sept. 17, commissioners and city staff brainstormed ideas for re-imagining the Mixed-Use Entertainment District, which officials agreed hosted many good business operators but also…
Creative minds use ingenuity to map road to economic recovery
As Miami-Dade continues to battle the novel coronavirus under "new normal" conditions, its path to recovery and prosperity relies in large part on creative minds whose ingenuity will pave the way. Thanks to the inventiveness of John Stuart, director of FIU's Miami Beach Urban Studio, home to one of the largest 3D printing labs in the state, thousands of lives…
You can't put Humpty Dumpty together again in South Beach
Miami Beach is stumbling through a minefield that could blow up its economy. Impacts of a worsening pandemic are battering the city's economic driver, its visitor industry, causing officials to assess diversifying away from reliance on guests. Nobody has hit the panic button, but it is at hand. The city spent years and millions to modernize a convention…
Foreclosure filings picked up in October up despite moratoriums
Despite federal and state moratoriums, foreclosure activity in the United States ballooned last month. Nearly 12,000 properties had some kind of foreclosure filing in October 2020, up 20 percent from last month but down 79 percent from October 2019, according to a monthly report from Attom Data. That largely continued a trend of growing foreclosures that began…
Video: Related's Stephen Ross Discusses COVID CRE Effects on CNBC Power Lunch
Stephen Ross, the chairman and majority owner of The Related Companies, a global real estate development firm he founded in 1972 that has been and continues to be very active in Miami, and owner of the Miami Dolphins, discusses reopening and the state of commercial real estate projects like Hudson Yards in New York in elsewhere. This discussion concentrates…
Investcorp sells nearly $1B in multifamily assets
The private equity firm Investcorp has sold eight multifamily properties across the U.S. for $900 million. Investcorp said it sold the properties to multiple buyers, though it did not disclose specifically who those were. The buildings are located in four states — Arizona, California, Florida and New York — and were acquired by the company in 2016 and 2017, according…
Office unease: Tenants are paying up but staying away
A pattern has emerged among office landlords reporting their third quarter results: The vast majority of tenants kept up with rent payments, but an equal number also kept their workers away. Investment firm and REIT executives reported strong rent collections across much of their office portfolios, a positive sign for their immediate bottom line. At many of…
Negotiating: Strategic Advantages of Backup Offers for Commercial Property Buyers
I regularly am in situations where a buyer is interested in some commercial property that is already under contract. It is the exception where I don't recommend submitting a backup offer. There are two principal advantages to a buyer of submitting a backup offer in an effort to put a backup contract in place. Both are strategic advantages. "This is the bottom line; win the…"
Video: How COVID-19 is Impacting Commercial Real Estate
In this video from Yahoo Finance, Doubleline Capital Portfolio Manager Morris Chen joins Julia La Roche and Zack Guzman of Yahoo Finance to discuss in some detail the latest commercial real estate outlook amid COVID-19. They talk about the variance in pain among various commercial real estate sectors as well as the offsetting positives of an extremely low…
From inflation targeting to average inflation targeting : The Fed's new long-run monetary framework
Since 1996, it has been understood among Fed policymakers that the (undeclared) target for inflation was around 2%. In January 2012, Chairman Ben Bernanke made this implicit inflation target explicit and official, thereby aligning the Fed's inflation target with that of all the major central banks. In this framework, when inflation has approached or exceeded…
Bridge, PGIM Secure $67M Construction Loan For South Florida Cold Storage Project
Joint venture partners Bridge Development Partners, one of South Florida's most active industrial real estate developers, and PGIM Real Estate, the global real estate investment and financing business of Prudential Financial, Inc., announced it has secured $67 million in financing to develop Bridge Point Cold Logistics Center, a 312,103-square-foot speculative cold storage facility in Hialeah. The loan was issued…
Sapir Corp CEO Amir Richulsky resigns
After about half a year as Sapir Corp's CEO, Amir Richulsky is leaving for another firm. The developer announced Richulsky's resignation in a Sunday filing on the Tel Aviv Stock Exchange, where the company's bonds are listed. The disclosure did not specify where Richulsky is going, but notes that his tenure will officially end in December. Richulsky, previously Sapir Corp's…
Office, apartment REITs get shot in the arm from vaccine news
New York office and apartment landlords received a rare shot of good news Monday with Pfizer's announcement that it's getting closer to developing an effective Covid-19 vaccine. An early analysis found that Pfizer's vaccine was more than 90 percent effective in treating Covid-19 on clinical volunteers. The company said it could potentially manufacture enough vaccines for…
Oak Street Real Estate Capital buys Oakland Park Walgreens for $7M
Oak Street Jim Hennessey and Marc Zahr with 3100 North Andrews Avenue, Oakland Park The flurry of Walgreens trades continues with an Oakland Park store selling for $7.3 million. Walgreen Co. sold the store at 3100 North Andrews Avenue. The buyer is a company affiliated with Chicago-based private equity firm Oak Street Real Estate Capital. In June, Oak Street…
Lame-duck Congress will resume stimulus package talks
After several long days of vote counting last week, former Vice President Joe Biden emerged as the president-elect, Republicans gained more seats in the House and control of the Senate hinges on the results of two run-off elections in Georgia. Congress will now enter a lame-duck session, where little is typically accomplished even under normal circumstances…
Real estate to Trump: Produce evidence or move on
Former Vice President Joe Biden declared victory in the contentious 2020 presidential race Saturday morning after securing the clinching number of Electoral College votes from Pennsylvania. President Donald Trump, however, refused to concede Saturday, vowing that he would "not rest until the American People have the honest vote count," likely setting the stage…
GLP pays $16 million for Doral warehouse
A family that owns an international logistics company sold a Doral warehouse for $16.2 million. The Rincón family, which owns and operates the Clover Group, sold the 100,000-plus-square-foot building at 1910 Northwest 97th Avenue, according to records. The buyer shares a Santa Monica address with GLP Capital Partners, an investment firm that…
Hard-hit retail, restaurants, construction show big jobs gains in October
A handful of industries that have sustained the most damage from the pandemic reported the biggest job gains in October, pointing to an improving economy despite Covid-19's surging numbers nationwide. Travel and leisure companies added 271,000 jobs last month, retail added 104,000 positions and construction gained 84,000 jobs, according to data released…
Miami commercial brokerage alleges it was stiffed on medical office commission
A Miami-based commercial real estate brokerage alleges that a buyer and seller cut it out of its commission on a medical office deal. The brokerage, Real Capital Partners, sued the buyer and seller of the three-building, 10-acre medical office campus at 7400, 7500 and 7800 Southwest 87th Avenue in Miami, according to the lawsuit filed last month in Miami-Dade …
Prospect of divided government rallies real estate stocks
During a week of uncertainty for the country, the stock market had its best performance since April. Real estate stocks were among the big gainers as votes for president and Congress were cast and counted. Top performers in the industry included large service companies and asset-management firms, proptech and residential home builders. Gains were lower for…
Video: "It's going to take longer, and it's going to cost more": Craig Solomon on the real estate capital stack
Craig Solomon is one of the most active lenders and investors in a market that's rife with uncertainty. His firm, Square Mile Capital, has made some recent big bets on last-mile real estate and is quickly becoming one of the country's largest owners of soundstage space, with acquisitions such as Silvercup Studios in New York City and CBS Television City in Los Angeles.
Black Creek buys Davie apartments for $79M
Real estate management firm Black Creek Group bought a 340-unit apartment complex in Davie for $79.1 million. Black Creek, based in Denver and led by CEO Raj Dhanda, bought the complex at 11000 Cameron Court for about $233,000 a unit, according to records. Los Angeles-based investment firm CIM Group sold the complex, which was built in 1998.
Suburban office demand spikes as working from home continues
Interest in small suburban offices is picking up as more people continue to work from home, and relocate outside of major urban centers. For IWG, the short-term office company, deals for its downtown New York offices have collapsed by 30 percent since the virus outbreak, while activity in southern Connecticut has surged more than 40 percent, according to Bloomberg.
Election puts real estate's generous tax breaks in spotlight
For many in the real estate industry, having a developer in the Oval Office has brought an uncomfortable amount of media attention to a long-standing practice: avoiding taxes. A series of recent articles in The New York Times and other outlets have showcased the many ways developers and investors use tax breaks to lower their bills — sometimes to zero.
Mall giant Unibail-Rodamco-Westfield says its real estate is worth 11% less than year ago
Unibail-Rodamco-Westfield saw U.S. rental income tumble 39 percent year-over-year in the third quarter, the company disclosed Sunday. The retail landlord and investor reported that rental income from U.S. operations, including from 39 Westfield-branded malls, fell to $464 million. Across its overall portfolio, which includes major…
Has there been a "Trump effect" on property values?
Despite Trump's claim that he will boost property values, it's not clear that those have grown that fast in places where he won handily in 2016 (Getty; iStock) In July, President Trump announced that the Department of Housing and Urban Development would repeal an Obama-era rule requiring localities that receive federal funding to break down barriers to fair…
What four years of Trump has done for real estate
An assessment of how President Donald Trump affected real estate in terms of foreign investment, housing, taxes and general political sentiment. (Getty) Nearly four years ago, Donald Trump was sworn in as the nation's first developer-in-chief, surrounded by prominent figures from New York City real estate. The sight of his industry friends on the national stage…