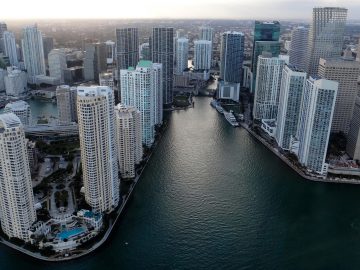 Corporate and Economic Growth in Miami Drive Tenant, Investor Demand for Office
Miami continues to be a top-ranked commercial real estate market in the Southeast United States. As the economy gears up to enter its longest expansion period in U.S. history, Miami has shown more resiliency than other South Florida markets, recording steady gains in absorption, robust leasing activity and modest rent growth. Economic fundamentals remain strong as job growth continues to fuel…
Renderings revealed: River Parc master plan, Unknwn's Wynwood store
River Parc master plan in Little Havana Miami-Dade County, Related Urban Development Group and SunTrust unveiled plans on Tuesday for the River Parc master plan, which will add 1,800 affordable and workforce housing units to a 22-acre property in Little Havana. The project consists of the public housing projects Robert King High, Haley Sofge and Martin Fine Villas. This week, the county and…
South Florida's industrial sales jump to over $1B in Q3 2019
Industrial sales are up South Florida's condo market has slowed down and the housing market is not what it once was, but the industrial sector is as hot as ever. Investment in South Florida's industrial real estate market rose 77 percent to $1 billion in the third quarter of 2019 on a yearly basis. The market is booming right now due to an influx of institutional buyers acquiring new properties and land, according…
Miami again delays vote on David Beckham's soccer stadium deal
Jorge Mas, David Beckham and a Miami Freedom Park rendering What was billed as another do or die moment for David Beckham's Miami soccer stadium deal turned into another game delay. At a special meeting Tuesday morning, Miami city commissioners voted to continue negotiations with Beckham's partnership group to build Miami Freedom Park, a projected $1 billion commercial mixed-use…
Soccer's Melreese lease left waiting on the first tee
A somewhat different Miami City Commission will be deciding the fate of Miami Freedom Park, a planned professional soccer stadium, offices, shopping mall and hotel on Melreese, the city-owned golf course. Commissioners unanimously voted against a lease presented Tuesday, though talks are to go on. Tuesday's meeting was Wifredo "Willy" Gort's last. Commissioner Manolo Reyes had demanded…
Here's What's at Stake in the Latest Vote on Beckham's Miami Soccer Stadium
Update: The resolution backed by Commissioners Joe Carollo and Manolo Reyes to cease negotiations with Miami Freedom Park was changed into a different item, requiring a final lease contract or status update to be presented to the commission on December 12. That means that term-limited District 1 Commissioner Willy Gort, an opponent of the project, will have been replaced by then. A single vote…
Approval For David Beckham's Miami Stadium Deal Delayed
David Beckham's new Major League Soccer team, Inter Miami, is already signing players for its inaugural season — there are rumors Beckham is trying to recruit top international star Lionel Messi from Barcelona — but the team doesn't yet have a permanent place to play its pro games. A special meeting Tuesday of the Miami City Commission had potential to sidetrack or derail plans for a stadium there…
Suffolk fights back against developer over MiamiCentral delays
Lawsuits continue to mount at MiamiCentral over construction delays. A month after Suffolk Construction Company and others reached a multimillion-dollar settlement over construction issues at MiamiCentral, the construction company is suing the development group. Suffolk Construction is suing two subsidiaries of Florida East Coast Industries, alleging the development group failed to give Suffolk…
Jeffrey Soffer scores $1.2B refi of Fontainebleau Miami Beach
Jeffrey Soffer and Fontainebleau Miami Beach Jeffrey Soffer closed on a $1.175 billion refinancing of the Fontainebleau Miami Beach, marking the latest restructuring of debt for the beachfront resort. Goldman Sachs, Morgan Stanley and JP Morgan provided the fixed-rate loan for the nearly 1,600-key hotel at 4441 Collins Avenue, according to a press release from Newmark Knight Frank. The Commercial…
Chinese Fast-Fashion Brand YOYOSO Launches U.S. Expansion With Lincoln Road Store
When one fast-fashion door closes, another one opens. Retail chain Forever 21 might be shuttering a 41K SF space on Lincoln Road, Miami Beach's high street retail mecca, but another brand is setting up shop. Chinese-based YOYOSO has leased space in a landmark building as part of its entree into the U.S. market. YOYOSO will take over 5,600 SF at 1111 Lincoln Road, a 145K SF property that was…
Past, present and future Jon Paul Pérez makes an impact at Related Group
Mega-developer Jorge Pérez of Related Group was on the cover of the first issue of SFBW in September 2014 and he was interviewed for this edition as part of the magazine's fifth anniversary celebration. Joining him this time, though, was his son, Jon Paul, who is poised to take over as president within a year and CEO within two years. The interview covered an array of topics, including succession planning…
Developer Dan Kodsi plans hotel-condo tower at Miami Worldcenter
Dan Kodsi is launching his next Miami project, geared toward international buyers looking for crash pads that they can also rent out whenever they please. Kodsi, who recently delivered the luxury condo tower Paramount Miami Worldcenter, revealed plans for his next building, Legacy Hotel and Residences, also at Worldcenter. His Royal Palm Companies will build the project, with 278 branded condos…
Here's why office rents are going up in South Florida
Office rents rise across SoFla Three things in South Florida seem certain: death, taxes and rising office rents. In Miami-Dade County, rents rose to $38.30 per square foot in the third quarter from $35.93 per square foot in the same period of 2018. Vacancy rates dropped slightly to 9 percent from 9.1 percent, according to a report by Colliers International South Florida. Rents are rising partly as a result of new Class…
Developer snags $12M loan for co-working project in Coral Gables
Location Ventures snagged a $12 million construction loan for its Coral Gables co-working project. Location Ventures secured the loan from BGI Capital to renovate the ground floor of the 52,719-square-foot building into a new co-working concept known as Forum, according to a release. The building sits at 299 Alhambra Circle in the heart of Coral Gables…
Miami Beach Names as One of a Set of American Cities Taken Over by Airbnb
Miami Beach is positively teeming with Airbnb units. The Florida city crams in more of the short-term rental company's properties per capita than anywhere else in the U.S., with roughly one Airbnb for every 15 of its 92,000 residents, according to new analysis from property services firm IPX1031. Seven of the top 10 cities with the highest Airbnb density per resident are in Florida, the company said.
The floundering retail market is about to get even worse
Discount retailers. Luxury department stores. Children's stores. Home goods giants. The retailers that filed for bankruptcy so far in 2019 — and those on experts' watch lists — have spanned the spectrum. And with an ever-growing list of stores in the red, the outlook for the real estate they occupy continues to be grim. While some retailers, like young-adult fashion chain Forever 21, plan to use bankruptcy filings…
Video: Atlanta Fed's Brian Bailey's Views on Commercial Real Estate 2020
Brian Bailey, Subject Matter Expert with the Atlanta Federal Reserve, Commercial Real Estate, appears on America's Commercial Real estate Show to discuss his view on the commercial real estate market, including the current economic cycle, deal underwriting, and some potential red flags to look for going forward. He talks about rent control legislation and how it has changed the multifamily market.
A royal deal: Majestic Plaza shopping center sells in Westchester
A North Miami Beach investor purchased a shopping center in Westchester for $13 million amid a development boom in the western part of Miami-Dade County. Majestic Center Plaza LLC, led by Offer Ramim, bought the 50,917-square-foot Majestic Plaza property at 8100 Southwest 8th Street for $255 per square foot, records show. The shopping center sits on a 101,146-square-foot lot. Majestic Center…
The doctors will see you now: Co-working medical office space operator plans major expansion
An owner and operator of co-working spaces for doctors has tapped Florida as its next big market for expansion. ShareMD, a San Diego-based investment firm led by President and managing partner George Scopetta, is looking to purchase medical office buildings throughout the Sunshine State's major cities and convert vacant space into its co-working concept. The group has already purchased…
Miami Beach waterways restoration flowing ahead
The Waterway Restoration Project for the City of Miami Beach is finally funded and moving steadily through an exhaustive planning and permitting process. City officials report that the entire process may set construction commencement out five years from now. The Waterway Restoration Project is one of 57 projects receiving G.O. Bond funding, approved by voters in November 2018. "The total…"
Half-dozen Virginia Key city projects in flood zone
Virginia Key is almost entirely in the flood zone, and the City of Miami ought to consider these low elevations as it undertakes more than a half-dozen projects on the island. That's advice from Tiffany Troxler, a research scientist and associate professor at the Southeast Environmental Research Center and the Department of Biological Sciences at Florida International University, who recently detailed…
Ferry service might soon help relieve traffic on causeway
Ferries plying Biscayne Bay between Miami and Miami Beach could soon relieve road congestion at little to no tax cost while becoming tourist amenities. Despite the image of cute toys ferrying a few people beside lanes where mega-cruise liners carry 3,000 to 5,000 people, ferries can become real transit under proper conditions. As Miami Today reported, Miami-Dade Commissioner Eileen Higgins told the…
Pensam Issues $30M Loan for Mixed-Use Building in Miami's Design District
A new Miami retail-office building with floor-to-ceiling windows on some floors got a $30 million loan to help repay debt and prepare space for new tenants. The seven-story Design 41 was completed last year, becoming the latest addition to the edgy Design District known for its art and high-end retailers. Pensam Capital LLC affiliate Pensam Funding issued the loan to building developer and…