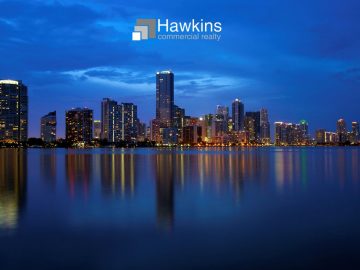 Miami Beach seeks development partner for Art Deco apartment building
Miami Beach officials are contemplating partnering with a developer to renovate a city-owned Art Deco apartment building. The Miami Beach City Commission on Wednesday authorized staff to move forward with crafting a request for proposals to partner with a developer that can fix up the Barclay Plaza Apartments at 1940 Park Avenue. Bidders can also include possible additions…
Estate Cos. Completes Multifamily Conversion of Former Ramada Inn Hotel in Metro Miami
The Estate Cos. has completed the conversion of a former Ramada Inn hotel located at 1950 W. 49th Street in Hialeah, a suburb of Miami. The redevelopment, known as Alture Westland, is a four-story garden-style community housing 251 apartments and 5,522 square feet of retail space. The Estate Cos. acquired the shuttered hotel and the five-acre site for $15.3 million in August 2020…
South Florida's biggest HOA's leaders charged in massive fraud
Five people were charged with running a massive fraud that allegedly looted more than $1 million from the coffers of South Florida's biggest homeowners association. The Miami-Dade State Attorneys' Office on Tuesday arrested former and current board members of the Hammocks HOA for their alleged roles in the scheme. The arrests are a continuation of an investigation…
Tri-Rail service to downtown Miami clears a barrier
Plans for Tri-Rail's long-delayed arrival to serve downtown Miami have advanced with a three-way agreement for Tri-Rail's team to start training and testing to get service rolling. The South Florida Regional Transportation Authority (SFRTA), which controls Tri-Rail, has "received a signed Tri-Party Agreement, with Florida East Coast (FEC) Railway and Brightline, that gives…
Miami trolley system may get five more years of life
City commissioners are to act on two resolutions today (11/17) that would provide Miami's trolley system with additional funding and extend the contract terms with a 20% increase to hourly service rates. The first resolution would authorize the city manager to execute a public transportation grant agreement between the city and the Florida Department of Transportation…
Hyatt Regency riverfront developers negotiate with Miami
Gencom, a real estate and development firm, will now negotiate with the City of Miami to build a reimagined riverfront downtown following voters' approval of a Nov. 8 referendum to amend the lease of city-owned waterfront where the Hyatt Hotel sitsYatt Hogtl sits. "We're thrilled with the overwhelming support we've earned. Our plans for a privately funded world-class…
Roundup from the Fed: Inflation, Financial Markets and COVID-19 Disparities
In the event you missed it, today we are highlighting some research recently produced by the St. Louis Fed. The following articles were published in the Review and Economic Synopses. Review. Financial Market Reactions to the Russian Invasion of Ukraine. This article analyzes financial market reactions to the Russia-Ukraine war with a focus on the conflict's opening weeks.
Miami-Dade commissioners override mayor's vote on industrial megaproject outside UDB
A controversial industrial megaproject survived a last-ditch effort by Miami-Dade Mayor Daniella Levine Cava to kill the proposal. County commissioners on Tuesday voted to quash the mayor's veto of their approval of South Dade Logistics and Technology District, a development that would sprawl 378 acres outside the Urban Development Boundary in south Miami-Dade.
Evacuated Port Royale Miami Beach residents can return
Residents of a Miami Beach condominium evacuated more than two weeks ago over concerns of the property's structural integrity were allowed to return home on Monday. A contractor deemed the 164-unit Port Royale at 6969 Collins Avenue safe for occupancy after the shoring, or reinforcement, of beams in the building was completed, the Miami Herald reported. Brian Calderone…
Pantzer pays $175M for newly built apartments in Miami's MiMo
Pantzer Properties continues to bet big on South Florida's multifamily market. Pantzer bought The Boulevard, a newly built apartment building at 5700 Biscayne Boulevard in Miami's MiMo Biscayne Boulevard Historic District, for $175 million, according to sources. No deed was recorded, meaning the deal may have closed through a transfer of the property's ownership entity.
Lease roundup: Urban-X, Motwani, Falcone, CIM Pebb score tenants
Miami River Landing Shops and Residences, the mixed-use development along the Miami River, scored a hair salon as a tenant. ManCave for Men, a luxury barber shop, will open in a 1,200-square-foot space along the riverfront next summer, according to a River Landing news release. Coral Gables-based Urban-X Group, led by Andrew Hellinger and…
South Florida real estate players gear up for recession, but remain optimistic
Top brokers, landlords and developers doing business in South Florida's real estate market are gearing up for an economic recession, although they believe deal flow and new construction will hold steady in the coming year. That was the consensus among panelists and attendees at The Real Deal's South Florida Showcase + Forum on Thursday. The all-day event…
"We're at the teenage years of Miami": Next gen developers see opportunity
Despite coming from distinct real estate legacies, developers Rishi Kapoor and Alex Witkoff see eye-to-eye on the future of real estate in Miami. "We're at the teenage years of Miami," said Witkoff, executive vice president of development at Witkoff. "Miami used to be a boom-and-bust market. Now it's much more stable." Location Ventures founder and CEO Kapoor and…
"Miami is the last man standing": Marc Roberts weighs in with Robert Rivani on hospitality
With his exuberant fashion sense and style, imagine Robert Rivani as a Gen Z Mr. Monopoly, the titular character of the popular real estate board game. His commercial condo buying spree in Miami and Miami Beach this past year is akin to picking up Monopoly properties that can generate the highest income, Rivani told a standing room only crowd at The Real Deal's…
Lithia Motors pays $29M for Doral industrial building
A national automotive company picked up a Doral industrial building near car dealerships that it acquired over the summer. An entity led by executives with Lithia Motors, including the Medford, Oregon-based firm's CEO Bryan DeBoer, paid $28.5 million for the 145,000-square-foot facility at 9300 Northwest 13th Street, records show. The seller, an entity with the same address as New York-based…
Two Roads' Taylor Collins on slowdown, rising interest rates
Taylor Collins, a managing partner at Two Roads Development, is aware of the paradox a lot of developers and brokers are seeing in the market, especially in Miami. He agrees that the slowdown is here, and hesitates to compare anything to the boom in prices of last year. Yet, he is still finding that demand is high. Last year, he said, was "a very strange year" with an…
Michael Shvo and Jeff Greene talk distress, opportunities in office
The office building, once the pinnacle of commercial real estate, now feels more like a liability. Inflation, rising interest rates and remote work have left the asset class uniquely exposed to declines in valuation. Vultures are starting to circle for distress. But Michael Shvo still sees opportunities. The developer bought the Transamerica Pyramid in San Francisco and, according…
"Winter doesn't really come to South Florida": Developers on economic climate
Top developers didn't deny that it's a tough economic environment right now, but South Florida, they said, has the wind at its back. "Given the macro-economics, I would like to refer to my friend Jon Snow to say, 'Winter is coming,'" Arnaud Karsenti said in reference to the "Game of Thrones" character. "But fortunately, winter doesn't really come…"
Health care moguls buy Hialeah Gardens nursing home for $43M
A pair of nursing home investors scooped up a Hialeah Gardens facility for $43.2 million. Bent Philipson and Andrew Bronfeld bought Signature HealthCare Center of Waterford at 8333 West Okeechobee Road from an affiliate of Los Angeles-based Arba Group, records show. The deal for the 214-unit facility breaks down to roughly $202,000 per unit. Philipson has invested…
Video: CoStar's National Director of Office Analytics Phil Mobley Discusses Office Market Dynamics
CoStar's National Director of Office Analytics Phil Mobley joins Michael on America's Commercial Real Estate Show to talk about the U.S. office property market. Discussions include current and forecasted occupancy rates, office rental rates, loan interest rates, cap rates and demand for space. He notes that we are post pandemic in the way we live and work. Vacancy in Q3 2022…
North Beach's Biggest Development Rejected? What's Next for the Site of the Deauville Hotel?
After years of sitting in disrepair due to a fire, the beloved and historic oceanfront Deauville Hotel site in North Beach has been waiting for its fate. Bought by Miami Dolphins owner and billionaire Stephen Ross, earlier this year he revealed plans for the site with a 373-feet, "six-star luxury," two-tower vision designed by stararchitect Frank Gehry. With one a 175-key Equinox-branded…
A Newly Public Company – Miami Based – Wants To Shake Up The Hotel Industry. Customers Say It's A Scam
A small, relatively unknown company has been quietly taking over struggling hotels across the country in recent months, hoping to build an empire from the rubble of the pandemic. LuxUrban Hotels Inc. has snapped up more than 1,000 rooms this year alone, signing long-term leases with hotel owners grateful for a reliable stream of income in trying times. But the…
CRE Leaders Cheer DeSantis' Win, Push For More Action On Affordable Housing
Florida Gov. Ron DeSantis won a resounding re-election victory last week, which commercial real estate leaders hailed as a sign that the state will continue with its business-friendly ways. In interviews with Bisnow, industry insiders said that DeSantis' policies have been good for business, but they hope he focuses more on affordable housing in his second term than his first amid…
FTX Turmoil Undermines Miami's Crypto Strategy
In a turnabout that illustrates the risk underlying Miami's attempts to fashion itself as a center of the crypto economy, values of cryptocurrencies are plunging, and one of Miami's most prominent crypto names is on the brink of collapse. Cryptocurrency exchange FTX this week was caught in a liquidity crisis that roiled crypto market. The global company, headquartered…
Higher Borrowing Costs Cool South Florida's Sizzling Multifamily Market
South Florida has been one of the hottest rental housing markets in the nation. But even in sunny Miami-Dade, Broward and Palm Beach counties, higher interest rates have cast a shadow on debt-funded acquisitions of apartment buildings and multifamily development. Despite the fundamental strengths of South Florida, including low unemployment and a growing…
Prime buys Fort Lauderdale self-storage facility for $35M
Prime Group Holdings' Robert Moser and the self-storage site at 2401 West Broward Boulevard in Fort Lauderdale Prime Group Holdings bought a self-storage facility in Fort Lauderdale for $35 million. A Prime affiliate acquired Riverbend Self-Storage, a four-story building with 886 self-storage units at 2401 West Broward Boulevard, according to records. Led by CEO Bob Moser…
Pompano Beach advances 128-unit mixed-income rental project
A key city approval advanced the development of Gateway Luxury Apartments, a 128-unit, mixed-income multifamily complex planned for Pompano Beach. The Pompano Beach City Commission last week approved an allocation of 19 "flexibility units" for moderate-income tenants that will allow development of the apartment complex on a commercially zoned site. The 4.2-acre…
Steve Ross' Related adds Broward affordable rentals to portfolio
Stephen Ross' hefty wager on South Florida real estate is no longer limited to prime markets such as Miami's Brickell and downtown West Palm Beach. The billionaire founder of Related Companies and owner of the Miami Dolphins scooped up the Monterra affordable apartment complex at 2601 Solano Avenue in Cooper City for $55.5 million, according to records. Sellers ZOM…
West Palm approves Immocorp's mixed-use project in Northwood
For years, West Palm Beach leaders have pushed for redevelopment of the Northwood district, but it's been to no avail — until now. On Tuesday, the city's planning board greenlit the first project: A plan by Gilbert Benhamou's Immocorp Capital for 382 apartments, 63,200 square feet of commercial uses and roughly 13,000 square feet of public space on 4.7 acres at the west end…
Palm Beach County voters approve $200M affordable housing bond
Palm Beach County voters said yes to more housing, approving a $200 million bond for affordable units on Tuesday. The bond, which will be paid for by property tax increases, is designed to subsidize the construction of 20,000 workforce housing units. The subsidy averages about $10,000 per unit. Approval of the housing bond is a win for developers, many of which donated…