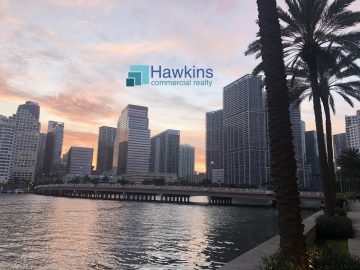 Melo Group Tops Off Miami Twin Towers
Downtown 5th, a downtown Miami mixed-use multifamily property with 1,042 units planned for two 52-story buildings, is moving closer to completion as construction crews have topped off the East Tower and expect to top off the West Tower later this month. Developer Melo Group expects construction to be completed in summer 2021 with pre-leasing…
Centennial Management Lands $20M Refi for Miami-Area Affordable Community
Centennial Management has received a $20 million HUD-insured loan to refinance Pembroke Park Apartments, a 244-unit affordable housing community in Pembroke Park, Fla. Greystone provided the Section 223(f) financing with a 35-year term and a low, fixed rate. According to Yardi Matrix information, Centennial previously financed the property in 2011…
Dorms no more: Student housing turns into high-end apartments
Developers are eyeing sparsely-populated student housing as an opportunity to create high-end apartments for professionals. According to data from Moody's, 30 percent of public and private universities in the country are running deficits, the New York Times reported. And with fewer students on campus due to the pandemic, some are looking to close…
Miami-Dade seeks proposals to develop mixed-use project at Vizcaya station
Miami-Dade County issued a request for proposals to develop the property next to the Vizcaya Metrorail Station, near the entrance to Miami's Brickell neighborhood. Proposals are due to the county by Nov. 30 for the 2.6-acre property at 3205 Southwest First Avenue, documents show. The development agreement would allow a multi-phased project to be built…
Miami Beach Convention Center hotel plan still alive
Development of a Miami Beach Convention Center Hotel has been delayed for an unknown period, but developer David Martin of MB Mixed Use Investment LLC said in a statement he is still confident in the project. On March 16, Miami Beach spokesperson Melissa Berthier told Miami Today this week, the developer notified the city that it was experiencing…
Chart: Miami-Dade Commercial Real Estate Sales Maintain Strength ~ October 2020 MLS
As can be seen in the chart above of the trailing two yearsof closed sales of Miami-Dade commercial property, both improved commercial property (with buildings) and vacant commercial land, recorded in the Miami MLS. October 2020 was again a strong month in line with recent, also strong, months. The Miami Multiple Listing Service (MLS) will not record all…
Miami Marine Stadium, if restored, couldn't welcome public
Imagine the City of Miami spending more than $40 million to restore the iconic Marine Stadium only to be prohibited from using it for "public assembly" because that special use permit expired long ago after the stadium was closed in 1992 in the wake of Hurricane Andrew. That's the reality facing city officials, who have been pushing for a zoning text…
Brightline pact has a Wynwood station on track
A binding deal between Miami-Dade and Brightline for a Miami-to-Aventura commuter rail line isn't signed, but details of the project – including plans for a station in Wynwood – are coming into focus. County commissioners Nov. 13 approved a resolution directing incoming Mayor Daniella Levine Cava's administration to negotiate with the private…
Coral Gables Country Club tussles with city over rent relief
A resolution to grant a rent deferment for the Coral Gables Country Club is still under negotiation and has yet to reach an agreement with the city. During the Oct. 27 city commission meeting, Commissioner Jorge L. Fors Jr. was authorized to speak with country club's CEO Anthony Di Donato to resolve and move forward with a deferred rent and payment plan only…
Miami Beach hunts for venue sponsorship revenue
Miami Beach commissioners, who seek to reduce the city's dependence on tourism as that sector continues to falter, explored on Friday the first category of opportunities for economic expansion laid out by city administration: sponsorship opportunities and naming rights. At a meeting of the Finance and Economic Resiliency Committee last month…
Wynwood team recommends an adaptive re-use building
The Wynwood Design Review Committee is recommending approval of an adaptive re-use project designed to revive a high-profile corner in the booming Wynwood Arts District. The one-story building is at 2521 NW Third Ave., at the southeast corner of Northwest Third Avenue and 26th Street. The owner is David Lerner and the applicant is MKDA FL.
Albert Garcia: Wynwood leader aims to double 5.5 million visitor record
Albert Garcia considers himself an agent of change, a leader drawn to jobs and environments with steep challenges that offer equal or greater opportunities. Such is the case with his chairmanship of the Wynwood Business Improvement District (BID), the funding mechanism and overlaying organization that over the past decade has helped to transform…
Miami Beach asks for offers to develop lots near Lincoln Road
Miami Beach wants to develop parking lots near Lincoln Road into Class A office space, banking on demand fueled by executives migrating south. Developers can submit letters of intent by 3 p.m. on Jan. 11 for a public-private partnership to redevelop the three lots next to Lincoln Road between Alton Road and Meridian Avenue. Combined, the land could…
Developers score $15M construction loan for Miami townhouse development
A partnership of two local developers received a $15.3 million construction loan to build 30 luxury townhouses near South Miami. Miami-based Apollo Bank provided the loan for the proposed development at 6790 to 6880 Southwest 80th Street in Miami. The project is dubbed the Somi Subdivision, according to records. The borrowers are a company…
U.S. retail spending slows but still higher than last year
Americans are spending more money than they did at this time last year — and even last month — but the trend may slow as Covid-19 cases spike throughout the country. According to the latest statistics from the Census Bureau, American shoppers spent $553.3 billion in October, a 0.3 percent increase from $551.9 billion in September, and 5.7 percent above the…
Miami commissioners reject proposals for marina redevelopment
Biscayne Marine Partners' rendering of new boat storage and marina facilityvirgin For the second time in six years, the Miami City Commission deep-sixed proposals to redevelop two city-owned marinas on Virginia Key. Commissioners voted 3-2 to throw out all proposals, including an $80 million plan submitted by the top-ranked bidder Virginia Key LLC…
8 Vital Questions (and Answers) for South Florida Real Estate Investors
MMG's Director of Acquisitions, Marcos Puente, discusses the current state of the South Florida / Miami real estate market. More specifically, he addresses the factors to consider for South Florida real estate investors, and the direct impact of the pandemic in the area. He also dives into the future of the market with a positive…
Oversubscribed: Russell Galbut and Michael Liebowitz's SPAC raises $115M
The blank check company formed by developer Russell Galbut and investor Michael S. Liebowitz raised $115 million, $15 million more than its $100 million goal. New Beginnings Acquisition Corp. closed its oversubscribed initial public offering in early November, after forming the special-purpose acquisition company last month, Liebowitz said. The firm plans to invest…
Climate concern driving down sales and prices along coastal Florida: report
Concern over climate change may be driving down sales volume and prices for homes along coastal Florida, according to a recently released report. The study published by two researchers at The Wharton School at the University of Pennsylvania found that from 2013 to 2018, sales in coastal Florida census tracts with the most exposure to sea level rise declined…
Apartment developer buys South Miami Winn-Dixie site from Bacardi JV
Apartment developer AvalonBay Communities paid nearly $19 million for the Winn-Dixie property in downtown South Miami. Property records show 5850 S.W. 73 Street LLC sold the 1.9-acre site at 5850 Southwest 73rd Street to Avalon SoMi LLC, an affiliate of the real estate investment trust. The seller is tied to the Bacardi family and Henry Pino's Alta Development…
Sapir Corp names Sharon Raz CEO
Sapir Corp's Alex Sapir and Sharon Raz Sapir Corp has named former Elad U.S. Holding CFO Sharon Raz as its next CEO, the development firm announced Monday. The appointment comes a week after the company's previous CEO, Amir Richulsky, resigned to pursue a job opportunity in a different industry. "Sharon Raz is a seasoned leader with just the right…
Back to the future: Automat dining concept gets Covid upgrade
A century-old dining concept is being resurrected in the New York metro area, as restaurant owners struggle for customers amid the continued coronavirus restrictions. Automat Kitchen in Jersey City and Brooklyn Dumpling Shop — in Manhattan — are updating the automat, in which meals are served to customers via vending machine-like lockers…
MMG's Marcos Puente Featured on Retail Real Estate Expert Roundup
N3 Real Estate, a national real estate company specializing in retail properties, aggregated a collection of insights from retail real estate experts regarding the state of retail real estate in the coming year or two. Answers were provided by a number retail professionals, and MMG's Marcos Puente provided his view on where retail property valuations…
Miami-Dade moves forward with multimillion-dollar Brightline deal
On Friday, the Miami-Dade County Commission unanimously approved a resolution authorizing further discussions with Brightline, Florida East Coast Railway and the county to create a commuter rail. The commuter train system would operate between downtown Miami and Aventura with as many as eight stations in Miami-Dade, and it could extend as far…
Michael Gianaris to President-elect Biden: Cancel rent
State Sen. Michael Gianaris and President-elect Joe Biden (Getty) State Sen. Michael Gianaris is calling on President-elect Joe Biden to provide relief for New Yorkers — in the form of canceling rent. The Democratic politician, who represents Astoria, Queens, and, as the deputy majority leader of the Senate is the second highest–ranking member of the legislature in New…
Pre-pandemic evictions resume in Miami-Dade
Residential and commercial evictions filed before March 13 can resume in Miami-Dade County, the mayor's office announced on Friday. On one of his last days in office, Mayor Carlos Gimenez directed the Miami-Dade Police Department to begin enforcing writs of possessions for all cases filed on or before March 12, when the mayor declared a state of emergency due…
Are we still in a recession? : What to expect from the NBER business cycle dating committee
The Downturn and Rebound April 29, 2020: In its advance estimate, the Bureau of Economic Analysis (BEA) reported that real GDP for the first quarter of 2020 fell at a 4.8% annual rate. May 8, 2020: The Bureau of Labor Statistics reported that nonfarm payrolls fell by 20.5 million in April—the largest one-month percentage decline on record (dating back to 1939).
Owners of Ritz-Carlton South Beach and Bal Harbour hotels merge with Sagamore
The three families that own Ritz-Carlton hotels in South Beach and Bal Harbour, as well as the Sagamore Hotel in Miami Beach, merged ownership of their properties. The Ben-Josef Group, which owns the Sagamore, and partners Flag Luxury Group and Lionstone Group, which own the two Ritz-Carltons, secured a joint merger, and could bring the Sagamore under…
From underwear to surgical masks: Isaco sells Miami Lakes warehouse for $15M
A warehouse in Miami Lakes will move from making underwear to masks, after a medical device manufacturer paid $15 million for the 156,000-square-foot building. DemeTech, based in Miami Lakes and led by Luis Arguello Jr., bought the property at 5980 Miami Lakes Drive, according to a press release. DemeTech's products include N95 respirator masks…
Manhattan-based asset manager, down on NYC, opens Miami office
As lockdowns continue to affect New York, Marathon Asset Management is setting up an office in Miami. While the investing team will remain in New York, the new Miami office will be available for all other personnel. Read more New Yorkers snap up high-end rentals in Miami Beach Following the money, NY brokers seek licenses in other states Return to the office?
Sale Of Doral Industrial Warehouse Negotiated
DiGiacomo Group's Stephen J. DiGiacomo, SIOR, Roger Zuniga and Patricia Marquez negotiated the sale of an industrial warehouse totaling 107,667 square feet located at 1910 NW 97th Avenue in Doral. Buyer Park 1910 NW 97 Ave Owner LLC purchased the warehouse, which is situated on just over 6 acres, from Clover Logistic 1910 PROPERTY HOLDINGS…
Knotel may slash its global portfolio by 60%
Knotel once hoped to be the next WeWork. And as the pandemic rages on, it's facing similar headwinds as its co-working rival. The flex office provider is looking to trim 60 percent of its 4.8 million-square-foot global portfolio, and slash its leases in the U.S. and Canada from 3.4 million square feet to just 500,000 square feet, Business Insider reported. Knotel's goal is to…