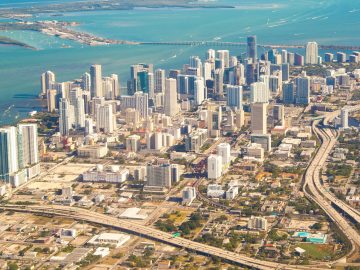 Related Group Breaks Ground on Phase II of $650M River Parc Project in Miami's Little Havana
The Related Group, along with the Department of Public Housing and Community Development and SunTrust Bank, has broken ground on Phase II of River Parc in Miami's Little Havana neighborhood. Phase II consists of the 150-unit Gallery at River Parc, an affordable and workforce housing community. Of the property's 40 studios, 70 one-bedroom units and 40 two-bedroom apartments, 80 percent will…
Apartment building in Little Havana flips for $6 million
An investor flipped a Little Havana apartment building for $6.2 million after buying it a few months ago. Aurora Investments Florida, led by Coral Gables attorney Oswaldo Martinez, sold the 21-unit apartment building at 900 Southwest Seventh Street for $295,238 per unit, records show. The buyer is Casa Aurora LLC, which is led by Terrell Rhye of Miami. The investment firm bought the building for …
Grove Isle developers buy assisted living facility in West Kendall for $16.5M
United Home Care sold an assisted living facility in West Kendall to a company tied to Grove Isle developers. Property records show 9355 Miami LLC, led by developers Eduardo Avila and Hector Fernandez-Rousselon, paid $16.5 million for the four-story, 87,674-square-foot building at 9355 Southwest 158th Avenue. United Home Care, led by president and CEO Carlos Martinez, sold the 2.6-acre property.
Even after hipster charismatic CEO Adam Neumann's rather spectacular ouster, WeWork continues to be one of the most talked about companies in the business world, particularly in any involved with office properties. This video runs through the most telling statistics of WeWork's fall from grace. They note WeWork was recently taken over by SoftBank at an eight billion dollar valuation, $39 billion less…
Terra unveils latest mixed-use project near Downtown Doral
David Martin's Terra revealed plans for a retail center near Downtown Doral, as demand for sprawling suburban shopping centers remains strong in South Florida. Tenants of the 150,000-square-foot shopping center include 24-Hour Fitness and Marshalls, according to a release. Doral Square, on the southeast corner of Doral Boulevard and 87th Avenue, will break ground by the end of the year.
7-restaurant Riverside Miami expects to be serving in December
The ambitious plan to turn a barren spot of land on the Miami River into a family-oriented, open-air culinary experience is coming to fruition. Riverside Miami LLC is working hard to transform land at 431–451 S Miami Avenue. into a special venue called Riverside, with a dozen components including seven restaurants, a tap room and an outdoor event space. Owner and developer Antonio Primo told…
Preview of Jorge Pérez collection starts hunt for more space
When developer and art collector Jorge M. Perez opened El Espacio 23 in Allapattah for a preview last week (ahead of its grand opening during Art Basel), it offered visitors a look into his private collection. But it also created a problem: where to find more storage space? Mr. Perez originally bought the building housing El Espacio 23 to warehouse items in his collection, but the collection eventually took over…
If Melreese lease goes ahead, more voices must be heard
Miami commissioners wisely delayed a vote last week to lease the city's golf course for a century to a massive shopping-office-hotel complex with a soccer stadium until they get all details. Waiting was an easy choice. An even better option was to say "no thanks" to the unsolicited offer for Miami's largest green space, but it might be too far down the road to say no without seeing the full deal. When…
Grove Isle developers face new lawsuit over proposed project
Grove Isles Associates is facing another legal challenge to its plans for a new condominium complex in the waterfront luxury community in Coconut Grove. This time, it's a lone Grove Isle homeowner who owns a $26-million-a-year in sales metals manufacturing firm seeking to derail the project, known as The Markers Grove Isle. For the past four years Grove Isle Associates has engaged in legal skirmishes with…
Gables Residential sells dev site near Shops at Merrick Park
A national apartment builder sold a development site near the Shops at Merrick Park in Coral Gables to BF Group, a local developer. Development options for the property include a hotel and office building. Atlanta-based Gables Residential sold the 18,748-square-foot assemblage at 4521 and 4601 Le Jeune Road to BF Group, led by Jose and Luis Boschetti. BF Group paid for $4.17 million for the…
Can a Judgment Creditor Garnish a Contractual Obligation?
If you think a commercial contract can protect you from a garnishment, you may well be wrong. While proper wording of a contract is essential to safeguard your interests and provide a path to recovery in the event of a default, the courts have made it clear that a debt arising out of a contract is the proper subject of a garnishment. Here is a real-world example to consider. You and a business partner…
BGI Capital Provides $12M Renovation Loan for Office Building in Metro Miami
BGI Capital has provided a $12 million loan for the renovation of a 52,179-square-foot office building in Coral Gables. The borrower, Location Ventures, will renovate the building's ground floor into a new coworking business known as "FORUM." Jason Shapiro of Aztec Group Inc. arranged the 24-month loan on behalf of the borrower. The building, located at 299 Alhambra Circle, will be the first location…
Technology is Top-of-Mind for Multifamily Renters, Says NMHC Survey
More and more renters are looking for apartments that feature high levels of technology, according to the 2020 Apartment Resident Preferences Report released by the National Multifamily Housing Council (NMHC) and research firm Kingsley Associates. The NMHC is a Washington, D.C.-based nonprofit organization serving the multifamily industry. The report was compiled through survey responses…
Last call for Purdy Lounge. Miami Beach bar announces closure
Purdy Lounge in Miami Beach's Sunset Harbour neighborhood will hold its last last call on February 8. The popular bar and lounge, at 1811 Purdy Avenue, announced on Facebook that it would be closing early next year after operating for about 20 years. "There is a lot you can do in 20 years, begin a new century, build a new business, develop a neighborhood, make new friends, strengthen bonds, dance…
Morgan Reed Group lists Rail 71 development for $33M
Morgan Reed Group is looking to cash out on its investment in a Little River office development. The company hired brokers Tony Arellano and Devlin Marinoff of Dwntwn Realty Advisors to list Rail 71, at 7205 Northeast Fourth Avenue, for $33 million or $258 per square foot, the brokers said. The flex creative office building is 89 percent occupied with 49 office, showroom and gallery tenants…
Russell Galbut wants to sell another Miami Beach hotel
Kaskades Hotel Miami Beach developer Russell Galbut and his nephew Keith Menin are looking to sell another Miami Beach hotel. A company tied to Galbut and Menin is seeking to sell the 26-room Domio Kaskades Hotel in Miami Beach for $15.8 million or $607,692 per room. The property at 300 17th Street totals 18,725 square feet. Marcus & Millichap's Drew A. Kristol, Kirk D. Olson and Joseph Thomas…
SEC launches WeWork probe: report
WeWork is reportedly facing an SEC probe (Credit: iStock) The U.S. Securities and Exchange Commission has launched an inquiry into WeWork to determine if the company violated reporting rules ahead of its doomed planned public offering. Citing two unnamed sources, Bloomberg reported that SEC investigators are scrutinizing disclosures made to investors while the company embarked on aggressive…
Neighbors don't want a school at Coconut Grove's Villa Woodbine
You probably have seen the #STOPGroveGridlock banners all around the Grove. This is a grass roots effort by neighbors to keep Carrollton School from taking over the Villa Woodbine location and turning into a school. Eleven banners went up Monday and the last six went up Tuesday evening. Sixteen of them are 3′ x 10′ in size. Smaller ones will go up on Tuesday, too and on Bird Road and Grand Avenue they…
Miami's condo king will hand crown to son next year
Miami's condo king is preparing to hand over the title of president to his son within the next year. Jorge Pérez, president and CEO of Related Group, will give up some control to his son, Jon Paul Pérez, in 2020, an executive at the company said during a Bisnow event on Thursday. "Twenty years ago, Jorge made it very clear this is a family business and it will continue to be a family business," said Matthew…
Terra Signs New Retailers for Doral Square Shopping Center Near Miami
Miami-based real estate developer Terra has signed several new retailers for Doral Square, a 150,000-square-foot retail center in Doral, about 17 miles west of Miami. The new development will include anchors 24 Hour Fitness and Marshalls and will be built on the southeast corner of Doral Boulevard and 87th Avenue, near Carnival Cruise Lines' offices and Trump National Doral Resort. Doral Square is over 42…
Southeast Construction Costs Report Released
The rising cost of construction is resulting in higher asking rents among all property types, greater strains on custom tenant build-outs, denser office spaces and limited tenant mobility. Thus, development and leasing decisions have become more complex for owners and occupiers. The trend is expected to remain for the foreseeable future, according to CBRE's 2019 Southeast Construction Cost Report…
New York's Rent Reform Pushes Investors Toward South Florida
Following the enactment of New York's latest rent regulations, many multifamily investors have begun reevaluating their options. One of the most common destinations they're choosing is Florida, particularly its southern part. Not only does the Sunshine State offer a favorable climate, an abundance of luxury properties and substantial tax savings, but it also seems to be far from adopting rent control…
Bayfront development site in North Miami hits the market
Mika Mattingly and Cecilia Estevez with the Mid Bay Club Apartments A South Florida family is looking to cash out on a waterfront development site in North Miami. The Mid Bay Club Apartments, a 34,275-square-foot site at 11950 North Bayshore Drive, hit the market with brokers Mika Mattingly and Cecilia Estevez of Colliers International South Florida, Mattingly said. Property records show an LLC…
Habitat moves forward with West Brickell condo-hotel project
Smart Brickell and Santiago Vanegas Habitat Group is moving forward with the construction of a large condo-hotel project in Brickell after scoring a $24 million loan. Habitat secured the construction loan from Miami-based Ocean Bank to build Smart Brickell's Tower 1 at 239 Southwest 9th Street in Miami's West Brickell neighborhood. The tower will have 50 hotel rooms and 50 condos and is planned for…
Richard LeFrak touts Solé Mia's progress from landfill to paradise: ULI symposium
Richard LeFrak recounted the moment roughly nine years ago when he received a call gauging his interest in 184 acres of waterfront land fronting Biscayne Boulevard in North Miami. "It's a [former] landfill and it's kind of had a checkered past," LeFrak recalled the unnamed individual on the line telling him. "I asked what's the minimum bid? He said $21 million. That's all I had to hear." It was chump change…
WeWork under pressure as losses soar to $1.25B
WeWork lost $1.25 billion in the third quarter — up from $497 million in the same time period last year. The parent of the troubled-office startup also reported a surge in revenue to $934 million in the months following Sept. 30, the Wall Street Journal reports, citing a report to debtholders this week. The $1.25 billion loss falls in contrast to the $638 million loss posted in the second quarter. The company blamed…