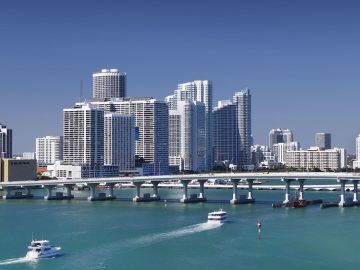 Simon sells site next to Miami International Mall to Lehman
Car dealer William "Bill" Lehman Jr. just bought a strip of land next to Miami International Mall for $8.2 million, property records show.
Lehman financed the deal with a $9.4 million loan from JP Morgan. It's zoned for industrial development. Simon Property Group sold the 8.4 acres of land directly north of Lehman's Doral Kia dealership at 10155 Northwest 12th Street. Simon declined to comment. The site…
Miami Beach agrees to taller tower at its front door
After 4½ hours of presentations and discussions, the Miami Beach City Commission agreed  to a height of 519 feet, up from 484 feet, for the tower development on 500-700 Alton Road, at the entry to the city from the MacArthur Causeway. A 3-acre park will be deeded to the city as part of the deal. Commissioners passed the package of ordinances for the development unanimously on first reading Nov. 14.
South Florida Retail Summary (Q3 2018)
Market Snapshot for South Florida Retail A summary of the highlights, trends, and current market activity of Q3 2018 for South Florida commercial real estate focusing on Miami-Dade County: Analysis derived and compiled from leasing data and transaction reports in order to better understand the overall health of the CRE market in Miami-Dade County. In…
PortMiami scrunching cargo area to add two cruise terminals
Two PortMiami projects costing a combined $100 million will result in one smaller, denser cargo yard and additional land on which to build two new cruise terminals, documents accompanying items Miami-Dade commissioners OK'd this month show. The $34.88 million cargo yard densification project by Odebrecht Construction Inc., the lowest bidding contractor, is to take 777 days and is expected to…
Miami Yacht Show gets land use OK, funds baywalk
Miami city commissioners have approved a revocable license with Yachting Promotions Inc., the operator of the Miami Yacht Show, to use city-owned submerged lands between the MacArthur and Venetian causeways. This will allow the yacht show to move from Miami Beach to this new location in Biscayne Bay, the waterfront connected to the former site of the Miami Herald. The agreement approved…
Miami Worldcenter to feature work by acclaimed German artist
The evolution of the Park West neighborhood of Miami continues with the construction of Miami Worldcenter, a sweeping mixed-use development offering a little bit of everything – including artwork from an internationally-acclaimed painter and installation artist. German artist Franz Ackermann has been selected as the initial artist for the project. His work has been featured worldwide, including at the Tate…
Atto…
Little Havana apartments sell for $5.6M
A five-building rental portfolio in Little Havana just sold for $5.6 million to New York-based Gateway Realty. Gateway Realty bought the 57 rental apartments at 2127, 2128, 2136 and 2248 Southwest Fifth Street and 2135 Southwest Sixth Street for $98,245 per unit, according to a release. The Keyes Company's Carlos Villanueva represented the seller, the JoAnn Cappelletti Trust, in the sale. Mendel Fellig of…
Feds tie another alleged $1B money laundering scheme to Porsche Design Tower, along with NY properties
Federal authorities charged a Venezuelan TV magnate for his role in a billion-dollar money laundering and currency exchange scheme involving real estate around the world, including two dozen properties in Miami and New York. The indictment follows a separate billion-dollar money laundering scheme in July that included real estate in South Florida…
Regalia's condo association alleges flawed design, building code violations: lawsuit
Regalia's condo association is suing the developer, contractor, architect and a laundry list of subcontractors for alleged design and construction defects and damage to the 47-story luxury condo tower in Sunny Isles Beach. The Regalia on the Ocean Condominium Association filed a lawsuit in Miami-Dade Circuit Court earlier this month against Regalia Beach Developers LLC, general contractor…
Jorge Pérez nabs Allapattah property for artist housing
Miami's condo king just closed on a site in Allapattah where he's planning a mixed-use complex focused around art. The Related Group chairman and CEO Jorge Pérez said he will store and show his private collection at the warehouse, at 2270 Northwest 23rd Street. Pérez said the property, which he paid $2.7 million for last week, is near his office and home. Carlos Fausto Miranda and Diego Vicente Tejera…
Is There Room For Self-Storage Investment In SoFlo?
Any talk of commercial real estate investments is usually about retail and office spaces, industrial facilities, and multi-unit residential properties. There is, though, another niche CRE market that's figuratively and literally full of possibilities: self-storage. A recent list of the top 10 self-storage markets to watch has South Florida at number 8, and for some very good reasons: properties that are currently…
The lowdown on loan delinquencies : Rates are lower than pre-recession levels…except for mortgages
We heard a lot about the surge in mortgage delinquencies during the past recession. In fact, many believe this was the origin of the crisis. FRED has delinquency data so let's see how things look now. The delinquency rates in the graph show the proportion of loans from the 100 largest U.S. banks that are more than 30 days past due. Mortgage delinquency is now considerably lower than at the height of…
Southeast Food Distribution sells cold storage industrial site for $19M
A division of Southeast Food Distribution just sold a cold storage industrial site in North Miami for $18.7 million. Southeast Frozen Foods Company sold the 234,739-square-foot facility at 18770 Northeast 6th Avenue for about $80 per square foot to 18770 MIAMI LLC, property records show. 18770 MIAMI LLC is led by Michael Herman, corporate records show. Edward J. Redlich of ComReal who…
Offer affordable housing in Miami? Get density bonuses!
Miami officials are doing a test run on a measure that would force residential developers who want more density to carve out units for low-income wage earners in their projects. The Miami City Commission last week approved on first reading an an ordinance that new developments in the Arts & Entertainment District seeking density and floor lot ratio bonuses must include workforce or affordable…
South Florida's largest multifamily investment sales in October
The top apartment deal in October was the portfolio sale of two separate rental complexes in Broward and Palm Beach counties.
American Landmark purchased the Siena Apartments, a 292-unit apartment community at 8080 Northwest 10th Court in Plantation; and the Hidden Harbor Apartments, a 200-unit community at 222 Kingfisher Way in Royal Palm Beach, for a…
Video: SoFla developers, strategists on why hotel-branded condos continue to win
At The Real Deal's fifth annual Miami Real Estate Showcase & Forum, South Florida's managing editor Ina Cordle moderated a discussion among some of the region's top players in hospitality. The wide-spanning conversation ranged in topics from competing with Airbnb to the value-add of a certain hotel's brand. Panelists included Benjamin Sinclair of Faena Group, Louise Sunshine of The Sunshine Group…
Failed delivery: How the cities that missed out on Amazon's HQ2 are coping
The cities that fought until the last minute to win over Amazon are now moving on — some joyfully, some begrudgingly. Before the news leaked that New York and Crystal City, Virginia, were Amazon's top headquarters picks, five other cities also seemed poised to nab the golden ticket. Amazon representatives reportedly revisited Chicago, Miami and Newark in late October. Texas appeared a viable…
Miami may allow denser development in exchange for affordable housing
Miami city commissioners gave preliminary approval to a proposal that would require private developers to include affordable housing in new apartment buildings in a part of the city where denser development would be allowed. The "inclusionary zoning" proposal would allow denser development in an area between Northeast Second Avenue and North Miami Avenue from approximately 18th Street…
Passenger-train operator files to go public under its new name, Virgin Trains USA
The private passenger-train operator formerly known as Brightline disclosed plans to become a publicly traded company on Friday – the same day it announced a name change linked to a decision by Richard Branson's Virgin Group to become a minority investor in the company. Virgin Trains USA, the new name of the passenger-train operator, filed an S-1 form with the Securities and Exchange…
Designers miscalculated load-bearing strength of collapsed FIU bridge
Designers miscalculated the load-bearing strength of the north end of the Florida International University pedestrian bridge that collapsed and caused six deaths, according to federal investigators. In an update on the federal investigation of the deadly March 15 collapse, experts from the Federal Highway Administration also reported Thursday that designers miscalculated the structural load on the north…
Sam Zell is reducing his exposure to real estate
He's bearish on the real estate market, and looking to sell. Sam Zell's firm Equity Group Investments has either sold or intends to sell stakes in at least four companies dating back to last October, according to Bloomberg. It has announced one new investment over the same time period. The firm may look to sell Ardent Health Partners as well. The company, which EGI bought in 2015, is getting ready…
Video: SoFla developers dish on how they're financing and building through the late stages of the cycle
At The Real Deal's fifth annual Miami Real Estate Showcase & Forum, Editor-in-Chief Stuart Elliott moderated a panel on how South Florida developers are financing and building amid the late stages of a market cycle. Panelists included Jules Trump (The Trump Group), Moishe Mana (Mana Group), Michael Stern (JDS Development), Louis Birdman (Birdman Real Estate Development) and Kieran Bowers…
Virgin Group invests in Brightline, will rebrand as "Virgin Trains USA"
Within two weeks, Brightline will be known as "Virgin Trains USA." Brightline announced on Friday that Richard Branson's Virgin Group will provide a minority investment and form a strategic partnership with the high-speed passenger rail company. Under the partnership, Brightline will be renamed this month and will transition to Virgin Trains USA branding in 2019, according to a release. The company…
Carpe Real Estate Partners scores financing for mixed-use project in Wynwood
Carpe Real Estate Partners just closed on a $10 million construction and acquisition loan for Oasis at Wynwood, a mixed-use adaptive reuse project on North Miami Avenue. Iberia Bank is the lender. David Weitz and Erik Rutter of Carpe paid $14 million in March for the 1.65-acre site at 2335 North Miami Avenue from Goltens Miami, a marine engine repair company. As planned, Carpe will convert four…
Developer of American Legion project in MiMo scores $51M loan
The development group behind a new American Legion building and apartment complex in Miami's MiMo District just scored a $51 million construction loan. The developer, ACRE GCDM Bay Investments, will use the loan to fund the construction of its contentious project in the quiet 3.5-acre residential area off of Biscayne Boulevard at 6445 Northeast Seventh Avenue. The developer is planning…
Treasury dramatically sharpens LLC disclosure rules
The Treasury Department drastically increased the number of all-cash deals that are subject to its anti-money laundering rules on Thursday. Starting Nov. 17, title insurance firms will be required to disclose the identity of LLC buyers who spend $300,000 or more on the real estate purchase. Previously, the rule applied to cash deals above $3 million in Manhattan and $1.5 million in New York City's…
Video: Top SoFla landlords agree the retail apocalypse is "greatly over-exaggerated"
Three of South Florida's top retail landlords agree that their sector's so-called apocalypse is "greatly over-exaggerated." The conclusion came out in a recent panel discussion at The Real Deal's annual Miami Real Estate Showcase & Forum led by associate web editor Katherine Kallergis. The panelists included Craig Robins of DACRA, Jackie Soffer of Turnberry and Jonathon Yormak of East End Capital.
Miami Beach finally OKs voter-mandated upzoning for North Beach
Miami Beach greenlit the voter-mandated upzoning of North Beach on Wednesday more than a year after residents endorsed a zoning increase for a ten-block area of the neighborhood. Property owners are now able to build twice as much as they were previously allowed to in the Town Center area, which mainly consists of retail plazas, vacant lots and apartment buildings between Indian Creek Drive…
Russell Galbut may finally get his South Beach tower
After years of trying to score approval for a taller project at the entrance to Miami Beach, developer Russell Galbut got his first approval for a tower up to 519 feet in height. Following hours of testimony from nearby residents and deliberation by elected officials on Wednesday, the Miami Beach City Commission unanimously voted in favor of the project, which will include a public park, on first…
Honey, millennials shrunk the office space: panel
In a Coral Gables office building owned by Altis Cardinal, anchor tenant American Airlines recently slashed its space by nearly half without shedding any employees, according to the real estate development firm's founder Frank Guerra. "American went from 27,000 square feet to 15,000 square feet with the exact same headcount," Guerra told attendees at a Crew-Miami luncheon…
When does one have a tortious interference claim?
Businesses in Florida generally enter into contracts in order obtain some benefit for their companies. There are a variety of types of contracts that they enter into, in which one business provides goods or services to another for compensation. These contracts can be very lucrative, but since many businesses offer similar goods or services, there can be competition among them to secure contracts and the…
Miami says 'yes' to David Beckham's Freedom Park and Soccer Village
The proposed complex, which has been a subject of media speculation since it was first announced in 2013, will be the home of Beckham's Major League Soccer (MLS) team, Internacional Club de Fútbol Miami. Designed by Miami-based architecture firm Arquitectonica, the development will include a 25,000-seat stadium and a 24-hectare public park, as well as extensive space for…