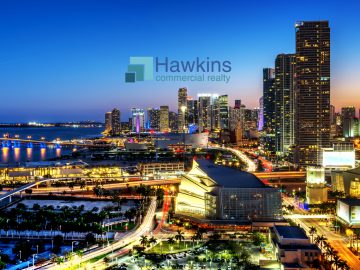 TA Realty drops $241M for Medley industrial park
In one of the largest South Florida industrial deals of the year, TA Realty picked up 12 warehouses in Medley for $241 million. An affiliate of the Boston-based real estate investment firm paid $241 million for a 1-million-square-foot industrial park at 9701-9793 Northwest 91st Court, according to the real estate database Vizzda and property records. TA Realty, led by…
Fries with that? Developers propose rental towers at Shorty's BBQ site
Developers are proposing a high-rise complex on the site of Kendall's beloved Shorty's BBQ. But not to worry, the restaurant serving slow-smoked meats for decades will remain in place for at least a couple of more years. Almost a year after purchasing the site, Atlantic I Pacific Companies and Florida Value Partners filed plans… at 9200 and 9180 South Dixie Highway, according…
Map: Here are 655K sf of offices on tap in Miami Beach
Miami Beach voters shot down a November ballot measure for office buildings on city-owned sites near Lincoln Road. But the city still is poised to get 10 projects with more than 655,000 square feet of offices on sites other than those proposed in the referendum. The failed referendum was for two proposed projects: A Don Peebles-led team, which included ex-Miami Beach…
Damaghi family buys resi tower dev sites next to MiamiCentral
The Damaghi family of New York dropped $50.8 million for a pair of development sites approved for two residential towers directly south of MiamiCentral in downtown Miami, The Real Deal has learned. The clan is better known for its Great Neck-based household goods manufacturing firm…bought the vacant sites spanning 2.7 acres on the southwest corner of Northwest…
FECI Sells Downtown Miami Sites for $51M
Florida East Coast Industries (FECI), owner of the Brightline high-speed train line, sold parcels near the Miami Central station for $50.8 million, property records show. The sites — at 200 NW First Avenue and 195 NW Second Street, across the street from the station, just east of the Miami-Dade County government office — total 2.6 acres.
Record-Breaking 57 Companies Relocated Or Expanded Into Miami-Dade This Year
Miami-Dade has had its best-ever year for recruiting companies to open offices in the county — and many more are on the way. Fifty-seven companies either relocated or expanded in the county in 2022, and 150 companies are in the pipeline, the Miami-Dade Beacon Council said in its annual report released Thursday, the Miami Herald reports.
60-story apartment hotel to rise across from downtown Miami nightclub
A new 63-story, mixed-use residential, commercial and apartment hotel building is coming to Miami Worldcenter. PMG 11th Street Developers Group LLC plan the condo hotel with 427 units, and about 42,000 square feet of commercial space, at 20 NE 11th Street. The project, E11EVEN Hotel & Residences, was recommended for approval by the city's Urban…
Sale of $13.3 million development site in Uptown Miami's Little River
Gridline Properties and DWNTWN Realty Advisors recently closed on another significant transaction within the Little River neighborhood of Miami. The sale included 2.2 acres on NE Second Ave. in the northern section of Little River. The property, located at 8038 NE Second Ave., Miami, FL 33138, closed on Oct. 27 for $13.3 million. Gridline Properties' broker and principal…
70-story tower headed for Brickell financial district
Ytech is ready to bring a new residential skyscraper to Brickell in the City of Miami. Ytech 1428 Brickell LLC is the owner-developer of property at that address where a 70-story tower is planned. The Residences at 1428 Brickell will be comprised of a limited collection of 189 fully-finished luxury condominiums. It will offer about 80,000 square feet of amenities dedicated…
Art Basel brings record 282 galleries
Marking its 20th anniversary in Miami Beach, Art Basel reveals a line-up of 282 leading galleries, the fair's largest edition to date. Running from Dec. 1-3, along with 38 countries and territories exhibiting this year, Art Basel is promising to reinforce its position as the premier global fair in the Americas at the Miami Beach Convention Center at 1901 Convention Center…
PMG, Greybrook Open 49-Story Elser Hotel & Residences in Downtown Miami
PMG and private equity firm Greybrook have opened the Elser Hotel & Residences, a 49-story hospitality tower in downtown Miami. Highgate is managing the property, which features 646 hotel rooms and short-term residences ranging from studios to three-bedroom suites. The tower features a 10,200-square-foot fitness center and a 19,000-square-foot sun deck, which…
Sale of 1.1 MSF Industrial Park in Medley Arranged
CBRE has arranged the sale of a 12-building industrial park in the Miami suburb of Medley totaling nearly 1.1 million square feet. Boston-based TA Realty purchased the portfolio from an unnamed global investment advisor for an undisclosed price. José Lobón, Trey Barry, Frank Fallon, Royce Rose and Devin White of CBRE represented the seller in the transaction. Situated…
The Fed: Will Inflation Play the Grinch This Holiday Season?
The U.S. economy has experienced another year of high inflation; consumer prices in October were 7.8% higher than they were a year earlier. And high inflation has more than offset income growth: Real (inflation-adjusted) per capita disposable personal income was 3.2% lower than it was a year ago. Despite high inflation, retail industry experts are predicting healthy…
Investor home purchases plummet 30%
Investors took a hard pivot away from home purchases in the third quarter, as rising borrowing costs appeared to reverse the sector's record activity in a matter of months. Investor home purchases dropped 30.2 percent year-over-year last quarter, according to Redfin data. Outside of the onset of the pandemic, it was the biggest decline in investor home purchases…
Dezer scores $40M loan tied to planned Bentley Residences
Dezer Development landed a $40 million loan tied to its planned Bentley Residences condominium project in Sunny Isles Beach. City National Bank of Florida provided the mortgage, according to records. The financing is for pre-development costs associated with the proposed 749-foot luxury tower with 216 units at 18401 Collins Avenue, according to…
Arte Hospitality completes buyout of Ocean Drive condo-hotel, scores loan
Investor Shadi Shomar and his partners completed the bulk purchase of a South Beach condo-hotel and secured a $36 million loan for the property. Shomar-led entities had paid $28 million in 2019 for the majority of the units — 39 residential and four commercial condos — that make up the Bentley Hotel South Beach at 510 Ocean Drive. Companies tied to Russell Galbut…
Video: Tim Bodner and Byron Carlock of PwC Discuss PwC/ULI 2023 Emerging Trends in Real Estate Report
Tim Bodner, Real Estate Deals Leader at PwC, and Byron Carlock, Real Estate Practice Leader with PwC, appear on America's Commercial Real Estate Show to discuss highlights and takeaways from the PwC/ULI 44th edition of Emerging Trends. This 125 page report, a joint effort of PwC and ULI (Urban Land Institute) is a must read for anyone involved in commercial real estate.
Lease roundup: Catch Miami Beach to Open at Rivani Property; Levi's, Blue Nile, Café Americano, Jo Malone London, Calzedonia, and Luca Faloni coming to Brickell City Centre
Catch Hospitality Group will open a restaurant at one of Robert Rivani's South Beach properties. Seafood eatery Catch Miami Beach will open next fall at 200 South Pointe Drive in a 22,000-square-foot space, including indoor and outdoor dining, according to a news release from the hospitality firm. This will be the seventh location of the Catch concept, with…
Wayne Boich, Related's Bruce Beal and SL Green president plan Miami Beach project
A company owned by Related Companies' Bruce Beal, SL Green's Andrew Mathias and Boich Investment Group's Wayne Boich is seeking approval of a mixed-use office project in Miami Beach's Sunset Harbour. On Tuesday, the Miami Beach Planning Board will vote on the partnership's plans for a five-story, 50,000-plus-square-foot commercial building at 1920 Alton Road. Beal, president…
Aria Development JV Lands $81M for Miami Luxury Condo Project
Image by Michael Gaida via Pixabay A joint venture between Aria Development Group and AQARAT has received a $80.9 million in financing for the development of 501 First Residences, a 448-unit luxury condominium project at 501 NE First Avenue in Miami. Berkadia secured the 42-month, full-term interest-only construction loan on behalf of the borrowers.
Aria JV scores $81M construction loan for downtown Miami condo project
Aria's David Arditi with rendering of 501 Residences (Aria Development Group, Getty) An Aria Development Group joint venture landed an $80.9 million construction loan for a downtown Miami condominium project. Bank OZK provided the financing for 501 Residences, a planned 40-story tower with 448 condos that potential owners can lease as short-term rentals, according…
Focus pays $28M for Brickell apartments development site
Focus is the latest real estate firm to catch Brickell fever. The Chicago-based company now owns a piece of the booming Miami neighborhood, paying $28 million for the development site at 128 Southwest Seventh Street, according to records. An entity managed by Matthew Barry sold the shuttered two-story, 60-key Starlite Motel East. It had paid…
Mapping out Steve Ross' South Florida empire
Stephen Ross thrives in tumultuous times. The billionaire's Related Companies has shown a propensity for pushing forward with investments and projects amid turbulent economic times, when others are inclined to pull back. After the 9/11 terrorist attack, when buyers nixed contracts, and construction and lending froze, Related kept building New York's AOL…
Barry Sternlicht calls Fed's actions "suicide"
Barry Sternlicht unleashed his contempt for the actions of the Federal Reserve during an interview Thursday. On CNBC's "Squawk Box," the Starwood Capital Group CEO said the Fed's actions were "clearly suicide" for the economy.  The Fed has been raising interest rates quickly in an effort to clamp down on inflation, a decision proving to be critical throughout real estate. Sternlicht…
'Alarming' Housing Crisis In South Florida Spurs Search For Solutions
A scarcity of developable land and an influx of wealthy migrants has spiraled South Florida's affordable housing crisis out of control so fast that it has surprised even the most experienced local developers. "There's a whole a population of people out there who none of us typically think of as being cost burdened, or, you know, stressed to be able to afford an apartment…"
Capital Markets Weathering Rapid Inflation In South Florida, Thanks To Influx Of Capital, Experts Say
Dark clouds are forming over the global economy, and while South Florida isn't immune to the effects of rapid inflation and interest rate hikes, the capital that continues to pour into the region is providing it protection from the storm. "I think everybody here understands and recognizes we are in a recession," Franklin Street Senior Director Javier Herrera said at Bisnow's Money…
Residential Rent Growth Slows Nationwide, Resumes Regular Seasonal Shifts
The median asking rent for U.S. apartments rose 7.8% year-over-year in October to $1,983, the smallest annual increase since August 2021, Redfin reports. Rents declined 0.9% nationwide month-over-month. October was also the fifth consecutive month in which annual rent growth decelerated, with rents rising at about half the pace they were six months earlier…
Industrial Sales Not Immune from Impact of Higher Interest Rates
All through the pandemic, industrial properties have been among the most desired by commercial real estate investors. But in the current market environment, are industrial assets holding up just as well? In fact, demand for industrial properties is down considerably from the first quarter of this year, says Chris Riley, president of U.S. industrial & logistics capital markets with…
Merit Hill Capital pays $18M for Davie self-storage facility
Merit Hill Capital scooped up a self-storage facility in Broward County for $17.5 million. An affiliate of Merit Hill, a Brooklyn-based real estate firm focused on self-storage properties, acquired the 72,401-square-foot building at 5370 South University Drive in Davie, according to records. The seller, an affiliate of Pasadena, Calif.-based real estate…
Cedar Health scoops up Fort Lauderdale assisted living facility for $39M
Cedar Health Group beefed up its portfolio of assisted living facilities in South Florida. Cedar Health paid $39 million for the assisted living facility at 2855 West Commercial Boulevard in Fort Lauderdale. The seller is Brentwood, Tennessee-based Wickshire Senior Living, according to records. The buyer took out a $38.1 million loan from Ocean Bank. Wickshire sold…
Highgate cashes out of another South Florida La Quinta, this time in Palm Beach County
Highgate Capital Management shed another La Quinta Inn by Wyndham property in South Florida, as hotel sales heat up in the tri-county region. The Irving, Texas-based hospitality real estate firm sold the 114-room hotel at 5981 Okeechobee Boulevard in unincorporated Palm Beach County for $13 million, records show. The buyer is an entity managed by…
Master Mind Behind 156K SF Addition To West Palm Beach's Office Pipeline
alm Beach County is getting more office space as Master Mind expands its portfolio in the Miami area. Developer Centrepark Master Mind LLC, which is managed by New York-based Master Mind's Babak Ebrahimzadeh, filed documents with the city of West Palm Beach to build a 13-story office tower at 1545 Centrepark Drive. The 1.27-acre site was purchased for $5.5M in June…