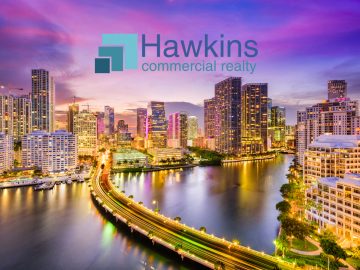 Despite pandemic, PortMiami sets all-time cargo record
PortMiami just posted the biggest import-export numbers in its 80-plus-year history, new Miami-Dade County figures show, exceeding its prior record by 1.5% despite the difficulties that come with operating under coronavirus conditions. The port processed 107,088 twenty-foot equivalent units of cargo in October compared to 105,573 in 2019, an accomplishment staff…
Nazarian trades hotel assets including SLS, Delano to focus on virtual kitchens
As a rising star of the Los Angeles club scene in the early aughts, Sam Nazarian helped create the hotel-as-party-spot with properties like his SLS in Beverly Hills and Miami. He teamed up with A-list designers like Philippe Starck and took the mantle of boutique-hotel impresario from Ian Schrager when he bought the Studio 54 co-founder's Morgan Hotels group in 2016.
Eldridge Acquires the Hudson Hotel and Delano South Beach from sbe
Eldridge, a holding company with a unique network of businesses across finance, technology, real estate, and entertainment, has today completed the acquisition of the Hudson Hotel and Delano South Beach, located in New York City and Miami, respectively. Cain International, Eldridge's real estate investment firm, has been appointed to lead a strategic repositioning…
Miller Construction Breaks Ground on 312,592 SF Industrial Park in Hialeah Gardens
Miller Construction has broken ground on Midpoint Miami Logistics Park, a 312,592-square-foot industrial property in Hialeah Gardens. The 18-acre site will include the 147,974-square-foot Building 1 and the 164,618-square-foot Building 2. Miller expects to immediately break ground on Building 1 and then plans to start Building 2 four weeks later. The Fort Lauderdale…
Hotel height increases could be coming to Miami Beach's Collins Avenue near Ocean Drive
Miami Beach officials are evaluating zoning changes in the Art Deco Historic District as part of a long-range plan to transform Ocean Drive once again. The proposal includes possibly granting Collins Avenue hotel developers significant height increases and restricting the number of standalone drinking establishments on Ocean Drive. The city's three…
Expert Insights: How CRE Has Changed, and How It's Stayed the Same
In our digital world, things rarely stay the same for any extended amount of time. In industries such as commercial real estate (CRE), there is a constant tug-of-war between tradition and innovation. Events such as the rapid adoption of tech and big data have already transformed the real estate industry, while other up-and-coming trends like virtual tours are starting…
While Institutional Investors Are Scared Of Retail And Hospitality, Pros Should Unleash Their 'Special Sauce'
Moderating a Bisnow webinar about South Florida and capital deployment Tuesday, Simon Ziff, president of Ackman-Ziff Real Estate Group, pondered the long-term impact of the coronavirus. "You think about these downturns, everyone says they're once in a lifetime or four times in a lifetime," Ziff said. "This is where you're going to get rich." Ziff (who said he is in the…
Commuter Miami Beach ferry service set to cross the bay
After nearly two years of negotiations as well as setbacks related to Covid-19, Poseidon Ferry is to begin cross-bay commuter services between downtown Miami and Miami Beach on Nov. 29. "The waterborne transportation project to utilize Biscayne Bay for passenger transportation has been years in the making," said Poseidon CEO Johnathan Silvia…
Public-private deal's 31-story downtown Miami residences near
Major progress is being made on construction of a residential tower rising in the heart of downtown Miami and the project continues to be ahead of schedule. Grand Station, a mixed-use residential tower at the southwest corner of Northwest Third Street and North Miami Avenue, is expected to be completed during the second quarter of 2021, according to Alejandra…
Bayside observation wheel gives thousands bird's-eye views
For a little over two weeks, Bayside Marketplace's observation wheel has been open to the public and offering views of the downtown Miami skyline, with crowds rising into the thousands on weekends. The 176-foot wheel is operating at half capacity of its 42 enclosed and climate-controlled gondolas due to sanitation and safety procedures, said Charlene Leavitt of Skyviews…
Lennar spends $29M on Homestead mobile home park, plans new community
Lennar Homes purchased a former mobile home park in Homestead for $29 million, with plans to build a new housing community. Property records show Lennar Homes LLC bought two parcels totaling more than 40 acres at 28600 Southwest 132nd Avenue. The seller is Mac Thirteen LLC, a Florida company linked to the Treo Group. Treo bought the land in November…
Goldman Properties buys Wynwood property for discounted $5M
Goldman Properties bought a retail building and adjacent vacant lot in Miami's Wynwood for $5.2 million. Goldman bought the 12,000-square-foot building, built in 1955, at 2501 Northwest 5th Avenue and the lot at 413 Northwest 25th Street from RedSky Capital, according to records. Goldman Properties is led by CEO Jessica Goldman Srebnick, the daughter…
CocoWalk's revival continues with addition of retail brands
The ownership group behind the reimagined CocoWalk remains committed to breathing new life into Miami's Coconut Grove neighborhood. The alfresco lifestyle center, slated to begin its phased reopening later this fall, has added three new retail brands to its tenant roster including Free People Movement, a women's activewear brand from Philadelphia; Europann, a…
Tech giants occupy nearly 600M-sf of US real estate
The sluggish commercial real estate market is getting a boost from tech giants Amazon and Facebook, which have emerged as some of the largest acquirers of real estate in recent years. Five of the largest tech companies — Amazon, Facebook, Apple, Microsoft and Google's parent company, Alphabet — now collectively occupy about 589 million square feet of…
Regal Cinemas scores financial rescue package
The owner of Regal Cinemas scored a lifeline to help the financially challenged movie theater chain stay afloat. Cineworld Group has secured a $450 million loan from lenders as coronavirus cases spike and theaters across the country remain closed. Other lenders provided increased flexibility on the company's revolving loan and senior debt, adding…
What doom-and-gloom forecasts miss about the office market
The short-term dive in office demand is not likely to continue far into the 2020s, according to a recent report form MetLife Investment Management. In fact, the cities where demand for office space is falling most — including San Francisco, Washington and San Jose — may attract the most demand over the next decade, presenting a "unique buying opportunity" for…
PortMiami Cargo Keeps Head Above Water In Downturn
Sea cargo to and from Miami-Dade has dipped only slightly despite the coronavirus, according to PortMiami Director Juan Kuryla, who said he expects improvement through year's end. "Year over year and year-end fiscal 2020 … we were only 4.8% down," Kuryla said. "That is a significant achievement considering the economic condition worldwide and…
Developers pay $15M for Miami River mobile home park
ROVR Development and its partner paid $15 million for a mobile home park along the Miami River. A company affiliated with Raul and Michael Nunez sold the property at 2750 Northwest South River Drive. Raul Nunez is a manager of A+ Mini Storage, according to his LinkedIn account. A+ has 10 locations throughout South Florida. Michael Nunez, president of A+…
Pharrell's Billionaire Boys Club to open store in Wynwood
Billionaire Boys Club plans to open a store in Miami's trendy Wynwood neighborhood. The Pharrell Williams-owned clothing brand inked a lease for 5,700 square feet at 2545 Northwest Third Avenue in a building that formerly housed a wholesale shoe company, according to a release. The site is across from Zak the Baker…
Affiliated Development launches $125M workforce housing fund
A Fort Lauderdale-based real estate development and investment firm wants to raise $125 million to invest in mixed-income workforce housing in South and Central Florida. Affiliated Development launched the impact housing fund to help communities while delivering risk-adjusted returns for its investors, according to a press release. The fund will provide…
Retailers now owe $52 billion in back rent
Brick-and-mortar stores were struggling before the pandemic. But now, the retail sector owes $52 billion in back rent. An analysis of data from CoStar found that retailers nationwide had missed two to four months' rent, according to Bloomberg. Questions remain about how the pandemic and changing consumer preferences will affect the sector in the long run.
Doral's Economy Begins To Recover
"We have a solid, spacious, multi-varied industrial sector and area and we are very close to Miami International Airport." With these words, the Director for Economic Development of the City of Doral, Manuel Pila, explained why our municipality has experienced a rapid recovery after the first months of COVID 19. Pila explained that similar to what has been…
Brookfield Properties Picks Up Doral Warehouse For $8.5 Million
NAI Miami represented the $8,462,500 sale of a 62,000-square-foot industrial building located at 2105 NW 102nd Avenue in Doral by World Famous Partnership, Ltd. to Brookfield Properties. The 1999-built building features 24′ clear height, 6 exterior dock doors and 1 drive-in bay. "Our team is very grateful to be able to put this transaction together for…
Miami Commercial Real Estate Sales to List Price Ratio Firms Back Up ~ October 2020 MLS
The sales to list price ratio as reported by the Miami MLS for improved commercial real estate within Miami-Dade County from $1 million to $10 million firmed back up in October to just over 90% after a dip in September. This put the ratio within but in the lower end of a 5% band it has been in for the past year or so. It remains reasonable to assume there is a touch…
Ritz-Carlton Residences, Miami Beach developer Lionheart Capital partner Ricardo Dunin leaves to start new venture
Lionheart Capital principals Ricardo Dunin and Ophir Sternberg have parted ways. Dunin left the Miami-based real estate development and investment firm to launch Oak Capital, The Real Deal has learned. The separation agreement was finalized Wednesday, Dunin said. Dunin plans to continue to focus on development and investment, taking a minority…
Mast Capital scores approval for Miami Beach condo project
Camilo Miguel Jr. and rendering of 4000 Alton Road Developer Mast Capital can now move forward with its plans for a luxury condo project in mid-Miami Beach. The Miami Beach City Commission unanimously approved three ordinances tied to the redevelopment of 4000 Alton Road at Wednesday's commission meeting. The developer agreed to limit the…
Ares, Regis gather $1B to join ground lease race
Safehold now has competition. Global alternative investment manager Ares Management and Regis Group, a London-based global investor and operator, have formed Haven Capital to get in the field of ground-lease investments, Bisnow reported. Until recently, the niche but growing field was led by iStar-managed real estate investment trust Safehold.
Industrious partners with landlords to offer tenants satellite workplaces
Flexible-office provider Industrious is partnering on a program with office landlords that will give tenants the ability to use Industrious' offices nationwide. Potentially providing an additional source of revenue in a bruising economy, Industrious is launching "Oasis Enterprise" with a pilot program at Granite Properties-owned buildings in Southern California…
Target to open 40 new stores a year; Q3 income jumps
While Amazon is adding giant fulfillment centers to satisfy online orders, Target is bulking up on smaller stores to move merchandise. In October alone, Target opened 18 new locations, adding to the 12 it had already added since the beginning of the year. Moving forward, the big-box retailer is planning on opening up to 40 stores a year, officials said at the…
Aventura office condo owners allege construction defects at Beacon Tower
The association for a 12-story office condo tower near Aventura accuses developer H&M Development of shoddy construction. The Beacon Tower of Aventura Commercial Condominium Association is suing the developer of the building at 20200 West Dixie Highway in Miami-Dade Circuit Court, according to documents filed last we…
Miami Beach asks for offers to develop lots near Lincoln Road
Miami Beach wants to develop parking lots near Lincoln Road into Class A office space, banking on demand fueled by executives migrating south. Developers can submit letters of intent by 3 p.m. on Jan. 11 for a public-private partnership to redevelop the three lots next to Lincoln Road between Alton Road and Meridian Avenue. Combined, the land could…
Developers score $15M construction loan for Miami townhouse development
A partnership of two local developers received a $15.3 million construction loan to build 30 luxury townhouses near South Miami. Miami-based Apollo Bank provided the loan for the proposed development at 6790 to 6880 Southwest 80th Street in Miami. The project is dubbed the Somi Subdivision, according to records. The borrowers are a company…
U.S. retail spending slows but still higher than last year
Americans are spending more money than they did at this time last year — and even last month — but the trend may slow as Covid-19 cases spike throughout the country. According to the latest statistics from the Census Bureau, American shoppers spent $553.3 billion in October, a 0.3 percent increase from $551.9 billion in September, and 5.7 percent above the…
Planning for North Bay Village's NBV100
For the last week, the Village staff, the mayor and several groups of residents have been at Village Hall participating in a strategic exercise to imagine and create a Strategic Plan that will balance the needs of the current residents, the plans for the future, incorporate resiliency in response to climate change and finally get us unstuck. The hands on…
Miami commissioners reject proposals for marina redevelopment
For the second time in six years, the Miami City Commission deep-sixed proposals to redevelop two city-owned marinas on Virginia Key. Commissioners voted 3-2 to throw out all proposals, including an $80 million plan submitted by the top-ranked bidder Virginia Key LLC, a partnership between marina operators RCI Group and Suntex Marinas.
Questions surround $50M in EB-5 investments tied to former INS building: lawsuit
A Chinese investor is suing over a stalled mixed-use redevelopment project in Miami's Upper Eastside neighborhood that generated more than $50 million from 100 EB-5 investors. Chun Liu, the Chinese investor living in Portland, Oregon, is suing a company that was set up to distribute the EB-5 funds for the redevelopment of the former U.S. Immigration and…
Shifting gears: Elion Partners pays $12M for Pompano Beach auto parts distribution center
Real estate investment firm Elion Partners bought a Pompano Beach distribution center for $11.65 million. The 94,000-square-foot center at 3141 Southwest 10th Street is part of a larger series of logistics purchases that Miami-based Elion plans to make in markets including Broward and Miami-Dade counties, according to a press release. Aftermarket parts and tools…
Mixed-use Delray Beach development on former Office Depot HQ site advances
Delray Beach board members gave partial initial approval to a proposed mixed-use development with about 600 residential units on the site of Office Depot's former headquarters. The Delray Beach Site Plan Review and Appearance Board unanimously approved changes to a site plan, landscape plan and architectural elevation for the residential…
Mattos family pays $20M for Waterway Shoppes of Weston
The Mattos family expanded its South Florida holdings by buying a shopping center in Weston for $20.45 million. A company managed by Nicolas and Isabella Mattos — the children of Carlos Mattos, founder of car importer Hyundai Colombia Automotriz — bought the Waterway Shoppes of Weston at 2210-2282 Weston Road, according to records. The buying…