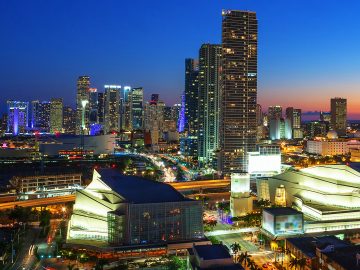 HGreg parks $75M in Nissan dealership in Palmetto Bay
HGreg acquired a Nissan dealership from AutoNation in Palmetto Bay for $75 million, marking the largest car dealership sale in South Florida this year. The dealership, HGreg Nissan Kendall, includes a 71,500-square-foot building and sits on 14.25 acres at 17305 South Dixie Highway. The property sold for $5.26 million per acre. HGreg Nissan Kendall employs nearly 100 people at the location and sells…
Private equity firm picks up Hialeah Gardens trucking facility
A 51.8-acre truck parking facility in Hialeah Gardens sold for $8.1 million. Timber Hill Group bought the property at 15545 Northwest 122nd Avenue for $156,370 per acre, records show. F&M Parking, which is led by Felix Rodriguez of Sunny Isles, sold the facility. The property consists of 14 parcels and more than 1,300 parking spaces for trucks and trailers. It is 100 percent rented, according to…
ULI Offers Some Climate Change Solutions For Miami's Waterfront
To protect commercial properties along the waterfront in downtown Miami and by the Miami River, city officials and the real estate industry should implement natural lines of defenses, consider using less ground floor space for commercial uses, embrace transit-oriented, mixed-use projects and identify funding resources for large-scale flood mitigation projects similar to the Thames Barrier…
LeBron James Is Opening A Flagship Clothing Store In Wynwood
Basketball star LeBron James will open UNKNWN, a clothing boutique with a courtyard for events, in Miami's artsy Wynwood neighborhood on Dec. 5. The launch coincides with the weeklong Art Basel art fair that draws celebrities and art collectors from around the world. The 10K SF store is at 261 Northwest 26th Street, right in the heart of Wynwood. James' partners in the venture include…
Video: Moody's Analytics Reis Senior Economist Barbara Denham Delivers Office Property Market Update
Barbara Denham, Senior Economist with Moody's Analytics Reis, appears in this episode to discuss office property market performance, future forecasts for office properties, and strategies for the commercial office real estate market. Ms. Denham comments that the office market is "fine not hitting out of the ball park."  Net absorption was 6.8 million square feet, above that of the prior two quarters…
How the election may affect the commercial real estate industry
The presidential election has the country riveted and divided on several fronts. When it comes to the real estate front, the upcoming election is likely to affect the commercial  real estate and residential real estate industry. The economy is still in one of the slowest recovery periods of the past five decades and this has economists scrambling to analyze the outlook for the economy in the long-term.
Edgewater Paraiso District 32-story tower advances
The growing Edgewater neighborhood in the City of Miami is getting another mixed-use residential tower to be called Paraiso Place at 452 NE 31st Street. Metro Edgewater LLC proposes to construct the 32-story building with 279 multi-family residential units, 4,063 square feet of ground floor commercial-retail and parking levels for 300 vehicles. The city's Urban Development Review Board on Nov. 20…
Sports Entertainment Provides a Promising Future for Retail Real Estate
The future of food and beverage retail is…sports? To hear from "The Future of Restaurants & Entertainment" panel at the ICSC Southeast Conference & Deal Making event, sports-centric concepts are a solid bet for retail real estate owners to pursue going forward. Produced by the International Council of Shopping Centers (ICSC), the event was held Nov. 13-15 at the newly renovated Georgia World Congress…
Suntex Marinas is trying to evict Monty's from Miami Beach property
Monty's Raw Bar A South Beach landlord is trying to evict Monty's, alleging it has health code violations, unpaid rent and dated menu items. Monty's Sunset Miami Beach claims the landlord is just being crabby and is trying to find a way to take over the lease of the property, according to the Daily Business Review. "To me this is all just a ruse to bully and intimidate and unlawfully malign the quality…
MMG Equity Partners Lands Miami-Dade Retail-Office Plaza for $16 Million
Real estate investor MMG Equity Partners scooped up a shopping and office plaza in a busy south Miami-Dade County neighborhood for $16 million. Pinecrest-based MMG bought the Centre at Cutler Bay from Cutler Center Holdings LLC on Oct. 24. The transaction breaks down to $126 per square foot. The seller is affiliated with Coral Gables-based luxury real estate company Boschetti Realty Group…
North Miami Beach Retail Property Trades for $1.5 Million
This is a 6,525-square-foot, one-story retail property constructed in 1962 that sits on an 18,525-square-foot lot, according to the Miami-Dade County Property Appraiser's Office..Address: 357 NE 167th Street in North Miami Beach. Property type: This is a 6,525-square-foot, one-story retail property constructed in 1962 that sits on an 18,525-square-foot lot, according to the Miami-Dade County Property…
Bruce Eichner and eyes next Miami project as slashes listing on his Continuum penthouse
Developer Ian Bruce Eichner has slashed the price of his Continuum South Beach penthouse as he mulls his next project in Miami. Eichner cut the price of the 11,031-square-foot, seven-bedroom unit to $39.9 million. That's 20 percent below the original $50 million ask. Eloy Carmenate and Mick Duchon of Douglas Elliman have the listing. "You put an apartment on the market with a price, which would have…
Brickell Construction sues for $1.2M in work at project near Midtown Miami
The owner of an unfinished office building with ground-floor retail near Midtown Miami allegedly hasn't paid $1.2 million in construction and labor, according to a recently filed lawsuit. But a lawyer for the developer, Set Midtown, claims the project suffered numerous delays and defects resulting from shoddy work by Brickell Construction Group. Brickell Construction Group is suing Set Midtown for breach…
New Retailers Signed for Doral Square Shopping Center
Miami-based real estate developer Terra has signed several new retailers for Doral Square, a 150,000-square-foot retail center in Doral, about 17 miles west of Miami. The new development will include anchors 24 Hour Fitness and Marshalls and will be built on the southeast corner of Doral Boulevard and 87th Avenue, near Carnival Cruise Lines' offices and Trump National Doral Resort. Doral Square is over 42…
The Importance Of Due Diligence In CRE
Doing your homework is part of the deal. When most of us were in elementary school, little did we realize that each time a teacher or a parent lectured us on the importance of doing homework, they were actually preparing us for … commercial real estate. Due diligence — really, just an adult word for homework — is an essential part of the commercial transaction process. And just like the educational…
Is Co-Living The Next Big Thing in South Florida Multi-Family Real Estate?
A recent real estate trend is performing better than expected It seems as if everything today is ripe for sharing. From car rides to parking to workspaces, what was once considered private and personal is now open to a communal way of thinking. With this in mind, it really isn't surprising that co-living is a recent trend in the multi-family housing market. As recently as 2017, some predicted it to be a…
Doral Will Have A New Shopping And Industrial Center Along NW 79th Avenue
Doral will have a new shopping and industrial center, "District 79", as it will be called. This new development was unanimously approved by the City of Doral Council after taking into consideration that it will bring benefits for the health, safety, economy, and well-being of our residents and visitors. We were informed of this by Maggie Santos, Communications and Protocol Manager for the City of Doral. She…
Photos: Apple New Two-Level Aventura Store
Foster & Partners collaborated with the design team at Apple to create a new two-level store at Aventura Mall. The undulating, vaulted roof is designed to be reminiscent of the city's nautical and architectural roots while the spaces are art deco-inspired. "This store is very 'Miami' to me—its special trees, the light and the new roof. It is also quintessentially Apple, marrying the outdoor lifestyle with a sense…
Judge tosses out Craig Robins' claim that Ugo Colombo bribed juror in private jet case
The latest allegations in a decade-long war between two of Miami's top developers over a shared private jet didn't fly with a Miami judge. Miami-Dade Circuit Court Judge Michael Hanzman tossed out Craig Robins' Dacra Development's claim that Ugo Colombo and his CMC Group bribed a member of a jury — including promising a luxury condo — tied to their dispute over the $22 million private jet. In a…
Related, Block Capital sign deal with short-term rental operator Domio
Gustavo Miculitzki, Jon Paul Perez, and Jay Roberts with a rendering of the project Short-term rental operator Domio is claiming its territory in Wynwood. The firm signed a deal to take over the residential component of the Related Group and Block Capital Group's 175-unit project, The Real Deal has learned. Domio signed a lease for the apartments at The Bradley, a mixed-use project under construction…
Businesses are quietly closing in Miami Beach's Sunset Harbour
The big Miami Beach real estate story this week was the bombshell announcement that Purdy Lounge will close its doors for the final time in February. In a much quieter fashion, a number of other Sunset Harbour businesses have closed or are winding down. Blue Dahlia, Soul Tavern, Pubbelly Noodle. All closed. Due Baci "closed for the summer" and has not reopened. La Moderna has been "taking a well…
Miami Beach Retail Center Scores $26 Million Refi
An affiliate of Saber Real Estate Advisors has received a $26.2 million conduit loan to refinance 1824 Alton, a Class A, 109,961-square-foot retail center in Miami Beach, Fla. Working on behalf of the borrower, Cushman & Wakefield placed the 10-year, fixed-interest rate financing with Starwood Mortgage Capital. The five-story shopping center is at 1824 Alton Road, near the intersection of Alton Road…
Another lawsuit hits the Grove Isle project
According to The Real Deal, Grove Isle Associates is facing another lawsuit, regarding their expansion plans. A private owner is suing. The new project is called The Makers Grove Isle, it's a semi-circle, horse shoe shaped condo that will be at the northern end of the island. It's where the hotel and spa were. Originally a tall tower was to be built on the spot, but after other lawsuits and complaints, the five-story…
Latvian investor buys North Bay Village shopping center
A wealthy Latvian family paid $6.5 million for a shopping center in North Bay Village. Lexi Commons LLC, managed by real estate agent Val Zevel and Ilmax LLC, purchased the 19,438-square-foot retail space at 1700 John F Kennedy Causeway. Records show Ilmax LLC is controlled by Leonids and Maksims Esterkins, who are real estate investors from Latvia. The strip center, called the Shoppes at the Lexi…
Terra, Mr. C unveil plans for luxury condo in Coconut Grove
The Cipriani family's next project will be a luxury condo tower in Coconut Grove. Less than a year after opening its Mr. C Miami hotel in the Grove, the Ciprianis are working with David Martin's Terra to launch a Mr. C branded mixed-use condo project nearby at 2655 South Bayshore Drive, according to a press release. Arquitectonica's Raymond Fort is designing the building and Meyer Davis is handling…
Green Companies snags offices in Kendall
The Green Companies purchased a four-story Class A office building in Kendall for $13.2 million. The Green Companies bought the 63,206-square-foot building at 11731 Mills Drive in Miami for $209 per square foot, records show. The seller is Nuveen, a subsidiary of TIAA. The property is 84.6 percent occupied by two tenants, Everglades University and VITAS Healthcare, according to a release.
Ilhan Omar's $1T housing plan aims to create 12M affordable units
Bernie Sanders has one. So does Alexandria Ocasio-Cortez. Now, Representative Ilhan Omar has added her own housing plan to the field of left-leaning elected officials who have proposed dramatic expansions of how government funds housing. The Minnesota Democrat is calling for $1 trillion to be invested into affordable housing and public housing across the country, which she says will create 12 million…
Don Peebles to re-open the Bath Club in Miami Beach
Don Peebles and a rendering of the project Developer Don Peebles is planning to relaunch the historic Bath Club as a social membership club, nearly 20 years after first purchasing the Miami Beach property. Peebles is spending between $5 million and $7 million on renovating the property at 5937 Collins Avenue, he said. It's expected to open in the first quarter of 2020. The Peebles Corp. is self-financing the…
Here's what the EB-5 rule changes mean for real estate
The EB-5 program's new federal regulations take effect today, and will double the minimum dollar amount that all foreign visa-seekers must plow into development projects. The rules are designed to clamp down on abuse, to modernize the 30-year-old federal program and to keep up with inflation. EB-5 allows foreign investors get U.S. green cards in exchange for investing in American businesses and…
Developer: Condominium Is 'A Toxic Word' In South Florida
Developers in South Florida are saying that the market for new condo development is either hibernating or forever changed. "We're all not selling very well. I'm not going to lie to you," said Gil Dezer, the president of Dezer Development, known for building luxury towers with name brands, including six Trump-branded buildings in Sunny Isles Beach, north of Miami Beach. A 308-unit luxury tower…
SPV Realty sues city of Miami to force vote on Eastside Ridge
Eastside Ridge rendering Accusing members of the Miami Planning, Zoning & Appeals Board of intentionally delaying a vote… SPV Realty is suing the city to force the board to make a decision on the controversial Little Haiti project. The NYC-based developer alleges the planning board refuses…application to change the zoning on nearly 22 acres at 5045 Northeast Second Avenue, according to the lawsuit…
Miami Jewish federation sells affordable housing for $60.5M
The Greater Miami Jewish Federation sold two affordable housing properties in Miami-Dade for a combined $60.5 million. Property records show the nonprofit sold the Federation Gardens building at 10911 Southwest 112th Avenue in Kendall to Federation Gardens Preservation L.P. for $36.5 million. It also sold the Federation Towers at 757 West Avenue in Miami Beach to the same buyer for $24…