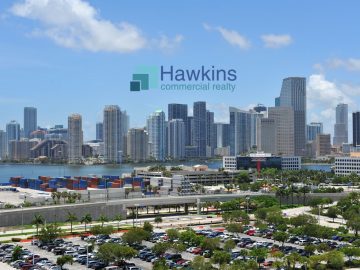 Voters decide South Miami, Surfside and Bal Harbour real estate referendums
Voters weighed in on South Miami zoning rules, Surfside public property sales and Bal Harbour building heights, producing mixed results from Tuesday's election. South Miami A referendum in the city of South Miami failed to pass on Election Day, so zoning vote requirements will remain the same. South Miami Referendum 1 proposed replacing a unanimous five…
'The Money Never Stops Coming': Miami's Office Market Is Hot, Despite Pandemic
Plenty of people have been speculating about the end of the office since the coronavirus spurred a work-from-home revolution. But Brian Gale, vice chair of Cushman & Wakefield of Florida, has been seeing something different. People have always come to Florida for sunshine and a lack of state income taxes, Gale said during a Bisnow webinar Oct. 20.
Pharrell Williams Is Opening A 'Spiritual WiFi' Hotel In Miami
Musician Pharrell Williams is teaming up with Miami nightlife king David Grutman and Dreamscape Cos. to open The Goodtime Hotel in Miami Beach. The 266-room property at 601 Washington Avenue will take up an entire city block, and will have a pool deck, a restaurant, a recording studio and 45K SF of retail. The seven-story property's exterior was redone by…
Voters reject Terra's proposal to redevelop Miami Beach Marina with condo tower
By a slim margin, city voters rejected Terra's proposal to redevelop the Miami Beach Marina, replacing a commercial building anchored by Monty's Sunset with a 38-story luxury condo tower. According to the final vote tally, 51 percent of Miami Beach's electorate voted no on a ballot question asking residents to sell the air rights above the retail complex to Terra, which…
Miami Beach voters reject proposal to redevelop marina
Miami Beach voters rejected a proposal to redevelop the Miami Beach Marina but approved expansion plans for the Wolfsonian-FIU museum. Two other ballot questions allowing increases in FAR (floor area ratio or density) – one to incentivize restoration of historic buildings and another to incentivize bicycle parking and help property owners meet new building…
Real estate on edge with election too close to call
From an undisclosed location in Manhattan, billionaire developer and local radio host John Catsimatidis told New Yorkers that President Donald Trump's chances of winning the 2020 presidential race looked good. "The betting line in Las Vegas is laying 3 to 1 for Trump to win," he said on conservative talk radio station 77 WABC late Tuesday, while "manning…"
Miami Beach voters overwhelmingly approve Wolfsonian-FIU expansion
A super majority of Miami Beach's electorate approved the Wolfsonian-FIU's plans to expand its footprint on Washington Avenue, one of the city's long forgotten retail streets that is now undergoing redevelopment. On Election Day, nearly 64 percent of city voters approved a ballot question asking them to increase the museum's Floor Area Ratio, or FAR…
Suburban office demand spikes as working from home continues
Interest in small suburban offices is picking up as more people continue to work from home, and relocate outside of major urban centers. For IWG, the short-term office company, deals for its downtown New York offices have collapsed by 30 percent since the virus outbreak, while activity in southern Connecticut has surged more than 40 percent, according to Bloomberg.
Key Biscayne voters approve $100M bond tied to climate change
Key Biscayne Key Biscayne residents voted to pass a referendum that would allow the village to issue $100 million in general obligation bonds to deal with the effects of climate change. More than 56 percent of the roughly 6,100 voters in Key Biscayne approved the referendum in Tuesday's general election. About $40 million could go toward mitigating the effects of sea…
JV developing Hialeah spec cold storage facility lands $67M construction loan
A joint venture developing a speculative cold storage project in Hialeah scored a $67 million construction loan. The joint venture between industrial developer Bridge Development Partners and PGIM Real Estate, the real estate investment and financing business of Prudential Financial, plans to break ground on the project later this month…
Miami Beach seeks to end tourism economic dependence
Miami Beach is a world-renowned tourist destination, but commissioners are hoping to shift the city's economy away from dependence on this singular industry. Covid, Hurricane Irma and the Zika virus are just some events within the past 15 years that have put a damper on visitation dollars, Commissioner Mark Samuelian said at a meeting Friday, and the city…
Greenberg Traurig Assists Atlantic Pacific Communities with Master Ground Lease for Quail Roost Transit Village
Miami office Real Estate Practice Shareholder Nancy B. Lash and Land Development Shareholder Ryan D. Bailine assisted longtime client Atlantic Pacific Communities in obtaining approval for a 90-year master ground lease from the Miami-Dade County Commission to accommodate the building of mixed-use, transit-oriented development Quail Roost Transit…
PortMiami huge project spending list wins county OK
PortMiami projects costing Miami-Dade more than $301.5 million won OKs just two days before commissioners OK'd waiving up to $285.5 million for cruise lines crushed by Covid-19. Commissioners signed off last month on construction deals required by prior berthing and development pacts. Each came via competitive bid, Deputy Mayor Jack Osterholt wrote. The priciest…
Tim Schmand: Spurs Lincoln Road Business improvement district change
When Tim Schmand first visited Lincoln Road in Miami Beach in the 1980s, it was a far cry from the chic, artsy and bustling thoroughfare it is today. In fact, he said, it was largely abandoned. That didn't stop him from exploring, learning about its every nook and cranny and developing an affinity for its unique aspects, ingenious and idiosyncratic alike. "It was just a magical…"
Buildings of Tomorrow: Future Warehouses
Amid this prolonged uncertainty, everyone agrees that the pandemic's impacts are yet to be fully seen. Nine months in, the health crisis is about to trigger a global economic crisis, and real estate sectors are reacting differently—some trends, that were already underway, are accentuated, while others are disrupted completely from their original course. One of…
Real estate industry in suspense as election hangs in balance
The presidential election remained too close to call early Wednesday morning, leaving the future uncertain for the real estate industry. Polls in the final days before the election largely predicted Joe Biden would defeat President Donald Trump in what's been one of the most divisive presidential races in U.S. history. But hours after polls closed, crucial…
Real estate pros say Trump better for market than Biden: survey
Asked if Donald Trump or Joe Biden would be a better president for real estate, many industry professionals surveyed by The Real Deal picked the president, but more in some cities than others — and not at all in Chicago. Some 465 brokers, executives, and others who make their living in the industry answered the survey question: "Which presidential candidate…"
Adding flavor: Badia Spices pays $44M for Sweetwater warehouse
Talk about mixing sugar and spice. Badia Spices bought a warehouse in Sweetwater for $44 million. The Doral-based spices and herbs manufacturer paid about $141 a square foot for the 313,000-square-foot building at 2200 Northwest 112th Avenue in Dolphin Commerce Park, according to a press release. It is the largest warehouse sale by both…
Core real estate funds delay investors from cashing out
Pension fund investors are seeking to take cash out of real estate funds as property values fall, like at Water Tower Place in Chicago (Photo via iStock; Wikipedia Commons) Pension fund investors are seeking to take cash out of real estate funds as property values fall, putting managers of those funds in a difficult position. More than 15 of the 25 open-ended "core" funds…
Integra, partner move forward with $58 million senior housing project in Allapattah
A partnership between a private equity group and a nonprofit broke ground last week on a 271-unit affordable senior housing project in Miami's Allapattah neighborhood. Integra Investments and Elderly Housing Development & Operations Corp., or EHDOC, plan to invest $58 million to develop the 13-story building at 1396 Northwest 36th Street, according…
Americans stand united on one thing: NIMBYism
Political polarization is at a fever pitch, but Trump and Biden supporters seem to have found common ground on one issue: NIMBYism. Nearly 75 percent of U.S. residents oppose policies to increase housing density in their own neighborhoods, though more than half think the government should provide developers with incentives to build more housing. Opposition…
Mall owners CBL Properties and PREIT file for bankruptcy
The Covid-accelerated retail apocalypse has claimed two more victims. Mall owners CBL Properties & Associates and Pennsylvania REIT (PREIT) filed for Chapter 11 bankruptcy on Sunday, adding to the growing list of retail and mall owners that have faced a financial reckoning this year. Chattanooga-based CBL Properties first announced plans to file for bankruptcy in…
Covid survivor: Construction spending up from a year ago
Construction spending this year is up 4.1 percent from last year, according to new data for September. During the first nine months of the year, some $1.058 trillion has been put toward public and private construction, compared with $1.016 trillion for the same period in 2019. The housing sector powered the gain, though growth tapered off in September.
Wynwood nightclub building hits the market
A nightclub building in Wynwood is hitting the market, unpriced. Miami-based commercial brokerage Metro 1 has the listing for the property at 150 Northwest 24th Street. The sole tenant is the nightclub Rácket, according to a release. It is operated by Miami Beach-based Homecookin' Hospitality Group, led by Angel Ferbes. The owner is HJK Holding, led by CEO…
Russell Galbut and partner launch blank check company, plan to raise $100M
Developer Russell Galbut and investor Michael S. Liebowitz formed a blank check company aimed at raising $100 million to invest in travel, hospitality, fintech, insurance tech, proptech and other industries impacted by the pandemic. The company, called New Beginnings Acquisition Corp. plans to sell 10 million shares priced at $10 each, according to a release. It joins a…
Open air windfalls: Shopping centers breeze past malls in their recovery
Since reopening in May, Miami's Upper Buena Vista has seen its foot traffic surpass normal pre-Covid levels, according to the shopping center. And the mixed-use "pocket-village" with 21 stores, 12 of which have opened during the pandemic and five more that are slated to open soon, is now back to almost full occupancy. The increase in business for the 60,000-square…
Atlantic Pacific's plan for mixed-use affordable housing project near Cutler Bay advances
Atlantic Pacific Communities' plans for a mixed-use development near Cutler Bay, with at least 500 residential units including affordable housing, are moving forward. Miami-Dade County last week approved a 90-year master ground lease for a subsidiary of Miami-based Atlantic Pacific, led by CEO Howard Cohen. The development, called Quail Roost Transit Village…
Fed Releases Proposal for Community Reinvestment Act Reform, Seeks Comments
The Community Reinvestment Act (CRA) is a federal law that requires federally insured banks to meet the credit needs of people in their communities while meeting safety and soundness standards. At the time of its 1977 passage, lawmakers were concerned about unequal access to credit and policies such as redlining, especially in low-and moderate-income…
The impact of COVID-19 on U.S. states' economic activity : State-level GDP data show the second quarter was much worse than the first
View on GeoFRED® GDP comes in various forms—for the nation as a whole and also for individual U.S. states. The map above shows the change in real GDP in each U.S. state for the first quarter of 2020. This was at the start of the pandemic, and some states were hit hard. The worst declines were in Louisiana (-11.91%), Delaware (-11.43%), Wyoming (-10.53%), Hawaii…
"We are erring on the side of having too much capacity": Amazon reports massive Q3
How much capacity is too much? For Amazon, the limit doesn't exist. At least not yet. The e-commerce giant — which has been adding warehouses at a dizzying clip across the nation — is on track to expand its fulfillment and transportation capacity by 50 percent, it said. The company has already spent $4.7 billion on property and equipment. The Jeff Bezos-led…
Creative Ways to Repurpose Abandoned Malls & Big-Box Stores After COVID-19
Many large retail spaces are sitting empty because of retailers going out of business, but there are novel strategies to reuse these spaces Although the struggles of shopping malls and big-box stores aren't new, as eCommerce has been cutting into their sales for years, the COVID-19 pandemic has been the final straw for many retailers.
Denver-Based Company Pays $13.1M In Off-Market Industrial Acquisition
With a just-closed, off-market buy in Hialeah, Denver-based EverWest Real Estate Investors has expanded its strategy of investing and improving assets in prime industrial locations. Its latest purchase is located at 1101 E. 33rd St., an infill location in the heart of Miami's Hialeah industrial submarket. EverWest purchased the 160,000-square-foot building for…
Pharrell, David Grutman partner with developer to launch South Beach hotel
Developer Eric Birnbaum brought on star power to launch his Washington Avenue hotel in Miami Beach. Singer-songwriter and producer Pharrell Williams and hospitality mogul David Grutman are partnering with Birnbaum on the Goodtime Hotel, a 266-room hotel on Washington Avenue between Sixth and Seventh streets, which is set to open early next year.
Bell Partners pays $94 million for two Boca Raton apartment complexes
An apartment investment and management company bought a pair of multifamily complexes in Boca Raton for a combined $94.25 million. An affiliate of Greensboro, North Carolina-based Bell Partners, led by CEO Jon Bell, bought the complexes at 5500 Broken Sound Boulevard and 950 Northwest Broken Sound Parkway, according to records. Built in 2018…