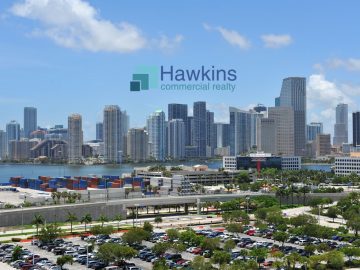 Residences at NoMi to Offer 175 Homes for Seniors at 950 NE 124th Street in North Miami
Developer Horizon at NoMi LLC has secured a $48 million construction loan for the Residences at NoMi, an affordable housing development for seniors in North Miami. Our sources indicate that the three-building complex will require 375,000 square feet of new construction. The tallest building will measure seven stories above grade. The three-building complex will…
New Details On Mandarin Oriental Brickell Key Development: 'Flagship'
Fortune Development Sales had been appointed as the exclusive sales brokerage for The Residences at Mandarin Oriental, Miami, in partnership with Christie's International Real Estate. Sales will launch in early 2024. Developer Swire Properties has also released new details on the Mandarin Oriental towers planned on Brickell Key. The Residences at Mandarin Oriental, Miami…
Giant Transit-Oriented Development Nearly Complete At Coconut Grove Metrorail
Right next to the Coconut Grove Metrorail station, a large mixed-use project called Grove Central is getting its finishing touches. The project will be anchored by a Target, which signed a lease for 49,658 square feet of space in 2019. There will also be a Total Wine, Sprouts, CVS, Five Below, and Starbucks. A residential tower is planned to include 400 apartments, with pre-leasing…
Photos: Construction Progress At One Southside Park
Photos by Phillip Pessar show the 1 Southside Park construction site in Brickell on November 1 . 1 Southside Park is planned to rise 64 stories and include: 1,195 rental apartments 165,000 square feet of office 200 hotel rooms (operated by Treehouse Hotels) 86,151 square feet of spa 23,312 square feet of full service restaurant 1,417 square feet of fast food restaurant 5,120 square…
Miami Worldcenter Retail Now Over 90% Leased: New Tenants Announced
Two new tenants have been signed at Miami Worldcenter, bringing the retail space to over 90% leased. The Container Store leased 15,681 square feet of space on the ground floor of Worldcenter's Block D-East located at 850 NE 2nd Avenue, Unit D-129. Sweet Paris Creperie & Café will occupy 2,330 square feet on the ground floor of Miami Worldcenter's Block CD-West located at 851…
47-story Biscayne Boulevard office tower unveiled
A new skyscraper planned just south of I-195 will bring Miami more than 300,000 square feet of office space. Developer Tower 36 LLC plans the tower at 3601 Biscayne Blvd. and 345/409 NW 36th St. To be called Tower 36, the 47-story tower is to have 312,058 square feet of offices, 29,109 square feet of commercial uses, and 671 parking spaces. The city's Urban Development Review…
Miami Beach spring break a two-edge sword for business
As Miami Beach gears up for spring breakers next March, new and old businesses in the area continue to feel the effects of spring break year after year. Naked Taco, a restaurant in the Tudor Hotel on Ocean Drive, opened its doors in 2014 and has lived through nine spring breaks on the well-known street. Staff has witnessed high-impact weekends and felt the repercussions that…
Raising Alton Road to end flooding years from start
A project to raise Alton Road six inches to one foot to alleviate frequent flooding is well on its way as planning efforts reach their final 10%. Construction is projected to run from 2026 to 2029. Planning is estimated to wrap up in February and construction is due to start in the spring of 2026. "The big gap there [between 2024 and 2026] is due to coordination with the City of Miami…"
Vince Lago: Gables mayor pushes for a mobility hub, more open space
For 10 years, Vince Lago has been serving the City of Coral Gables. Elected mayor in April 2021, he had been a commissioner and vice mayor for the prior eight years. A former member of the Coral Gables Planning and Zoning Board, the mayor said he remains committed to preserving Coral Gables' unique character and history while placing the interests of residents first.
Fourth phase of Liberty Square housing gets its start
Ground has been broken to begin the latest phase of the rebirth of an aging public housing project in the heart of Liberty City. Miami-Dade County and Related Urban Development Group (RUDG), the affordable and workforce housing arm of Related Group, celebrated the groundbreaking of Serenity Liberty Square, the fourth phase in the ongoing redevelopment of the city's…
Rosso Development, Standard International & Midtown Development Secure $45.045 Million Financing From Bank OZK For The Standard Residences, Midtown Miami
Hospitality and real estate pioneers Rosso Development, Standard International, and Midtown Development have closed on a $45,045,000 construction loan from Bank OZK for the highly anticipated The Standard Residences, Midtown Miami, located at 3100 Northeast 1st Avenue. A JLL Capital Markets Debt Advisory team, led by Managing Director Brian Gaswirth and Associate…
Amazon Founder Jeff Bezos Moving To Miami: 'I Love Miami'
Amazon founder Jeff Bezos said on Instagram last week that he is planning to move from Seattle to Miami. "I love Miami," Bezos wrote. According to Bloomberg, Bezos has purchased multiple properties on Indian Creek Island recently. Bezos is said to have paid $79 million for one property on the island, after spending $68 million on the property next door, for a combined $147M…
Options Exchange Plans Miami Trading Floor In 2024
Plans are underway to open an options trading floor in Miami. Miami International Holdings and its subsidiary MIAX said in a press release last month that it had filed with the Securities and Exchange Commission to open a new national securities exchange operating both electronically and with a physical trading floor for U.S. options. The exchange is expected to begin…
Apple Store Coming? Construction Permit Issued For Miami Worldcenter Retail Building
A construction permit was issued Friday for a property at the heart of Miami Worldcenter. The newly issued construction permit shows a 1-story building is planned, with 16,629 square feet of retail, adjacent to the development's World Square. The total hard construction cost for the new building is estimated at $12 million. A photo of the site by Ryan RC Rea last week showed that some…
FAA Filing Submitted For 426-Foot Tower At Menesse Brickell Site
A permanent height filing was submitted to the Federal Aviation Administration last week for a tower in Brickell. The November 2 filing is for a site where a 39-story residential tower called Menesse is planned. According to the filing, the tower is planned to top off at 426 feet above ground, or 439 feet above sea level. That is identical in height to a filing made with Miami-Dade planners…
HTG, AM Affordable Housing Break Ground on $37M Seniors Housing Community in Miami
A joint venture between Housing Trust Group (HTG) and AM Affordable Housing has broken ground on a $37 million affordable seniors housing project located at 18700 NE 25th Ave. in Miami. Dubbed Oasis at Aventura, the development will feature 95 one-bedroom units across eight stories reserved for residents age 62 years or older earning at or below 25, 33 and 60 percent…
Developer Proposes the Valley at 22nd for 5712 NW 22nd Avenue in Miami
Our sources point to an exciting venture proposed for Miami's Model City. Enter the Valley at 22nd, an eight-story apartment complex hosting 67 apartments. The one-bedroom to three-bedroom units would span from 550 to 1,070 square feet each. The developer, Ballybunion Investments LLC, intends to utilize a workhouse housing density bonus that would allow for an…
PGIM Real Estate Provides $75M Loan to Refinance MXU Asset MiLine Miami
A joint venture of AEW Capital Management and ZOM Living has refinanced MiLine Miami, a 338-unit Class A mixed-use property in Miami's Glevar Heights neighborhood, with a $75 million fixed-rate loan provided by PGIM Real Estate. The joint venture partners completed the first phase of MiLine Miami in September 2022. Located at 6970 SW 40th St. along the Ludlam…
The Vestcor Companies Proposes 8-Story Mixed-Use Development At 27742 S Dixie Highway in Naranja
Jacksonville-based real estate developer The Vestcor Companies, Inc., under the Ambar Station LLC, has filed an administrative site plan for a mixed-use development designed by Anillo Toledo Lopez Architecture in the Leisure City area of southern Miami-Dade County near Naranja, which is set to incorporate workforce housing. The 7.83-acre site is located at 27742 and 27860 South Dixie…
New Renderings Of St. Regis Residences Planned In Brickell
Developers Related Group and Integra Investments recently released new renderings of the St. Regis Residences tower planned in Brickell. Robert A.M. Stern Architects (RAMSA) is designing the 48-story tower, with interiors by Rockwell Group. The project will include 152 residences, with over 50,000 square feet of indoor and outdoor amenities. A demolition permit to clear the site…
Why Terra's CEO Remains Confident About Retail's Health in South Florida
The Florida retail sector has been thriving due to the influx of new residents and businesses moving to the city, according to David Martin. Image courtesy of Terra Over the past few years, South Florida has remained a sought-after destination for both residents and tourists due to, in part, the myriad of entertainment options and year-long outdoor activities. The robust demographic…
Isaac Kodsi to relaunch sales of stalled Coconut Grove condo development
Real estate attorney Isaac Kodsi acquired Arbor Residences, a stalled luxury condo development in Coconut Grove, with plans to relaunch sales in the coming weeks. Kodsi acquired the property at 3034 Oak Avenue in Miami from the developer, a partnership led by Nick Hamann. The project, which is partially completed, was at the center of a foreclosure lawsuit filed by Trez Capital last…
Serenity Liberty Square to Get Fourth 193-Unit Phase at 1310 NW 67th Street
Serenity Liberty Square is getting the fourth of its nine phases. Our sources indicate that the addition will comprise 193 mixed-income housing units, reserved for those making 30 percent to 80 percent of the area median income (AMI). Per city records, this means that single-resident households making $21,700 to $57,800 a year would qualify. Also, the 27 families who lived…
59-Story Tower Planned In Brickell, With New Stretch Of Public Riverwalk
A developer is planning a 59-story tower on the Miami River in Brickell called Two Riverside. The project will be a "signature development," that will activate the riverfront with a public riverwalk and ground floor commercial space, according to a representative of the developer. Lofty Brickell is already under construction next door at the One Brickell Riverfront site, where…
Demolition To Begin By Year End To Make Way For 41-Story Hub Miami
The developers planning the 41-story HUB Miami have released new renderings and details of the project. Demolition at the site will begin before the end of 2023, the developer said. The new HUB Miami tower will include: 306 condominium residences, ranging in size from 394 to 1,046 square feet (on levels 22 and up) 245,000 square feet of Class-A office space ODP Architects…
Shoma doubles height, expands proposed project on US 1 near Coral Gables
Shoma Group is doubling the height of its planned mixed-use apartment development along U.S. 1 and Bird Road in Miami, near Coral Gables. Called Shoma One, the project is now planned to include 740 rental units in two 40-story towers. The Coral Gables-based firm, led by Masoud and Stephanie Shojaee, last year acquired the 2.5-acre property at 3650 Bird Road from Deel Volvo…
Height Increase To 33 Stories Proposed For Brickell's Domus Flats II
Revised plans for a Brickell project called Domus Flats II have just been filed with Miami-Dade planners. The tower is now proposed to rise 33 stories, or 370 feet. The design has also been modified. Previously, the tower was proposed at 29 stories, or 336 feet, according to a pre-application meeting request filed in June. The latest filing show the project is now proposed to include…
Related Urban Opens Two Affordable Housing Communities in Miami Totaling 497 Units
Related Urban, the affordable housing and mixed-income division of Related Group, has opened Robert King High and Paseo Del Rio, two newly completed affordable housing communities in Miami's Little Havana neighborhood. The 315-unit Robert King High project is the substantial rehab of an elderly public housing high-rise built in 1964. The property is reserved for low-income…
Cam Group Acquires 2.05-Acre Site At 760 Ponce de Leon Boulevard In Coral Gables, Slated For Redevelopment
An affiliate of Miami-based Cam Group has acquired an older office building in Coral Gables for $18.5 million with redevelopment plans. B & B Investments Management, managed by Wilfred Braceras in Miami, sold the 2.05-acre site at 760 Ponce de Leon Blvd., along with 112 and 120 Avila Court, to 760 Ponce De Leon LLC, led by Pedro Camejo and Joel Campo of Cam Group. The buyer…
New Details Revealed On 67-Story Miami Worldcenter Tower
The developer planning the 67-story JEM Private Residences at Miami Worldcenter has given an interview to the WSJ where new details were revealed. The project is valued at $580 million, the report said. As previously reported, condos will be located on the top half of the tower, and will have a separate entrance and amenities. Completion of the project will take around four years.
RUDG Breaks Ground on Fourth Phase of 60-Acre Liberty Square Redevelopment in Miami
Related Urban Development Group (RUDG), the affordable housing arm of Related Group, has broken ground on Phase 4 of the 60-acre Liberty Square redevelopment in Miami. Dubbed Serenity Liberty Square, the fourth phase will comprise 193 residential units across three buildings for families and individuals earning 30 to 80 percent of the area median income (AMI). Upon completion…
Notable Retail Leases Signed in South Florida Q3 2023
We've compiled a comprehensive list of the top retail leases signed by square footage in South Florida during 2023 and throughout 2022. This past quarter was busy overall, and there were a few big box leases signed and sealed. Despite the sentiment that the traditional retail market is taking a hit due to several factors, particularly e-commerce and several retail store closures…
Wynwood project to include 54 small housing units as bonus
The booming Wynwood Arts District is preparing to welcome yet another mixed-use residential development with ground floor retail. Owner-developer Alchemy-ABR-BCP Wynwood LLC plans the 12-story project at 18 NW 23rd St. The development is to become home to 178 residential units, 13,498 square feet of retail uses, and parking for183 vehicles. The City of Miami's Urban…
Soccer's FIFA moving 100 workers from Switzerland to Coral Gables
FIFA, the body that governs soccer internationally, will be opening a permanent office in Coral Gables and will relocate an estimate of 100 jobs from Switzerland to Miami as well as hire locally. Miami's hot soccer scene continues to gain popularity as the organization plans its move to South Florida. "They're hiring locally, but they're also relocating about 100 jobs from Switzerland…
Miami hotel rates, revenues near top in nation
Miami-Dade County's hotels are booming, third in the nation in both their average daily room rates and revenue per available room in the fiscal year ended Sept. 30, the annual meeting of the Greater Miami Convention & Visitors Bureau was told last week. The county's hotels were sixth in average occupancy, said David Whitaker, bureau president and CEO, who noted the delicate…
Wynwood retail becomes a little more mainstream
Retailers in Wynwood have experienced changes within the area and are enduring their effects. Smaller independent retailers are frequently replaced with well-known stores as rent costs rise in the area. Wynwood is known for its electric ambiance and artistic safe-space. From construction to new stores, it is constantly in renovation and on the rise to housing restaurants…
Developers Propose 20-Story Tower for 3601 N Miami Avenue
In May 2022, TriStar Capital, Integra Investment, and LNDKMRK Development purchased a 1.03-acre property for $23 million. They purchased the parcel from LV Lending, which seized the property following a bankruptcy filing. Previous owners had plans for it to become "Triptych Miami," but now, a new project is underway. TriStar Capital, Integra Investment, and LNDKMRK…
Contractor Sign Installed At Site Where 42-Story Hub Miami Planned
Contractor Coastal Construction has installed a sign at the site where the 42-story Hub Miami is planned, according to Ryan RC Rea. The development was previously known as Miami Station. Several brokers are now advertising on their websites that units at Hub Miami will be sold as luxury condos. Buyers will be able to rent the units on a short-term basis on sites such as Airbnb…
Strong Office Sector Helps Propel Miami's Multifamily Market
While many cities grapple with a declining population, softening rents and a struggling office market, Miami is riding a wave of population growth and apartment demand. This stems from the usual factors — sun, lifestyle and low taxes — as well as something unprecedented: an influx of large office users. New-to-market office tenants are transforming Miami's economy…
The Altman Companies To Acquire 3.25-Acre Site At 11240 Biscayne Boulevard For 11-Story Apartment Project
The Altman Companies, a multifamily development subsidiary of Fort Lauderdale's BBX Capital Corp., is acquiring a development site in the Biscayne Shores area of Miami-Dade County. In September, the developer submitted a pre-application to county officials for an 11-story development on a 3.25-acre site at 11240 Biscayne Boulevard, designed by Cohen Freedman Encinosa…
Saber Real Estate Advisors Proposes Project for 9480 S Dixie Highway
In January 2023, International Money Express (also known as Intermex) announced plans to locate its offices to a larger space in Dadeland. Now, Saber Real Estate Advisors has proposed a new project for Intermex's 1.49-acre former location. The site plan reveals a building comprising more than 294,000 square feet of new construction, offering 373 residential units that would measure…
The Amalfi Llama To Open 9,595-Square-Foot Establishment At Esplanade At Aventura
This December, Eureka! Restaurant Group, in collaboration with Grupo Carolo Hospitality, is set to introduce The Amalfi Llama at Esplanade at Aventura, a destination for retail, entertainment, and culinary experiences. The restaurant draws culinary inspiration from various cultures, from Patagonia to the Italian Mediterranean coast. A distinctive feature of the establishment…
Developers Submit Revised Plans for the Gateway at 2600 and 2630 NE 203rd/Ives Dairy Road
Star Holdings Management LLC has submitted revised site plans for a proposal in the Ojus Urban District in Miami-Dade County. In 2020, the developer proposed the Gateway, a 12-story mixed-use project offering various amenities. Now, our sources indicate that developers want to increase the Gateway to tower 18 stories and offer more than 645,000 square feet of new construction.
Related Group Kicks Off 4th Phase at Miami Redevelopment
Liberty Square Phase IV expects completion in March 2025. Image courtesy of Related Group Related Urban Development Group has broken ground on Serenity Liberty Square, a 193-unit affordable community representing the fourth phase of the Liberty Square redevelopment project in Miami. Delivery is anticipated in March 2025. To finance the project's construction…..
Wynwood Business Improvement District Recertified For Another Ten Years
Business Improvement Districts (BIDs) have been a go-to tool for neighborhoods wanting to plow investment back into their communities, and improve quality of life. Property owners in the decade old Wynwood BID have recently voted to resoundingly approve its continuation for a second ten years, through 2033. The largest one of its kind in Florida, it covers a 50-city-block neighborhood…
Clara Homes Secures Residential Development Site At 2601 NW 6th Avenue In Wynwood
In a recent real estate development move, Miami-based firm Clara Homes, founded by James Curnin, has entered into a contract for a residential development site in Miami's Wynwood district. The 17,000-square-foot plot at 2601 Northwest 6th Avenue is set at a price tag of $7.7 million. The acquisition rate stands at approximately $450 per square foot. This figure contrasts…
Hundreds More Residents Incoming: Wynwood Haus Begins Pre-Leasing
Get ready for several hundred more residents in Miami's urban core: Wynwood Haus has announced pre-leasing. The 20-story apartment tower, which broke ground in June 2021, is set to welcome its first residents by year's end. Wynwood Haus will include 224 apartments, 5,375 square feet of ground floor commercial space. and 222 parking spaces. Prices listed on the leasing…
World's Second Largest Asset Manager Vanguard Plans Miami Office
Vanguard Group is planning a new Miami office, according to Bloomberg. It won't be large – the office is expect to serve 30 financial intermediaries at first, each managing $10M to $50m – but it is a sign of the growing importance of Miami as a financial center. Vanguard Latin America head Juan Hernandez told Bloomberg that Miami "is becoming the wealth-management hub…
Related Group, W5 to Develop 63-Unit Co-Living Project in Miami's Wynwood District
Related Group and single-family residential investment firm W5 Group plan to develop the first co-living development in Miami's Wynwood neighborhood. Located at 51 N.W. 28th St., the nine-story property, named i5 Wynwood, will feature 63 fully furnished apartments that comprise 217 private suites that are available for rent. Residents will have shared common areas…
Developers Propose Indigo Pompano Beach in Broward County
The City of Pompano Beach could soon give the green light to Indigo Pompano Beach, a mixed-use project bordering the area formerly known as the Isle Casino Pompano Beach. Our sources note that the first phase could yield 417 residences. The South Florida Business Journal notes that the project would host nine buildings measuring two to five stories above grade. Homes would…
CaraCo buys newly built Tamarac apartment complex for $73M
CaraCo Group of Companies bought a new apartment complex in Tamarac for $73 million.CaraCo purchased the 212-unit complex at 8601 West McNab Road from the developers, Eden Multifamily and Cypress Equity Investments, according to records and real estate database Vizzda. The buyer took out a $50 million loan from Sound Point Capital. The sale equates…
El-Ad National Properties Reaches New Milestones On Second Phase Of ALINA Residences In Boca Raton
El-Ad National Properties, part of the esteemed Elad Group, proudly announces that its second phase of ALINA Residences, ALINA 210 and ALINA 220, has achieved significant construction and sales milestones. With a remarkable 70% sales rate, the recent advancements for ALINA Residences' second phase encompass the installation of terrace railings, flooring, and glass; the formation…
Forest Development And Royal Palm Companies Tops Off Construction On Nautilus 220 In Lake Park
Forest Development and Royal Palm Companies recently celebrated the topping-off construction milestone for Nautilus 220, a new luxury mixed-use development with condominium residences in two 24-story towers, waterfront restaurants including SeaHawk Prime by Chef David Burke, retail, and office suites alongside a marina at 220 Lake Shore Drive in Lake Park, FL. The traditional…
Boise Cascade Purchases Distribution Facility in West Palm Beach for $31M
Boise Cascade Co., a publicly traded producer of engineered wood products and plywood, has purchased a new 120,000-square-foot distribution facility in West Palm Beach. Locally based Brown Distributing Co. sold the property for $31 million. The buyer's Building Materials Distribution division will occupy the property, which is situated on an infill site totaling 9.8 acres..