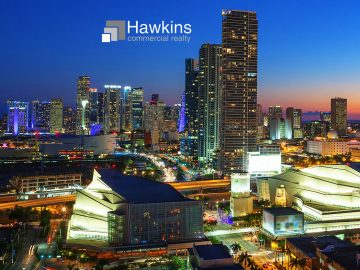 Robert Rivani fattens his South of Fifth restaurant portfolio
Robert Rivani is done hunting for commercial condos in Miami Beach's South of Fifth neighborhood after picking up a restaurant space near Joe's Stone Crab. Rivani, a mohawked retail investor who leads Los Angeles-based Black Lion Investment Group, paid $12.2 million for a 13,500-square-foot commercial unit at One Ocean Condominium at 1 Collins Avenue…
Miami voters approve James L. Knight Center redevelopment
For the second time this year, Miami voters overwhelmingly backed a redevelopment project on city-owned land. On Tuesday, Hyatt and Gencom handily won a referendum for the joint venture's proposal to replace the James L. Knight Center and adjacent 615-room hotel in downtown Miami with a mixed-use project that the developers claim could generate $1.5 billion in new…
Sternlicht, with $1.3B in dry powder, touts caution in "financial hurricane"
Barry Sternlicht assured investors that Starwood Property Trust is being extra careful as it seeks opportunities amid economic turmoil. "It's something of a financial hurricane," he said during the REIT's third quarter earnings call on Wednesday. "You really can't cure this inflation, which has been driven by excess stimulus and lack of goods on the shelves." Sternlicht, the billionaire…
Voters defeat Peebles, Sternlicht office projects in Miami Beach
Voters on Tuesday defeated developers' plans for a pair of office projects off Miami Beach's Lincoln Road. A development group led by Don Peebles and another team led by Integra Investments — with Barry Sternlicht among the members — wanted to build on separate sites in South Beach. The controversial bids to develop city-owned parking lots under 99-year leases,,,
Billionaire Ross' proposal to upzone Deauville site in Miami Beach fails
Miami Beach voters rejected a ballot measure that would have given New York developer and Miami Dolphins owner Stephen Ross the ability to build a larger project on the oceanfront site of the historic Deauville resort. The Related Companies owner's pending purchase of the Deauville, rumored to be for roughly $500 million, was contingent on referendum 1 passing.
Investor sells fully leased Doral shopping center
An investor from north Florida sold the fully leased Shoppes at Doral for $15.1 million. Gerig Holdings, led by Craig Wagener of Middleburg, Fla., sold the 16,500-square-foot property at 10425 Northwest 41st Street, according to a news release from the seller's broker. Sources said the buyer is Doral Shops LLC, which state corporate records show is led by Tomas Maliar Smolarz…
Nakash family hit with $17M judgment tied to South Beach hotel
In an allegedly illegal quest to oust a restaurant operator from one of its South Beach hotels, the Nakash family enterprise hired a private investigator to pose as a guest who concocted bogus noise complaints about the tenant. The tactic failed spectacularly… Miami-Dade Circuit Court Judge Valerie Manno Schurr to hammer the Nakashes, owners of the Hotel Breakwater at 940 Ocean Drive…
Billionaire Ken Griffin on politics, all things Florida and building a trading room in 5 days
Miami Mayor Francis Suarez lept into economic booster mode when he met with Ken Griffin at Citadel in Chicago, before the billionaire hedge funder decided to move his companies here. Griffin suggested that he was considering the move. "Ten minutes later, the mayor has Google Maps out and he's talking about various places that we can build an office tower," Griffin…
South Florida office sales nosedive
The decline in office investment sales gripping major U.S. markets has reached South Florida. Over the past two years, the tri-county region emerged not only unscathed but as a winner, hosting sizzling hot leasing activity. It attracted major out-of-state firms, while much of the rest of the U.S. was faced with a decline in occupancy and, in…
Speaker Spotlight: Get to know billionaire developer Jeff Greene
Developer Jeff Greene is no stranger to the South Florida market or the TRD stage. But at this TRD Showcase + Forum, he's got more to talk about than ever. The Palm Beach resident, well-known for his One West Palm mixed-use project, recently announced two residential towers on part of the roughly 26 acres of West Palm Beach he acquired in 2015. The billionaire has said he'll develop waterfront…
1,374-residence, 42-story towers planned for downtown Miami
A large double tower mixed-use residential development is planned for Northeast First Avenue, in the heart of Downtown Miami. Namdar Group proposes one structure made up of two 42-story towers at 222/234 NE First Avenue and 50/60 NE Third Street A project simply known as 222, the towers are to be home to 1,374 residential units. The project includes…
Countywide zone pushed to spark foreign trade
Every inch of Miami-Dade may soon be covered by a foreign trade zone, enabling participating businesses to become more price-competitive in international goods trade, a key element of the county's economy. Today the northern half of the county is in a single such zone overseen by PortMiami that was started in 2012, putting many businesses in the southern half in over…
Lincoln Road poised for retail revival
With 16 new-to-market retail and restaurant tenants, 12 under-development stores, and a greater foot traffic than other Miami-Dade County destinations, Lincoln Road continues to be successful and is poised to have its retail revival going. The Lincoln Road District's storefront occupancy rate is 85%, reflecting currently occupied and leased stores, according to the…
Miami Wilds waterpark near Zoo Miami still up in air
Beetles, bats and butterflies have crept, flown and fluttered into plans to open Miami Wilds, a water park, hotel, shops and restaurants project at the front door of Zoo Miami. Miami Today reported a 2024 opening back in September. Paul Lambert, principal manager for Lambert Advisory, said the opening has been pushed to mid-2025, "principally because the lease was…
Miami-Dade seeks new ways to retain vital beach sand
As sand renourishment continues in an 830,000-cubic yard project in Miami Beach, the county has acquired consultation for alternative ways to retain sand along county-managed beaches. Miami-Dade County's Division of Environmental Resources Management has hired coastal engineering firm GHD Services Inc. to consider alternative ways to retain sand along county-managed…
Michael Lewis: Metromover to Miami Beach is truly the Smart Program
The smart dumping of two years of failed negotiations to build a monorail across Biscayne Bay will serve us well. First, the county returns to the starting line with the proper aim: extend existing transit to Miami Beach by linking to the downtown Metromover so riders don't have to change stations or cars. Second, the county dumps a tainted Baylink contract based on…
South Florida retail rents climb
South Florida retail landlords joined their industrial and office counterparts in jacking up asking rents during the third quarter. In Miami-Dade, Broward and Palm Beach counties, rents rose by $3 or more per square foot, year-over-year, according to a recently released report. Sustained tenant demand kept vacancies low across the tri-county region. And investors seeking inflation…
Leonard Abess seeks rezoning for 85-home development in Redland
Leonard Abess is joining the housing development frenzy gripping south Miami-Dade County. Abess, a real estate investor who formerly owned City National Bank of Florida, is asking the county to rezone 27.3 acres of agricultural land he owns on the northeast corner of Krome Avenue and Southwest 286th Street to allow for 85 single-family homes, according to…
Lease roundup: Knotel and Becker take space in Coral Gables
Knotel I Ofizzina I Coral Gables New York-based flexible office provider Knotel will open its fourth location in South Florida. Knotel leased 23,700 square feet on three full floors at the Ofizzina office building at 1200 Ponce de Leon Boulevard in Coral Gables, according to a news release from the landlord's broker. Knotel is expected to open in the…
Karmely, Defortuna revive plans for stalled One River Point condo tower
Developer Shahab Karmely sold a waterfront site on the Miami River for nearly $59 million to a joint venture between his KAR Properties and Edgardo Defortuna's Fortune International Group. The sale of the property at 24 Southwest Fourth Street to One River Point Partners marks progress for the long-stalled One River Point project. The…
Air paying $471M for South Florida apartments
Air Communities is spending big bucks on South Florida multifamily projects. The Denver-based real estate investment trust is paying $471 million for two apartment properties in Miami Beach and in Fort Lauderdale's booming Flagler Village neighborhood. Air bought The District at Flagler Village building at 555 Northeast Eighth Street in Fort Lauderdale for $173 million…
Laurent Groll picks up two Doral warehouses for $18M
Laurent Groll bought a pair of adjacent industrial buildings in Doral for $18.1 million. An entity managed by the Miami Beach-based real estate investor acquired two warehouses spanning nearly 93,000 square feet at 8280 Northwest 64th Street and 6350 Northwest 82nd Avenue, records show. Groll's affiliate obtained a $10.8 million loan from Bank of America. The deal breaks…
Self-proclaimed "King of Miami Real Estate" sells Opa-locka apartments
An influencer who calls himself the "King of Miami Real Estate" sold a chunk of his apartment portfolio in Opa-locka. Jalal Abuimweis, who has more than 50,000 followers… sold the 26-unit, three-story and the 12-unit, two-story apartment buildings at 2605 and 2561 Northwest 135th Street, respectively, for about $4.8 million, and the 24-unit building at 13240 Port Said Road for about $3.5 million.
Video: Sam Zell says Flooding markets with capital brings "consequences"
For every action, there is an equal and opposite reaction. And for Sam Zell, the move to "flood the world with money" has set us up for a liquidity crisis. Speaking on CNBC Wednesday, the billionaire real estate mogul and chairman of Equity Group Investments said that dating back to World War II, there's never been a recession without a liquidity crisis, and predicted that…
Billionaire Dan Loeb selling Wynwood site to Brooklyn developer for $20M
Billionaire hedge fund manager Daniel Loeb is in contract to sell a Wynwood site to Brooklyn developer LIVWRK for about $20 million, The Real Deal has learned. It will mark the second acquisition in Wynwood for LIVWRK, led by founder and CEO Asher Abehsera. The company paid about $25 million last year for a 2.5-acre assemblage at 2400 and 2500 North Miami Avenue…
Video: "Tomorrow's Build" from B1M takes a closer look at Miami
Popular YouTube series "Tomorrow's Build", from The B1M, looked into a phenomenon that will be familiar to any TRD reader. As the video explains, Miami is in the midst of a skyscraper boom, with surging population and an increase in white collar jobs and corporate HQs relocating to "Wall Street South." That's happening despite increased risk from climate change events.
Argentinian investors score approval for North Beach townhomes
A pair of Argentinian investors are launching their second townhome project in Miami Beach. The Miami Beach Design Review Board on Tuesday approved the proposed development at 7637 Carlyle Avenue, along with the demolition of a three-bedroom house completed in 1939 that is on the site. An entity managed by Hector Ricardo Andrelo and Stella Andrelo in Bueno Aires…
Why real estate shoppers are bagging grocery-anchored plazas
The checkout line for grocery store-anchored shopping centers in South Florida and the U.S. is crowded. Landlords such as Pebb Enterprises' Ian Weiner are in the midst of a bountiful seller's market due to significant investor demand for retail plazas featuring an Aldi, Publix, Winn-Dixie or other grocer as the main tenant.  Weiner's Boca Raton-based development firm…
Interest Rate Hikes Have Dragged CRE Prices Down 13% Nationally So Far This Year
Commercial property prices have dropped nearly 13% so far from their most recent peak earlier this year, according to the Green Street Commercial Property Price Index in October, with prices down 7.3% during October alone. The index peaked in May 2022 after climbing out of a pandemic-related crash in 2020, and has been dropping ever since. Shopping mall prices…
Cold Storage And E-Commerce, But Not Amazon, Sustaining South Florida's Industrial Boom
For most of the last few years, Amazon has been the dominant force in South Florida's industrial market, but the e-commerce giant's recent pullback hasn't had a negative impact on the region's warehouse market, industry insiders said at Bisnow's South Florida Industrial Outlook event last week. "The last few years it has all been Amazon, right? They were making 90% of…
$3.45M Sale of Miami River Industrial Land Negotiated
The industrial land site at 3440 NW North River Drive was acquired by Riverbanks LLC whose principal is Babba Joshua Yesharim. Mr. Yesharim is an active owner in Miami's Riverside district and urban core. "This industrial land site is a premier piece of commercial real estate that sits on the Miami River and has great potential for numerous marine, commercial, and industrial…"
Conway Commercial Real Estate Collects $13M for Parcel in Miami's Little River Neighborhood
Conway Commercial Real Estate has sold 2.2 acres in the Little River neighborhood of Miami, FL for $13.2 million. "Developers are recognizing the growth and the emergence of strong fundamentals, finding opportunities to appeal to the creatives and curators in Miami that are in search of the unique neighborhoods and experiences that Little River offers," said…
Blackstone sells Tamarac Hampton Inn for $18M
Blackstone sold a 113-room hotel in Tamarac for $17.8 million to a pair of hotel investors based in central Florida. Entities managed by Ramzan and Amin Gulamali acquired The Hampton Inn & Suites at 5701 Madison Avenue, records show. The Gulamalis, principals of Altamonte Springs-based hotel development and investment firm F + F, obtained a $14.3 million…
D.R. Horton plans to build 86 homes on Davie nursery site
Homebuilder D.R. Horton plans to redevelop a shuttered fruit tree nursery in Davie as an 86-home community with a mix of houses and townhouses. The Davie Town Council on Wednesday approved a site plan for the development, a related plat proposal, and a "flex" application to increase the development's allowable density…
New York hotelier joins West Palm Beach megaproject
Place Projects and NDT Development's 2-million-square-foot project in West Palm Beach's burgeoning Nora District will include a prominent New York hotelier. Richard Born, known in New York as the man behind BD Hotels, is among the principal investors, the Wall Street Journal reported. Born will design the project's 175-key hotel to mimic the aesthetics…
Here are the resi projects planned for West Palm Beach
Like everywhere else in South Florida, developers are betting big on West Palm Beach, and there's plenty of construction financing for projects, too. Developers have dropped at least $186.2 million on land purchases for development since 2015, according to an analysis by The Real Deal. During the same timeframe, big-name financiers like J.P. Morgan Chase put up $422.4 million…
Jeff Greene plans waterfront West Palm Beach condo towers
Prolific West Palm Beach developer and investor Jeff Greene isn't done betting on the city. Billionaire Greene wants to build a pair of 30-story condominium towers on land he owns just west of waterfront Currie Park. His preliminary plans are for 182 units sized from three to six bedrooms, and averaging 3,700 square feet, he told The Real Deal. The plan marks Greene's…