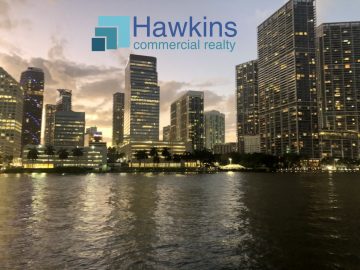 Monarch Alternative Capital Buys 412,000 SF 801 Brickell Office Building in Miami
Monarch Alternative Capital, an investment firm with offices in New York City, London and South Florida, has purchased 801 Brickell, a 412,000-square-foot office building in Miami. The 28-story high rise is located just a block from Biscayne Bay in downtown Miami's Brickell neighborhood, two blocks from a Metromover station. Monarch Alternative Capital will operate…
Qatari royals sell SLS Brickell hotel for $55M
Members of Qatar's ruling royal family, the Al Thanis, sold the SLS Brickell hotel in Miami for $55 million. The Albanian conglomerate Kastrati Group purchased the property. Kastrati, through an entity listing Miami attorney Charles Ratner as its president, bought the 124-key hotel at 1300 South Miami Avenue in Miami's Brickell neighborhood, Ratner said. The deal breaks down…
Renderings Reveal Planned 55-Story Tower Designed By Fogarty Finger At 419 NE 19th Street In Edgewater
Renderings have been unveiled for 419 Northeast 19th Street, a 55-story multifamily residential project slated for a 14,190-square-foot triangular plot in Miami's Edgewater neighborhood, near Margaret Pace Park and Biscayne Bay, precisely where North Bayshore Boulevard and Northeast 4th Avenue converge. The project is designed by the acclaimed New York-based architectural firm…
Venezuelan investors list 105-unit Miami-Dade portfolio for $45M
Venezuelan investors put a Miami-Dade County portfolio on the market for $44.9 million. GLG Investments, led by José Luis Pereira, Roger Prunhuber and Augusto Granja, is listing the properties, consisting of 105 units, according to listing broker Houselab Realty. Nathalie Azoubel and Sofia Silberman of Houselab are representing GLG. The majority of the portfolio, or 103 units…
Developer Updates Plans for Shoma One at 3650 Bird Road in Miami
In May 2021, Florida YIMBY reported on Shoma One, a residential complex featuring two high-rise towers. Now, our sources indicate that the developer, Shoma Group, has filed updated plans with Miami-Dade County officials. Previously, plans called for a 17-story and 18-story tower, set to offer 391 units. Expanded plans call for 748 apartments in two 40-story towers, with homes…
Revealed: 47-Story Office Tower Designed By KPF Planned Near Midtown
Plans have been submitted to Miami's Urban Development Review Board for an office tower called Tower 36. A Shell gas station is currently on the site where the new tower is proposed. Vacant land and a multifamily building behind the station are proposed to be unified with the gas station for a larger project site. The new tower is proposed to rise 47 stories, or 635 feet…
Revealed: 55-Story Residential Tower Planned In Edgewater
Plans have been submitted to Miami's Urban Development Review Board for a 55-story multifamily tower in Edgewater. An older condo building is currently on the site, bought by the developers proposing the new tower. A demolition permit is pending for the older building. The new tower is proposed to rise 55 stories, or 641 feet above ground and 650 feet above sea level…
Revealed: Office Tower Planned Across From Midtown Miami
Plans have been submitted to Miami's Urban Development Review Board for an office tower across from Midtown Miami. The Triptych development was formerly proposed on the site, before it was cancelled and sold. The new tower is proposed to rise 20 stories, or 315 feet above ground and 330 feet above sea level and include: 199,048 square feet of Office Use 11,438 square feet…
New Renderings Released Of $1B Highland Park
New renderings have been released for the $1B Highland Park development planned near a Metrorail station just south of Miami's Health District. The project site is at the northern end of Overtown. According to developer Allen Morris Company, the project will include 1,130 multifamily units in four phases. In addition, the development is also said to include 500,000 square feet of medical…
Michael Shvo's office, apartment project on Miami Beach's Alton Road scores approval
Michael Shvo is a step closer to building an office and apartment project on Alton Road in Miami Beach, on the former site of Epicure Gourmet Market & Café. The Miami Beach Design Review Board voted 7-0 on Wednesday in favor of the six-story The Alton, which would consist of roughly 170,000 square feet of offices and five apartments on the northwest corner of Alton…
"It's a complete miss": Miami Beach delays vote on Galbuts, Navarros and Lefferts North Beach condo project
Citing the style and scope of the project, the Miami Beach Design Review Board delayed a vote on the Galbuts, Navarros and Mendy Chudaitov's Lefferts' proposed North Beach condominium. The 19-story building would have 125 condos and 16,300 square feet of retail space at 600 72nd Street, and would mark the latest in a packed pipeline of North Beach development.
Miami Beach board approves Lionestone Development's condo building at Sagamore, Ritz-Carlton
A proposal to develop a luxury condo building at the Sagamore and Ritz-Carlton in South Beach is moving forward. The Lowensteins' Lionstone Development, the Kanavos family's Flag Luxury Group and the Ben-Josefs' Ben-Josef Group plan the 30-unit, 15-story building behind the existing Sagamore Hotel South Beach and cantilevered over the existing Ritz-Carlton, South Beach…
UDRB Votes To Approve New Towers With 2,043 Apartments At Miami Worldcenter
Miami's Urban Development Review Board voted last month to approve a proposal for multiple new towers at Miami Worldcenter. The proposal includes three new towers at the Miami World Tower site, where a 53-story tower is nearing completion, bringing the total to four on the property. Two of the three new towers are proposed to rise 68 stories each, with a shorter one…
Report: Cost Increases To Build Northeast Miami-Dade Corridor Commuter Rail
The cost to build the Northeast Corridor commuter rail project has risen, according to Miami Today. Miami-Dade's project website now lists the capital cost at $682 million inclusive of track and right-of-way access fees. It isn't clear from the Miami Today report exactly what the original cost for the project was, or when the cost increase was revealed. Construction is expected to begin…
Neology Lands Refi for High-End Allapattah Asset
Common area space in No. 17. Image courtesy of Neology Neology has landed a $31 million refinancing loan for a luxury apartment community in Miami's Allapattah neighborhood. Berkadia's Charles Foschini, Christopher Apone and Shannon Wilson arranged the 10-year Fannie Mae loan with five years of interest-only. Neology's 192-unit property, No. 17 Residences Allapattah…
Berkadia Arranges $31.5M Refinancing for Apartment Community in Allapattah Neighborhood
Berkadia has arranged a $31.5 million loan for the refinancing of No. 17 Residences Allapattah, a 192-unit apartment community located at 1569 N.W. 17th Ave. in Miami's Allapattah neighborhood. The borrower, Neology Life Development Group, delivered the property in April 2021. Charles Foschini, Christopher Apone and Shannon Wilson of Berkadia's South Florida office arranged…
Yair Levy ran out of money to finish downtown Miami building, diamond dealer's lawsuit alleges
New York-based developer Yair Levy's grand plan to convert a downtown Miami office and retail building into a premier jewelers' destination is allegedly turning into shattered glass. Levy, who's banned for life from selling condos and co-ops in the Empire State, allegedly has run out of funds to complete renovations at Time Century Jewelry Center, a nine-story building…
131,411 SF Industrial Lease Negotiated in Doral
Cushman & Wakefield has negotiated a 131,411-square-foot industrial lease at Bridge Point Doral, a 175-acre industrial park in Doral, a suburb of Miami. The tenant, an unnamed Fortune 50 food distributor, will fully occupy Building 6 upon its completion in mid-2024. Multiple media outlets are reporting that the tenant is snack giant Frito-Lay, a subsidiary of PepsiCo.
Miami Worldcenter developer sent back to drawing board
The final two phases of a block-sized multiple tower development are under review for the heart of the evolving Miami Worldcenter, in the Park West neighborhood. The city's Urban Development Review Board voted to recommend approval of the latest phases of the massive project but with a condition that the developer consider a redesign of the final phases. The vote on the…
Glass box of penthouses crowns Miami Worldcenter project
A mixed-use development will bring new office space and residential units, including a glass box of penthouses, to the northern boundary of Miami Worldcenter. Abbhi Capital is the owner-developer of the two-tower project for a site at 1001 NE First Ave. The project will help complete the area known as Miami Worldcenter Block A. It includes a 61-story residential tower and 35-story office…
Miami Wilds batted back to December as legal issues swirl
Miami Wilds reared its tumultuous head at last week's Miami-Dade County Commission meeting when Commissioner Kionne McGhee offered a surprise motion that the county provide a status report on the decades-long water park effort. Ultimately, the commission passed the motion after 16-plus minutes of confusion and uncertainty about the litigation-ridden plans…
E-commerce drives industrial space demand in Miami-Dade
The warehouse space market continues to be solid throughout Miami-Dade County, according to local industrial real estate experts. The underlying cause of demand is still e-commerce, said Dalton Easton, an associate at The Easton Group. "It's certainly not historic levels that we had in the last 12 to 18 months," he said. "It's safe to say the majority of the folks in the industry…
Annexations In Doral: 19 Years Seeking To Expand The Urban Boundary
From the moment the two applications were sent in 2004 to annex Section 6 and a portion of Section 15 that both currently belong to the county as unincorporated areas, several things have happened until today that have delayed the process—a change of Doral administration and the current requirement that only the commissioner of the district in which the area to be…
Elderly Rental Community With 94 Units Proposed For 2015 W Okeechobee Road In Hialeah
A pre-application review request has been submitted for Metro Grande II, an 8-story elderly rental community proposed at 2015 West Okeechobee Road in Hialeah, Florida. This project is designed by the Coral Gables-based architect Behar Font & Partners, with landscape architecture by Witkins Hults + Partners based in Hollywood. Developed by Cornerstone Group, a Coconut Grove…
Trinity Cathedral Property Added To Rapid Transit Zoning Area
Miami-Dade commissioners have approved adding Miami's Trinity Cathedral property to the Rapid Transit Zoning area. The addition was done at the request of the property owner, a resolution states. The move allows the property to be developed under County Jurisdiction, rather than city, and potentially at a higher intensity of development. The property was approved for the…
Reality check: Financial office leasing in South Florida tapers over past three years
Over the past three years, South Florida earned a reputation as a mecca for financial firms fleeing New York, Chicago and San Francisco. The likes of Thoma Bravo, Apollo Capital Management, Founders Fund and, of course, Citadel, leased offices across the tri-county region. Developers and brokers were abuzz over the activity, leading to a collective chorus boasting about the…
Toll Brothers Opens Miami Student Housing Community Near FIU
Lapis is located near Florida International University in Miami. Image courtesy of Toll Brothers Toll Brothers has completed its first multifamily project in Florida with a 293-unit student housing community in Miami. The developer started construction on its Lapis property in July 2021, with plans to open in fall 2023. The developer tapped Humphreys & Partners Architects…
Waldorf Astoria Supertall Developer Acquires Wynwood Site
A 1.1-acre assemblage in Wynwood Norte traded for $20M, with the property set to be developed into condos. A trust led by Ryan Shear, the managing principal of Property Markets Group, acquired the site, which hosts nine apartments and is partially vacant, the South Florida Business Journal reported. The Wynwood 29th Street Land Trust entity acquired the property from…
PMG and Lndmrk partnering on Wynwood Norte condo project
Property Markets Group and Lndmrk Development are teaming up on a Wynwood Norte condo project following a $20 million deal for a seven-property assemblage, The Real Deal has learned. An entity managed by New York and Miami-based PMG's managing partner, Ryan Shear, acquired the assemblage from an entity managed by Miami-based Lndmrk's Alex Karakhanian…
Wynwood's Design Review Committee To Review Waiver Application For 12-Story Mixed-Use Development At 18 NW 23rd Street
On October 10, 2023, the Wynwood Design Review Committee will assess a waiver request for a 12-story mixed-use development at 18 Northwest 23rd Street. Designed by Arquitectonica with interiors by MKDA and developed by Alchemy-ABR-BCP Wynwood LLC (an affiliate of New York-based Alchemy-ABR Investment Partners), this structure will rise 178 feet, comprising 291,767…
Developers Secure $77M Construction Loan From Bank OZK For 2200 Brickell
Aria Development Group, Largo, and Place Projects have secured $77 million in construction financing for 2200 Brickell, a five-story, 105-unit luxury condominium development at 2200 Brickell Avenue, situated along Brickell's historic Millionaire's Row. The construction financing was provided by Bank OZK, represented by King & Spalding. Hunton Andrews Kurth and…
Terra Completes Construction On 78,000-Square-Foot Retail Complex 'Doral Atrium'
Terra has finalized construction on Doral Atrium, a 78,000-square-foot retail space in the City of Doral. Concurrently, the firm has announced a 1,480-square-foot lease with TREMBLE Pilates Studio at the location. This marks TREMBLE's eighth South Florida branch, adding to an expanding national presence. Located at the intersection of Doral Boulevard and 79th Avenue…
Will a Miami Beach historic block become home to a modern glass tower?
The Miami Beach Historic Preservation Board will soon decide whether a tall luxury condo tower may be built behind the Sagamore hotel in a Miami Beach historic district. In addition to the proposed condominium building, the applicants have pledged to spend $4 million on improvements, including landscaping, to the easternmost end of Lincoln Road. Critics say this gesture is an effort…
New Miami development will rise to dizzying heights — and wipe out their trailer park
Carol Hatchet, 61, stood outside the small office of Miami Soar Mobile Home Park on a blistering hot Saturday evening among around 100 other residents. A familiar face, former park manager Steve Carroll, stood atop a water tank and began to tell the sweaty residents a familiar story: about a new vision for their old neighborhood. That new vision for their trailer park…
Miami's Pandemic-Era Office Boom Is Over, But There's No Sign Of A Bust
Miami's soaring office market coming out of the pandemic has come back down to earth, but new leasing data shows the city appears to have stuck a soft landing. Miami saw 588K SF of leasing activity in the third quarter, keeping pace with the first half of the year, which saw a total of 1.1M SF of deals signed, according to Cushman & Wakefield data. While the market has maintained…
A 'Choppy' South Florida Office Market Sees Sales Volume Fall As Prices Rise
After years of avoiding the swells belting office space across the country, South Florida is starting to see a few whitecaps. The region has mirrored the steep decline in the number of office building sales as the rest of the country, falling 54% through the first three quarters of this year compared to the same period last year, according to Cushman & Wakefield data provided to Bisnow.
Stacy Robins tangles with siblings Craig, Scott and Gina over late father's estate
Miami Beach broker Stacy Robins is having a hard time trusting her sister, Gina Robins, and her brothers, developers Craig and Scott Robins, concerning their late father Gerald "Jerry" Robins' estate. Stacy Robins is accusing her three siblings of trying to exclude roughly $6 million from the final tally of their deceased father's assets. She also alleges that they are attempting to deviate…
Steve Ross' Related pays $30M for senior affordable apartments in Hollywood
Fresh off buying a Miramar affordable housing complex, Steve Ross' Related Companies purchased a below-market rental property in Hollywood for $29.7 million. The New York-based firm bought the senior independent living Federation Plaza building at 3081 Taft Street, according to records. Foundation for Affordable Housing (FFAH), through an affiliate, sold the property…
Related Companies Acquires 320-Unit Sorrento Apartments In Miramar
Related Companies has acquired Sorrento, an affordable housing community in Miramar, Florida, from Zom Foxcraft, an entity tied to ZOM Living and NRP Group for $48.2 million, equating to $150,625 per unit. The 320-unit, garden-style apartment community offers LIHTC income-restricted apartments at 8991 and 9577 Southwest 41st Street. The property was completed by ZOM…
Developer Proposes Water's Edge Multifamily at 1600 S.W. 80th Terrace in Plantation
In a move that could reshape Plantation Corporate Center, a developer has proposed constructing an apartment complex within the existing office park. The city's Planning & Zoning Board is set to deliberate on the proposed land use amendment for "Water's Edge" on October 3. This transformative project is earmarked for the 22.4-acre site situated at 1600 S.W. 80th Terrace…
Michigan hoteliers pay $21M for Hampton Inn in Plantation
Michigan-based hoteliers Malik Abdulnoor and Sahir Malki bought the Hampton Inn Fort Lauderdale/Plantation for $21 million, marking at least their second wager on South Florida's hospitality market this year. Abdulnoor and Malki bought the five-story, 128-key hotel at 7801 Southwest Sixth Street from Atlanta-based Peachtree Hotel Group, according to records and real estate…
BH Group Proposes 14-Story Condo/Hotel at 804 S. Federal Highway in Hallandale Beach
BH Group, an Aventura-based developer, has plans for an exciting venture in Hallandale Beach. According to our sources, BH Group has submitted an application for the development of a condo and hotel tower situated across from Gulfstream Park. BH Group secured the vacant property through a contract with Hallandale Beach-based SMIR 3001 LLC. The envisioned development…
Related Unveils New Renderings From ArX Creative Of 45-Story 'Andare Residences By Pininfarina' In Fort Lauderdale
Related Group and Pininfarina have unveiled new renderings for their new residential project named Andare Residences by Pininfarina. This marks a significant development in Fort Lauderdale's real estate landscape, as it's the first condominium project to grace Las Olas Boulevard in nearly two decades.  Offering unobstructed ocean views and seamless access to the city's urban core…
Affiliated wins Fort Lauderdale tax incentive for 400-unit rental project with 140 workforce units
Affiliated Development won a city tax incentive to reserve about a third of its apartments for low- and middle-income tenants at Era, a planned eight-story, 400-unit rental project in Fort Lauderdale. The number of apartments designated as workforce housing could increase from 140 to 210 if the developer wins a similar tax incentive from Broward County. Deed restrictions…
Catalfumo pays $19M for estate to expand Ritz-Carlton Residences, Palm Beach Gardens
Catalfumo Companies enlarged its planned Ritz-Carlton Residences project's acreage in Palm Beach Gardens by acquiring an adjacent waterfront mansion. An affiliate of Palm Beach Gardens-based Catalfumo paid $18.5 million for a 2.4-acre estate with a seven-bedroom home at 11309 Ellison Wilson Road, records and Vizzda show. The property was marketed as a teardown…
Video: RealPage Director of Research & Analysis, Market Analytics Carl Whitaker Discusses Multifamily Forecast
Carl Whitaker, Director of Research & Analysis, Market Analytics with RealPage, joins America's Commercial Real Estate Show to discuss multifamily rent growth, occupancy expectations, new supply, and when multifamily performance may change. He notes that year over year stats may  be negative nationally for September once it is reporting. He thinks that month or October…
MSCI Podcast: Investment Trends in Focus Quarterly Roundtable
Our quarterly roundtable examines markets, and market-moving events to help institutional investors as they determine the best way forward; across asset classes and parsing out differences between developed and emerging markets. Participating in this Podcast is Hitendra D Varsani, Thomas Verbraken, Anil Rao, Jim Costello, and Ashley Lester, all with MSCI.
RealPage Analytics 2024 U.S. Apartment Market Forecast
For the third year in a row, many multifamily market performance stats have shown anything but "normal" trends. Still, 3rd quarter 2023 did show the market continues to work back toward a more normal, stabilized trend. Apartment absorption has been positive in each of 2023's three quarters. Three straight positive quarters of absorption pushed annual absorption to 127,000 units…