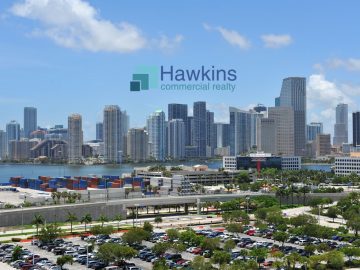 Mill Creek sells Dadeland apartment towers to Starwood for $371M, marking largest multifamily sale of the year
Starwood Property Trust paid $371.1 million for two apartment towers near Dadeland Mall, marking the most expensive multifamily investment sale of the year in South Florida. Starwood bought the Palmer Dadeland, at 8215 and 8217 Southwest 72nd Avenue, according to S&P Global Ratings. The two 25-story buildings have a combined 844 units. The seller is Mill Creek…
Bridge Industrial Has 175-Acre Site In Doral Under Contract
Bridge Industrial has the largest undeveloped tract of land in Doral under contract and plans an industrial park there. Bridge Industrial Acquisition, an affiliate of Chicago-based Bridge Industrial, formerly called Bridge Development Partners, filed a municipal pre-application with Miami-Dade County for the 175.2-acre site at the southwest corner of Northwest…
Lissette Calderon scores $78M construction loan for second Allapattah multifamily project
Lissette Calderon is building her second Allapattah multifamily project, thanks to a $78.2 million construction loan. Calderon, through her Neology Life development company, is building The Julia, a 12-story, 323-unit project at 1625 Northwest 20th Street, according to a news release from the lender. Construction is underway and is expected to be completed in mid-2023.
$120M Miami Expansion Goes Modular
Optimum Properties has tapped FINFROCK to serve as the project's architect, structural engineer, precast concrete manufacturer and general contractor for the $120 million expansion of its Aliro Apartments in North Miami Beach, Fla. FINFROCK will be using its offsite modular building approach. The expansion of Aliro Apartments is expected to break…
Location Ventures launches sales of co-living project in Miami Beach
Developer Rishi Kapoor launched sales of his co-living development in Miami Beach, with plans to begin selling units at a Coconut Grove project next. Kapoor, CEO of Coral Gables-based Location Ventures, aims for an ambitious pipeline. He hopes to have 100 Urbin-branded properties across the country and abroad over the next decade, he said. Location…
AEW buys Tamiami Landings in Miami-Dade and a West Palm Beach area multifamily properties for $123M
AEW Capital Management bought newly built Tamiami Landings and Banyan Ridge apartment complexes from AHS Residential for a combined $123 million. Boston-based AEW, a real estate investment manager, paid $67.5 million for Tamiami Landings in southern Miami-Dade County's Country Walk area. The 264-unit complex is near the intersection…
Can creative placemaking make a building more successful? Skylight's Stephanie Blake thinks so
Legendary real estate investor Harry Helmsley took special pride in finding what he termed the "romance" in a property: the parts of it that could be run more efficiently, thereby cutting expenses and boosting profits. Stephanie Blake, too, searches for the romance. But her quest lies less in spotting leaky boilers and more in identifying the elements of a…
From Dubai to Surfside: Inside Damac's plans to redevelop the tragic site
Hussain Sajwani has made a career out of going against the tide. While his compatriots scaled back after the 2008 market downturn, Sajwani, the founder of Dubai-based Damac Properties, announced his biggest project yet, the 42 million-square-foot Damac Hills. And years later, as many high-profile businesses severed ties with the Trump Organization over…
The Fed: How Much Debt Is Too Much? What History Shows
A nation burdened by an excessive amount of public debt can face serious challenges over the long run. But how much is excessive? In this blog post, I'll discuss what history might show us about a nation's ability to sustain relatively high levels of indebtedness. Relative Debt Levels in the U.S. and U.K. The figure below shows public debt relative to gross domestic…
Notable Retail Leases Signed in South Florida Q3 2021
South Florida Retail Real Estate Leases 2020 – 2021 We've compiled a comprehensive list of the top retail leases signed by square footage in South Florida during Q1 2021. This quarter was busy overall, especially considering the current pandemic, and saw several big box leases signed and sealed. Despite the sentiment that the traditional retail…
After yearslong bidding battle, Miami faces legal challenge over marina referendum
Alleging the Miami City Commission showed "blatant and illegal favoritism" in awarding a multimillion-dollar marina redevelopment proposal to its competitor, a joint venture wants to torpedo a November referendum that would seal the deal. Miami voters will be asked to approve the waiving of competitive bids and allow the city…
Trump nearing $370M sale of DC hotel to Miami investment firm
Donald Trump's struggling Washington, D.C., hotel may soon be somebody else's problem. Miami-based investment firm CGI Merchant Group is close to striking a deal with the Trump Organization to acquire the lease on the Trump International Hotel Washington, D.C., for more than $370 million, according to the Wall Street Journal…
Inside the East End Capital-Australian investor feud over Miami's 100 Biscayne tower
When East End Capital and an Australian investor bought a downtown Miami office tower five years ago, they started out like others do: bold, ambitious and sure of a windfall. They shelled out $84 million for the 30-story 100 Biscayne and bet that tens of millions of dollars more in improvements would fill up vacancies. They reportedly eyed a…
Boca Raton firm completes bulk purchase of 39 condos near Coral Gables
A Boca Raton-based real estate investment firm closed on a $9.1 million bulk condo purchase in southwest Miami-Dade. The company, managed by Glenn Alba, CEO of Opterra Capital, bought 39 condos at the Gables Court Condominiums, a 160-unit complex at 6821, 6851 and 6861 Southwest 44th Street, between South Miami and Coral Gables, according to records.
Office workers in major cities reach pandemic-best return rates
The pandemic is far from over, but employees are slowly beginning to head back into their workplaces in a positive sign for the national office market. An average of 36 percent of the workforce in those cities were back in the office during the week of Oct. 4-8, according to data from Kastle Systems reported by the Wall Street Journal. The security company tracks…
Okan Tower, to be Miami's tallest, due in 2022
The Okan Tower is still on track to be finished in mid 2022, according to Okan CEO Kasim Badak. The $300 million project was put on hold because of the pandemic. "The pandemic affected us," Mr. Badak said. "But it affected everyone around the world. We stopped any operations, but we are back in business." Bekir Okan, Turkish billionaire businessman, is…
Car-free lifestyles create commercial development niches
A car-free lifestyle and commercial real estate development opportunities are closely intertwined, a Miami Association of Realtors commercial conference panel exploring Transit Oriented Development agreed. "The real story in Florida is population growth," said Aaron Stolear, associate vice president of 13th Floor Investments. "We are absorbing 1,000 people…"
CocoWalk full to brim with seven new leases
The newly renovated CocoWalk mixed-use lifestyle center's retail and office spaces are now fully leased, occupying over 235,000 square feet. Owned by a joint venture comprised of Federal Realty Investment Trust, The Comras Co. and Grass River Property, the open-air tourism destination at 3015 Grand Ave. in Coconut Grove has completed leasing its office spaces…
Only two bid to repair shuttered Dade County Courthouse
After a dozen companies came to an August pre-bid and site visit in the Dade County Courthouse basement, only two local companies bid to repair crumbling columns in the now-closed Flagler Street landmark. The county estimated the cost at $3.7 million with completion within 525 days after a notice to proceed is issued. Work, according to Internal Services…
New Miami Worldcenter occupants set to open in 2022
The Miami Worldcenter continues to fill space with retailers and merchants, with three new tenants set to open in early 2022. The $4 billion, 27-acre mixed-use development at 1010 NE Second Ave. has just signed Sephora, with the purpose of creating an inviting beauty community; Lucid Motors, with electric vehicles; and Bowlero, a full-entertainment…
Grove's Regatta Harbour says waterfront bar & grill is near
One year after the Miami Downtown Development Authority (DDA) launched its "Follow the Sun" economic development campaign, the agency has secured commitments from 17 new-to-market firms that will create a projected 1,835 high-wage jobs over the next three years. These new positions are expected to pay an average annual salary in excess…
The Fed: U.S. Lending Activity during the COVID-19 Pandemic
The COVID-19 pandemic triggered economic shocks in the spring of 2020. How did banks respond to this sudden economic shift? In a Regional Economist article published in June, Regional Economist Charles Gascon, Associate Economist Nathan Jefferson and Research Associate Praew Grittayaphong examined lending trends in 2020 and offered an…
Ari Pearl, Jonathan Leifer sell Bay Harbor Islands condo-hotel units for $21M
Developers Ari Pearl and Jonathan Leifer sold more than half of the units at their converted Bay Harbor Islands condo-hotel for about $21.4 million, or roughly $389,000 per key. Pearl's PPG Development and Leifer, chairman and founder of L3C Capital Partners, acquired the waterfront property out of foreclosure for $30 million in December. Last month, they converted…
Hotel conversions race against the clock
90 Sands Street On a nondescript corner in Brooklyn, sandwiched between on-ramps for the Brooklyn and Manhattan bridges, a long-vacant hotel formerly run by the Jehovah's Witnesses is starting a new chapter. Aby Rosen's RFR Realty acquired the 29-story building at 90 Sands Street for $135 million in 2017, intending to create, as his partner Ian Schrager…
Trippy: Canadian psychedelic therapy clinic to open first Florida site in Wynwood
Field Trip Health, a psychedelic therapy company, picked one of Miami's trippiest neighborhoods for its first location in Florida. The Toronto-based company plans to open in Wynwood, The Real Deal has learned. Field Trip inked a lease for a 7,500-square-foot space at The Wynwood Annex, an office building that the Related Group and East End… at 215 NW 24th St…
South Florida's industrial market continues pandemic momentum in Q3
Industrial rents continued to climb in the third quarter, as leasing soared in Miami-Dade and Broward counties, according to a recently released report. In Miami-Dade and Broward, net absorption nearly tripled, while Palm Beach County's net absorption crossed into negative territory, Colliers' third quarter report shows. Yet, average asking rents continued to rise…
Miami Worldcenter scores tenants Sephora, Lucid Motors, Bowlero; other leasing news
Sephora, Lucid Motors, Bowlero I Miami Worldcenter Beauty retailer Sephora, luxury electric car company Lucid Motors and entertainment complex Bowlero inked leases at Miami Worldcenter, the mixed-use development in downtown Miami. Sephora will occupy 6,000 square feet along the 7th Street Promenade fronting the development's World…
Miami Developers Aren't Integrating Climate Analysis, But Risk Scores Are Coming to Moody's Analytics
Moody's Analytics will now make climate risk scores available on its analytics platform, in a move aimed at helping industry pros better quantify the exposure of commercial properties to the physical impacts of climate change. The firm's climate risk scoring methodology analyzes both current and future risk and follows the firm's recent expansion into…
Miami Market Update: Office Vacancy Holds Steady
As of August, the Miami office market bore a 14.2 percent vacancy rate, a figure virtually unchanged on a month-over-month basis and up 180 basis points compared to the same period in 2020, according to CommercialEdge data. The metro continued to outperforme the national average, which reached 15.4 percent in August. Manhattan (10.8 percent) maintained…
Is Biscayne Gardens the next city in Miami-Dade?
Biscayne Gardens residents have an opportunity to be the 35th municipality (city) in Miami-Dade County. This past September 1st the Board of County Commission voted 11 to 2 to allow the voting residents of Biscayne Gardens to choose to incorporate at Special Election on November 2, 2021. The basic distinction between a county and a city is that county government is…
Tug-of-war over anti-redlining law heads back to the drawing board
When Trump-appointed regulator Joseph Otting, previously a career banking executive, proposed a series of overhauls to a 1970s redlining law last year, critics viewed it as a giveaway to the banking industry. If that was the aim, it backfired. Banking interests and community advocates united in their opposition, with the latter filing a lawsuit to block the reforms…
Developers incorporating "wellness" into more and more projects
Developers have incorporated "wellness" amenities and designs into more and more projects over the past several years. Some 740 "wellness" residential projects were in development or built worldwide at the beginning of 2018 and that number has grown to around 2,300, according to a study by the Global Wellness Institute…
US industrial market hit records across several metrics in Q3
It was a record third quarter for the U.S. industrial market by just about every key metric. Vacancy fell to an all-time low of 4.1 percent on the back of a record 140 million square feet of net absorption, according to the Business Journals. Average rents reached an all-time high of $7.18 per square foot. Developers are also setting records: The 521.4 million…
Pandemic paralysis: Delta continues to impede hotel, restaurant recovery
The Delta variant continues to stall recovery in the hospitality sector, as hotels, restaurants and bars added a mere 31,000 jobs to the U.S economy in September after a net gain of zero jobs in August. The primary driver of job losses during the pandemic, the broader leisure and hospitality sector added 74,000 jobs as arts and entertainment venues reopened…
Retailers in central business districts still face sluggish sales
As U.S. retailers emerge from the pandemic's record-lows for business, those in residential neighborhoods are showing signs of life while ones in central business districts remain as dormant as the offices around them. Businesses in residential neighborhoods were recovering faster than small businesses in central business districts, according to an analysis from…
Selling out post-Surfside collapse
Buyers seeking warm weather and the amenities of oceanfront living have often sought out more affordable units in older buildings along South Florida's waterfront. But now the supply of those condos may be dwindling. Developers, facing little to no inventory of undeveloped waterfront land, are increasingly targeting bulk buyouts of these buildings. And unit…
The Fed on the Risks for Future Inflation
For several months now, inflation has been running high, well above the Federal Reserve's 2% annual target. For example, between August 2020 and August 2021, the personal consumption expenditures (PCE) price index grew by 4.3%. In its most recent statement, the Federal Open Market Committee (FOMC) recognized that "inflation is elevated" but…
South Florida retail rents surpass pre-pandemic pricing in Q3
In Miami-Dade, Broward and Palm Beach counties, retail landlords are raising rents to levels that surpass pre-pandemic pricing, according to a recently released third quarter report. Vacancy rates fell across the tri-county region during the most recent quarter, and absorption increased as asking rents rose…
Utilizing Passive Losses as a Rental Real Estate Owner
This article addresses the utilization of passive losses resulting from an owner of rental real estate who is not a real estate professional and does not have the ability to "group" real estate with another activity. In other words, the taxpayer is a passive investor in rental real estate that is leased to a third party. An example would be a full-time doctor who is also…
Housing funds imperiled in $3.5T reconciliation bill
The $330 billion for housing in the Build Back Better reconciliation bill, which would be an unprecedented investment, might be one of the first items cut as Congress tries to shrink the price tag. According to multiple reports, lawmakers are looking at slashing these funds to appease moderate Democrats who consider the $3.5 trillion package too expensive.
Alex Vadia's Midtown Miami property could get height increase to 48 stories
A mixed-use tower of up to 48 stories or 683 feet may be allowed on a vacant parcel in Midtown Miami. The Miami Planning Zoning & Appeals Board on Wednesday voted unanimously to increase the maximum possible height limit for a 1.64-acre parcel at 3501 Northeast First Avenue from 33 stories or 350 feet to 48 stories or 683 feet. The height increase will…
Billionaire Jeff Greene On His Pandemic Mistake And A 'Game-Changer' For West Palm Beach
Billionaire Jeff Greene is best known for making a fortune by betting against the housing market circa 2007, just before the financial crisis hit. These days, he's focused on transforming West Palm Beach, Florida. Greene grew up in New England, but his parents moved to Palm Beach County in the late 1960s, and he visited often. "I didn't really care for it very much…
Battle of Monmouth: Zell and Sternlicht's $2B struggle over warehouse REIT
Sam Zell waited seven years to make his next billion-dollar move. Then Barry Sternlicht crashed the party. The two real estate titans spent the summer locked in a $2 billion bidding war for Monmouth Real Estate, a family-run firm in a New Jersey suburb about an hour outside New York. At stake: Monmouth's more than 120 warehouses across the country…
World Freight Logistics Buys Doral Industrial Facility
Agora Real Estate Group President and Commercial Advisor Elias G. Patsalos, CCIM, along with colleague Michal Bibr, recently negotiated the sale of an industrial property at 8242 NW 70th Street in Doral. World Freight Logistics (WFL) paid $2,400,000 for the property, equating to $212 per square foot. Patsalos and Bibr represented the seller, VALPART…
Extra Space Storage acquires Margate warehouse for $22M
A Salt Lake City-based self-storage real estate company expanded its South Florida holdings with a $22.1 million purchase in Margate. An entity tied to Extra Space Storage acquired the 101,300-square-foot industrial building at 750 and 780 South State Road 7 and an adjoining parking lot, according to records. The deal for the recently completed warehouse break…
Pompano Beach mixed-use project scores $45M construction loan
A planned apartment-retail project in Pompano Beach's Old Town district scored a $45 million construction loan, following a roughly yearlong delay. The $72 million Old Town Square will have 281 multifamily units, just over 5,000 square feet of retail and a garage with more than 300 spaces, according to Adam Adache of co-developer Cavache Properties.
Joint venture pays $64M for Davie RV park primed for industrial project
A Chicago-based industrial real estate firm teamed up with Stockbridge Real Estate to acquire the Twin Lakes Travel Park in Davie for $64 million. The joint venture, led by Industrial Outdoor Ventures, acquired the 38.5-acre site at 3055 Burris Road. The sellers are three entities tied to Twin Lakes Travel Park…
CenterPoint buys Pompano Beach last-mile distribution facility for $10M
CenterPoint Properties bought a Pompano Beach last-mile distribution facility for $10 million, marking the firm's continued investment in South Florida's hot industrial real estate market. The Oak Brook, Illinois-based company bought the property at 1405 Southwest Eighth Street, records show. The selling entity is managed by Patrick Venne and Jonathan…
Wickshire Senior Living buys Fort Lauderdale ALF for $17M
Wickshire Senior Living bought a Fort Lauderdale facility for $17.3 million, as Florida's reputation as a magnet for retirees continues to spur investor demand in the sector. The Brentwood, Tennessee-based company bought the property at 2855 West Commercial Boulevard from an affiliate of Denver-based Healthpeak Properties, records show. The deal for the…
Genet Property Group sells Sunrise industrial building for $5M
Genet Property Group sold a Sunrise warehouse for $5.4 million, reflecting continued South Florida industrial investment sales activity amid a prospering market. Records show Tamarac-based Genet Property, led by Ben Genet, sold the building at 4747 Nob Hill Road to an entity led by Brooklyn-based David Kahn, who invests on behalf of his family…
Longpoint Realty buys three Sunrise warehouses for $17M
Longpoint Realty Partners picked up three Sunrise warehouses for $16.6 million, marking continued investor appetite for South Florida industrial space amid a healthy market. The Boston-based real estate private equity firm bought the buildings at 5101-5181 and 5201-5299 Northwest 108th Avenue in two deals, records show…
JV led by IP Capital buys Boca Raton office complex for $77M
A joint venture led by a Boca Raton-based real estate investment firm picked up a three-building office complex in its own backyard. An entity registered to Josh Procacci, chief investment officer for IP Capital Partners, paid $77.3 million for Fountain Square at 2600, 2650 and 2700 North Military Trail, according to records. The deal equates…
Wheelock pays $106M for The Ben hotel near downtown West Palm Beach
Wheelock Street Capital paid $106.4 million for The Ben West Palm Beach, a new hotel near the city's downtown, marking one of the largest hospitality investment sales in South Florida since the pandemic began. Concord Hospitality Enterprises Company, a hotel management, ownership and development company based in…