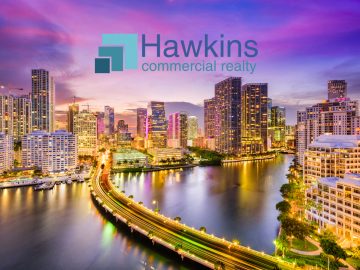 Key International Reveals Plans For A New 50-Story Office Tower At 848 Brickell Avenue In Miami's Financial District
Key International, led by Inigo and Diego Ardid, has proposed concepts to redevelop the firm's 848 Brickell office building into "Miami's most iconic class-A office tower." As the long-time owners of the existing building, Miami-based Key International enlisted the acclaimed and lauded architectural firm, Skidmore, Owings & Merrill (SOM), known worldwide for their peerless designs…
Revealed: 'Most Iconic' 756-Foot Office Tower Planned On Brickell Avenue
A developer has unveiled plans for what it says will be Miami's "most iconic class-A office tower." A smaller office building at 848 Brickell Avenue will be demolished to make way for the new tower. According to a filing last week, the new office tower is planned to rise 50 stories, or 756 feet above sea level at the top parapet and include: 750,901 square feet of Class A office,,,
Another One: Developer Announces Plans For 750K SF Brickell Office Tower
Another huge office tower has entered the pipeline in Brickell as developers look to capitalize on the neighborhood's roaring growth as Miami's business epicenter. Key International is planning a 50-story, 750K SF office tower at 848 Brickell Ave. to replace the existing 13-story building where Key International has its headquarters. The new tower would include two amenity decks…
Miami Worldcenter Rise Coincides With Surge of Development, Tourism, Population Growth
Juvia, the celebrated restaurant and lounge known for its panoramic vistas and diverse culinary offerings, is the latest addition to the Miami Worldcenter. Departing from its iconic Miami Beach location on Lincoln Road, the culinary gem will find its new home at the $6 billion, 27-acre mixed use development transforming the heart of Downtown Miami. Anticipated to open…
WPH Properties LLC Proposes 7-Story Project at 1000 Washington Avenue in Miami Beach
More and more wealthy people are moving to Miami Beach, and they want more office space. Enter a new proposal from WPH Properties LLC. The California-based company hopes to get approval for a seven-story building that would offer 33,640 square feet of office space, along with 4,065 square feet of ground floor commercial space. The plans for the mixed-use venture are flexible…
Jobs Boost Miami, Orlando Office Performance
The Florida office markets are mostly healthy through Q3 2023, taking advantage of booming job markets, especially in Miami and Orlando, according to the Q3 2023 Florida Office Market Report by Avison Young. As of the end of August, Miami's unemployment rate decreased by 100 basis points compared to August 2022, reaching 1.9%, which is notably lower than the…
Affordable housing planned for Miami Beach school site
Jewish Community Services is continuing to work toward an affordable housing development on the grounds of Fienberg-Fisher K8 School in Miami Beach. Miami Today reported in February Jewish Community Services was waiting to have the area conveyed to the county. Today, the wait goes on. "At this point, it [the land] has not been conveyed," said Miriam Singer…
Miami-Dade county putting Metromover in shape to expand
While the Miami-Dade County Department of Transportation and Public Works is actively working on upgrading the fare-free Metromover at the Omni and Brickell stations, the county has set up free bus shuttle service loops between the two stations. The estimated $152.9 million project is projected to be completed by May 2025. Renovations include enhancements to the…
Brazilian Billionaire Backing 69-Story Brickell Tower
Brazilian billionaire Daniel Dantas is backing plans for an 843-foot tower in Brickell, according to Bloomberg. Dantas is a founder of the Opportunity investment firm, which has around $11 billion in assets. The company is partnering with Leste Group to form Lore Development Group, which is planning the 69-story Summit Brickell tower. Summit Brickell will be one of the…
975 apartments coming near Dolphin Station
Upland Park, a $1 billion transit-focused development near the park-and-ride station at Dolphin Mall is progressing with phase one as a utilities deal was signed earlier this summer. The developer, Terra International Services LLC, entered an agreement with Miami-Dade County to supply water and sewer to the site in June. Background documents show 531 apartments will be…
67-Story Condo Tower At Miami Worldcenter Officially Announced
Naftali Group has announced plans for the JEM Private Residences condos at Miami Worldcenter. The private condos will be located starting on level 43 and up in a tower that will rise 67 stories. The tower will rise over 700 feet, the developer said. A total of 259 condominiums are being sold, with studios to four-bedroom units ranging from 469 to 2,052 square feet.
Photos: Aston Martin Residences Nears Completion As Miami's Second Tallest Tower
In downtown Miami, the 66-story Aston Martin Residences at 300 Biscayne Boulevard Way is moving closer to completion, new photos by Phillip Pessar show. The tower is now the second tallest in Miami, at 816 feet above ground (that also makes it the second tallest in the State of Florida). Photos were taken on October 17 by Phillip Pessar.
Fortune International Group Breaks Ground On 'Nexo Residences' At 13899 Biscayne Boulevard In North Miami Beach
Fortune International Group, in collaboration with Blue Road, has officially announced the groundbreaking of Nexo Residences, a 15-story condominium project offering full home-sharing capabilities at 13899 Biscayne Boulevard in North Miami Beach. Designed by Frankel Benayoun Architects Inc. with consultation from internationally-renowned architect Carlos Ott, and common…
FAA Approves Brickell Tower To Be Built At 733 Feet
The Federal Aviation Administration has granted approval for another tower in Brickell. According to the determination letter issued October 12, the proposed tower height of 731 feet above ground, or 733 feet above sea level does not present a hazard to air navigation in the area. Renderings for the tower have not yet been revealed. According to a description on the FAA application…
Report: Miami Traffic Up 30% Since Pre-Covid Times
Traffic in Miami rose sharply last year, making the city one of the top 10 in the world for congestion, according to a new report from Inrix. Overall, Miami traffic rose 59% between 2021 and 2022. In 2021 Miami ranked 32nd worldwide for congestion. In 2022, Miami ranked 8th worldwide, the report said. Miami traffic has also increased 30% from pre-Covid times. By comparison, traffic…
Construction Underway for NoMad Residences Wynwood at 2700 NW Second Ave
Construction is officially underway for the NoMad Residences Wynwood, a nine-story building offering 329 condos. The condos, which are expected to be completed by 2025, start at a price point of $600,000 for a studio, and they come fully furnished. These condos will allow short-term rentals on home-sharing platforms, catering to investors seeking flexibility and potential revenue streams.
Related, partners sell 29 Wyn apartment project in Miami for $135M
Berkshire Residential Investments bought the recently completed 29 Wyn apartment complex in Miami's Wynwood neighborhood for $135 million. The Pérez family's Related Group and Bob Zangrillo's Dragon Global Management sold the pair of buildings with 248 units, combined, at 2918 and 2828 Northwest First Avenue to Boston-based Berkshire Residential, according…
One Thousand Group Files Plans For 47-Story Miami Office Tower Designed By Kohn Pedersen Fox And ODP Architects
One Thousand Group, the developers behind the illustrious One Thousand Museum and the highly anticipated Villa Miami, led by principals Louis Birdman, Michael Konig, and Kevin Venger, have submitted plans for a 47-story, 635-foot-tall Class-A ultra-luxury office tower to the City of Miami. The tower is designed by the renowned architectural firm Kohn Pederson Fox…
One Thousand Museum developers propose 47-story office tower in Edgewater
The developers of One Thousand Museum condo tower propose a 47-story office project in Miami's Edgewater. One Thousand Group, led by Louis Birdman, Kevin Venger, and Michael Konig, want to build the tower on a 1.6-acre site they have under contract on the northeast corner of Biscayne Boulevard and Northeast 36th Street, according to a city board meeting's agenda. The purchase…
Ex-WeWork exec, partners pay $22M for 76-unit rental portfolio in Bay Harbor Islands
Former WeWork executive for real estate Arash Gohari and his partners bought a 76-unit multifamily portfolio in Bay Harbor Islands for $21.5 million. Investment firm 27 Capital, founded and led by Gohari, and Adam and Josh Sasouness, bought five two-story buildings at 9200, 9270, 10190 and 10150 East Bay Harbor Drive, as well as at 1075 101st Street from Sentinel Real Estate…
Coastline-Nakash Capital Group Proposes the Eden for 3550 NW South River Drive in Miami
Coastline-Nakash Capital Group hopes to move forward with the Eden, a multifamily apartment complex near Miami International Airport. Under the proposal, the Eden would have 720 units, with homes ranging from 491 to 1,483 square feet in size. Among these, 578 are meticulously designed as studio apartments, while an additional 142 units are crafted as one-bedroom apartments.
Terra Group Breaks Ground on Bay Harbor Islands Mixed-Use Project
Terra Group's Chief Creative Officer, Kane Sarhan, and Chief Executive Officer, David Martin. Image courtesy of Michal Bobrowski, via Luxhunters Productions Terra Group has commenced construction on THE WELL Bay Harbor Islands, a luxury condo and office development in Miami's Bay Harbor Islands. Plans call for an eight-story residential building with 54 condominiums…
Twin 40-Story Shoma One Towers Planned At Douglas Road Metrorail Station
Shoma Group has filed revised plans with Miami-Dade planners for Shoma One, with two 40-story towers near the Douglas Road Metrorail station, according to the SFBJ. Shoma One is planned on a site that is just a few minutes walk to the Metrorail station, with Brickell just 8 minutes away by train. The new development will also be directly integrated to The Underline.
Chicago Developer Plans 191-Unit Little River Project With 'Unique Architectural Identity'
Plans have been submitted to Miami's Urban Development Review Board for a residential project in Little River that the developer says will have a unique architectural identity. Inspiration for the colorful, pink-toned project comes from typologies found across the Caribbean, and notably in Haiti and Cuba, the developer said. The unnamed project is proposed to rise 12 stories and include…
2200 Brickell Announces Q4 Groundbreaking After Developer Gets Construction Loan
The developers of 2200 Brickell have obtained construction financing and announced a timeframe for groundbreaking. Developers Aria Development Group, Largo and Place Projects obtained $77 million in construction financing for the project. Groundbreaking will take place in the fourth quarter of 2023, the developers said. 2200 Brickell is planned to include 105 luxury condos…
Trio Of Miami Industrial Buildings Trades
The property, spanning 45,481 square feet, comprises three buildings situated on a generous 77,753 square foot lot located at 7455 NW 32nd Ave, 7420 NW 31st Ave, and 3090 NW 75th St in Miami. Within this property are 14 grade-level loading doors, with varying ceiling heights ranging from 16 to 20 feet clear. Airport East Industrial Center has functioned as a single-user facility…
Miami-Dade farmlands' critical mass in danger zone, University of Florida finds
Miami-Dade's agricultural industry, which a century ago fed the nation in winter with vegetables and fruit, is in danger of hitting a critical point where it doesn't have enough farmland to remain viable, a county-commissioned report by the University of Florida warns. The county, which still had 120,000 acres of farmland in 1959, had only 58,606 acres identified as agriculture…
Kendall transit can't get started until report due in 2026 is analyzed
The Kendall corridor of the county's program for new rapid transit remains on hold as data from a Flagler demonstration project is awaited to continue, and that data isn't estimated to be ready until late 2026. The Flagler demonstration project isn't even due to begin construction until July 2024. The Kendall corridor is one of six that make up the Strategic Miami Area Rapid Transit…
More than a dozen developers fuel Alex Diaz de la Portilla PAC
If Alex Diaz de la Portilla gets re-elected, Miami developers will have helped propel the suspended city commissioner back into office. Nearly a third of the $1.6 million raised since January by Proven Leadership for Miami-Dade County, a political action committee controlled by Diaz de la Portilla, came from 13 builders, most with active projects in the city, campaign finance…
Appeals court upholds $5M judgment against Shore Club developers in Miami Beach
An appeals court upheld a $5 million judgment against the developers of the Shore Club project in Miami Beach. The latest decision reinforces a judge's order from more than a year ago to award about $5 million to watch mogul Benny Shabtai in his lawsuit against the current and former developers of the Art Deco hotel. Shabtai sued HFZ Capital Group, Ziel Feldman, the Shore Club…
Bridge Industrial Lands 1st Tenant at 2.6 MSF Miami-Area Project
Bridge Industrial has signed its first tenant at Bridge Point Doral, a Class A master-planned industrial development that will total 2.6 million square feet in Doral, Fla. The tenant, a Fortune 50 food distributor, will occupy 131,411 square feet at the project's Building 6—scheduled to be delivered in mid-2024. Cushman & Wakefield is the exclusive leasing agent in charge of the…
Brookfield's $260M Pembroke Lakes Mall loan watchlisted, credit rating downgraded
Brookfield Property Partners' loan for the Pembroke Lakes Mall in Pembroke Pines was downgraded and watchlisted, raising doubts over the firm's ability to pay off or refinance the debt maturing in 2025. Bond rating agency KBRA downgraded the $260 million commercial mortgage-backed securities debt, citing a "continued decline in operating performance," according to a KBRA…
New Aldi store coming to Deerfield Beach shopping center
A new Aldi grocery store will replace a commercial building at Crossroads Shopping Center in Deerfield Beach, amid redevelopment of the retail property. Following demolition of the 25,000-square-foot commercial building that has office and retail tenants, construction of the 19,432-square-foot Aldi store should be completed by June 2024, said Clifford Stein, who runs Pathway Ventures…
The Main Street at Tuttle Royale Underway for Royal Palm Beach, FL
In March 2023, we reported on the Villas at Royale Tuttle, a residential complex. Now, the developer of the larger Main Street at Tuttle Royale mixed-use center in Royal Palm Beach has unveiled a lineup of high-end tenants as the project nears final approval. Spanning 41 acres within the Tuttle Royale project on Southern Boulevard and U.S. 441, the development is estimated to cost…
Walgreens Looks To Close Stores, Exit Markets In Bid To Save $1B
As Walgreens Boots Alliance prepares for a new CEO, the pharmacy chain plans to shutter 60 clinics and exit five markets entirely in an effort to shore up costs. Walgreens officials plan to alter store hours based on local market conditions and are focusing on closing unprofitable drugstores, interim CEO Ginger Graham said during a Thursday morning earnings call.
U.S. Apartment Demand Normalizes Nationally as Regional Split Widens
Apartment demand is normalizing after a period of uncertainty and low consumer confidence, but demand distribution has not been evenly balanced across the country. Over the last three quarters, the U.S. apartment market has enjoyed positive apartment demand, with net gains in apartment renter households coming after a similar time period of net move-outs. Roughly 91,000…
Sobering Outlook for Office Values: Global Investor Survey
Commercial real estate investors from around the world are forecasting a deep decline in office values, coupled with a surge in conversion projects to multifamily. The latest survey from the Association for Foreign Investment in Real Estate reveals that a majority of commercial real estate investors from around the world anticipate asset value declines in nearly all of their U.S.-based office…
Hot Miami Properties Get $1 Billion Bet From Brazilian Financier
Billionaire Daniel Dantas has spent the past 30 years increasing his fortune through the Opportunity firm he helped found in Brazil. Now it's investing directly in US real estate for the first time. Opportunity oversees about 58 billion reais ($11.5 billion) in assets, from rural land holdings to port operators to palm oil producers, making it one of the biggest independent asset managers in Brazil…