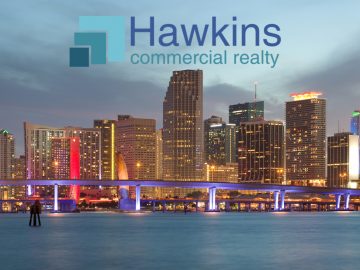 Oak Row and Lndmrk pay $23M for Edgewater dev site
Oak Row's David Weitz and Erik Rutter, Lndmrk's Alex Karakhanian with 2927 Northeast Fourth Avenue: Oak Row Equities and Lndmrk Development are embarking on another Edgewater joint venture, snapping up a 1.5-acre site for $22.5 million in the booming Miami neighborhood. The joint venture is proposing to build a luxury apartment tower with ground-floor retail, but the partnership is…
Housing Trust Group, AM Affordable Housing Break Ground on $44M Seniors Housing Project in Miami
Housing Trust Group (HTG) and AM Affordable Housing have broken ground on Tucker Tower, a $44 million affordable housing community in Miami for seniors aged 62 and older. Located at 9940 W. Hibiscus St. in the city's Perrine neighborhood, the eight-story property's apartments will be reserved for income-qualifying residents who earn at or below 25, 30 and 60 percent of area median…
Renderings Revealed: Miami's First Supertall, The Waldorf Astoria Hotel & Residences
The Miami skyline is about to change forever with the groundbreaking of the city's first supertall tower. Developer PMG, along with partners Greybrook, Mohari Hospitality, S2 Development and Hilton, are set to start construction this month on the Waldorf Astoria Hotel & Residences at 300 Brickell Ave. in Downtown Miami, soaring 100 stories and 1,049 feet over Biscayne Bay. The design…
Warehouse Demand Shows Signs of Cooling for First Time Since Pandemic's Onset
The softening economy is finally catching up with the nation's industrial real estate as a pandemic-fueled boom in warehouse demand shows signs of slowing. The U.S. industrial vacancy rate ticked up slightly in the third quarter to 3.2% from 3% at midyear as leasing slowed and developers completed a record 148 million square feet of projects, with more than two-thirds of the new space built…
Corporate Migrants Drive Miami Office Rents To New Record As Demand Outpaces Supply
Competition for office space in the most desirable neighborhoods in Miami has pushed rents to levels that experts say would have been unbelievable nearly two years ago. Miami's Brickell neighborhood has been the epicenter of office activity in South Florida. Direct asking rates for Class-A office space in Miami-Dade County rose 13% year-over-year in the third quarter, increasing more than $7 per SF…
"Embarrassment" to Miami-Dade: Vote on project outside UDB deferred again
From left: Coral Rock Development's Stephen Blumenthal and Aligned Real Estate Holdings' Jose Hevia with a rendering of the planned industrial complex outside UDB (Coral Rock, Aligned Real Estate Development) In a push to get their controversial industrial complex approved, developers Stephen Blumenthal and Jose Hevia offered a series of last-minute concessions for their proposal. It wasn't…
After Ian: South Florida's construction costs, insurance to rise
(Photo Illustration by The Real Deal with Getty Images) Amid South Florida's development boom, shell construction contractor L & R Structural has had plenty of work. The firm is slated to start an Edgewater condominium tower and a pair of apartment buildings in downtown Miami early next year. But L & R's Richard Marquez's mind isn't at ease. The company has secured some, but not all…
South Florida office rents climb again
The Fifth Miami Beach at 944 Fifth Street, 830 Brickell at 830 Brickell Plaza in Miami and One Flagler at 154 Lakeview Avenue in West Palm Beach: South Florida's office rents continued climbing in the third quarter, as landlords remained confident tenant demand justified the hikes, according to a recent report. A booming state economy coupled with continued migration and expansions by out-of-state…
Miami International Airport sees a 50-million-passenger load
With now 93 international non-stop routes at Miami International Airport, international passenger levels recorded high volumes, setting the pace to hit an all-time-high record of 50 million passengers for 2022. Since May, six routes have been added to the international list at MIA, including Fortaleza, Brazil, with LATAM Airlines; San Salvador Island, Bahamas, with Bahamasair; Amsterdam, Netherlands, with…
Brightline bridges the gap in Aventura
Brightline has officially completed its Aventura station structure with the installation of a 68-ton pedestrian skybridge. The 131-foot-long bridge stretches on two 41-foot-high towers and is the final piece of the station's structuring. Brightline is expected to launch service to the Aventura station at 19796 W Dixie Hwy, before the end of the year. "This topping off is a testament of our team's dedication to…"
Port Miami sees 3% rise in rail cargo
Rail cargo volume at PortMiami has decreased slightly during the 2022 fiscal year, although it's still the second largest ever recorded, trailing only last year. For the 2022 fiscal year, beginning October 2021 and ending in September, Florida East Coast Railway cargo volumes at PortMiami have slightly decreased by 1.2% from last year. Despite the decrease, this year's volumes were the second…
Miami targets even larger billboards throughout urban core
While a city board has caused a major delay to the Miami City Commission's plan to allow outdoor advertising signs in some of the city's premier waterfront parks, the commission followed with a vote advancing an even more aggressive measure allowing large digital ad signs on city property. Before the commission Oct. 13 were two related items: The final reading of an amendment to the sign…
Expressways sell land to speed Miami International Airport growth
The Miami-Dade Expressway Authority has authorized the sale of 5.3 acres to the county's Aviation Department for a $10.1 million tag price. The terrain is to be used as a construction staging area for the Capital Improvement Program of Miami International Airport. The operation is yet to be approved by county commissioners, likely in early 2023, Greg Chin, communications director for the…
Reservations for Full-Service Dining Show Signs of Rebounding From Pandemic
The time-honored tradition of making a restaurant reservation nearly became extinct early in the pandemic, with people hunkering down at home to prepare meals as restaurant dining rooms essentially shut and many eateries turned to carry-out and deliveries. Now the industry appears to have recovered by one measure. More than two years later, dining out as reflected in demand for seated…
Karim Alibhai: Aims to develop notable project at riverfront Hyatt Regency
Karim Alibhai started his career in the hospitality industry over 35 years ago. In 1987 he became the founder and principal of Gencom, one of the leading real estate investment and development firms with a focus on the acquisition, development and management of luxury mixed-use hotels and resorts with some residential components.  Over his career, Mr. Alibhai has led the company through more…
September Jobs Report Sends Positive Signals for Commercial Real Estate
September's addition of 263,000 payroll jobs underscores the continuing strength of the economic recovery and commercial real estate markets despite the Federal Reserve's moves to normalize borrowing costs and control inflation. No other numbers are as important as the employment report in assessing overall economic conditions. Job growth has none of the "good news/bad news" ambiguity of…
Downsizing plans: Related, Integra shrink St. Regis Brickell
Related Group's Jon Paul Pérez, Integra's Nelson Stabile, and Related Group's Jorge Pérez with St. Regis Residences: The developers of the waterfront St. Regis Residences Miami are downsizing their plans and increasing condo prices, The Real Deal has learned. Instead of two 46-story towers, Related Group and Integra Investments will build one 46-story tower. And instead of about 330 units, the two…
Suburban Miami Condo Project Moves Forward
Tal Aventura. Image courtesy of Tal Aventura 2151 Development Group and 2020 Acquisitions have received conditional use approval for Tal Aventura, an upcoming 86-unit luxury condo tower in Aventura, Fla. IDEA Architects is behind the design of the 26-story, family-oriented project. Units are set to range between 2,500 and 3,500 square feet, offering roofed porches and views of the nearby…
Integra Investments to Build 338-Unit Mixed-Use Project in North Miami
Integra Investments has received final approval from the City of North Miami to build a 338-unit mixed-use multifamily community located at 13855 N.W. 17th Ave. Called NoMi Square, the project will sit on 7.6 acres and take the form of a seven-story building comprising apartment homes in one-, two- and three-bedroom layouts, as well as four live/work units with commercial space.
Bilzin Sumberg Renews 84,000 SF Office Lease at 1450 Brickell Tower in Miami
Law firm Bilzin Sumberg has renewed its office lease at 1450 Brickell office tower in Miami's Brickell district. Barbara Black, Matthew Goodman and Jeff Gordon of JLL represented Bilzin Sumberg. The firm occupies 84,000 square feet of space at the 625,000-square-foot tower. Tere Blanca and Danet Linares of Blanca Commercial Real Estate represented the building owner, an entity doing business as…
Law Firm Extends 84 KSF Lease at Miami Tower
1450 Brickell. Image courtesy of Bilzin Sumberg Bilzin Sumberg has renewed its lease of 84,000 square feet at Miami's 1450 Brickell. The law firm's initial commitment dates back to 2009, when the 650,000-square-foot office building was nearing completion. The renewal marks one of the largest law firm leases completed in Miami this year. JLL represented the tenant, while Blanca Commercial…
Anchor Health JV Grows Miami Footprint
4675 Linton Blvd. Image courtesy of Anchor Health Properties Anchor Health Properties, in a joint venture with Harrison Street, has acquired a 31,886-square-foot medical office building in Delray Beach, Fla. According to Palm Beach County records, the property sold for $14.9 million and the buyer received an acquisition loan of $15.1 million from Capital One. CommercialEdge data shows that the…
Inflation Is Still High and Widespread
Inflation has remained elevated since early 2021. Annual inflation, measured by the 12-month change in the personal consumption expenditures (PCE) price index, surpassed 2% in March 2021 and has remained above 6% since December 2021. It reached a peak of 7% in June 2022; the latest report, from August 2022, was 6.2%.1 The figure below shows annual inflation rates since 2012 to put the…
Lynd unveils $30M Dadeland self-storage project
Lynd's David Lynd with project rendering of development site at 9300 South Dixie Highway (Lynd Development Group) Lynd Development Group is jumping into the self-storage sector with a $30 million facility near Dadeland Mall. The San Antonio-based firm, led by CEO David Lynd, acquired a 99-year ground lease to redevelop a 14,500-square-foot office and retail building at 9300 South Dixie Highway…
Industrial project outside Miami UDB hinges on one vote
Coral Rock Development's Stephen Blumenthal and Aligned Real Estate Holdings' Jose Hevia along with a rendering of the planned industrial complex outside the Urban Development Boundary (Coral Rock Development, Aligned Real Estate Holdings) Stephen Blumenthal and Jose Hevia are about to find out if a fourth time's a charm. The Miami-Dade County Commission is expected to vote…
Jeffrey Soffer-led JV plans oceanfront condos in Tequesta
Fontainebleau Development's Jeffrey Soffer and a rendering of the planned Savoy condominium in Tequesta: Jeffrey Soffer's Fontainebleau Development advanced plans for Savoy, a 10-story oceanfront condominium in Tequesta that will replace an older building on the site. The project is part of a broader trend of developers targeting aging South Florida condominiums, where increased safety…
Lease roundup: Pubbelly opening in West Palm, Bilzin renews in Brickell
Renderings of Banyan & Olive in downtown West Palm Beach with Banyan & Olive developers Andrew Dance and Adam Demark of Brand Atlantic Real Estate Partners and Chef José Mendín: Pubbelly Sushi I Banyan & Olive I Downtown West Palm Beach Chef José Mendín's popular Miami Beach restaurant Pubbelly Sushi is expanding north. Pubbelly will open in a 3,200-square-foot space in the third…
Movers & Shakers: Medina, Brandao and Tiné launch Side-backed brokerages
Lauren Pace, Jose Medina, Dexter Brandao and David Moghavem: It's been a busy week for hiring news in South Florida real estate. Side, the venture-backed startup based in San Francisco, which calls itself a back office for top brokers, scored two new partnerships in Miami. Jose Medina and Dexter Brandao left OnePath Realty to launch their own Chez Realty. The pair said they have closed more than $150…
T-ROC Opens New Logistics Warehouse Facility In Doral To Meet Customer Demand
The Revenue Optimization Companies (T-ROC), the leading provider of people and technology solutions for the global retail market, announces it opened a new logistics warehouse facility in Doral near its headquarters of Coral Gables. The facility features enhanced inventory and shipping tools to further expand its suite of services to T-ROC clients including high demand services like product…
Notable Retail Leases Signed in South Florida Q3 2022
South Florida Retail Real Estate Leases 2021 – 2022 We've compiled a comprehensive list of the top retail leases signed by square footage in South Florida during 2022 so far and throughout 2021. This quarter was busy overall, especially considering the current pandemic, and saw several big box leases signed and sealed. Despite the sentiment… Read more » The post Notable Retail Leases Signed in…
Jeffrey Soffer's Fontainebleau Miami Beach getting new event center
Jeffrey Soffer with 4360 and 4370 Collins Avenue (Getty) In an effort to boost business conference bookings at Fontainebleau Miami Beach, Jeffrey Soffer's firm has begun construction on a new five-story event center on a former surface parking lot adjacent to his iconic oceanfront resort. The 50,000-square-foot building at 4360 and 4370 Collins Avenue will connect to the historic hotel's Tresor Tower…
Lurra Capital drops $43M for apartment complex near Coral Gables
Greystone's Stephen Rosenberg with 1501 Southwest 37th Avenue: Lurra Capital paid $42.5 million for a 100-unit apartment complex near Coral Gables, as the Swiss firm continues to dive into South Florida's multifamily market. Lurra, a Zurich-based private equity firm led by founder and CEO Tyron Birkmeir, acquired Blume Coral Gables at 1501 Southwest 37th Avenue in Miami, according to a press release.
Midtown, Prospect plan second Flagler Village apartment project
From left: Prospect Real Estate Group's Michele Zahn and Richard Zahn Sr., Midtown Capital Partners' Alejandro Velez, and a rendering of the planned Flagler Village apartment project (Baker Barrios Architects, Prospect Real Estate Group, Midtown Capital Partners) Midtown Capital Partners and Prospect Real Estate Group are making their second bet on Flagler Village's multifamily market. The developers…
In Grove playhouse drama, lawsuit is latest act
Miami-Dade County Mayor Daniella Levine Cava with 3500 Main Highway: The drama over the Coconut Grove Playhouse project hasn't reached its final act. The controversial plan to demolish part of the property — but preserve the historic theater — was in the clear this summer when a major legal pushback led by Miami Mayor Francis Suarez ended. But a new lawsuit has rekindled opposition to the…
Lawsuit Once Again Snares Plan To Redevelop Historic Coconut Grove Playhouse
The debate over the historical Coconut Grove Playhouse project has taken center stage once again. The disputed proposal to knock down a majority of the building but preserve the historic theater had cleared legal challenges from Miami Mayor Francis Suarez but is now back in court, facing a new lawsuit filed by 14 neighbors, Miami Today reports. The residents sued Miami-Dade County, claiming the…
Victory in North Bay Village for billionaire Ansin family's Sunbeam Properties
The billionaire Ansin family's Sunbeam Properties secured the final vote needed to build a taller 7.3 million-square-foot development on 13 acres it owns in North Bay Village. Despite residents' opposition to the height increases, North Bay Village commissioners voted in favor of three ordinances, on second reading after midnight Tuesday. The ordinances allow the developer to build up to 650 feet high…
Harvey Hernandez's firm picks up three more lots for Brickell megaproject
Newgard's Harvey Hernandez with aerial of 66 SW 6th Street, 625 SW 1st Avenue and 69 SW 7th Street: Newgard Development Group fattened up its assemblage for a Miami River megaproject by picking up three more redevelopment properties near Brickell City Centre. Miami-based Newgard, led by founder and CEO Harvey Hernandez, paid a combined $7 million for a trio of small commercial buildings…
Downtown Hollywood project with 856 rentals up for approval
BTI Partners' Noah Breakstone with rendering of Block 57 (BTI Partners) Downtown Hollywood may be poised for more development with a proposed major mixed-use project. Fort Lauderdale-based BTI Partners' plan for an 856-unit apartment development, called Block 57, will go before the city commission on Wednesday. BTI Partners proposes a site plan for the two-tower development on the east…
Mesirow bets on Coconut Creek apartments with $132M deal
Broadstone Cypress Hammocks apartment complex at 5201-5381 West Hillsboro Boulevard in Coconut Creek with Mesirow Financial's Natalie Brown and PGIM Real Estate's Eric Adler (Google Maps, Mesirow, PGIM) Mesirow Financial continues to bet on Broward County's multifamily market. The firm paid $132 million for the Broadstone Cypress Hammocks complex at 5201-5381 West Hillsboro Boulevard…
Estate scores approval for pair of Hollywood rental projects
With its first Hollywood apartment building under construction, The Estate Companies is embarking on two more projects in the city. Estate will develop a 12-story building at 2001 Van Buren Street and an eight-story building at 2000 Van Buren Street, according to the developer's news release. The projects, which will be part of Estate's Soleste brand, are dubbed Soleste Hollywood Village North…
Stockbridge JV pays $59M for Deerfield industrial site
Industrial Outdoor Ventures' Thomas Barbera and Stockbridge Capital Group's Terry Fancher and Sol Raso with 2501 Wiles Road: Stockbridge Capital Group and Industrial Outdoor Ventures dropped $59 million for a Deerfield Beach industrial development site. The pair bought the 22.7-acre property at 2501 Wiles Road from an affiliate of West Palm Beach-based construction firm Vecellio…