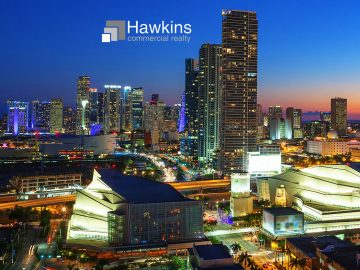 South Florida Q3 office rents hit record high, despite higher vacancies
Despite record high office vacancies across South Florida, average asking rates hit new highs Despite record office vacancy rates across South Florida, average asking rents hit new highs in the third quarter, according to a newly released report. Miami-Dade had the highest average asking rate, at $41.68 per square foot, according to the report from Colliers International…
Miami Commercial Real Estate Sales to List Price Ratio Trails Off in September to Five Year Low ~ September 2020 MLS
The sales to list price ratio as reported by the Miami MLS for improved commercial property in Miami-Dade County from $1 million to $10 million dipped in September. September's recorded ratio of 86.3% is the lowest level recorded since February 2015's 84.9% number. This follows a dip two months prior that, though a slightly better number was itself then the…
Here's What Could Happen To The EB-5 Program In A New Administration
The EB-5 immigrant investor program, which has been used to fund major development projects throughout the United States, has been limping along for the past few years, and some have even predicted its demise after rules were tightened last summer. How might the program, which awards U.S. green cards and visas to foreigners who put a minimum of $900K into…
Sunny Isles mayor sells Hialeah warehouse for $13 million
A company tied to the mayor of Sunny Isles Beach and a fellow South Florida real estate investor sold a 160,000-square-foot warehouse in Hialeah for $13.1 million. George "Bud" Scholl, elected mayor in 2014 and re-elected in 2018, and investor Steven M. Rhodes sold the industrial building at 1101 East 33rd Street, The Real Deal has learned. EverWest Real Estate…
Honeywell warehouse in Medley sells for $8M
South Florida real estate investor Leo Ghitis sold a warehouse near Medley for $7.5 million. Ghitis sold the nearly 50,000-square-foot building at 9315 Northwest 112 Avenue on 3 acres of land inside Flagler Station Industrial Park, according to records. The price equates to about $152 a square foot. The buyers are entities that share an address with Midtown Capital…
Miami Beach based Starwood scores $265M refi for portfolio of InTown, Uptown hotels
Starwood Capital Group secured $265 million in refinancing for a portfolio of 58 extended-stay and midscale hotels nationwide, representing a fraction of all the hotels it owns and operates. Miami Beach-based Starwood hopes to execute the first lien mortgage about Oct. 28, according to a report from Kroll Bond Rating Agency. Starwood will use the funds to pay off existing…
Seritage sells Hialeah shopping center for $21M
Seritage sold a 108,000-square-foot shopping center formerly anchored by Kmart in Hialeah for $21 million. A Daytona Beach-based publicly traded real estate company, CTO Realty Growth, bought the shopping center at 1460 West 49th Street, records show. The company changed its name from Consolidated-Tomoka Land Co. to CTO in May. The sale equates to $194 psf…
Rental project in MiMo District launches leasing
The developer of the American Legion property in Miami's MiMo District launched leasing of the first phase and plans to break ground on the second phase next year. Private equity firm Asia Capital Real Estate, also known as ACRE, and QuadReal Property Group, the real estate investment arm of the British Columbia public employees' pension, completed the first phase…
In "Billion Dollar Loser," WeWork's "epic rise" and Adam Neumann's quiet enablers
Real estate executives had their doubts about WeWork, but many weren't willing to risk missing out on its success. They and others who kept their criticism to themselves helped enable and then felled the co-working giant once it became clear that its crash would be just as extraordinary as its ascent. "They couldn't explain WeWork's valuation, but they were fearful…
10,566 SF Office Sublease Negoitated at Brickell City Centre
Cresa has negotiated a 10,566-square-foot office sublease for Pillsbury Winthrop Shaw Pittman LLP (Pillsbury) in Miami's Brickell City Centre. Pillsbury, which focuses on the technology and media, energy, financial services, and real estate and construction sectors, has occupied the space at 600 Brickell Ave. since 2017 and will now lease the space until at least…
Dezer's mega development project gets key approval
A rendering of the project with developer Gil Dezer Dezer Development's plan to redevelop the Intracoastal Mall property into a massive mixed-use project cleared another hurdle. North Miami Beach commissioners approved ordinances for the complex on second reading in a 3 to 2 vote early Wednesday morning. Two commissioners were not present for the…
Edgewater-Midtown tower residences win Miami's backing
A mixed-use residential development is being proposed for the area where Edgewater meets Midtown in the City of Miami, and not far from Wynwood. Called 27 Edgewater, the planned 18-story building would rise at 2728 NE Second Ave. and be home to 108 dwellings. The project by developer 908 Group Holdings LLC was recently reviewed by the city's…
Rents fall in cities around the world
Across the country, rents are tumbling. Sales have surged in the New York suburbs, and prices with them. But Manhattan apartments are the cheapest they've been since 2013. The number of listings have tripled from a year ago while the median rent has dropped 11 percent, according to Bloomberg. Expensive cities have taken the biggest hit. In San Francisco, the median…
Jorge Pérez steps down as president of Related Group, handing title to son Jon Paul
Jon Paul Pérez was named president of the Related Group, taking over from his father, Jorge Pérez. Jorge, who founded the Miami-based real estate giant in 1979, will stay on as chairman and CEO when Jon Paul takes over in November, according to a release. Billionaire developer Jorge Pérez, known as the Miami condo king, has spoken about his succession plan in the past.
Blackstone Move Solidifies Miami Mayor's Vision For A Global City
The dream of Miami Mayor Francis Suarez to have the city turn into a global destination for talent and investment is coming to fruition. Blackstone, a private equity investment firm, has set its sights on opening a Miami outpost as the nation's largest investment managers continue to migrate to South Florida. Its plans surfaced as the city is in…
PortMiami dredging may rest on economic future of cruise lines
PortMiami continues to plan for more dredging, pandemic or not. As the coronavirus has plagued both Miami and the rest of the nation, there has been an increased focus on cruise ship travel and economic recovery.  Last year, Miami-Dade County commissioners authorized a three-year study. Now, after about a year and a half, US Army Corps of Engineers project…
Things To Consider When Leasing To A Medical Marijuana Dispensary
Some essential CRE steps when leasing to an essential business At the height of lockdowns and quarantines, it quickly became apparent that what was considered essential expanded far beyond first responders and hospital staff. Truck drivers working long shifts to get goods to supermarkets, and the employees stocking shelves with those products quickly rose to…
Can Proposed Seawalls Protect Miami From Storm Surges?
The Magic City could see walls become a permanent part of the downtown area if an Army Corps of Engineers plan comes to fruition Downtown Miami has one of the planet's most spectacular coastlines, featuring buildings that seemingly jet from the ocean as you approach from the air or water.  This beautiful location comes with…
Bus Rapid Transit has inside track in East-West Corridor
After nearly three decades of studies, local transportation decision-makers are set – again – to choose a mass transit upgrade for a 14-mile commuting route linking West Miami-Dade to Miami International Airport and downtown Miami. Today (10/22), the Miami-Dade Transportation Planning Organization Governing Board is to vote on a preferred transit mode for…
Sandor Scher: Set to bring hotel, condos, retail to Beach's Ocean Terrace
For almost two decades, Sandor Scher's Claro Development has advised on more than 100 projects in over 60 cities, adding nearly 2,500 hotel rooms in South Florida and, according to firm figures, delivering more than $750 million of hospitality, commercial and historic restoration development. His entrée into real estate came through a restaurant startup that over 6½…
Miami-Dade approves interim contract for monorail to Miami Beach
A rendering of the monorail Plans for a monorail between the city of Miami and Miami Beach took a step forward on Tuesday. In spite of calls for a deferral from Miami Beach, the Miami-Dade County Commission approved a contract of up to $14 million with Genting Group and Meridiam Infrastructure North America Corp. to study the feasibility of building…
The REInterview: Reeves Wiedeman on the manic rise and fall of Adam Neumann and WeWork
Dream no small dreams, for they have no power to move the hearts of men — or venture capitalists. Adam Neumann, the co-founder and former CEO of WeWork, certainly wasn't guilty of small dreams. From being a broke émigré living rent-free in his sister's apartment to building one of New York's largest real estate companies to becoming the head of one of the…
Related, Crescent Heights and Melo Group seek approval for Miami projects
The Related Group, Crescent Heights and the Melo Group are seeking approval from the Miami Urban Development Review Board for projects in downtown Miami and Edgewater. Related and its partner, ROVR Development, led by Oscar Rodriguez and Ricardo Vadia, are proposing The District at 225 North Miami Avenue in downtown Miami. The 37-story…
Mezz lender forecloses on Ocean Drive hotel in South Beach
The pandemic brought especially bad timing for the owner of a South Beach hotel, which purchased it last year, embarked on a multimillion-dollar renovation, and ended up losing its investment. Leste Group and its partner, Moto Capital Group, last month foreclosed on the newly renovated Lord Balfour Hotel at 350 Ocean Drive, The Real Deal has learned. The,,,
Former Uber CEO Travis Kalanick cooks up a real estate empire
Uber co-founder and ex-CEO Travis Kalanick has quietly amassed a real estate empire over the past two years. Companies tied to Kalanick's CloudKitchens, a startup that rents available space to food delivery businesses, have snapped up more than 40 properties across the country for more than $130 million, the Wall Street Journal reported. Kalanick's…
AMC faces serious cash crunch despite theaters reopening
Movie theaters are reopening across the country, but that may not be enough to save some of the biggest cinema operators. AMC Entertainment Holdings, one of the world's largest movie theater operators, said it could run out of cash by the end of the year if it can't find additional sources of liquidity, Reuters reported. The company said…
Buying distressed debt to get the underlying property – a litigation due diligence checklist
It's beyond the scope of this blog to predict where the commercial real estate market is heading, but there are those who have predicted a downturn. If that turns out to be right, there may be more loans than usual going into default. If you are considering buying a commercial note that is in default because you ultimately want to foreclose to buy the property…
New York's CRE woes could spread nationwide: investors
Investors are betting that trouble in New York City's commercial real estate market will spread nationwide. Prices for debt backed by hotels, restaurants and retail in New York City — among the hardest-hit sectors as the pandemic emptied out tourist destinations this year — have fallen and new loans have slowed…
Here's what tenants are paying at Shops at Merrick Park
Brian Kingston and Merrick Park Nordstrom and Neiman Marcus may be closing stores across the country amid the pandemic, but at the Shops at Merrick Park in Coral Gables, the retailers appear to be in for the long haul. Brookfield Property REIT owns the roughly 850,000-square-foot property at 358 San Lorenzo Avenue, which consists of a three-story open-air…
Family foundation pays $5M for land in Miami Shores, plans private Jewish school
Jamie Rose Maniscalco and Daniel Ades with the property A family foundation paid $5.3 mil… The Ades Family Foundation, the philanthropic arm of Aventura-based Kawa Capital Management's managing partner and chief investment officer Daniel Ades, bought the assemblage at 855, 975 and 995 Northwest 95th Street and at 900, 910 and 920 Northwest 96th Street.
Building up: Homebuilder confidence hits new highs
Homebuilders are feeling record levels of optimism, according to a new report. The National Association of Home Builders Housing Market Index reached 85 in October, seasonally adjusted, the highest reading in the monthly metric's 35-year history. After experiencing a sharp decline in the spring, the NAHB index has been steadily rising — and…
How Does the Pandemic Recession Stack Up against the Great Depression?
Many observers have been comparing the COVID-19-induced recession with the Great Depression. An Economic Synopses essay published in August examined some key economic indicators during these contractions to consider their severity and duration. Group Vice President and Deputy Director of Research David Wheelock explained that the Great Depression…
Aventura office complex Optima inks new leases
Four companies signed leases for a total of 36,000 square feet at Optima, a three-building office complex in Aventura, including the first tenant of the complex's 28-story tower that is still under construction. Blanca Commercial Real Estate, which brokered the deals, declined to disclose lease terms for space at the complex at 21500 Biscayne Boulevard.
Ransom Everglades sues developer Caroline Weiss over backyard boat dock
A pop-up private marina behind a commercial developer's home in Coconut Grove is disrupting Ransom Everglades' aquatic learning experiences, according to a recently filed lawsuit. The private school is suing Caroline Weiss, CEO of the Weiss Group of Companies, in Miami-Dade Circuit Court, in an attempt to stop her from allowing private boats from docking along…
State Of South Florida Commercial Real Estate Discussed
Paul Marko was recently appointed as principal of the South Florida Avison Young team, and he applied his 30 years of experience in office tenant representation, buyer broker services and portfolio administration to answer some questions about the South Florida and national commercial real estate markets.
"There's a lot of money to be made": IRS targets foreign real estate investors
The Internal Revenue Service is going after foreign real estate investors as part of a broader sweep to collect revenues amid the pandemic.  In the past month, the Internal Revenue Service has announced two new audit campaigns targeting overseas investors who own or hold interests in U.S. property. The campaigns focus on foreign investors selling their interests…
Fontainebleau Miami Beach's $1B loan exits special servicing
Miami-Dade County's largest resort is no longer in special servicing. The $975 million commercial mortgage-backed securities loan for Jeffrey Soffer's Fontainebleau Miami Beach returned to the master servicer on Sept. 23 following successful negotiations with lenders, according to Trepp data updated this week. The loan was transferred to the special servicer…
Unibail-Rodamco sues Express over $30 million in missed rent
Act of God? Mall operator Unibail-Rodamco-Westfield said its lease agreements with Express cover such events, and still require the retailer to pay the rent. Now Unibail is suing Express, saying the retailer owes $30 million in skipped rent across 27 locations throughout the U.S. Fourteen of those stores are in malls in California, according to the suit, filed in Los…
Mast Capital wins initial approval for shorter Mid-Miami Beach condo project
Developer Camilo Miguel Jr. won initial approval for a shorter, 85-foot tall version of his planned 4000 Alton Road condo project in mid-Miami Beach. The Miami Beach City Commission on Wednesday passed on first reading three ordinances that will enable Miguel's Mast Capital to build an 85-foot tall building with as many as 216 units. The proposal will be heard once…
Miami Beach approves zoning change allowing for Aman tower
Miami Beach commissioners approved a zoning change that would allow billionaire developers Vlad Doronin and Len Blavatnik to build their Aman-branded tower. Commissioners Steven Meiner and Micky Steinberg voted against the Faena district overlay ordinance on second reading, which will allow the developers to build a 250-foot tall tower, up from the previously…