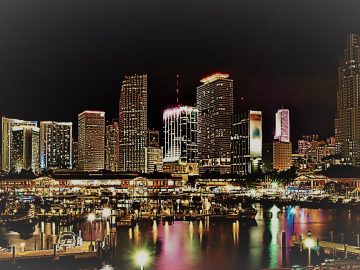 Video: A-Rod Discusses Benefits and Pitfalls of Being a Celebrity Investor
Alex Rodriguez has been investing in real estate for decades. He made his first purchase — a duplex outside of Miami that he needed a $48,000 downpayment for — when he was 22. That was, of course, before his $20 mil per annum salary as a baseball legend. However, in the years since, the former Yankee third baseman, now at the ripe age of 44, has built a rather sizable national real estate portfolio.
Urban Land Institute recommends changes to city of Miami zoning code
A new Urban Land Institute (ULI) report suggests city officials relax certain provisions of the Miami 21 zoning code to encourage denser developments on narrower lots and further incentivize developers who reduce or eliminate parking, among other recommendations. Report co-author Andrew Frey presented his ULI focus group's findings on Friday to Miami Mayor Francis Suarez, who declined to…
AVE Aviation & Commerce Center Sells Industrial Portion of Hialeah Mixed-Use Development for $126 Million
AVE Aviation & Commerce Center Inc. has sold the industrial portion of AVE Aviation & Commerce Center, a 2.6 million-square-foot master-planned development in Hialeah. Bridge Development Partners and BentallGreenOak acquired the assets in a joint venture for $126 million. The sold portion comprises 948,000 square feet of industrial space that is fully leased to the United States Post Office…
BentallGreenOak-Led JV Pays $126 million for Miami Industrial Assets
A partnership of BentallGreenOak and Bridge Development Partners has acquired four industrial properties and 1 million square feet of development rights at a mixed-use Miami business park for $126 million. The seller was CPF Investment Group. The buildings are located within the 2.6 million-square-foot AVE Aviation & Commerce Center, located adjacent to Miami-Opa Locka Executive Airport.
JV pays $126 million for Opa-locka industrial property
A joint venture between BentallGreenOak and Bridge Development Partners bought most of a mixed-use business park next to the Opa-locka Executive Airport for $126 million. The group purchased 948,000 square feet of space, with an additional 1 million square feet of industrial and aviation-related development rights on 47 acres at the AVE Aviation & Commerce Center. CPF Investment Group sold…
Florida Grand Opera sells Doral hub, seeks new home
Florida Grand Opera is on the hunt for its new home after selling its Doral headquarters. Represented by Cushman & Wakefield, the opera sold the 35,000-square-foot Doral Center building at 8390 NW 25th Street for $7 million to Imagik International Corp., an in-flight entertainment systems company. "We are looking for a facility that is more sufficient and aligns with our organization,"
Miami-Dade, cities target docks for waterborne transit
Miami-Dade and the cities of Miami and Miami Beach have been collaborating to identify potential docking locations for waterborne transit services between the two municipalities across Biscayne Bay, county Transportation Director Alice Bravo said last week. Finding places for water transit vessels to dock that have been or can be upgraded with connections to other forms of transportation is one of…
Ferris wheel spins around at Bayside with bigger deal
Miami commissioners today (10/24) are to again debate a 176-foot Ferris wheel at Bayside, with a new offer on the table for a bigger city revenue cut that reflects last month's contentious call for the city to do better on the deal. An agenda resolution would authorize the city manager to amend a lease between the city and Bayside Marketplace LLC to allow for up to 190 feet for the Ferris wheel. In exchange…
SR 836 Signature bridge, double-deck viaduct roll ahead
The I-395/SR 836/I-95 Design-Build Project in the heart of the City of Miami is reported progressing steadily, with regular notices about lane closures and other information for area residents and motorists. Up-to-date details are at the project's website, www.i-395miami.com, from the Florida Department of Transportation (FDOT). "Progress continues along all arteries within the project limits," said Senior…
River Land near Health District adds green space
Land abutting the rising River Landing mixed-use project near the Health District is set to be transformed into 1.5 acres of green space with the Miami City Commission's approval. The commission is to vote today to amend the development agreement to require certain improvements on the site acquired by… River Landing Conservation Foundation. In 2017, the foundation acquired 1280 NW 11th Street…
Bank OZK lends $28M for Holiday Inn project in Edgewater
A Holiday Inn by IHG will soon rise in Miami's Edgewater neighborhood. Bank OZK provided a $27.5 million construction loan for the eight-story, 207-key hotel planned for 410 Northeast 35th Terrace. The hotel is being developed by Amaury Martinez of Edgewater Hotel Management. It's expected to be completed next summer. The loan closed on Friday. BGI Capital, led by Robert M. Barthelmess…
Opportunity Zones, real estate's next big thing, fails to attract much investment
Despite all the hype, investor interest in Opportunity Zone funds simply hasn't materialized as fund managers had hoped. According to an analysis by Novogradac, a San Francisco-based accounting firm, 103 Opportunity Zone funds have raised just 15 percent of what fund managers expected. There are at least 285 Opportunity Zone funds in the United States, and many have not shared…
Miami Gardens commercial site sells for $19M
Concorde Group Holdings sold two commercial buildings near Miami Gardens for $19.4 million, a 61 percent increase from the last sale price in 2016. The Boca Raton-based real estate investment firm sold the 139,495-square-foot buildings at 900 and 1000 Park Centre Boulevard for $139 per square foot, records show. Park Centre Partners LLC, which is tied to Kenneth Israel of Hallandale Beach-based…
Video: PwC Partner Mitch Roschelle Discusses Tariffs and Commercial Real Estate
Mitch Roschelle, Partner and NY Metro Business Development Leader with PwC, joins America's Commercial Real Estate Show to talk about the potential impact tariffs could have on our economy and the commercial real estate industry. In this episode, he quickly adjusts the conversation to talk about the economy, and potential effects of tariffs and anti-trade rhetoric and policy on it, and in turn on…
SoftBank to take control of WeWork at less than $8B valuation, Down 83% from January's
WeWork has reached an agreement to be taken over by SoftBank Group, in a deal that will value the embattled office-space company between $7.7 billion and $8 billion, people familiar with the matter told The Real Deal. The deal would buy out some earlier investors and shareholders, and dilute the stake of former CEO Adam Neumann, those sources said. The final…
Foundry Commercial bought an 18-acre site in Hialeah Gardens, plans industrial project
Paul Ellis Foundry Commercial purchased an 18-acre site in Hialeah Gardens, where it plans to build a 320,000 square foot speculative industrial development. The site sits off of Northwest 107th Avenue between Northwest 144th Street and Northwest 146th Street, according to a release. The two properties were sold for a combined $13.1 million by two sellers, according to a source. Property…
Foundry Commercial to Develop 320,000 SF Spec Industrial Building in Hialeah Gardens
Foundry Commercial has acquired an 18-acre site in Hialeah Gardens with plans to develop a speculative 320,000-square-foot industrial building. The site is situated on NW 107th Avenue between NW 144th and NW 146th streets, about 20 miles northwest of downtown Miami. Orlando-based Foundry Commercial plans to break ground in early 2020 and expects to deliver the asset by the end of 2020.
Bridge Development Partners to Build 1 MSF Spec Industrial Project Near Miami
Bridge Development Partners, an industrial development and investment firm with six offices across the country, has acquired land in Miami-Dade County's Hialeah submarket for the construction of a 1 million-square-foot speculative industrial project. The new development will consist of four buildings ranging in size from 109,000 to 500,000 square feet. Construction is scheduled to begin…
Co-living trend of renting bedrooms is back and here to stay say forum participants
Co-living is becoming a growing segment of South Florida's multifamily market amid increased competition from each other and from conventional apartment developers, according to a group of such developers and operators. "Sure, there's competition. But it's a big opportunity," said Brian Lee, senior director of real estate at Common, on a panel on co-living and other new housing trends…
120,590 SF Lease Negotiated Within Airport North Logistics Park in Northwest Miami
Cushman & Wakefield has arranged a 120,590-square-foot lease for Apollo Export within Airport North Logistics Park in Miami. Apollo Export Warehouse Inc. will begin occupying the space in early 2020 and will join tenants such as Nestlé Waters North America, Marine Harvest, Neutralogistics and ECO Window Systems in the now-90 percent leased industrial park. Apollo Export will occupy space in…
Report: Miami Office Property Inventory Increased 13.5% Over 10 Years
An office property study was recently published by CommercialCafé that details how much office space the top 20 U.S. markets have added in the past 10 years. Perhaps more interestingly, they also look at where this space was added within these markets, central business district (CBD), urban, or suburban. In the state of Florida, 30.5 million square feet of space was added, with 77% – the biggest…
SoftBank rescue plan would bring WeWork's valuation to $8B
SoftBank is considering a financing package to save WeWork that would value the embattled office-space company at $8 billion, according to Bloomberg. It is a stunning drop from WeWork's $47 billion valuation set in January by SoftBank, at the time of its last cash infusion. The Japanese conglomerate owns about a third of the company and has already invested more than…
Rents dip nationally, slightly up in Miami
The housing market has been slowing across the nation, and now rent prices have finally begun to fall. Very very slightly. The average rent across major U.S. cities dipped for the first time on a monthly basis since February 2017. This was not the case in Manhattan or Los Angeles, however. From August to September, average monthly rent decreased $1, or 0.1 percent, according RentCafe. September's…
Active South Florida Lender Bank OZK reports uptick in construction lending in Q3
Bank OZK reported an uptick in real estate construction lending in the third quarter amid cooling markets in New York City and Miami. The bank reported on Friday that its total construction loan portfolio grew to $6.68 billion at the end of the quarter, up from $6.49 billion a year earlier. Overall, the company's real estate lending arm RESG originated $2 billion of loans in the third quarter, marking the…
Spirit Airlines plans to build $250M HQ campus in Dania Beach
Miramar-based Spirit Airlines will consolidate its headquarters and other facilities in Broward County at a new $250 million campus in Dania Beach. Spirit's project at the Dania Pointe mixed-use development, just south of Fort Lauderdale-Hollywood International Airport, will span up to 500,000 square feet. It will include corporate offices and a crew-training facility equipped with flight simulators. Spirit…
At forum Ben Carson discusses how Opportunity Zones are unlike red and black ants
When talking about federal Opportunity Zones, Secretary of Housing and Urban Development Ben Carson said you need to understand ants. And use them as a cautionary tale. On the whole, ants work well together and are "sophisticated" and "industrious," said the former neurosurgeon, during prepared remarks at The Real Deal's annual Showcase & Forum in Miami's Mana Wynwood.
Forum: South Florida developers riff on the shift from condos to rentals
The cyclical nature of Miami's condo market has many developers shifting toward rentals – but not Michael Shvo. The New York developer, who is making a big push in Miami Beach, said that as long as you have the right site and project, the overall market's performance is irrelevant. "It doesn't really matter what the market is. You build something special in the right…
Bacardi-owned company sues construction firm for defects and delays at Coral Gables office development
After opening a six-floor office building in Coral Gables nine months ago, a Bacardi-owned firm is accusing national conglomerate OHL USA of causing $5 million in construction delays. 1515 Sunset LLC, a company controlled by Facundo Bacardi, sued OHL USA last month in Miami-Dade Circuit Court for construction defects, untimely payments to subcontractors and delay damages. The property is located…
Citing Health Concerns, Coral Gables Halts Approvals of Vape and CBD Shops
Since the news broke this summer that vaping has caused dozens of people to grow sick and even die, consumers and government agencies have been in full panic mode. As of now, 33 people, including at least one in Florida, have died from a mysterious lung illness. Those health concerns are now trickling down to local governments. Yesterday, Coral Gables city…
Miami Is the Most Rent-Burdened City in America, Study Says
Another week, another study telling us what we already know about Miami's housing affordability crisis: The rent is too damn high, and residents of the Magic City are more burdened by rental costs than those of any other U.S. city. An analysis by Apartment List shows 62.7 percent of renters in Miami are cost-burdened, the highest percentage of the nation's 100 largest metro areas. Nearly 34 percent of…
Shoma Group launches lower-priced condo project near Lincoln Road
Amid the ongoing luxury market slowdown, Masoud Shojaee is launching sales of Ten30, a condo development near Miami Beach's Lincoln Road. The relatively lower-priced units replace multimillion-dollar townhouses that were originally planned for the site. Ten30, at 1030 15th Street, will have 43 condos, including six studios, 29 one-bedroom units and eight two-bedroom units, priced from $498,000…