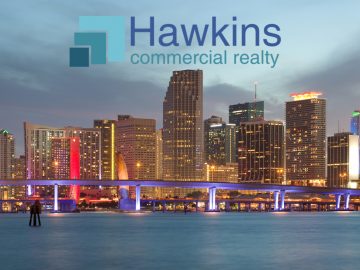 Miami board approves Edgewater and Midtown office projects, Wynwood resi building
A Miami board approved office projects in Edgewater and Midtown, as well as a residential building in Wynwood, but was not impressed with proposed apartments near the Miami River. The Miami Urban Development Review Board on Wednesday greenlit three proposals, but took issue with a fourth, prompting that developer to opt to come back for review at a future meeting.
The Avenue Hotel & Residences Coral Gables to Break Ground at 351 San Lorenzo Avenue
The Avenue Hotel & Residences Coral Gables is no ordinary project; it's a Parisian-inspired mixed-use venture headed for Miami-Dade County. Our sources indicate that Roger Development Group is prepared to break ground on the multi-million-dollar project in early November, and what's more, the community is more than 65 percent leased, according to Miami Condo Investments….
$49.3M Sale Brokered of Grocery-Anchored Shopping Center in West Miami
CBRE has brokered the $49.3 million sale of Trail Plaza, a grocery-anchored shopping center located on 17 acres at the corner of SW 8th Street and SW 67th Avenue in west Miami. Boston-based Longpoint Realty Partners LP purchased the 181,558-square-foot shopping center from an unnamed client advised by MetLife Investment Management. Casey Rosen and Dennis…
Longpoint pays $49M for Fresco y Mas-anchored shopping center near West Miami
Longpoint Realty Partners picked up a grocery store-anchored shopping plaza near West Miami for $49.3 million. The Boston-based private equity firm bought Trail Plaza on the southwest corner of Southwest Eighth Street and Southwest 67th Avenue from a MetLife Investment Management-advised client, according to a news release from the seller's broker. The plaza is at…
Longpoint Pays $49M for Miami Retail Asset
Boston-based Longpoint Realty Partners has acquired Trail Plaza, a 181,558-square-foot grocery-anchored retail property at 1032 SW 67th Avenue in Miami for $49.3 million. MetLife Real Estate Investment sold the asset after owning it for more than 30 years. CBRE brokered the transaction. MetLife acquired the property for $16.6 million in 1990, according to CommercialEdge data. Built in 1987…
Miami moving to reaffirm its Marine Stadium vows to rebuild
The city is planning to reaffirm its commitment to rebuilding the aging Miami Marine Stadium by dedicating more than $60 million to it. Today (10/26), the Miami City Commission is to weigh a resolution to declare the city's official intent to issue $61.2 million in special obligation bonds to reimburse itself for expenses incurred concerning capital improvement projects…
Clara plans 152-unit apartment project on Austin Burke store site in Wynwood
Clara Homes wants to develop a 152-unit apartment building on the site of the Austin Burke menswear store in Wynwood. The Miami-based firm is under contract to purchase the 0.4-acre property at 2601 Northwest Sixth Avenue in Miami for $7.7 million, according to a Clara news release. In the sale-leaseback deal, the Austin Burke store could stay open for a year and a half…
Miami Based Highline launches $350M distressed commercial real estate fund
Miami-based Highline Real Estate Capital launched a $350 million investment fund that will target owners of distressed commercial real estate in the Southeast. Through its new Highline Real Estate Fund 1, L.P., the firm will provide equity and debt financing to commercial property owners struggling to sell or finance office, retail, multifamily and industrial properties, as well as…
Hurdles remain for Mental Health and Recovery Center in Allapattah
A state-of-the-art mental health center for the homeless rising in Allapattah is awaiting approval from the county before opening its doors. The Miami Center for Mental Health and Recovery is a pioneer facility with a mission to target comprehensive recovery and promote self-sufficiency to break the homelessness-to-jail cycle and reduce the financial burden on the state…
Clevelander Owner Formally Files Plans For 18-Story Tower On Ocean Drive
The owner of the Clevelander on Ocean Drive has officially submitted plans for an 18-story, 200-foot tower, according to the Herald. A five-story annex building would be demolished. The facades of the Clevelander and Essex House hotels would be preserved. A total of 137 residential units are planned, with residential condos at the Clevelander and 55 workforce housing units…
Developer Trims Height Of Proposed Clevelander Redevelopment After Outcry
The owner of the Clevelander South Beach hotel and bar in Miami Beach submitted a proposal Monday to replace the party hot spot with an 18-story residential development, revising its initial plan to build a 30-story tower on the site, which met with public pushback and criticism from elected officials. Jesta Group is planning a 200-foot-tall residential development with 40%…
Clevelander owner files plans for 18-story tower under state's affordable housing law
The owner of the historic Clevelander and Essex House in South Beach filed long-awaited plans for an 18-story tower that would be made possible by the state's new affordable housing law. Montreal-based Jesta Group first announced its plan to redevelop the Miami Beach hotels at 1020 and 1001 Ocean Drive in September. Jesta said at the time that under the state's Live Local Act…
"It will be mayhem": Miami board approves Brickell hotel despite concerns over parking, tiny dropoff area
A Miami board approved a 40-key boutique hotel project in Brickell, despite raising concerns over the dearth of on-site parking, as well as the tiny valet pickup and dropoff area. The Miami Planning, Zoning and Appeals Board signed off on a proposal by Habitus Capital to build an eight-story hotel on a 0.1-acre site at 1511 Southwest Second Avenue. The board unanimously approved…
Sony Music Consolidating Offices Into 45K SF In Wynwood
The cultural cachet of Miami's Wynwood neighborhood has attracted another high-profile creative tenant. Sony Music inked a 45K SF lease at 545 Wyn, according to a Colliers report, the largest new deal in the city in the third quarter. The music production and distribution company will move into the 10th floor and part of another floor at 545 Northwest 26th Street next summer…
UDRB Approves 186-Unit Residential Project In Wynwood
Miami's Urban Development Review Board voted last week in favor of approving a residential building on a Wynwood site formerly owned by the Salvation Army. The board vote was to approve the project as presented, without requiring any modification. Previously, the developer said the building would have luxury apartments. According to the UDRB filing, 18 NW 23rd Street…
Rent Growth Slows As Industrial Footprints Shrink In South Florida
South Florida's industrial market is reaching something of an equilibrium after years of frenzied growth. Vacancy in Miami-Dade County ticked up to 2.4% but remains well below long-term averages even as more than 3M SF of new space has delivered this year, according to Avison Young data. Recent years' rapid increases in asking rates have also slowed significantly, up only 1.6%…
"Would stick out like a sore thumb": SB, Hazelton strike out on Edgewater tower proposal
SB Development and Hazelton Capital Group's proposal for a multifamily tower in Edgewater crashed when a Miami board and neighbors took issue with the 55-story building. The developers withdrew their application to tweak the design after hearing an earful at a Wednesday meeting of the Miami Urban Development Review Board, which was ready to recommend…
Fort Partners lands $410M refi for Four Seasons in Surfside, Palm Beach
Nadim Ashi's Fort Partners is scoring a $410 million refinancing of two Four Seasons properties in South Florida. The commercial mortgage-backed securities loan will refinance the Four Seasons Resort at the Surf Club in Surfside and the Four Seasons Resort Palm Beach, according to the credit rating agency DBRS Morningstar. Citi Real Estate Funding and German American…
Renderings Released Of $50M Full Floor Penthouse Planned At Waldorf Astoria Supertall Development
The developers of the 1,049-foot Waldorf Astoria supertall tower released renderings late last month of a $50m penthouse unit. The unit spans an entire floor in the buildings ninth cube at the top of the tower. A 360-degree view of Miami will be visible. The buyer will be able to customize the 13,119 square feet of space, which is planned to include a private gym, theater, wine room…
Photos Show Topped Off 40-Story Caoba Miami Worldcenter 2
New photos by Phillip Pessar show the topped off second tower at Caoba Miami Worldcenter. The under-construction tower topped off this summer at 40 stories and will have 411 residential units. Caoba's first phase was a 43-story tower completed in 2019. When both towers are open, the two towers will have a combined 855 apartments, along with 888 parking spaces…
ANF Group Completes Construction On 288-Unit 'Vista Verde' At 8894 NW 44th Street In Sunrise
ANF Group, Inc. has completed construction on Vista Verde, a 288-unit residential development in Sunrise, Florida. Located at 8894 Northwest 44th Street, the community was developed by Rilea Group and designed by MSA Architects. The units are spread across eight three-story buildings with floor plans that range from 754 to 1,327 square feet, with one-, two-, and three-bedroom options….
'Fed Up' With Remote Work, Employers Want Plush Spaces To Help Force The Issue, South Florida Office Boosters Say
Construction delays are often a source of frustration for office landlords and occupiers, but one tenant at the under-construction 830 Brickell tower in Miami's financial district has turned it into an opportunity. Juliana Fernández, founder of the design firm AEI Spaces, said one of her clients has used the delays in the trophy building's construction to adjust its plans for the space…
South Florida Retail Real Estate Summary: Leases, Sales & Construction Projects
Here's our quarterly summary South Florida commercial real estate focusing on Miami retail real estate. The report includes statistical highlights (cap rates, vacancy rates, absorption, etc), the latest retail transactions, signed leases, retail trends, and current market activity. The retail real estate report is updated by our CRE experts who focus on the retail real estate sector.
Lendlease to Build Miami-Area Military Housing Community
Cadence Communities will total 475 family housing units and 60 unaccompanied housing units. Image courtesy of Lendlease Lendlease will build the U.S. Army's first new privatized housing project since 2010, a $110 million development in Doral, Fla. The SOUTHCOM development will include approximately 75 family housing units and 60 two-bedroom apartments for…
High Miami Rents Spur Army To Tap Lendlease To Build First New Private Housing In 13 Years in Doral
Lendlease has signed a deal to build the first new privatized housing project for the U.S. Army in more than a decade. Lendlease is planning to build nearly 75 homes on 51 acres near U.S. Southern Command. The U.S. arm of the Australian real estate group is planning to break ground later this year on nearly 75 houses and 60 two-bedroom apartments near the Army's U.S. Southern…
UDRB Votes In Favor Of 635-Foot Office Tower Near Midtown Miami
Miami's Urban Development Review Board voted last week to recommend approval of an office tower near Midtown Miami. The board voted in favor of the project as presented, without modifications. The tower is unusual in that no Miami 21 zoning waivers are requested. Instead, the project is proposed as of right and completely within the code. The new tower, known as Tower 36…
No Significant Opposition To Demolition of Yve Hotel To Make Way For 104-Story Supertall
A proposal to demolish several buildings to make way for a 104-story supertall isn't being opposed by preservationists, according to the Herald. The Yve Hotel dates to the 1920s (originally known as the Miami Colonial), but renovations and a re-skin in the 1960s have significantly altered the appearance of the building. To read the history of the building, click…
Vestcor Proposes Ambar Station for 27742 and 27860 S Dixie Highway in Homestead
Jacksonville-based Vestcor has proposed Ambar Station, a multifamily housing development on a 7.8-acre plot that it has under contract. The South Florida Business Journal reports that the venture would comprise 576 apartments, ranging from one-bedroom to three-bedroom residences. Ambar Station would comprise two eight-story buildings and two three-story buildings.
'Wynwood's First Co-Living Project' Begin Leasing, Prices Start At $1,895
Related Group and W5 Group have announced they are starting to lease units at i5 Wynwood, which is nearing completion. I5 Wynwood is Wynwood's first co-living project, the developers said. A total of 63 fully furnished apartments are being built. Bedrooms in those units will be offered for rent, with a total of 217 suites (each will have a private bathroom and share a living room).
Doral, developer reach height compromise on Live Local project
The city of Doral reached a compromise with the developer of a major mixed-use project that plans to take advantage of the state's landmark affordable housing legislation that passed earlier this year. The Doral City Council voted 4:1 last week to approve a settlement agreement with affiliates of the Apollo Companies tied to their plan to develop Oasis at Doral. Apollo proposed…
Terra Breaks Ground On THE WELL Bay Harbor Islands At 1100 Kane Councourse in Bay Harbor Islands
Real estate developer Terra and wellness brand THE WELL have begun construction on THE WELL Bay Harbor Islands at 1100 Kane Concourse in Miami's Bay Harbor Islands. The project includes an eight-story residential building with 54 residences, over 22,000 square feet of amenities, and a separate office building totaling 102,000 square feet. THE WELL Bay Harbor Islands…
Arquitectonica-Designed 3480 Main In Coconut Grove Attracts Diverse Office Tenant Mix
As South Florida's suburban markets continue to draw companies seeking quality office spaces at competitive prices and convenient commutes, Coconut Grove remains a preferred choice for its balanced live-work-play environment. 3480 Main, a boutique Class A office building designed by award-winning architect Arquitectonica, is seeing increased leasing activity, with four…
Naftali Group Announces Official Plans For 67-Story Miami Worldcenter Tower, To Include Condos, Rental Apartments And Commercial Space
New York-based real estate development and investment firm Naftali Group has announced official plans for a 67-story mixed-use building to rise over 700 feet on a 1.02-acre site at 1044 and 1016 Northeast 2nd Avenue in the 27-acre Miami Worldcenter complex. The project is designed by the Miami-based architecture firm Arquitectonica, with interiors by the New York…
Development Plan Approvals Granted For 4 Brickell Towers On The Same Block
County commissioners voted last month to approve general development plan special exceptions for four towers on the same block in Brickell. The special exceptions approved by commissioners on September 20 (meeting as the Miami-Dade Zoning Board were for: Sentral (two towers, 803 units) Menesse (400 units) Westpine (328 units) A fifth tower called Calle 8 (464 residential units)…
Miami Beach to buy Altos Del Mar house after tossing out controversial zoning request
Miami Beach will buy a house in Altos Del Mar after tossing out a controversial requested zoning change. The current owners, Rudy and Betsy Pérez, who bought the house at 7605 Collins Avenue in 2001 for $510,000, had sought a zoning change for their nearly 0.2-acre property. The Collins Avenue house is surrounded on all sides by the oceanfront Altos Del Mar park, which…
Lease roundup: Delilah restaurant opening in Brickell, Cactus Club Cafe in downtown Miami
The Los Angeles-based company leased 10,700 square feet at 801 Brickell Bay Drive in Miami, where it will open the Delilah Miami eatery in December, according to The h.wood Group's news release. The space includes a terrace overlooking Brickell Bay. Founded in 2008, The h.wood Group is led by John Terzian and Brian Toll. Its other Delilah restaurants are in Los Angeles…
U.S. Secretary of Transportation Pete Buttigieg Has Miami Metrorail North Corridor On His Mind
U.S. Secretary of Transportation Pete Buttigieg has Metrorail 's North Corridor expansion on his mind, according to the Herald. Miami-Dade Mayor Daniella Levine Cava spoke to Buttigieg about the project, the report said. "If I didn't already have the North Corridor on my mind when I got here, the mayor made sure that I'm going to have it on my mind as I leave," Buttigieg said.
$1.6B MIA Terminal Projects To Be Advertised Within Months
Two major terminal projects at MIA are moving forward, according to Miami Today. A design-build package for the $754 million South Terminal expansion will be advertised to bidders in January, Miami-Dade's Aviation Director Ralph Cutié said. In addition, a redesign of the $863 million Central Terminal renovation will be advertised within months. A design for a rebuild of the highly…
30-Unit Indigo Planned for Pier Sixty-Six Development at 2301 S.E. 17th Street in Fort Lauderdale
Orlando-based Tavistock Development Company has launched sales for Indigo, a high-rise condo within the larger Pier Sixty-Six hotel project. The condo will measure 11 stories above grade, offering 30 luxury units. Most of the venture's homes will be three-bedroom units measuring about 2,900 square feet each. There will also be a 5,824-square-foot penthouse with views…
Self-storage REIT scoops up newly built Tamarac facility for $20M
Strategic Storage Growth Trust III bought a newly built self-storage facility in Tamarac for $19.5 million. The private real estate investment trust, sponsored by Ladera Ranch, California-based SmartStop Self Storage REIT, bought the five-story building at 8251 West McNab Road from Blue Vista Capital Management and SouthWestern Property, according to records and real estate database Vizzda.
Massive 125-acre Mixed-Use "the Park Miramar" to Offer Various Ventures
Sunbeam Development Corporation has announced that it's moving forward with the Park Miramar, a 125-acre mixed-use project. The multi-million-dollar project will offer 325,000 square feet of retail, featuring an anchor grocery store. Katz & Associates notes that it's looking for additional tenants, with openings available in the high-end retail, entertainment, and restaurant…
Arnaud Karsenti's 13th Floor lands construction loan for Delray Beach senior housing
Arnaud Karsenti's 13th Floor Homes landed a $14.1 million construction loan for a senior housing community in Delray Beach. The Miami-based development firm received financing for its Solera at Avalon Trails project from the Canadian Imperial Bank of Commerce, according to a press release. The planned development at 14800 Cumberland Drive will have 74 rental townhouse…
Vine at Clematis Set for November Construction at 512 Clematis and 130 Quadrille Plaza Drive in West Palm Beach
West Palm Beach is currently undergoing a development boom as more and more out-of-state businesses bring their offices to the Sunshine State. Enter Vine at Clematis, a five-story community that will offer 88 apartments. Most of the Class A homes will hover around 557 square feet, and not much is known about their interior amenities at this time. However, we do know…
Arden pays $43M for industrial buildings in West Palm
Arden Group's logistics investment division bought three warehouses in West Palm Beach for $43 million. Arden Logistics Parks scooped up the three buildings at 1100, 1300 and 1500 North Florida Mango Road from affiliates of Alliance HP, according to records and real estate database Vizzda. The buyer assumed the $24.1 million balance of the seller's loan and increased it…
The Fed: Is Inflation on the Way Out or Here to Stay?
Since March 2021, inflation has been above the Federal Reserve's 2% target. After peaking in June 2022, inflation—measured as the 12-month change in the personal consumption expenditures (PCE) price index—trended steadily downward for a year. This decline reversed in July and August 2023, though some other measures of inflation continued to fall. Regardless of how we measure…
Owners need to future-proof warehouses
Logistics, the darling of the real estate sector, may be in for a reckoning as technological advancements make some warehouses obsolete. Over the past several years, warehouse and distribution properties have grown from one of the smallest of the main real estate property types with an unexciting but dependable return profile to the hottest sector. Investors have been overweighting…
Southeastern USA Economy Growing Slowly, Beige Book Says
The Southeast economy grew slowly from mid-August through September as labor markets continued to loosen and price pressures mostly stabilized, according to the new Beige Book report from the Federal Reserve Bank of Atlanta. Employers in the Atlanta Fed's district cited various markers of softening in labor markets. They said it was easier to find and keep employees…