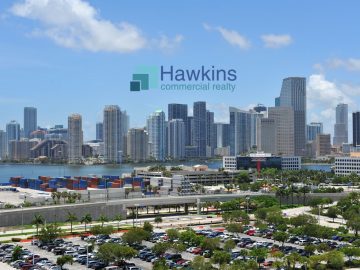 Electra, BH purchase former Cutler Bay Sears store for $34M
Seritage Growth Properties' Andrea Olshan and Electra America's Joe Lubeck with former Sears store at Southland Mall, 20505 South Dixie Highway:  Electra America and BH Group added a former Sears store to the joint venture's Southland Mall assemblage slated for a $1 billion overhaul. The joint venture acquired the 130,000-square-foot big box building for $34 million from Seritage…
Ugo Colombo and Craig Robins' trial begins over $19M plane loan
CMC Group's Ugo Colombo and Dacra's Craig Robins with a Bombardier Challenger jet (Ugo Colombo, Dacra, Bombardier, Getty) A pair of prominent Miami developers are duking it out again in Miami-Dade Circuit Court in what could be the closing chapter to an epic 12-year-old legal war over a private plane they jointly owned in the late 2000s. Dressed in natty suits, Ugo Colombo…
Pérez's Related scoops up multifamily dev site in North Miami
Jorge Pérez's Related Group bought a multifamily development site at the closed Johnson & Wales University campus in North Miami. The Coconut Grove-based firm plans Manor Biscayne, an eight-story building with 382 apartments and 9,000 square feet of retail on a parking lot at 1650 Northeast 124th Street. Yoram Izhak's IMC Equity Group sold the 3-acre site for $13.6 million…
The Fed's Beige Book: Worker Shortage Improving, Home Sales Falling
Economic activity in the Southeast expanded "slightly" from the middle of August through September, as a shortage of available workers eased somewhat, according to the Federal Reserve Bank of Atlanta's Beige Book compilation of reports from business contacts. Most employers said pressure to increase wages remained but had lessened in recent months. Although most…
Ganja time: Miami to vote on medical marijuana dispensary rules
Developer Michael Comras isn't ready for his medical marijuana dispensary plan to go up in smoke. Comras, of Miami Beach-based Comras Company, is asking the Miami commission to overturn a city board's decision that shot down his bid to open a store in the MiMo Biscayne Boulevard Historic District. It's the latest in the drawn-out controversy over dispensaries in the city that…
Mount Sinai cancer center clears Miami Beach hurdle
Mount Sinai Medical Center's Irma and Norman Braman Cancer Center in Miami Beach is on schedule and projected to open in September 2025. This month, Mount Sinai Medical Center received approval from the City of Miami Beach Design Review Board, which is one of the principal components of getting the cancer center approved from a design standpoint, Gino Santorio…
Coral Gables project adds two parks, swaps historic rights
A 16-story mixed-use development known as 1505 Ponce got the green light to proceed with plans after obtaining a transfer of development rights from seven historic properties and offering to create two permanent parks. On Tuesday, Coral Gables commissioners gave the OK for Location Acquisitions LLC, the contract purchaser of 1505 Ponce de Leon Boulevard, to proceed…
In Coconut Grove, Tigertail building's strange geometry
A new mixed-use residential project is coming to Coconut Grove, at 2835 Tigertail Ave. Residences in the Grove will offer 174 dwellings, ground floor commercial, and basement parking. The site is north of Tigertail, on the corner of Mary Street. The city's Urban Development Review Board unanimously recommended approval. Iris Escarra, an attorney representing the developer, explained…
Buyer's Due Diligence; What Can A Level II Thermographer Do?
Miami-Dade County has made significant changes to the 40-year recertification requirement for commercial buildings since the Surfside condo collapse in 2021. One change includes lowering the age of a building to 25 or 30 years rather than 40, and another significant change is the introduction of an infrared electrical inspection performed by a certified Level II thermographer.
Lease roundup: Link Logistics, Gatsby, Lincoln score tenants
Challenge Warehousing I Port Everglades Distribution Center I Dania Beach Challenge Warehousing moved to Port Everglades Distribution Center in Dania Beach. The firm leased 82,000 square feet of industrial space at 1900 Northeast Seventh Avenue from Blackstone's subsidiary Link Logistics, according to a news release from the tenant's broker. JC Conte and Brian Ahearn of Butters…
Video: Federal Reserve Real Estate Subject Matter Expert Brian Bailey Discusses the Fed's View on Commercial Real Estate 2022
In this video, Brian Bailey, Federal Reserve Real Estate Subject Matter Expert, joins America's Commercial Real Estate Show to shares view on the commercial real estate market. He discusses expectations for the fed funds rate, then goes on to discuss balance sheet health of banks and the implications for lending. This is a varied discussion that goes from remote working trends…
During the past two years, large tech and venture companies relocated to South Florida, fleeing high-tax locations. The Wynwood BID has been positioning the neighborhood to grow in stature to become a 24/7 mixed-use community. A short list of companies already committing to office space in Wynwood includes Founders Fund, Spotify, Technology SA, Blockchain.com…
Ranaan Katz's RK Centers buys Aldi-anchored plaza near North Miami
RK Centers' Ranaan Katz, Seritage Growth Properties' Andrea Olshan, an aerial of 10790 Biscayne Boulevard and 1290 Northeast 108th Street in Miami-Dade County: Seritage Growth Properties is continuing to retreat from its South Florida retail real estate assets. After the firm's board recommended this summer that it liquidate its properties, Seritage sold the shopping plaza with…
Canceled: Related, 13th Floor's $500M Miami Beach condo buyout falls apart
13th Floor Investments' Arnaud Karsenti and Related's Jorge Pérez with 5445 Collins Avenue: One major South Florida condo buyout has fallen apart, after a group of unit owners blocked the half-a-billion-dollar deal, The Real Deal has learned. The Related Group and 13th Floor Investments confirmed they pulled out of their proposed purchase of the Castle Beach Club condo in Miami Beach.
Russell Galbut scores approval for Art Deco hotel renovation
Russell Galbut's Crescent Heights can move ahead with plans to build two additional floors at the Regent Hotel… The Miami Beach Preservation Board on Monday approved a Galbut affiliate's request to demolish the rooftop pool and deck of the two-story Regent that is adjacent to the three-story Gale Hotel at 1690 Collins Avenue. The two new floor…
Mexican restaurateur sells Edgewater development site for $21M
Mexican restaurateur Juan Carlos Cachoua sold an assemblage in Miami's Edgewater for $21 million, adding to the buyer's adjacent portfolio. An entity managed by Maria Menzel in Coral Gables purchased the six contiguous properties totaling 0.8 acres, according to the brokers… The properties include: an 11,000-square-foot retail building at 2699 Biscayne Boulevard…
Video: Senior Economist with Moody's Analytics Thomas LaSalvia Discusses Retail Real Estate Outlook and Strategies
Thomas LaSalvia, Senior Economist with Moody's Analytics, joins this commercial real estate show to discuss the latest performance and cap rates for retail commercial properties. Discussions include a forecast for current markets as well as some strategies for retail property investors.The post Video: Senior Economist with Moody's Analytics Thomas LaSalvia Discusses Retail Real Estate…
Video: John D'Angelo, U.S. Real Estate Solutions Leader at Deloitte, Discusses his Firm's 2023 Commercial Real Estate Outlook
In this awesome video covered are highlights and takeaways from Deloitte's annual outlook survey of Real Estate Chief Financial Officers. John D'Angelo, U.S. Real Estate Solutions Leader, joins this commercial real estate related show to discuss this report and planning for 2023 in general.The post Video: John D'Angelo, U.S. Real Estate Solutions Leader at Deloitte, Discusses his…
Rock Soffer, partners bet on Little River multifamily
Turnberry's Rock Soffer, Native Construction's Gaudi Castro and Cade Capital's Jose Vizcarrondo with 123 and 137 Northeast 79th Street: Most developers in Miami's Little River bet on retrofitting aging buildings into trendy dining and retail spots. But they stop short of ground-up residential construction. Rock Soffer, Gaudi Castro and Jose Vizcarrondo aren't most developers.
Amid Unyielding Labor Shortage, Construction Leaders Call For Immigration Reform
With billions in federal funding set to flow to infrastructure projects across the country in the coming years, the labor shortage that has long plagued the construction industry could get even direr. In order to build the projects spurred on by the passage of the Infrastructure Investment and Jobs Act, CHIPS Act and the Inflation Reduction Act over the last two years, construction…
Fort Lauderdale developer launches condo project planned as rentals
Ocean Land Investments plans to launch condo sales of Sixth & Rio, a boutique residential building that was planned as rentals. Fort Lauderdale-based Ocean Land, led by founder and CEO Jean Francois Roy, said that construction costs for the 94-unit building were 40 percent higher than originally priced. That prompted the switch to condos for the project planned for 501…
AMAC, ROVR score $41M construction loan for Hollywood project
AMAC founders Maurice and Ivan Kaufman and ROVR Development principals Oscar Rodriguez and Ricardo Vadia with a rendering of Griffin 441: AMAC and ROVR Development broke ground on a 180-unit multifamily project in Hollywood having secured $41 million in construction financing. Ocean Bank provided the loan to the joint venture, according to a press release.
BTI wins key approvals for major downtown Hollywood development
BTI Partners won site plan approval and a rezoning for Block 57, a two-tower, mixed-use development in downtown Hollywood with 856 planned apartments. The Hollywood City Commission granted the approvals Wednesday amid concern about future traffic patterns around the 3.2-acre development site on Young Circle. Along with 856 apartments, Block 57 will have about…
Cymbal DLT lands $31M construction loan for Fort Lauderdale apartment towers
Cymbal DLT Companies nabbed a $31 million construction loan for a pair of Fort Lauderdale towers, but the firm doesn't expect to break ground until next year. The Miami-based developer and general contractor won financing from 3650 REIT, which also recently funded construction of another Cymbal DLT multifamily project in South Florida, according to a press release. The funding…
Grupo Eco plans 12-story office building in Hallandale Beach
Grupo Eco won a rezoning for its planned 12-story office building in Hallandale Beach, the fourth phase of the mixed-use Atlantic Village development on Federal Highway. The building will have 97,735 square feet of office space on the top five floors, 7,745 square feet of ground-floor retail and restaurant space, and a parking garage with 298 spaces from the ground floor to the seventh…
Developer advances affordable housing project in downtown Hollywood
Hollywood gave conditional approval to a design and site plan for University Station, an eight-story, affordable rental development by Housing Trust Group. The Hollywood City Commission conditioned its approval on a pledge by Coconut Grove-based HTG to restore the curvy architectural style that the developer originally proposed for University Station. The commission also…
Foundry Commercial Breaks Ground on Coral Springs Industrial Park
Osprey Logistics Park groundbreaking event. Image courtesy of Foundry Commercial Foundry Commercial has broken ground on Osprey Logistics Park, a two-building industrial development in Coral Springs, Fla. Slated to rise on 22 acres, the project will bring a total of 427,000 square feet to the South Florida industrial market. Located at the intersection of Northwest 39th street…
Doronin, partner buy aging waterfront Palm Beach co-ops for $147M
OKO's Vlad Doronin and Cain International's Jonathan Goldstein with 2730 South Ocean Boulevard and 2720 South Ocean Boulevard: Vlad Doronin's OKO Group and partner Cain International bought a pair of co-op buildings in Palm Beach for a combined $146.6 million. The purchase comes as real estate investors have targeted aging waterfront structures for redevelopment, following…