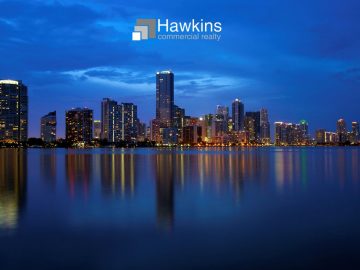 Photos Show the Massive $452 Million River Landing Project Now Complete
River Landing Shops & Residence, a massive mixed-use complex, is now open on the Miami River. It took nearly a decade to develop the project. Developer Urban-X Group first put the former Mahi Shrine Auditorium property where River Landing is located under contract in 2011. River Landing is a $452 million development with 2.2 million square feet…
$11.6M Sale of Former Newspaper Printing Facility in Metro Miami Arranged
Cushman & Wakefield has arranged the $11.6 million sale of the former Miami Herald Printing Facility in Doral. The three-story warehouse spans 118,993 square feet and features 15 dock-high positions, one grade-level ramp and clear heights from 10 feet to 46 feet. The property was built in 2013 and is situated at 3500 NW 89th Court, 14 miles west of downtown…
$23 Million Miramar Office Sale Brokered
Cushman & Wakefield has facilitated the $22.6 million sale of Miramar Tech Center, a 56,710-square-foot Class A office property in Miramar, Fla. Scott O'Donnell, Mike Ciadella, Dominic Montazemi, Greg Miller and Miguel Alcivar negotiated on behalf of the seller, United Data Technologies. The brokerage's Jason Hochman secured a $13.6 million acquisition loan for…
Miami board again votes against a downtown Melo skyscraper
A Miami review board has unanimously recommended denial of plans for a skyscraper downtown from The Melo Group, advice the outgoing city planning director ignored for another Melo project that is now rising. The denial vote Oct. 21 is rare for the Urban Development Review Board, whose role is to advise the planning director. The latest Melo proposal…
Commercial Property Borrowing Cost Quarterly 2020 Q3: 5-Year Treasury Remains Naught-y
Yields on 5-year U.S. Treasury Notes continue to remain at lows reached as we began the era of COVID. As can be seen in the chart above, these rates, most closely tracked for commercial real estate financing cost, plummeted from what were already considered low levels to under 50 basis points (0.5%), barely hovering over zilch, where they have been since. Though…
Atlanta Fed: Beige Book Finds Slow Improvement but an Economy Still Lagging
A now-familiar pattern—economic growth picking up but still below pre-COVID levels—prevailed across the Southeast over the past several weeks. But two new factors joined the pandemic to hamstring commerce, as Hurricanes Laura and Sally disrupted energy production and transmission and damaged crops, farming infrastructure, and property across coastal…
Chart: August Miami-Dade Unemployment Level Reaches Lowest Level Since March
From its peak of 14.5% reached in only the prior month, the unemployment rate in Miami-Dade county plummeted in August (8/1) to 8.1%, the lowest level since March when unemployment had jsut started to creep up but was still in low single digits (3.7%). The continuing effects of COVID-19 on employment, and thus the economy, in the Miami area continue can be…
Saks Fifth Avenue Lender Looks To Foreclose On Miami Store
The pandemic has pounded traditional retailers. Landlords and lenders involved with properties ranging from large malls to urban shopping areas are sizing up their options — and some are playing tough. Lenders to the Saks Fifth Avenue store at Miami's Dadeland Mall are foreclosing on its owner, The Wall Street Journal reported. The owner defaulted in April…
South Florida by the numbers: 2020 presidential election and real estate
"South Florida by the numbers" is a web feature that catalogs the most notable, quirky and surprising real estate statistics. You may know that Election Day is Nov. 3. (With all kidding aside, however, will we know who is the winner by the next time this column is published?) Some pundits are predicting a close and heavily contested election, with the added…
Biscayne Boulevard residential tower with grocery wins OK
A large development bringing together more than 500 residential units and a major grocer has garnered a positive vote. Crescent Heights of America Inc. and its affiliated entities propose 2900 Biscayne, a 38-story mixed-use tower on land at 2900 Biscayne Blvd., and the city's Urban Development Review Board unanimously recommended approval. The site is at 2900…
Poor hospitality: Hotel owners in big cities hit major tipping point
All of the lights in the Hilton Times Square have been pitch black for weeks — one of several ominous signs for hotel owners in New York and other large cities around the country. The owner of the 478-room property, just blocks away from Broadway and Bryant Park, disclosed plans to the state's Labor Department last month to permanently shut its doors and lay off…
Supreme Court shift could favor rent law challengers
When landlord groups filed a federal lawsuit challenging New York's rent law last year, they already had their eyes on the U.S. Supreme Court. Now, with the appointment of a sixth conservative judge, their case may have a better shot at being heard by the nation's highest court. Amy Coney Barrett was sworn in Monday night as the 115th justice in the court's history.
Miami-Miami Beach ferry service 'at one-yard line'
Poseidon Ferry LLC, soon to offer daily waterborne commuter transportation between Miami and Miami Beach, will officially launch with an evening Music Cruise on Nov. 6, said CEO Johnathan Silva. The company's core business, commuter service – still in the doldrums of permitting – should follow soon. "We're at the one-yard line right now…"
Super Bowl economic impact touches down at $571 million
Fueled by shrinking supply and rising demand, Miami-Dade single-family home sales are close to a buying frenzy, with median sale prices increasing for 106 consecutive months and rising 15.2% in the year that ended Sept. 30, figures from the Miami Association of Realtors show. The average single-family home now sells for $435,000, September figures show. The hottest…
Cross-bay transit is vital, but blank-check deal is all wrong
Miami-Dade made a costly bet plopping down $8 million for designs of a multi-billion-dollar monorail in a deal with a global firm whose true interest is a mammoth gambling resort. The consortium that includes Malaysian casino mogul Genting aims to build a monorail linking Miami to Miami Beach and then operate it. But taxpayers would repay the group…
Life Time launches preleasing of $500M Coral Gables mixed-use multifamily project
Life Time launched preleasing of a major mixed-use multifamily development in Coral Gables that will include a 70,000-square-foot athletic resort and a 22,000-square-foot shared workspace component. Nolan Reynolds International is set to complete the $500 million, 1.2 million-square-foot project previously known as Gables Station. Life Time is…
Miami developer sued for running boat over Biscayne Bay swimmer's leg
A Miami real estate developer is facing allegations that he ran over a swimmer with his boat in Biscayne Bay near Bay Harbor Islands, slicing her leg and causing permanent injuries. Theresa Murray filed suit in Miami-Dade Circuit Court Court on Monday, alleging that Irwin Tauber's 41-foot boat's three bladed stainless steel propellers sliced her leg and ankle…
Miami Developer Maimed Swimmer In Yachting Accident, Lawsuit Says
A Miami woman alleges that shopping center developer Irwin Elliott Tauber ran over her with his yacht in Miami's Biscayne Bay in April, causing serious injury to her extremities. He also allegedly refused to render first aid. Tauber is the CEO of Taubco, which owns Causeway Square, an LA Fitness-anchored mixed-use building at the corner of Biscayne Boulevard…
Here are the most active players in the loan workouts space
Barneys' former space on Madison Avenue was hanging by a thread. A $76 million balance on the building's debt, which Ashkenazy Acquisition took out in 2010, was set to mature in July. And after Barneys filed for bankruptcy and shut down all of its stores this February, Ashkenazy was forced to tap the retailer's letter of credit to make debt service payments…
Homestead Park of Commerce Sold for $35M to Copart USA
October 2020 – ComReal is proud to announce the sale of 117 acres within The Homestead Park of Commerce in South Dade and welcome Copart USA to the City of Homestead! The sales price was $34,746,716. Copart was represented by the ComReal team including Ed Redlich, Ron Redlich, Chris Spear, Edison Vasquez, Mort Fetterolf and Patrick McBride. The seller…
When the music stops: Guitar Center could file for bankruptcy
The music could stop at Guitar Center in the near future. The retailer is preparing for bankruptcy after missing a $45 million interest payment on its debt, the New York Times reported. The company has reached out to creditors to explore a plan where it could emerge from bankruptcy in 2021. The possibility of bankruptcy comes after Moody's and S&P downgraded…
Does taxing the wealthy really drive them away?
This year's spring housing market came a couple of months later than usual to the leafy suburbs of New Jersey. But it was worth the wait. Michele Kolsky-Assatly, a veteran agent with Coldwell Banker focused on Bergen County's luxury market, has been busier than ever with the exodus of families from New York City. "They never want to be locked up in a high…
Macken wins approval for North Miami Beach townhomes
Macken Companies Principal Alan Macken and a rendering of the project North Miami Beach-based developer Macken Companies received site plan approval for a waterfront townhome community in the city's Eastern Shores neighborhood. The company hopes to break ground on the 10-unit Koya Bay, along the Intracoastal Waterway at 4098 Northeast 167th…
Abandoned malls get new life as senior housing
As more malls and shopping centers close or see their anchor tenants fall into bankruptcy, they may be repurposed for a new use: senior housing. George and Pat Ritzinger are among the early beneficiaries of the trend: The couple moved to Folkestone, a retirement community in Wayzata, Minnesota, developed on land that formerly housed a shopping mall built…
Blackstone makes $1.2B deal with Brookfield for Simply Self Storage
Blackstone Group is buying Simply Self Storage from Brookfield Asset Management for about $1.2 billion, Bloomberg reported. Brookfield bought the storage company in 2016 and has more than doubled its footprint; it now has more than 8 million square feet of space across the U.S. It started seeking buyers for the company earlier this year. With this deal……
Jules Trump talks luxury towers and assembling in Sunny Isles Beach in TRD's Coffee Talks
In excess-loving South Florida, there's always room for more — more mansions on the waterfront, more luxury penthouses, and more Trump. TRD's latest episode of Coffee Talk includes just one Trump. Not Donald, not Eric or Don Jr., but one whose name South Florida industry experts know just as well — South African-born developer Jules Trump. Though he…
The metamorphosis of the metropolis
After years of sparring over its highest and best use, the fate of 5 World Trade Center was left to a competition. The Port Authority of New York and New Jersey and the Lower Manhattan Development Corp. last year announced what was effectively a truce: The agencies would consider both residential and commercial visions for the site. Among them were…
Covid pummeled shopping centers, but their parking lots are thriving
While many traditional streams of income for landlords have slowed or dried up due to the pandemic, one has proven to be a surprising earner: parking lots. Landlords of large parking lots and garages have been renting out those spaces for a variety of activities, including open-air retail, job fairs, polling stations and drive-through COVID-19 testing, the Wall Street…
Kendall Corners Florida Retail Shopping Center Gets a New Tenant, Aldi
Key Points Regarding the New Aldi Lease in Kendall Corners MMG acquired the Kendall Corners retail center in March 2017. The Kendall Corners' original business plan included replacing Ashley Furniture with a grocer upon their lease expiration in 2020, as a means to incorporate more grocery-anchored retail centers to the portfolio. Ashley Furniture…
Active South Florida Lender Bank OZK's lending up in third quarter
New York's commercial real estate market has been pummeled by the pandemic, but one of its biggest condo construction lenders reported almost no write-downs in the third quarter. On its earnings call Friday, Arkansas-based Bank OZK reported that its net charge-off rate, or ratio of loans written-down to total loans originated, was 0.09 percent. That is well……
Do over: North Miami Beach to re-vote on Dezer's plan to redevelop Intracoastal Mall
Dezer Development will return to the North Miami Beach commission for a re-vote on two ordinances tied to the contentious redevelopment of the Intracoastal Mall, despite securing approval earlier this week. In the Zoom commission meeting on Tuesday that ended after 2 a.m., two commissioners were absent for the vote. Still, the two ordinances passed…
MG3 buys former Miami Herald printing facility for $12M
Miguel Alcivar, Wayne Ramoski, Gian Rodriguez, Dominic Montazemi and Skylar Stein of Cushman & Wakefield MG3 Group, an Aventura-based private real estate company, bought the former Miami Herald printing facility in Doral for $11.6 million, a $2.3 million loss from its previous sale in 2016. Records… the three-story warehouse at 3500 Northwest 89th Court.
Eight stats tell the tale of Adam Neumann's rise, fall, and return
Alfred CEO Marcela Sapone and Adam Neumann Adam Neumann is back. In his first venture since leaving WeWork last year, the eccentric and brash Israeli entrepreneur is investing $30 million in Alfred, a "future of living" startup that provides apartment services such as dog walking, maintenance and rent processing, according to Bloomberg. Neumann's family…
At final presidential debate, talk of Opportunity Zones and "little tiny windows"
At Thursday's presidential debate, there was less interrupting and more real-estate related discussion. The event marked the final faceoff between President Donald Trump and former Vice President Joe Biden before Election Day. Housing was only briefly acknowledged in the first debate, which devolved into more of a shouting match than polite discourse.
Gap Inc. will close 350 stores and exit malls entirely
Another big retailer is leaving struggling malls behind. Gap Inc. announced Thursday that it will close 350 of its stores —220 of its namesake Gap shops, and 130 Banana Republic outposts — by early 2024, ABC News reported. Eighty percent of its remaining stores will be in off-mall locations, according to ABC News. "We've been overly reliant on low-productivity…
South Florida industrial market shows signs of weakness in Q3
South Florida's industrial market — believed to be resilient to coronavirus as demand for distribution space and cold storage grows with online shopping — did show some signs of weakness in the third quarter, according to a newly released report. In Palm Beach County, 350,000 square feet of industrial space was…
Sold! Online auto auctioneer pays $35M for Homestead land
Going … going … gone. A publicly traded provider of online car auctions paid $34.75 million for 117 acres of land in the Homestead Park of Commerce. Copart USA, founded in 1982 and based in Dallas, bought the land at Southeast 36th Avenue and Southwest 336th Street. The site includes a 32,453-square-foot Class A distribution warehouse, according to a…
Rent collections in market-rate apartments stagnate in October
Rental payments for market-rate apartments are holding steady from September, but down slightly from last year. The National Multifamily Housing Council's monthly payment tracker, which collects data on collections in 11.4 million market-rate units, found that 90.6 percent of those households paid some rent by Oct. 20. In 2019, about…
Miami board approves plans for Related, Crescent Heights towers and rejects Melo's proposal
A city of Miami board rejected plans for Melo Group's latest downtown Miami project, and approved plans for separate projects from Crescent Heights and the Related Group. On Wednesday, the Miami Urban Development Board unanimously approved Crescent Heights' 38-story tower at 2900 Biscayne Boulevard and a 37-story mixed-use project at…
Sunny Isles mayor sells Hialeah warehouse for $13M
A company tied to the mayor of Sunny Isles Beach and a fellow South Florida real estate investor sold a 160,000-square-foot warehouse in Hialeah for $13.1 million. George "Bud" Scholl, elected mayor in 2014 and re-elected in 2018, and investor Steven M. Rhodes sold the industrial building at 1101 East 33rd Street, The Real Deal has learned. EverWest Real Estate…
Logistics Company Relocates. Inks New 93,000-SF Lease Deal
IFS Neutral Maritime, a consolidation, cargo and logistic company, inked a 7-year lease deal for 93,320 square feet at Turnpike Commerce Center (TCC) located at 1350-1400 NW 121st Avenue in Doral, with plans to occupy the building in its entirety in January 1, 2021. The deal closed October 7. Hector Catano, president of Cornerstone International Realty, represented the…
Midtown Capital Partners buys Miramar office center for $23M
A Miami real estate investment and asset management firm bought the Miramar headquarters of an information technology company for $22.6 million. Records show Midtown Capital Partners bought the Miramar Tech Center at 2900 Monarch Lakes Boulevard. A company affiliated with United Data Technologies, or UDT…