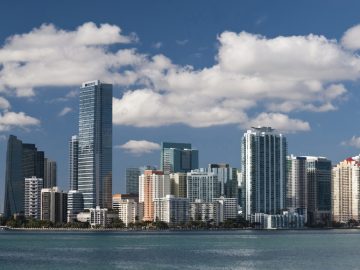 Bridge Investment picks up downtown Miami's Museum Tower for $65M
Bridge Investment Group paid $64.6 million for downtown Miami's Museum Tower, marking the company's fourth office acquisition in South Florida this year. The Salt Lake City-based investment firm bought the 259,666-square-foot Class A office tower at 150 West Flagler Street for $250 per square foot, records show. Dallas-based Gaedeke Group sold the building. Gaedeke Group paid…
Bridge Investment Group Snags Miami Office Tower for $65M
Bridge Investment Group has acquired Museum Tower, a 259,666-square-foot office tower in Miami's central business district. The sales price was reported as $64.6 million. Located at 150 West Flagler St., the 29-story tower was originally built in 1986. Since 2016, more than $3 million of capital has been invested in the building, including upgrades to HVAC and security systems, an overhauled fire alarm…
Apartment REIT Aimco Buys Brickell Bay Office Tower for $157M
A multifamily investor looked like it was changing its stripes when it bought the 1001 Brickell Bay office tower in Miami for $157 million in South Florida's second biggest office sale of the year. But maybe not. The transaction remained off the radar since closing three months ago with Aimco buying majority control of the owner of the building on Biscayne Bay. The purchase was reported in the company's…
The Fed lowers rates, and once again real estate is loving it
There may come a time when a Federal Reserve interest rate cut is met with skepticism from the broader real estate industry. But now is not that time, experts say. Investor interest in real estate deals has climbed since the Fed first started cutting rates in July, through to its third and latest round of cuts announced Wednesday. Lowering interest rates makes other asset classes such as bonds less attractive,
Mana Group reveals timeline for downtown Miami plans
Moishe Mana and a map of the project It's been nearly a decade since developer Moishe Mana began buying real estate in Miami, and now his team has released a construction timeline for his major redevelopment of downtown. The Mana Group unveiled plans for the project at a community meeting on Tuesday night, giving a rare glimpse of the first buildings that the development firm is working…
JPMorgan to invest $5M to build 150 new affordable rentals in South Florida
JPMorgan announces $5M investment in affordable housing in South Florida at the Black Archives Historic Lyric Theater in Overtown on Wednesday Areas near the Virgin Trains USA stations in Overtown and Fort Lauderdale could see a wave of new affordable housing. JPMorgan Chase announced on Wednesday it plans to invest $5 million to develop affordable housing in South Florida in areas near…
Fifth delay shoves 22-acre Little Haiti project vote to February
An application for a 22-acre Little Haiti project has stagnated in a City of Miami board, with members deferring action once again because the developer hasn't got an adequate traffic study nor done enough strategizing to protect surrounding neighborhoods. The Planning, Zoning and Appeals Board unanimously deferred a land use designation change for the Eastside Ridge special area plan (SAP) to…
Jackson Health System targets 2020 Doral hospital finish
Jackson Health System is still targeting late 2020 to finish construction on the new José Milton Memorial Hospital at the Jackson West Medical Center in Doral, give or take a couple months, according to Jackson President and CEO Jose Migoya. "We believe it should be done around October [next year]," he said Monday. "Then we have 60 days to be operational. We hope to open doors to patients…
Miami Worldcenter tower beside Freedom Tower OK'd
As continued construction brings the sweeping Miami Worldcenter to life in the heart of the City of Miami, the southern edge of the mixed-use project is coming into focus. Sixth Street Miami is to include several uses in one tower and its expansive podium at 601 NE First Avenue. The site is bordered on the north by FEC railroad tracks, on the east by Northeast Second Avenue, on the south by Northeast…
Virgin Train to run from PortMiami to Disney World
Within three years, Florida's visitors and residents may be able to go to Disney World or Universal Studios, then take a Virgin Train directly from Orlando International Airport to PortMiami and board a cruise ship – or vice versa. That potential boon to the Sunshine State's tourism industry moved closer to reality Tuesday, when Miami-Dade lawmakers unanimously OK'd terms of an estimated $53.3…
Chart: Miami-Dade County Unemployment Rate Creeps Up, but Remains Low at 3.5%
As can be seen in the accompanying chart, the unemployment rate remains low at 3.5%. It has, however, crept up from its recent even lower -the lowest since 2007 – levels of 3.0%. These minuscule levels of unemployment are a marked improvement from the 12.4% peak reached in 2009 following the subprime mortgage crisis. An uptick like this current one may very well be only a blip – let's hope…
Repurposing historic church adds 40-story Biscayne Boulevard tower
A plan to repurpose a historic church building on Biscayne Boulevard and build a new residential tower next door is back before the City of Miami with a new design. Fifteen 1836 Biscayne LLC intends to redevelop a church at 1836 Biscayne Blvd. and construct an adjacent 40-story building for more than 360 dwelling units and parking levels to accommodate 421 vehicles. A similar plan for the property was…
300 Affordable Units Coming Along FEC Rail Corridor
The South Florida Housing Link Collaborative, a coalition of five nonprofit groups, announced a $5M investment Wednesday from JPMorgan Chase, which will be used to develop affordable, resilient housing along the Florida East Coast Railway line in Miami-Dade, Broward and Palm Beach counties. Miami Mayor Francis Suarez, Florida Lt. Gov. Jeannette Nunez and former U.S. Sen. Mel Martinez…
$1.9 billion Metrorail extension may run to Broward
Eleven months after voting that rapid transit to the Broward County line should use an "elevated fixed guideway," Miami-Dade's transportation planning board today (10/31) may choose a $1.9 billion Metrorail extension. State consultant WSP compared Metrorail with automated people mover, monorail and urban magnetic-levitation trains for the 9.5 miles through Miami Gardens along Northwest…
What Does "Ordinary Wear And Tear" In A Commercial Lease Really Mean?
This post is adapted from an article that was originally published in the Fall 2019 issue of ActionLine, a Florida Bar Real Property and Trust Law Section publication. Many commercial leases direct the tenant as to the condition in which the tenant must keep the premises during the lease term, or return them to the landlord at the end of the lease term.  It is common for these provisions to carve out "ordinary…"
Developers of historic downtown Miami Post Office building get OK to open multiple bars
Daniel Pena-Giraldi and Luis Rojas, developers of downtown Miami's Langford Hotel, continue moving forward with their plan to convert a century-old building that once served as a Post Office and courthouse into a food and beverage center that will include downtown Miami's first brewery. The Miami City Commission last week unanimously granted an exception that will all…
Can region escape industrial slowdown?
The nation's supercharged industrial real estate sector appears to be braking from its breakneck growth, after taking a battering from a prolonged government shutdown, an escalating trade war, a slowing gross domestic product, global turmoil and sinking CEO confidence. According to NAIOP's third-quarter Industrial Space Demand Forecast, net absorption of warehouse, distribution, assembly, showroom…
Terra Group Completes Coconut Grove Office Building
Terra Group, in partnership with Mayfair Advisors, has completed the construction of Mary Street, a Class A office building in Miami's Coconut Grove at 3310 Mary Street. The seven-story development was transformed from a parking garage into a modern office property by architect Touzet Studio and recently received its temporary certificate of occupancy. The developers broke ground on the project in…
Giant wheel coming to Miami's Bayside Marketplace
Coming soon to Bayside Marketplace: a giant observation wheel. Miami commissioners on Thursday endorsed a revenue-sharing deal and height variance that will enable Sky Views of America to build a 190-foot-tall wheel on city-owned land that's now controlled by Ashkenazy Acquisitions and General Growth Properties, the owners of Bayside Marketplace. Resembling a Ferris wheel, the Sky Views…
Co-living venture Urbin expanding to Miami Beach
Rendering of Urbin Coconut Grove and Rishi Kapoor Developer Rishi Kapoor is betting on co-living, starting with three projects in Miami-Dade. Kapoor, CEO of Location Ventures, is moving forward with a $50 million co-living project at 1234 to 1260 Washington Avenue, now that the Miami Beach City Commission passed co-living legislation for a portion of Washington Avenue from Sixth to 16th streets. Urbin…
Homestead mobile home park sells for $22M
New Aquarius Corp. sold a 200-unit mobile home park in Homestead for $22 million. A company tied to Bradley Dressler of Stuart, Florida bought the mobile home community at 451 Southeast 8th Street for $110,000 per home site. New Aquaris Corp., led by Margitta Di Gennaro of Key Colony Beach, Florida, sold the property. The mobile home community spans 24.3 acres. It last traded for $1.3 million…
Video Montage of Comments About Sea Level Rise from Miami Developers and Brokers
In this short video, a set of Miami developers and brokers offer their views on the effects of sea level rise on the Miami real estate market. These comments were made backstage at a TRD forum held recently at Mana Wynwood. Among those that commented are: Melissa Rose, Managing Director at Ackman-Ziff; Phil Gutman, President of Brown Harris Stevens; Dob Peebles, CEO of The Peebles Organization…
Financing in hand, Florida's first LGBTQ+ senior housing development breaks ground
Carrfour Supportive Housing and The Pride Center have secured all of their funding for what is expected to become the first LGBTQ+ senior housing development in Florida. Construction is now underway on The Residences at Equality Park, a 48-unit building at 2040 North Dixie Highway in Wilton Manors, said Stephanie Berman, president and CEO of Carrfour Supportive Housing. The $15.3 million…
With Booming Numbers, Miami's Hospitality Market Can't Lose
Yeah, yeah, Miami might be underwater soon, but for now at least, the city has a key ingredient going for it: hard numbers. The city is first in employment growth and fourth in population growth, according to a CityLab analysis of fastest-growing cities this August. Last year broke tourism records — 16.5 million overnight visitors and 6.8 million day-trippers came through — and 2019 is likely to top those.
Scaramucci slashes his sights on his Opportunity Zone fund
Anthony Scaramucci's SkyBridge Capital initially sought to raise $3 billion in Opportunity Zone funds to invest nationwide through a REIT, but so far said he has only raised about $30 million. And he has reduced his target to $300 million. "A lot of people misplaced and outsized the demand for what we thought we could achieve," said Scaramucci, the keynote speaker at an NAIOP South Florida event…
South Florida Office Market Still Growing: 'It Has Been The Seventh Inning For 5 Years'
A cyclical peak in South Florida office development appears remote, as demand has been growing faster than the supply of new space. "It has been the seventh inning for five years," said Stiles Senior Managing Director Kyle Jones, using a familiar baseball analogy to describe the timing of the market cycle. Jones joined a slate of office market experts at Bisnow's Office Market Update event last week at the…
Coral Gables Zoning Law: Mixed Use Development Overview
The clear evolution of infill real estate redevelopment in South Florida and Greater Miami is towards a true mixed-use environment that makes areas desirable places to work, live, and play.  Coral Gables, with its vibrant commercial areas, is an example of a municipality within Greater Miami-Dade County that is leading this charge through a specific mixed-use zoning code overlay to promote these…
Cutler Bay Mixed-Use Property Trades
MMG Equity Partners has acquired Centre at Cutler Bay, a 127,072-square-foot office and retail property in Cutler Bay, located at 18901 SW 106th Avenue, from a local private investor for $16 million. Avison Young Senior Vice President Rosendo Caveiro, Principals John Crotty, Michael Fay and David Duckworth, along with Senior Associate Brian de la Fé and Associates Berkley Bloodworth and Emily,,,
Video: Kaseya COO Joe Smolarski Discusses Benefits of its International HQ Location in Downtown Miami
In this Miami DDA produced video, Joe Smolarski, Chief Operating Officer for Kaseya®, discusses benefits of its downtown Miami location. Kaseya® refers to itself as the leading provider of complete IT Infrastructure Management Solutions for managed service providers (MSPs) as well as for internal IT organizations. The company notes that through its open platform and customer-centric…
Equity Residential decries rent control's "chilling effect" on development
Sam Zell's Equity Residential said rent control is having a "chilling effect" on capital going into development. The real estate investment trust, which owns 80,000 units nationwide, saw its total revenue from rental income and fee and asset management increase to $685 million in the third quarter, from $652 million a year earlier. But on Wednesday's third-quarter earnings call, executives pointed to…
Blackstone reports boost in Q3 net income; eyes more industrial buys
Blackstone Group, which has been on an industrial-buying binge, reported a jump in overall net income in the third quarter compared to the same period last year. Blackstone's $779 million in net income from July through September was up more than 75 percent from the $442 million it reported over the same period in 2018, the company announced Wednesday. The numbers were also higher than the…