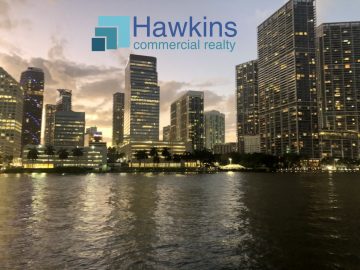 Aventura officials give thumbs-up to 86-unit condo tower
A 26-story condo project is moving forward in Aventura after developers scored a key approval from the city. The Aventura City Commission voted to grant a conditional-use permit for an 86-unit condo tower proposed by a joint venture between 2151 Development Group and 2020 Acquisitions. The tower, dubbed Tal Aventura, will be located at 2785 Northeast 183rd Street.
FTX Swaps Windy City For Magic City, Relocating To Miami From Chicago
Cryptocurrency exchange service FTX appears to be the latest corporate powerhouse to swap Chicago for South Florida, hot on the heels of Citadel Securities announcing a similar move in June. FTX CEO Sam Bankman-Fried said the Bahamas-based financial company would move its U.S. headquarters to Miami via Twitter Tuesday, also announcing the…
Texas restaurant group inks first deal in Miami
Clé Group is opening a restaurant in Wynwood — the Houston-based hospitality company's first expansion beyond Texas as out-of-state operators continue to migrate to Florida. The company inked a 10-year lease for the building at 2600–2610 North Miami Avenue, Hidrock Properties' Steven Hidary said. Clé will lease the entire space, nearly…
Sizing up the booming global market for trophy real estate
A mansion in Dubai won't be completed until next year, but it already holds the title of the emirate's priciest home. A mystery buyer recently dropped 302.5 million dirhams — the equivalent of $82.4 million — for a villa on Dubai's Palm Jumeirah, a tree-shaped artificial island jutting into the Persian Gulf. Though it stands as Dubai's most expensive home sale…
Deauville owners offer $200M for historic Casablanca Miami Beach
The Meruelo family, owners of the Deauville property in Miami Beach, want to buy the historic oceanfront Casablanca resort for $200 million, The Real Deal has learned. The condo-hotel at 6345 Collins Avenue, with about 350 residential and commercial units, was developed in 1948 on a nearly 2-acre site in North Beach. It hit the market this summer. Still, certain events…
Churchill's Pub in Little Haiti hits market
Little Haiti real estate investor Mallory Kauderer is looking to offload Churchill's Pub, the legendary bar known for its raucous punk and heavy metal shows…  marketing the 5,000-square-foot live music venue at 5501 Northeast Second Avenue in Miami and an adjacent 7,000-square-foot parking lot at 5431 Northeast Second Avenue….
US retail real estate rises from the ashes
The onset of the pandemic sent retail real estate through the ringer, first with lockdown-imposed closures before the rise of e-commerce inspired predictions of doom. But the market climbed to new heights earlier this year as asking rents are soaring and vacancies are declining across the country, according to a second quarter report from Cushman…
Real Estate's Florida Migrants Undeterred By Hurricane Ian's Devastation
The pandemic supercharged a mass migration from the Northeast to Florida — and a bevy of New York real estate players shifted their business to follow suit. Hurricane Ian, one of the costliest storms in U.S. history, which displayed the ever-worsening threat of the climate crisis on the Sunshine State and threatens the state's teetering insurance market…
Nine hurdles delaying arrival of Tri-Rail downtown
Steps needed to bring Tri-Rail trains into Miami Central Station are complex. They won't be arriving for another year, as David Dech, new executive director of the South Florida Regional Authority, told two public meetings last week. The project was to be completed in 2017 but several factors have delayed completion of a link to the Brightline station.
College, without a lease, seeks alternative to Tower Theater
Miami Dade College is searching for alternatives after 20 years of operating the Tower Theater art cinema, where Miami city officials decided to terminate the college's lease. For the past 20 months the college has been trying to negotiate, in good faith, to renew the operating agreement with the city before it expires on Jan. 2, 2023, said Nicolas Calzada, MDC…
Muriel Siebert & Co. moving NY headquarters to Miami Beach
A financial institution founded by the first woman to purchase a seat on the New York Stock Exchange is relocating to Miami Beach, thanks to the city's job creation incentive program. Muriel Siebert & Co., which offers investment and other financial advice, portfolio management, and personal and commercial insurance, was founded in 1969 and its current…
Miami applies for Coconut Grove Playhouse building permit
Miami-Dade County has applied with the City of Miami Building Department to obtain the permits and begin reconstruction of the Coconut Grove Playhouse, Chief Operations Officer Jimmy Morales confirmed to Miami Today. Once the county gets the necessary city permits, the county can begin site preparations, procure the construction contract…
Bridge Industrial Acquires Two Miami Gardens Industrial Facilities Totaling ±124,000 SF
Bridge Industrial ("Bridge"), a privately-owned, vertically integrated real estate operating company and investment manager, announced the acquisition of two, well-located industrial facilities totaling 123,814 square feet situated on a strategically located, 6.2 acre site in central Miami-Dade County. The properties are located just south of the Palmetto…
Doral adding new trolley corridor to new UHealth center
Doral residents and commuters will soon have access to a new trolley corridor and a state-of-the-art UHealth center. Miami-Dade County and the City of Doral are partnering to widen Northwest 84th Avenue from Northwest 58th to 74th streets in Doral. The route expansion design would accommodate new bus-only lanes that will be used by Doral's trolley…
In eviction case, trial court wrongly made landlord produce leases with other tenants
IIn eviction case, trial court wrongly made landlord produce leases with other tenantsn a recent decision, the Second District Court of Appeal indirectly addressed an issue that comes up from time to time in landlord-tenant litigation: whether the landlord must produce in discovery documents relating to other tenants. The facts are…
Insured losses from Hurricane Ian could reach $40B
As emergency responders continue their search and rescue efforts in the aftermath of Hurricane Ian, a clearer picture of property damage is beginning to emerge, with one rating company estimating insured losses of up to $40 billion. Hurricane Ian made landfall on Wednesday afternoon at Cayo Costa in southwest Florida, with 155 mile-per-hour winds…
"We're not sort of in — we're all in:" A look at Ken Griffin's plans to reshape Miami
Billionaire Ken Griffin revealed details of his plans to put his stamp on Miami — including a waterfront office tower with a helipad, marina and restaurants — that could cost the Citadel founder and CEO $1 billion to develop. It's well known that Griffin and his companies, Citadel and Citadel Securities, are relocating from Chicago to Miami. The office tower…
Eichner launches sales for second La Baia building in Bay Harbor Islands
Ian Bruce Eichner is launching sales for the second building in his waterfront La Baia Bay Harbor Islands condo project. The developer, who heads New York-based Continuum Company, kicked off sales for the eight-story, 57-unit La Baia North at 9481 East Bay Harbor Drive, with prices starting at $1.3 million, according to a press release. The building will…
Ronny Finvarb proposes new resi project in Sunset Harbour
Developer Ronny Finvarb is returning to the Miami Beach Design Review Board with plans for a new project in Sunset Harbour. At next week's meeting, the board will vote on plans for the developer's mixed-use project at 1790 Alton Road in the Sunset Harbour neighborhood. Finvarb previously sought to build a hotel on the property, but the city…
The Fed: Peaks in Housing Construction as a Recession Signal
Economists have long known that trends in housing construction and sales are important indicators of future real gross domestic product (GDP) growth. The 2001-09 housing boom and bust was the latest example of this phenomenon. Indeed, some economists have gone so far as to claim that "housing really is the business cycle." One key measure of U.S. housing…
Montford, Opterra JV buys Hilton Garden Inn Miami Beach for $28M
A joint venture bought the Hilton Garden Inn Miami Beach from Baywood Hotels for $28 million. Montford Group and Opterra Capital, led by Sunju Patel and Glenn Alba, respectively, bought the eight-story, 96-key hotel at 2940 Collins Avenue, records show. The price equates to $292,000 per room. The partnership secured a $20.2 million mortgage from Georgia-based…
PMG, Greybrook score $235M refi of downtown Miami project
Property Markets Group and Greybrook secured a $235 million refinancing for the Elser Hotel & Residences condo tower in downtown Miami. Franklin BSP Realty Trust is the lender, with the debt fund RMWC also providing a $25 million mezzanine loan for the recently completed 49-story, 646-unit condo-hotel at 398 Northeast Fifth Street, according to a press…
Mortgage rates climb to 15-year high
Mortgage rates hit their highest level in 15 years, continuing a surge that's likely no longer a big surprise in the market, but not any less painful. The average 30-year fixed mortgage rate reached 6.7 percent, according to Freddie Mac's weekly survey of lenders reported by the Wall Street Journal. The figure marks the sixth straight week the average increased and the…
South Florida by the numbers: Living on the Edge(water)
It wasn't so long ago that Miami's Edgewater neighborhood was a faceless, unappreciated section of the city, known for disjointed streets and deteriorating homes and apartment buildings. But as neighboring areas such as Wynwood, the Design District, and the Arts District enjoyed massive redevelopment and rebranding success, the neighborhood bordered…
Chetrit's lender scores victory in South Beach hotel foreclosure
The lender for the Chetrit Group's Tides South Beach hotel notched a win in its $45 million foreclosure case. Safe Harbor Equity's affiliate sued CG Tides and other companies linked to New York-based Chetrit Group over the long-shuttered Tides, a 45-key hotel at 1220 Ocean Drive in Miami Beach. The lender's suit, filed in February 2021, alleged that Chetrit stole $2 million…
LA investor pays $30M for aging 90-unit Fort Lauderdale rental portfolio
A Los Angeles-based investment firm scooped up a 90-unit portfolio of older apartment buildings in Fort Lauderdale for just under $30 million. George Coloney of The Keyes Company (The Keyes Company) Cochise Capital bought the Cordova Arms building at 1401 Southeast 15th Street for $19.5 million and The Isle at 1300 Northeast Third Street for $10.1 million…
Alta pays $21M for downtown Fort Lauderdale multifamily dev site
From left: Alta Developers' Raimundo Onetto, Bizzi & Partners' Davide Bizzi, and Silverback Development's Josh Schuster with 100 Southwest Sixth Street: Raimundo Onetto's Alta Developers bought a downtown Fort Lauderdale development site, taking over construction of a long-planned — but never built — 35-story apartment tower. Alta purchased the 1-acre…
Apollo wins approval for multifamily project in Dania Beach
A developer won site plan approval for a 12-story, 278-unit apartment building in Dania Beach. The Dania Beach City Commission voted 4-1 on Tuesday to approve a variance from zoning rules and a site plan proposed by the Apollo Companies, an Aventura-based firm led by CEO Edward Abbo. The property is near the intersection of Stirling…
Ross' Related nabs $243M construction loan for West Palm offices
Stephen Ross nabbed a $242.5 million construction loan for One Flagler, marking a major boost to the developer's plans for office towers in downtown West Palm Beach. Ross' New York-based Related Companies scored the financing from an affiliate of MSD Partners for the 25-story tower under construction at the foot of Royal Park Bridge overlooking…