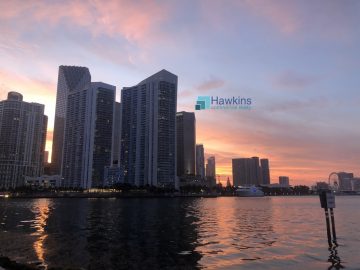 DHL signs 201,399 SF long-term renewal at Prologis Miami Commerce Center
Transwestern Real Estate Services (TRS) announces its South Florida industrial team has secured a long-term lease renewal for DHL Global Forwarding, which occupies the 201,399-square-foot Prologis Miami Commerce Center at 1801 NW 82nd Ave. Transwestern Managing Director Thomas Kresse negotiated the transaction on behalf of owner Prologis.
Doral DoubleTree owner sues architect for $4M, alleging design errors
The owner of the 150-room DoubleTree in Doral sued the architect of the hotel, alleging design defects that cost millions of dollars in fixes and delays. Hospitality Doral LLC, which owns the six-story hotel at 10250 Northwest 19th Street in Doral, sued Beame Architectural Partnership last week in Miami-Dade Circuit Court for $3.7 million. Though the hotel opened in///
Miami-Dade approves three affordable housing redevelopment projects for south Dade
Miami-Dade County approved short-term leases that will enable three developers — the Related Group, Centennial Management Corp. and Procida Development Group — to redevelop county-owned affordable housing projects in south Miami-Dade. Approving short-term, 11-month leases, during a commission meeting on Tuesday, was the first step of…
JV looks to buy up to $175M in distressed resi loans, with focus on NY, Miami
As an increasing number of borrowers skip their mortgage payments, opportunistic investors have been on the lookout for distressed loans sold off at discount prices. A new venture intends to acquire up to $175 million in delinquent loans on properties across the country, particularly in New York City and Miami. The funding will start with a commitment of $25…
Ruby Tuesday will close 185 restaurants
Yet another chain is seeking bankruptcy protection after the pandemic decimated its business. The restaurant chain Ruby Tuesday filed for chapter 11 bankruptcy Wednesday, introducing with it plans to close 185 locations, USA Today reports. The filing will leave the franchise with 236 operating restaurants. The company hopes to stay in business, saying in a…
Jungle Island hotel squeezes past a city board
The plan to construct a hotel in Jungle Island park on Watson Island moved forward last week after it met criticism from some members of Miami's Urban Development Review Board. It took three tries to get a motion passed recommending approval, including several recommended changes. Jungle Island is operated by a private company at 1111 Parrot Jungle Trail, on…
As economy returns, Miami-Dade commissioners might stay away from county hall
Returning to County Hall won't be simple for the Miami-Dade commissioners, as safety, capacity and cost obstacles could prolong virtual meetings even as the local economy reopens. "Our biggest challenge is [the] amount of space for elected officials at the dais," Internal Service Director Tara Smith said during a special meeting on Covid-19 last week. "We can…"
Movie theaters welcome back public with private rentals
By creating safe environments for patrons, local movie theaters are slowly reopening and welcoming back the public with private screenings and facility rentals. An option that has always been offered, theater rentals are becoming the new way to enjoy the big-screen experience in a comfortable atmosphere among close friends and family members. "Since closing…"
Lester Sola: Pilots county's airports toward $5 billion capital investment
When Lester Sola began working for Miami-Dade 28 years ago, his first post was in the county Aviation Department. Twenty-eight years and a variety of other county jobs later, he leads the department, overseeing the operations and growth of four general aviation airports and Miami International Airport (MIA), the county's top economic engine, which together generate…
Pablo Cejas adds to downtown Coral Gables assemblage
Pablo Cejas, Bill Kerdyk, and 147 Alhambra Circle Coral Gables property owner and broker Bill Kerdyk Jr. sold a downtown office building on Alhambra Circle for $5.3 million. Kerdyk's Alhambra Circle Investments LLC sold the 12,000-square-foot office building at 147 Alhambra Circle in Coral Gables to Pablo Cejas of Aquarius Capital, property records show.
Pinnacle scores $31M for south Miami-Dade senior affordable housing development
Pinnacle secured $30.8 million of financing to build an affordable housing development for seniors in south Miami-Dade County. Citibank provided $22.1 million through the purchase of 9 percent tax credits and also lent Pinnacle $4.3 million for the 112-unit rental project, Cannery Row at Redlands Crossing. Miami-Dade County also contributed a $3.5 million…
Hotels pivot to office space to stanch losses
Hotels across the country are pivoting to become offices as a way to survive the pandemic. In New York, the 607-room InterContinental Times Square was transformed into housing for doctors and nurses treating coronavirus patients in the spring. Then it started to offer rooms as offices. And now the hotel will offer office space on a suite-by-suite basis, according to the…
Airbnb slams door on Halloween-night rentals
Airbnb banned one-night rentals over the upcoming Halloween weekend in an effort to prevent parties — and thus, possible outbreaks of the coronavirus. The home-sharing company announced that it will bar one-night rentals on Oct. 30 and 31 to "protect our hosts and the communities they live in," according to Business Insider. In order to rent a place over…
Tony Robbins buys West Palm Beach warehouse for production studio
A company tied to motivational speaker and author Tony Robbins bought a West Palm Beach warehouse with plans to build a production studio, The Real Deal has learned. The buyer, Ohio Resources LLC, tied to Anthony Robbins Companies, paid $4.4 million for the 28,000-square-foot warehouse at 2951 Electronics Way, according to a press release. A deed for the sale…
Fifth Wall targets $118M raise for European proptech fund
Fifth Wall, the venture capital firm that's backed Opendoor, States Title and Industrious, is looking overseas for its next hit. The Los Angeles-based firm is currently raising a $118 million European fund to invest in proptech startups. Although the fund is not yet closed, investors so far include the real estate arm of BNP Paribas, the French bank; Pontos, a Finnish…
Menin plans major expansion of Bodega Taqueria
Jared Galbut, Bodega Taqueria Menin Hospitality is growing its Bodega brand. The company, led by Jared Galbut and Keith Menin, is planning to open Bodega Taquerias throughout the state and in South Florida, including a new location in North Beach and another at a new project under construction in downtown Miami, Galbut said. Overall, Menin's goal is…
Black-owned firms to launch first affordable-housing REIT
Two of the largest minority-owned real estate investment firms in the country are teaming up to launch what they say is the first public real estate company dedicated to affordable housing. California-based investor Avanath Capital Management and San Francisco's MacFarlane Partners filed paperwork with the U.S. Securities and Exchange Commission to…
Lights out: Regal Cinemas to suspend operations
Cineworld, the owner of the Regal Cinemas movie theater chain, will suspend operations at its locations across the United States, the Wall Street Journal reported. The announcement to temporarily close 500 theaters came after a wave of postponements of big-budget Hollywood movies, including the new James Bond film "No Time to Die." "We are like a…"
Construction honcho pays $17M for Kendall office buildings
The head of a South Florida construction firm paid $16.8 million for a pair of adjacent office buildings in Miami's Kendall neighborhood. Companies managed by Dan Azel of Andale Group bought the buildings at 8900 Southwest 107th Avenue and 10700 Southwest 88th Street, records show. The second building's address is also noted as 10700 North Kendall Drive.
Most unemployment measures are declining… : …while long-term unemployment is still rising
Many of us follow the unemployment rate closely, even more so since the pandemic began. But there are many definitions of unemployment, which depend on how people are attached to the labor force. To learn more, see this earlier blog post and this conversational account of unemployment measures. Today's FRED graph shows the recent evolution of 6 measures…
$2.2T House stimulus package would ban evictions for 12 months
Many renters in the U.S. are protected from evictions through the end of the year, and a stimulus package that passed in the house could extend those protections further. The U.S. House of Representatives approved a $2.2 trillion coronavirus relief package last week that includes a full-year ban on eviction foreclosure filings over nonpayment, according to Bloomberg…
Lincoln Road landlord seeks $32M following court victory over Walgreens
Richard Chera of Crown Acquisitions, 947 Lincoln Road rendering A company tied to New York City real estate mogul Richard Chera is looking to collect nearly $32 million from Walgreens after the pharmacy chain lost a civil lawsuit over a Lincoln Road store that never opened. On Sept. 22, Miami-Dade Circuit Judge William Thomas granted summary judgment…
CBD investor sells Hialeah Gardens development site for $5M
The head of a truck parts company acquired a development site at Shoma Commercial Park in Hialeah Gardens. Tundidor & Partners 13391 LLC, led by James Tundidor, sold the 3.7-acre site at 13391 West Okeechobee Road to Jaime Villamizar of Miami Star Truck Parts for $5.1 million. It comes with approved plans for a 39,500-square-foot building with a 25 bay retail…
Coral Rock lands construction loan on Hialeah project
Michael Wohl and a rendering of the project Coral Rock Development Group has snagged a $53.5 million construction loan for the 260-unit residential portion of its mixed-use project in Hialeah. Principal Real Estate Investors provided the debt, according to a release. The project, dubbed Pura Vida Hialeah, will consist of three eight-story buildings and about…
Leisure and hospitality gain 318K jobs in September as economic growth lags
The leisure and hospitality industry led employment gains in September with 318,000 jobs added to the economy, trouncing the industry's August performance of 174,000 jobs. Food and beverage establishments accounted for more than half the industry's growth last month, with 200,000 jobs returning last month. The U.S. economy added…
Housing demand sent construction spending up in August
Spending on construction, particularly in the housing sector, plowed ahead in August. Money flowing into construction projects ticked up to $1.4 trillion seasonally adjusted last month, a year-over-year increase of 2.5 percent, according to the Census Bureau's monthly report on construction work done on new and existing structures across public and private sectors.
Designer-crafted floral-centric murals are headed to Miracle Mile
Contracts and planning details are being finalized for the installation of four art murals along Miracle Mile in Coral Gables. The fall economic development programming, which is aiming to debut mid-to-late November, is promised to bring a whole new pedestrian experience for visitors and residents. The city's Economic Development Department is…
Here's why President Trump loves depreciation
A day after the New York Times reported Donald Trump paid just $750 in federal income tax in 2016 and $750 again the following year, the president took to his favorite medium to deny the claims. "I paid many millions of dollars in taxes, but was entitled, like everyone else, to depreciation & tax credits," Trump said on Twitter in response…
Fisher Island developer scores approval for residential projects on exclusive island
Heinrich Von Hanau Fisher Island developer Heinrich Von Hanau received approvals for two residential projects on the exclusive island. Miami-Dade County officials recently approved zoning changes to allow for a 57-unit, 10-story condominium building at 6 Fisher Island Drive and 12 single-family homes at 68 Fisher Island Drive. The new projects would bring the total…
PPP loan forgiveness to begin within the coming week: SBA
More than 96,000 requests for Paycheck Protection Program loan forgiveness have been submitted to the Small Business Administration since early August, but none were approved — but that's about to change. The Treasury Department said that PPP requests will start to be approved and paid late this week or early next, the Wall Street Journal reported.
RedSky, JZ sell Wynwood assemblage at discount for $26M
A partnership between RedSky Capital and JZ Capital Partners sold an assemblage of land in Miami's Wynwood neighborhood for $26 million, less than the price they paid four years ago. RedSky, a Brooklyn-based real estate company, and Manhattan-based investment firm JZ sold the development site to SV 2700 Owner LLC. The LLC shares an address…
Florida allows eviction moratorium to expire
Florida Gov. Ron DeSantis will allow the state's ban on residential foreclosures and evictions to expire Oct. 1. DeSantis announced the ban, which only applied to the final action of foreclosures and evictions, would not be renewed, citing the Centers for Disease Control's mandated federal eviction ban. The CDC's order is in effect through the end of December…
JPMorgan wants to invest $700M building rentals in Sun Belt states
Wall Street landlords aren't going anywhere — except maybe down South. The asset management arm of JPMorgan Chase wants to raise a $700 million fund focused on developing single-family and multifamily rental properties in Sun Belt cities, Bloomberg reported, citing an investor presentation. "Read Developers bet big on build-for-rent in these…"
Principal Real Estate Investors Provides $53.5M Construction Loan for Apartment Complex in Metro Miami
Principal Real Estate Investors has provided a $53.5 million construction loan for the residential portion of Pura Vida Hialeah. The borrower, Coral Rock Development Group, is developing the property, which also features 40,000 square feet of adjacent retail space. The apartment community, dubbed The Residences at Pura Vida, will feature 260 units spanning…
Miami Beach Trying To Shed Hard-Partying Reputation, But Businesses Are Pushing Back
Miami Beach is a paradox. Before the coronavirus, it had seen a record number of tourists and booming prices for real estate. But it has also been suffering from a reputation for rowdy behavior — stoked by viral videos of a woman twerking on a cop's ATV, a "stripper cat fight" and a brawl outside a club, with shots fired — that politicians say is concentrated around the…