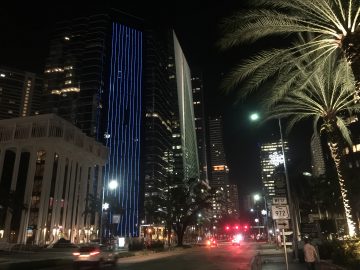 Jeffrey Soffer wants to expand the Fontainebleau Miami Beach
Nearly 15 years after his family acquired and renovated the Fontainebleau Miami Beach, Jeffrey Soffer wants to expand his trophy resort. Soffer is seeking to add a new building that will house more ballrooms and a 500-space parking garage. According to a recent memo sent to Miami Beach Mayor Dan Gelber and city commissioners, the addition would be developed on five parcels Soffer affiliate…
Miami Getting First New Office Tower In A Decade
When 830 Brickell opens in 2021, it will be the first new office tower in Miami in almost a decade. Developers are starting to introduce more office product into the market after years of focus on residential and mixed-use. The optimism is fueled by a recent rise in occupancy and rents. Almost 2M SF of office space is expected to be completed over the next two years, The Wall Street Journal…
This real estate investor loves Toys "R" Us' liquidation sale; just purchased in Doral
Benderson Development bought another former Toys "R" Us property in South Florida. The University Park, Florida-based real estate investment company purchased the parcel to a Toys "R" Us and Babies "R" Us in Doral for $5.3 million from Pacific Equities Capital Management, The Real Deal has learned. The 20,270-square-foot property at 1635 Northwest 107 Avenue is part of a two-parcel former…
Under-construction Turnberry Ocean Club condo tower scores $460M refi
Jeffrey Soffer's Fontainebleau Development secured a massive refinance of its Turnberry Ocean Club, a 54-story condo tower under construction in Sunny Isles Beach. JPMorgan Chase and Mack Real Estate Credit Strategies are the lenders on the $460 million loan, which closed Tuesday, according to Commercial Observer. It is a five-year, floating-rate loan. In June 2017, nearly a year after breaking ground…
Amid growing demand for university housing, Adam America buys multifamily complex near FIU
Developers are increasingly seeking to build new upscale student living next to Florida International University as demand for that kind of housing grows. Now, Adam America Real Estate has acquired a 36-unit multifamily development near the campus in Sweetwater for $20 million. The New York-based real estate investment firm paid $555,555 per unit for the properties at 10726 Southwest 7 Street, records…
FPL buys 109 acres near Homestead for natural gas facility
Florida Power and Light bought 109 acres near Homestead for $9.8 million where its affiliate natural gas company plans to build a nitrogen gas plant. FPL, a subsidiary of NextEra Energy, bought the two parcels in south Miami-Dade County for nearly $90,000 per acre from Marie Charbonneaux Trust, records show. The property sits just off the Florida Turnpike at Southwest…
Miami strives to get operator for Virginia Key marinas
With the November election looming, the Miami City Commission is set to once again address the future of the city's property in Virginia Key, with two related items included in the agenda for today's (9/12) commission meeting. One resolution is to have the commission approve the city manager's recommendation that Virginia Key LLC as top-ranked proposer be granted a lease of the city-owned Virginia…
Pocket park could be early piece of Underline
A formal city-county agreement that will allow improvements to kick-start full construction of the first phase of the 10-mile Underline comes before a county committee for a recommendation this week. The Parks Recreation and Cultural Affairs Committee is being asked to bless a master maintenance agreement that would allow the county or its designee to build improvements in the city's rights-of-way to…
Massive change is coming to Government Center
Change is coming to Government Center, a 20-acre area encompassing 16 county-owned properties in downtown Miami, and the document that will guide its transformation is due to be delivered to Miami-Dade lawmakers by early January. That "visioning study" will mark the latest step in a process that began last July, when the county created the new Government Center Rapid Transit Zone.
Bizarre case of deed fraud complicated Anbang's $5.8B hotel – included Intercontinental in Miami – portfolio deal
It might have been one of the biggest heists of all time. Anbang has sold its U.S. hotel portfolio to the highest bidder at a price north of $5.8 billion, but a last-minute wrench was thrown into the deal when the Chinese insurance conglomerate discovered six of the properties' deeds were fraudulently transferred to limited liability companies, the Wall Street Journal reported. …
W South Beach owner gobbles up more land for Wynwood resi project
TriStar Capital's David Edelstein paid $6.5 million to add a chunk of land to his growing assemblage along a booming stretch of Wynwood, The Real Deal has learned. The New York and Miami Beach developer acquired the nearly 22,000-square-foot site at 97 and 101 Northwest 24th Street. Property records show the seller is Abby LLC, led by Larry Hellring. Ari Dispenza of Central Commercial Real Estate brokered…
Opa-Locka warehouse near Amazon distribution center sells amid rising demand
The owner of Ameriworld, an e-commerce fulfillment company, sold a four-building industrial warehouse in Opa-Locka amid rising demand for affordable industrial space in Miami. Property records show Alermar II LC, a company owned by Ameriworld CEO Julian Rubio, sold the property for $8 million. The 2.56-acre site includes the 68,000-square-foot warehouse at 14900 Northwest 22nd Court.
Related Group moves forward with Gallery on the River project
Jorge Pérez's Related Group plans to build a new 160-unit apartment building right along the Miami River. The project, known as The Gallery on the River, will sit at 401 Northwest North River Drive and will cost $44.5 million, according to a memo filed with the Miami-Dade County. The resolution was pushed forward by the county commissioners at a Miami-Dade Housing, Social Services & Economic…
HOA buys clubhouse in southwest Miami-Dade from Lennar
Lennar Corp. sold the clubhouse at its Lennar at Sorrento at Venetian Parc for $6.9 million to the community's homeowners association. The Miami-based homebuilder sold the clubhouse at the intersection of Southwest 175th Street and Southwest 153rd Street in southwest Miami-Dade, records show. The Venetian Parc Homeowners Association took out a $7.2 million loan from U.S. Century Bank to acquire…
Florida hemp industry awaits final regulations
State officials are finishing up the rules to launch a hemp industry in Florida after legalization on a national level. The industry could be significant in South Florida, where the semitropical climate allows hemp to grow throughout the year. Already, hemp products and derivatives, such as CBD, are popping up in mainstream retailers. Hemp is experiencing a major comeback story in the United States…
WeWork's plunging valuation could spell concern for other real estate startups
Since the start of 2019, WeWork's lofty $47 billion has been a fixture of fascination — how could an unprofitable startup be worth more than 15 times its revenue? Believers of that stratospheric valuation got a reality check this week when reports emerged that WeWork's parent company was considering halving its valuation to around $20 billion for its impending public offering. For other real estate tech…
How A Year-Old, New York-Based Hotel Brand Is Taking Miami By Storm
A trendy, year-old hotel brand, Life House, will open a 52-room property at Collins Park on Miami Beach with a soft launch this month. That's to be followed in quick succession by four more Miami locations, and 25 locations nationwide, by year's end. How can a new company move so fast? Life House is technically a management company that doesn't own the real estate, but partners with…
Video: FinTech Company aXpire's CEO Gary Markham Discusses its Choice of Downtown Miami for its HQ
Gary R Markham, CEO of aXpire Fund Solutions, a FinTech/FundTech application solutions provider to hedge funds and a wide range of asset managers and administrators, discusses its choice of downtown Miami for its headquarters. He notes that Miami provides access to lots of talent, particularly with the amount of migration into Miami. In this Miami Downtown Development Authority published video…
Why An Inspector Should Be Your Next Construction Project Manager
The construction management field is booming. The Bureau of Labor and Statistics predicted an eleven percent growth in this job market over the next 10 years. With economic growth comes more commercial construction and the need for a construction project manager to keep everything on-track. Construction project managers are key to completing a project in the most accurate and efficient way possible…
Allied Partners buys Walgreens in Miami Beach for $33M
Investor Sam Herzberg sold a Walgreens-leased property on the corner of Collins Avenue and Fifth Street in Miami Beach to Allied Partners for $33 million. Property records show Herzberg's D&R Design District LLC sold the two-story 22,875-square-foot building at 509 Collins Avenue. Walgreens has more than 14 years left on its triple-net lease with rare rental increases, according to ..
The We Company considers delaying IPO and slashing valuation to $20B: report
The We Company is planning to halve its valuation and discussed delaying its initial public offering until next year, as a tornado of criticism has been hurled at the company in recent weeks. At a meeting in Tokyo last week, co-founder and chief executive Adam Neumann met with the company's largest investor, SoftBank, to discuss the immediate future of the office-space startup, according to…
Video: Watch Dorian's Cone of Uncertainty Evolve as it Moved Near Florida
In this quick clip sure to be fascinating for all in the Miami area, whether owners of commercial property or not, one is able to watch the probability cone, aka the cone of uncertainty, for Hurricane Dorian change over time as the storm progressed through the Atlantic. For those of us that lived through it, oh-yeah-there-I-thought-we-were-going-to-get-it moments are sure to be recalled. Fortunately, the…
Six Retailers Sign Leases on Miami Beach's Lincoln Road
The Lincoln Road Business Improvement District (BID) has executed six leases with retailers and restaurants to occupy space on Lincoln Road, Miami Beach's high street for upscale retail, restaurants and entertainment. Brandy Melville, a women's clothing shop catering toward Gen Z shoppers, opened its 2,500-square-foot shop at 730 Lincoln Road in late August. Located at 810 Lincoln Road, Pele Soccer…