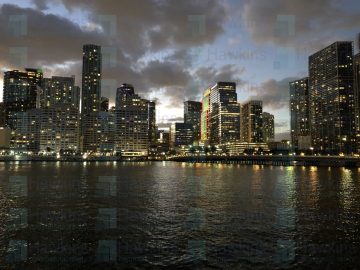 Dolce & Gabbana Joins Forces With JDS For Supertall Tower At 888 Brickell Avenue In Miami
Italian fashion powerhouse Dolce & Gabbana is extending its brand into luxury real estate with a newly announced partnership alongside renowned developer Michael Stern and his JDS Development Group. The collaboration marks Dolce & Gabbana's foray into the world of branded condos in South Florida, representing a significant step in the company's global expansion into…
90-Story Dolce & Gabbana Tower Announced For Miami
Plans have been officially announced for a 90-story Dolce & Gabbana-designed tower at 888 Brickell, according to CNN. The tower will be built at a supertall height of 1,049 feet – the maximum allowed by the FAA in Miami. There will be 259 condos, along with a 5-star hotel, CNN said. Restaurants and bars are also planned in the building, along with significant amenities.
CNN: Miami's latest lavish skyscraper will be courtesy of Dolce&Gabbana
In Miami, a city where most of the coastal metropolis's skyline shimmers in silver or reflects blue skies and water through glass, a fashionable newcomer will be outfitted in black and ivory, and topped with an elaborate gold crown. Like the boning on a luxe corset, matte black steel beams will form its 90-story structure, topping out at 1,049 feet tall. Reaching the maximum…
Take two: Mast sends out new offers for Miami Beach condo building tied up in litigation
Camilo Miguel Jr. is making another attempt at the buyout of an oceanfront condo building in Miami Beach that's tangled in litigation, more than two and a half years after the developer first approached unit owners. An affiliate of Miguel's firm, Coconut Grove-based Mast Capital, sent offers to a group of 28 owners to sell their units at Amethyst, an 11-story, 120-unit…
Video: Here's What It Looks Like From The Top Of The New Miami World Tower
The first Miami World Tower isn't yet complete – but project architect Nichols has posted a sneak peek of the view from the rooftop deck. Miami World Tower 1 topped off in July at 53 stories, or 579 feet above ground, 590 feet above sea level. It is the second tallest rental apartment tower in Miami, for now. When complete, Miami World Tower 1 is planned to include: 565 apts…
Groundbreaking Held For Final Phase Of The Underline, Attended By Ken Griffin
A groundbreaking ceremony was held this morning for the third and final phase of The Underline. Ken Griffin, the billionaire founder and CEO of Citadel, was scheduled to be in attendance. Griffin donated $5 million towards the project in 2021. Phase 1 of the Underline is already complete. Phase 2 broke ground in 2021, and is scheduled for completion this year. Phase 3 is…
Mayer Berkovits-led group plans 120-unit multifamily project in Miami
A group of New York real estate developers and investors wants to build a 120-unit multifamily project in Miami. BAM Property Development plans an eight-story building with 178 parking spaces at 1715 Southwest 37th Avenue, according to Mayer Berkovits, founder and CEO of BAM. The property is near Coral Gables. The firm scooped up the 0.9-acre site for $14.3 million…
Edgewater Gets Another: 42-Story Tower At 1775 Biscayne Submitted To UDRB
Plans have been revealed for a 42-story apartment building at 1775 Biscayne Boulevard. Developer LCOR said in a press release that it had already submitted the plans to Miami's Urban Development Review Board. The project is proposed to include: 544 rental apartments 50,000 square feet of amenity space over 10,000 square feet of ground-floor retail 628-space parking garage…
LCOR Files Proposal for Edgewater Apartment Tower
LCOR recently landed funding for 247 North Ave., an all-electric property in New Rochelle, N.Y. Image courtesy of STUDIO V Architecture Real estate development and investment firm LCOR has submitted plans for a new apartment tower to be built at 1775 Biscayne in the Edgewater enclave of Miami, Fla., to the Miami Urban Development Review Board. As proposed, the 42-story…
LCOR Reveals New Details Of Proposed Apartment Tower At 1775 Biscayne, Their First Ground-Up Development Project In South Florida
LCOR, a leading real estate development and investment firm, has revealed the first details of its newest full-service rental development, located at 1775 Biscayne Boulevard in Edgewater, Miami. Designed by ODP Architecture & Design with KAS designing interiors, the development will create 544 new premium rental residences, 50,000 square feet of amenity space, a 628-space…
LCOR to Develop 42-Story Apartment Tower in Miami's Edgewater Neighborhood
LCOR has announced plans for a 544-unit apartment tower located at 1775 Biscayne Blvd. in the Edgewater neighborhood of Miami, pending approval from the Miami Urban Development Review Board (UDRB). Upon completion, the development will feature studio, one-, two- and three-bedroom residences across 42 stories, as well as 50,000 square feet of amenity space…
LCOR plans a 544-unit apartment tower in Miami's Edgewater
A year after scooping up a development site on the border of Miami's Edgewater and Arts & Entertainment District, LCOR filed plans for a 544-unit apartment tower. LCOR wants to build a 42-story tower with 10,000 square feet of ground-floor retail, 50,000 square feet of amenities and a 628-space garage at 1775 Biscayne Boulevard, according to an LCOR news release.
Ansins plan to move WSVN TV station from North Bay Village to Miramar, making way for new towers
The billionaire Ansin family plans to move its WSVN-TV Channel 7 television station from North Bay Village to a new office site in Miramar. It would be part of a proposed massive mixed-use project at its industrial park in Broward County, The Real Deal has learned. WSVN would vacate its prime property in North Bay Village, the small municipality…
Miami-Dade Auditorium to get major upgrade
A design team continues its survey of the Miami-Dade County Auditorium, the first step in a planned five-year renovation, according to Liliana Hernandez-Constenia, marketing officer with the Department of Cultural Affairs. In June 2022, county commissioners, after a competitive solicitation, approved spending almost $3.5 million to hire Arquitectonica International Inc…
Prime Development Site At 1715 Douglas In Downtown Coral Gables Acquired For An 8-Story Class A Multifamily Project
Berkadia announced it has arranged the sale of 1715 Douglas, an 0.87-acre development site located at 1715 Southwest 37th Avenue in the heart of Downtown Coral Gables, within walking distance to Miracle Mile, six million square feet of office space, and two million square feet of retail. Senior Managing Directors Roberto Pesant and Jaret Turkell,  Director Yoav Yuhjtman,,,
30-Story Tower Proposed At Clevelander On Ocean Drive Under New Florida Law
The owner of the The Clevelander Hotel and Bar on South Beach's famed Ocean Drive has announced plans to build a 30-story tower using a newly enacted Florida law. Under Florida's new Live Local Act, which went into effect July 1, developers can bypass restrictive local zoning rules by promising to build workforce housing, with the intent to make housing more accessible…
Iconic Clevelander Bar In Miami Beach Slated To Be Replaced With 30-Story Residential Tower
The Clevelander Hotel and Bar, an iconic Miami Beach hotspot, may close to make way for affordable housing and condos. Jesta Group is planning a 30-story housing development in Miami Beach leveraging provisions of Florida's Live Local Act. Jesta Group, which owns the Clevelander bar at 1020 Ocean Drive and the adjoining Essex Hotel, announced plans Thursday to replace…
Clevelander hotel owner plans tower with affordable housing
The owner of the historic Clevelander Hotel in South Beach is proposing a redevelopment of the Art Deco property into a residential tower with an affordable housing component. Jesta Group said its plans hinge on the Live Local Act, a new state law that aims to incentivize developers of affordable and workforce housing with tax breaks and zoning workarounds.
RH Proposes One Ocean Drive Development; Miami 'Key Global City,' CEO Says
RH – formerly Restoration Hardware – has filed a proposal to build a development at One Ocean Drive in Miami Beach (formerly Nikki Beach). "We believe Miami is one of the most key global cities in America," RH CEO Gary Friedman told CNBC. "Look, there's New York, there's Los Angeles and there's Miami Beach. And those are the three iconic places in North America.
RH proposes $150M-plus redevelopment of Nikki Beach Club site
RH wants a slice of Miami Beach's lucrative restaurant and entertainment scene, proposing to invest $150 million to $170 million to redevelop Nikki Beach Club, a city-owned restaurant and entertainment venue. Corte Madera, California-based RH, formerly called Restoration Hardware, a high-end home furnishings retailer that has expanded to hospitality development…
HTG proposes pair of multifamily complexes with 196 units in Goulds
Housing Trust Group wants to build a pair of apartment complexes with 196 units combined in Miami-Dade County's Goulds neighborhood. The Coconut Grove-based firm plans the 104-unit Palm Grove project at 21500 South Dixie Highway and the 92-unit Villa Mallorca at 11912 Southwest 217th Street in south Miami-Dade, according to documents Housing Trust Group…
Crescent Heights Tops Off Miami Luxury High-Rise
Crescent Heights has topped off NEMA Miami, a 39-story, 588-unit luxury apartment tower. The property is expected to be move-in ready in the summer of 2024. Construction began in May 2022 and is subject to a $179 million construction loan provided by The Blackstone Group, according to Yardi Matrix information. Arquitectonica is serving as NEMA Miami's architect…
McHugh, Stiles Top Off 39-Story NEMA Apartment Tower in Downtown Miami
McHugh Construction and Stiles Construction have topped off NEMA Miami, a 39-story luxury apartment tower underway at 2900 Biscayne Blvd. in downtown Miami. Crescent Heights is developing the project, which will comprise 588 apartments in studio, one-, two-and three-bedroom layouts, as well as ground-floor retail space, including a 42,030-square-foot Whole Foods…
Ex-tennis pro fails to ace bid for padel courts near Miami River
A former professional tennis player failed to ace his bid to open padel courts near the Miami River — at least for now. Ex-tennis pro Patricio Hernandez-Pons and his project partner, Franco Ramo Alarcon, want to develop a padel facility with nine courts and a clubhouse offering food and beverages on an acre at 600 Northwest Seventh Avenue. The property is along the Seybold Canal…
Surfside collapse investigation finds deeper issues with pool deck
Champlain Towers South's pool deck construction differed from design requirements, federal investigators determined, adding to mounting indicators that this area was the root of the deadly collapse. The National Standards of Institute and Technology's latest findings, revealed on Thursday, show reduced reinforcement of the pool deck "further reduced the strength…"
Azora Purchases Retail Building in Miami Beach for $16M
Azora has purchased a retail building in the South Beach neighborhood of Miami Beach for $16 million. Located at 1000 17th Street, the property totals 18,000 square feet. Azora acquired the property, which was fully leased at the time of sale, through its subsidiary Azora Exan. The buyer plans to maintain the current operation of the building, with gradual increases to rental rates.
Azora Exan fattens its Miami Beach portfolio with retail building acquisition
Azora Exan expanded its Miami Beach commercial portfolio by acquiring a retail property near Lincoln Road. An affiliate of Azora Exan, a joint venture between Madrid-based Azora and Miami-based Exan Capital, paid $16 million for the three-story building at 1000 17th Street, according to a press release and the brokers who worked on the deal. Jordan Gimelstein and David Spitz…
First Look At New Onsite Charter School At SoLé Mia In North Miami, Opening Fall 2025
Mater Academy recently announced the upcoming Mater Academy SoLé Mia campus, a K-5 charter school situated in the SoLé Mia development in North Miami. The school, spanning 90,000 square feet, is expected to welcome students in the fall of 2025, accommodating up to 1,500 students in two phases. Committed to providing students with a high-quality…..
MetLife Inks 128 KSF Renewal at Miami Office Tower
Wells Fargo Center rises 47 stories in Miami's CBD. Image courtesy of Cushman & Wakefield MetLife Real Estate Investment has secured a 128,450-square-foot lease renewal at Wells Fargo Center at 333 SE 2nd Avenue in Miami, as law firm Greenberg Traurig committed to the same five-floor space for the next five years, according to the Commercial Observer. Cushman & Wakefield…
Rishi Kapoor sued over reimbursement of $792K deposit tied to Coral Gables condo
Disgraced developer Rishi Kapoor allegedly failed to pay back an investor's $792,000 deposit on a pre-construction condo at Villa Valencia in Coral Gables, according to a recently filed lawsuit. The investor and Kapoor had no intention of consummating the purchase, the complaint alleges. Juan Gronlier sued Kapoor and two Villa Valencia entities on Aug. 29 in Miami-Dade Circuit Court…
Pebblebrook nabs $140M refi for Jimmy Buffett-inspired Margaritaville resort in Hollywood
The Margaritaville resort in Hollywood, inspired by the late musician Jimmy Buffett, who died this month, scored a $140 million refinancing. Wells Fargo, as administrative agent for itself and other co-lenders, provided the financing to Pebblebrook Hotel Trust, according to records. The 18-story resort consists of a 369-key resort, more than 30,000 square feet of indoor…
Condra proposes oceanfront Hollywood Beach mixed-use project
Condra Property Group is proposing an oceanfront mixed-use project with condos and apartments near the Hollywood Beach Boardwalk. Leaning on Florida's Live Local Act, Condra submitted a site plan with the city of Hollywood to redevelop a 2.4-acre assemblage of 25 single-story and two-story motels and short-term rental properties along North Ocean Drive and surrounding streets.
Publix At Fort Lauderdale's Coral Ridge Mall Set for Major Upgrade And Expansion
A substantial upgrade to the Coral Ridge Mall in Fort Lauderdale has been proposed. Currently housing a Publix supermarket as one of its anchors, the plan entails demolishing the existing 48,497 square feet store at 3400 North Federal Highway, making way for a larger, two-story structure spanning 67,043 square feet, marking a net increase of 18,546 square feet. Pasadena Capital…
Related scores $159M construction loan for Casamar Pompano Beach
The Related Group scored a $158.9 million construction loan for an oceanfront condo development in Pompano Beach. Miami-based Related, led by Jorge Pérez and his sons Jon Paul and Nick Pérez, acquired the financing from the U.S. arm of the Canadian bank CIBC, property records show. The financing is for Casamar Residences, a planned 118-unit luxury project at 900 North Ocean…
Ashcroft pays $70M for Coconut Creek apartment complex
Ashcroft Capital bought an apartment complex in Coconut Creek for $70.4 million. An affiliate of Ashcroft, a New York-based multifamily real estate investment firm, acquired Advenir at Cocoplum at 4142 Cocoplum Circle, according to records and Vizzda. The buyer assumed a $62.2 million Freddie Mac mortgage through Newmark. The deal breaks down to $195,555 per apartment.
Tamarac's incentive packages an example of how towns can compete
Tamarac is a city of about 66,000 residents in Broward County. It's a bedroom community that sits in the shadows of its larger neighbors, Fort Lauderdale and nearby Miami. But its size does not mean it lacks ambition. The city is working on attracting developers that, it hopes, will transform its commercial corridors and provide residents with options to eat and shop without leaving town…
Developers Propose 300-Unit Boca Center at 1800 N. Military Trail in Boca Raton
An office building and parking garage could soon make way for Boca Center, a 300-unit apartment complex. An affiliate of Macquarie Capital hopes to get approval for the 365,165-square-foot development. The mid-rise building would measure six stories, offering studios to three-bedroom units. Amenities at the complex include more than 500 parking spots, a dog park, pickleball court…
Internationally Acclaimed Architect Renzo Piano To Design Boca Raton's Multimillion-Dollar Creative Campus For The Center Of Arts And Innovation
The Center for Arts and Innovation has selected the renowned Pritzker Architecture Prize–winning architect Renzo Piano to design its forthcoming multimillion-dollar creative campus, set to redefine downtown Boca Raton and establish a global hub for creative excellence. With Piano only accepting two to three new commissions a year, this partnership is a testament to…
It's Official: Brightline's Miami To Orlando Train Service Starts Next Week
Brightline's MiamiCentral to Orlando International Airport service is just days away from beginning. The company announced today that the first trains will begin operating on September 22. You'll also be able to board the trains to and from Orlando in Aventura, Fort Lauderdale, Boca Raton, and West Palm Beach. The schedule shows initially there will be six daily trains each way. By late October, there are 16 daily trains scheduled each way. Each train has 239 seats, for a total of 3,824 seat…
The Fed: What Is the Probability of a Recession? The Message from Yield Spreads
Congress has given the Federal Open Market Committee (FOMC) a dual mandate: to maintain stable prices and maximum sustainable employment.1 The mandate to maintain stable prices is generally thought to imply low and stable inflation, which the FOMC has specifically interpreted as a 2% annual change in the personal consumption expenditure (PCE) price index.
Florida's 'Live Local Act' Provides Hundreds of Millions for Affordable Housing: What to Know
Gov. Ron DeSantis signed Senate Bill 102, known as the Live Local Act, into law Wednesday in Naples, making it the largest investment in housing in the state's history. The new law provides $711 million in funds and tax incentives for affordable housing projects through the Florida Housing and Finance Corporation, aiming to increase much-needed inventory. The bill was co-sponsored…
Landlords Ponder Whether to Cave to WeWork's Demands for Better Lease Rates
Just last month, WeWork brought up a question of whether it could survive or if it might need to file for bankruptcy. The company has been scrambling. It just completed the 1-for-40 reverse stock split it needed to remain listed on the NYSE exchange rather than falling into over-the-counter penny-stock trading. But that's not enough. Now, in a public letter, CEO David Tolley…
Banks Likely To 'Keep Retreating' From CRE Lending 6 Months After Silicon Valley Bank Failure
In the six months since the market-rocking failure of Silicon Valley Bank, commercial property lending has receded into the rearview mirror for many small and regional banks, while nonbank lenders stepped in to fill the void when they or their borrowers can afford it. The change in the marketplace is a far cry from the Global Financial Crisis-informed alarm that sounded…
Real-Estate Doom Loop Threatens America's Banks
Bank OZK had two branches in rural Arkansas when chief executive officer George Gleason bought it in 1979. The Little Rock lender today has billions of dollars in commercial real-estate loans, including for properties in Miami and Manhattan, where it is helping fund the construction of a 1,000-foot-tall office and luxury residential tower on Fifth Avenue. Regional banks across…
Video: First American Senior Economist Xander Snyder Discusses Outlook
Join America's Commercial Real Estate Shows Cander Snyder, Senior Economist with title company First American, is interviewed. Among the things discussed are expectations for a hard versus a soft lending, outlook for banks, repair and maintenance cost, and areas of opportunities for commercial real estate investors, occupiers, and lenders. Regional banks are discussed just…