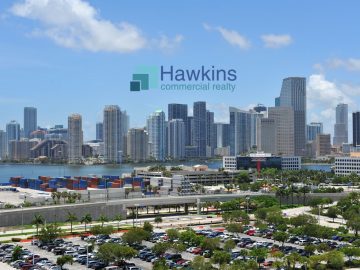 Related Group, partners close on $100M-plus Fisher Island development site
Jorge Pérez's Related Group and its partners closed on their purchase of the last condo development site on exclusive Fisher Island in Miami Beach. Miami-based Related, billionaire Teddy Sagi, BH Group and Chicago-based Wanxiang America RE Group paid more than $100 million for the property at 6 Fisher Island Drive. The Related-led group entered into contract…
Lissette Calderon pays $32M for development site near Beckham soccer stadium
Lissette Calderon is casting a wider net along the Miami River, purchasing a development site further west than most of her other projects on the waterway. Calderon, through an affiliate, bought a 7.3-acre site at 2301 Northwest 33rd Avenue for $32.2 million from an entity tied to Chicago-based Oak Street Management, according to records. The buyer took…
Moishe Mana's downtown Miami tenants allege fraudulent eviction
A group of Moishe Mana's downtown Miami tenants filed a lawsuit against the developer's companies, alleging they were fraudulently evicted from their spaces, The Real Deal has learned. Las Hermanas Restaurant Corp., Vive Cafe Restaurante, Golden Palace and Isabel Alteration sued Mana Miami Management LLC and 48-76 East Flagler Realty LLC on Tuesday.
Beckham's mixed-use Miami soccer complex scores final zoning OK
Miami Freedom Park, the sprawling, mixed-use soccer stadium development planned for the Melreese Country Club site, secured its final zoning approvals. The Miami City Commission voted 4 to 1 in favor of the planning ordinances, allowing the developers to move forward with the project planned for 1400 Northwest 37th Avenue, near MIA…
'The Cat Has Come Out Of The Bag' As Developers Descend On Hialeah
Factories, one-star motels, strip joints, warehouse outlets, and botánicas selling religious and spiritual goods have long defined the city of Hialeah. For decades, there was almost no development to speak of. But things are changing fast in "The City of Progress." The predominantly Cuban neighborhood is the sixth-most populous in Florida, but almost 60% of…
The Fed: Beige Book Picks Up Mixed Signals from the Southeast Economy
The regional economy expanded in recent weeks, but mixed signals characterized anecdotal reports from across the Southeast compiled in the Atlanta Fed's section of the newest Beige Book. For example, labor markets remained tight, and several business leaders said they continue to automate certain tasks so they can operate and grow with fewer workers. Contacts…
Miami Beach OKs apartment building conversion to boutique hotel
An investor plans to convert an Art Deco apartment building in Miami Beach back to its original use as a hotel. The Miami Beach Historic Preservation Board on Tuesday approved plans for the Henry Hohauser-designed property at 1360 Collins Avenue. The owner, led by Jim Cavanaugh of Miami Beach, plans to redevelop the 25-unit building into a hotel with…
Michael Shvo plans second Miami Beach office project
Michael Shvo is doubling down on Miami Beach's office market. Fresh off obtaining city approval for an office project along Alton Road, Shvo has filed plans for a six-story office building at 1665–1667 Washington Avenue, according to city records. The Kobi Karp-designed development would have 21,000 square feet of offices on the top five floors, 58 parking spaces…
Former WeWork CEO Adam Neumann's $350M fundraise came with a catch
The big investment Adam Neumann received for his latest real estate venture came at a cost: the keys to a portion of his apartment portfolio. The former WeWork chief executive agreed to hand over part of his real estate holdings for the $350 million investment, the Wall Street Journal reported. The unusual arrangement puts venture capital giant Andreessen…
Shore Club to become Auberge: Witkoff, Monroe's redevelopment approval stands
Witkoff and Monroe's plans to redevelop the Shore Club — and rebrand it as Auberge — are moving forward. The Miami Beach Historic Preservation Board on Tuesday voted against a rehearing of the redevelopment proposal that the board had approved four months ago. The developers' attorney Michael Larkin revealed the Auberge branding at the…
Inside Adam Neumann's WeWork-ification of residential real estate
Adam Neumann, Society Las Olas at 301 Southwest First Avenue in Fort Lauderdale, and the Stacks on Main at 535 Main Street, Nashvill: Adam Neumann's comeback story sounds a bit like his coming-up story. He has the backing of a name-brand venture capitalist. He has grand plans to transform real estate. He is, once again, preaching the gospel of…
Fire station issue stalls signature Brickell City Centre tower
Miami city commissioners have delayed a final vote on Brickell City Centre's latest expansion, while directing city staff to get to the bottom of why a promised fire station has not been built as part of the sweeping mixed-use development. At a rescheduled regular meeting on Tuesday, commissioners were to hold a second and final hearing on two planning and zoning…
9 Key Statistics for the Miami Commercial Real Estate Market
The Miami commercial real estate market offers a wide range of interesting projects, assets, and property types due to its advantageous location and pivotal access as an Atlantic coastal town. Its geographic position near Central and South America is a big reason for the overall growth and culture in the area. These factors give Miami…
Block Capital proposes 17-unit Wynwood apartment project
Block Capital Group, a prolific Wynwood developer and investor, is continuing to bet on the neighborhood. The Miculitzki family's Block Capital wants to build a five-story, 17-unit residential building at 91 Northwest 27th Street with 3,000 square feet of retail, according to an application filed to a Miami project review board. The units will be apartments, a Block….
Jeffrey Soffer's Fontainebleau Development buys North Miami marina
Jeffrey Soffer's Fontainebleau Development picked up a North Miami marina for $10.1 million, more than $9 million above the property's last sale price 27 years ago. An affiliate of Aventura-based Fontainebleau acquired PowerHouse Marina at 13255 Biscayne Boulevard, records show. The seller, an entity led by David A. Marcus, purchased the…
Lease roundup: Rentals manager Belong moves HQ to Brickell
Belong I Brickell I Miami Belong, a rental homes management company, is moving its headquarters from California to Brickell in Miami. The company will occupy a 7,000-square-foot space at the Brickell City Tower at 80 Southwest Eighth Street, according to Owen Savir, co-founder of Belong. It is renovating the space and working out of a temporary office at the…
Doral Considers Trump Proposal For New Towers
Former President Donald Trump has another real estate venture in Doral. The city is considering an application submitted on a plan to build gleaming luxury towers with more than 2,000 units proposed at the Trump National Doral Miami property. The project includes more than 185,000 square feet of amenities and retail in the property at…
MG completes Miami apartments dev site assemblage
MG Developer added the final piece to its Miami development site puzzle, allowing it to move forward on a two-tower multifamily project. The Coral Gables-based firm and its partner, New York-based Baron Property Group, bought an acre at 3191 Southwest 39th Avenue and 3160 Southwest 38th Court from AMR Investment, which is led by Armando Rouco, for $16…
Investors spent $5B on South Florida rentals in the first half of the year
Investors spent $5 billion on South Florida multifamily properties in the first half of the year, the second-highest total on record, according to Cushman & Wakefield. It could be secure in that spot for some time: Demand in the area's rental market is showing signs of slowing, despite continued rent growth in Miami-Dade, Broward and Palm Beach counties.
Terranova plans retail-and-office project on Coral Gables' Miracle Mile
Stephen Bittel's Terranova Corporation plans to redevelop a former pharmacy in downtown Coral Gables into a four-story retail-and-office building. The Arquitectonica-designed project at 93 Miracle Mile will include a 6,700-square-foot restaurant on the ground floor, 9,700 square feet of retail on the second and third floors and 7,300 square feet of…
Mortgage rates hit 14-year high
Mortgage rates hit yet another new high and may continue to rise as the Federal Reserve looks to tackle inflation. The average rate on a 30-year fixed mortgage hit 5.89 percent this week, according to a Freddie Mac survey reported by the Wall Street Journal. Rates are roughly double from what they were a year ago and exceeded a recent pandemic high set…
Inside Griffin's billion-dollar South Florida property play
Ken Griffin epitomizes the South Florida more-is-more real estate philosophy. The billionaire founder of Citadel just raised the bar on his record-setting portfolio. Griffin, who is worth about $31 billion, now owns at least $1.3 billion of residential and commercial real estate in South Florida, on top of luxury homes in New York, Chicago, London and…
Embattled developer Metronomic's Coconut Grove rentals head to auction
Metronomic once had grand plans to redevelop a large area of Coconut Grove. Now it might lose its only completed project there. Four years ago, the Coral Gables-based developer announced a $74 million mixed-use project in the neighborhood, with nearly 300,000 square feet of apartments, retail, offices and a hotel. But it soon became saddled with debt, filing…
Video: Global Chair of Counselors of Real Estate Marilee Utter Discusses Top Ten Issues Affecting Real Estate 2022-2023
Marilee Utter, 2022 Global Chair of the Counselors of Real Estate, joins the host of America's Commercial Real Estate Show to share and discuss highlights from the Counselors of Real Estate annual Top Ten Issues Affecting Real Estate. Topics (issues) discussed include inflation and interest rates, geopolitical risk, hybrid work, wupply chain disruption, energy…
Rotem Rosen, Anand Mahindra finally close on $30M Edgewater site
It took more than four years, but Rotem Rosen and billionaire Anand Mahindra's MRR Development sealed the deal on a $30 million Miami assemblage. Javier Cervera Companies led by investor Javier Cervera Jr. sold the 1.4-acre site at 1801 Northeast Second Avenue, north of downtown Miami, to MRR. The land covers the majority of the city block between…
Prestige sells Hialeah apartments for 30% markup
Marty Caparros' Prestige Companies sold a multifamily portfolio in Hialeah for 30 percent more than it paid for the properties a year ago. Affiliates of Miami-based Puchero Corp., managed by Alberto Arceo, bought the four small apartment complexes at 565 West 51st Place and 643, 651 and 725 West 29th Street for $17.2 million, according to records. The 1960s-era…
How Hamid Moghadam made Prologis the world's largest industrial landlord
Fresh off a trip to Stanford, Hamid Moghadam was pulling up to his house in San Francisco's tony Pacific Heights neighborhood when a car stopped right behind him. Out jumped two men, armed with guns. They moved in on Moghadam, grabbed his Patek Philippe watch and fled. "They were attacking me," Moghadam told the San Francisco Business Times.
Rising sea levels put Miami, New York at biggest risk for severe and extreme flooding at commercial properties
Billions of dollars worth of office buildings, retail centers and apartment buildings in coastal U.S. cities sit in the path of major flooding as sea levels rise, according to a new DBRS Morningstar report. The credit rating agency looked at a snapshot of roughly 47,000 buildings that it monitors out of the roughly $670 billion commercial mortgage bond market and found…
Pulso Capital pays $22M for Pompano Beach complex
A Fort Lauderdale-based multifamily investment firm padded it's portfolio with a $21.5 million Pompano Beach acquisition. Stellar at Palm Aire now belongs to a Pulso Capital Group affiliate. The firm paid $22 million for the 39-unit rental townhome complex at 4091 Seina Circle, 4081-4099 Sunset Way, 700-706 Stellar Court, 4082-4098 Highland Oaks Drive, records…
Lyon Living Pays $33M for Sunrise apartment complex
A garden-style rental community in Sunrise traded for $13 million above its previous sale price three years ago. An affiliate of Lyon Living, a Newport Beach, California-based multifamily real estate investment firm, paid $33.1 million for Courtyards at Sunrise, a 128-unit apartment complex at 4108 Pine Island Road, records show. The buyer obtained a $28 million loan…
Dependable Equities proposes 47-story Fort Lauderdale tower
Dependable Equities is proposing a 47-story rental tower in downtown Fort Lauderdale, adding to the Brooklyn developer's pipeline of projects. The plan by Dependable Equities, led by Isaac Schlesinger and Rabsky Group co-owner Simon Dushinsky, will go before the Fort Lauderdale Development Review Committee Tuesday. The developer is seeking site plan review…
Carlyle pays $33M for Boynton Beach shopping center
Carlyle Management doubled its Boynton Beach retail holdings with a $33 million purchase of Sprouts-anchored shopping center. An affiliate of Katonah, New York-based Carlyle acquired the retail component of Mainstreet at Boynton at 6405 Boynton Beach Boulevard, according to a press release. The deal breaks down to $630 a square foot. The 52,000…
Lincoln Property pays $194M for newly built Boca apartments
Manor Broken Sound at 5400 Broken Sound Boulevard in Boca Raton, with Rockpoint's Bill Walton, Related Group's Jon Paul Pérez and Jorge Pérez and Lincoln Property Company CEO Tim Byrne: Lincoln Property Company beefed up its South Florida multifamily portfolio. The firm bought the newly built Manor Broken Sound apartment community in Boca Raton…
El-Ad nabs $100M construction loan for Alina condos in Boca
El-Ad National Properties' more than 300-unit condominium project in Boca Raton just got a major financial boost. The developer, through an affiliate, scored a $100 million construction loan for the second phase of its Alina Residences project from UMB Bank, according to records. The pair of condo buildings, already under construction, comprise the final portion of…