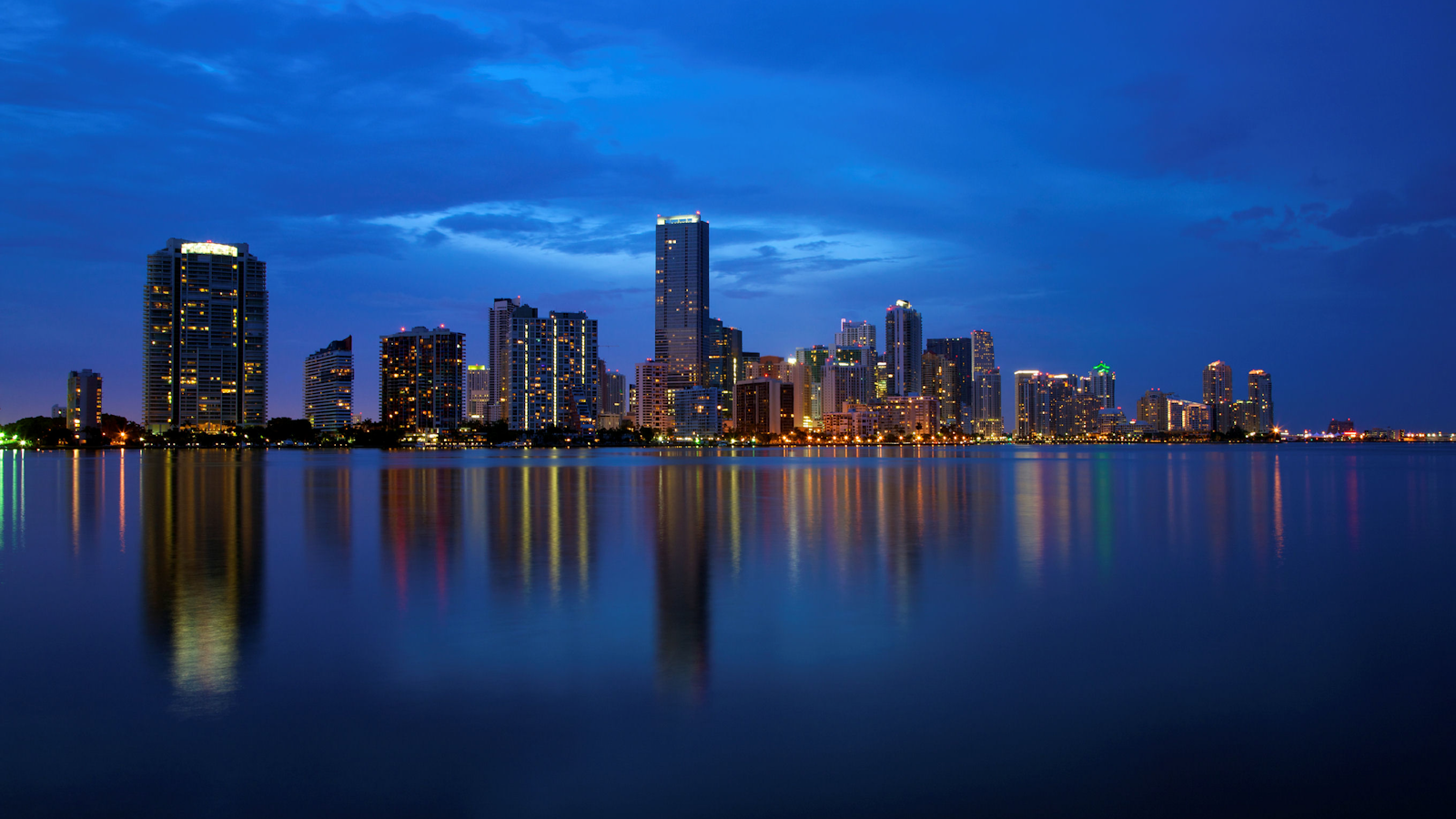 Regency Miami near Beckham's planned soccer complex trades for $26M
A company tied to Miami investor Orlando Padron has acquired a 3.8-acre hotel property near Miami International Airport and David Beckham's planned soccer and retail complex. OPB Capital Group Fund 1 LLC paid $25.8 million for the Regency Miami Hotel at 1000 Northwest 42nd Avenue. The seller was 10 Le Jeune Inc., led by Jose Vazquez. Banesco USA provided the buyer with a $21 million loan.
Fed cuts rates, signaling caution ahead for real estate investors
The Federal Reserve's decision on Wednesday to again cut its benchmark interest rate, this time by 25 basis points, sends a message to commercial real estate investors that the bank is proceeding cautiously, one industry pro said. "The Fed clearly has some concerns that they're responding to," said Sam Chandan, associate dean at New York University's Schack Institute. The Fed cut rates to a range…
Video: CCIM Economist KC Conway on Tariffs, Commercial Real Estate, and the Cycle
K.C. Conway, Chief Economist with CCIM and Director of the Alabama Center for Real Estate, appears on America's Commercial Real Estate Show with host Michael to discuss his opinions and thoughts regarding tariffs, the economic cycle, and how they may or may not impact the commercial real estate market. He discusses the devastating effect the last major trade wars, effectuated via the Smoot-Hawley Tariff…
PMG, Greybrook Plan 49-Story Mixed-Use Tower in Miami
A development partnership between New York City-based Property Markets Group (PMG) and Toronto-based Greybrook Realty Partners are currently developing 400 Biscayne, a mixed-use project offering 646 rental apartments in Miami. Slated for completion in 2021, the 49-story building will include 51,000 square feet of commercial space and a 22,000-square-foot redesigned First United Methodist…
Toyota car dealer picks up Sunshine Kia of Miami site for $6M
The Sunshine Kia of Miami property site sold for $6.4 million. SAG Realty sold the 117,074-square-foot property at 17120 South Dixie Highway for $55 per square foot to a company tied to Mario J.T. Benedetti of South Dade Toyota, records show. Benedetti secured a $4.9 million loan from Ally Bank, according to records. SAG Realty, which is led by Rod Rifai of Performance Automotive Group, bought the…
In Tiny City of Sunny Isles With 6 Trump-Branded Towers, Real Estate Execs Trade Jabs Over Its Future
At a Bisnow event around the future of Sunny Isles and North Miami Beach last week, jabs flew between panelists as though they were leading a comedy roast instead of a real estate roundtable. The city of Sunny Isles Beach, just north of Miami Beach, is in the midst of a battle over its future. In the past 15 years or so, massive towers — including six Trump-branded ones — have risen along the beachfront…
County targets Biscayne Bay ferry to South Beach
Sixteen years after a study found commuter travel on Biscayne Bay feasible, Miami-Dade lawmakers have told administrators to seek waterborne transit between Miami and South Beach. Commissioners Sept. 4 OK'd an item by Eileen Higgins directing Mayor Carlos Giménez to negotiate terms for water transit "on an expedited basis" and seek state and federal funds. Javier Souto, sponsor of a 2017…
South Dade transit-oriented housing for seniors nears
The folks at Pinnacle Housing Group are proud to be delivering a brand new affordable transit-oriented development for seniors in South Miami-Dade County within a month's time. Caribbean Village is seven stories and home to 123 residential units. The project is a public-private partnership between Pinnacle, the South Miami Heights Community Development Corp. and Miami-Dade County. The county…
Miami looks at luxury Virginia Key hotel at civil rights museum
To help revitalize Virginia Key Beach and create a stable funding stream for a civil rights museum to rise there, Commissioner Keon Hardemon proposed a potential source of revenue: a luxury hotel. As the Miami City Commission discussed the Virginia Key Trust's proposed budget last week, Mr. Hardemon floated the idea to mixed reviews. "I think there needs to be something that we have to do in…
Rubell Collection morphing into large Allapattah museum
The Rubell Family Collection, long a Wynwood landmark, will re-open as the Rubell Museum Dec. 4 at 1100 NW 23 St., a 2.5-acre site in Allapattah. The new 100,000-square-foot campus, designed by Selldorf Architects, features 53,000 square feet of exhibition space divided into 40 galleries, as well as office and flex space, a museum store featuring art books, design objects and gifts, a research library holding…
Inside Bernie Sanders' $2.5 trillion housing plan
For the first time in decades, a presidential candidate is pushing for nationwide rent control. Democratic contender Bernie Sanders unveiled the key points of his $2.5 trillion housing plan on Saturday, calling for national rent control standards as well as the investment of billions of dollars to end homelessness, overhaul public housing, create mixed-income housing a…
Hurricane Dorian delivers blow to Florida hotel occupancy, revenue: report
Hurricane Dorian never made landfall in Florida, but the near miss still had a sizable impact on Florida's hospitality industry around Labor Day weekend. Demand for hotels in the Florida Keys fell by 50 percent and revenue per available room dropped by 59 percent during a seven-day period from Aug. 30 through Sept. 5, according to a report from the hotel data company STR. Daytona Beach's hotel industry…
$37M Loan Secured for Miami Asset
CBRE Senior Vice Presidents Paul Ahmed and Amy Julian, together with Senior Financial Analysts Andrew Chilgren and Mackenzie Fry, have arranged a $37 million loan for Giralda Place, a recently completed office building in Coral Gables, Fla. Nationwide Mutual Insurance Co. originated the long-term, fixed-rate loan for HEC Finances. The property is situated at 2222 Ponce De Leon Boulevard on the city's…
More like WeWait? Co-working giant to postpone IPO, report says
WeWork's parent company is reportedly planning to postpone its initial public offering following weeks of scrutiny over the co-working firm's valuation and corporate structure. Sources told the Wall Street Journal that the IPO roadshow would be put on hold until at least mid-October, following the Jewish High Holidays, despite earlier reports that WeWork's IPO roadshow would kick off as early as this…
Wynwood is getting its own Moxy hotel
Dolphin Capital Partners and Baywood Hotels closed on the site of a planned Moxy by Marriott hotel in Wynwood, The Real Deal has learned. The partners paid $11 million, or $670 per square foot, for the 16,400-square-foot site at 255 Northwest 25th Street, according to Tony Arellano of Dwntwn Realty Advisors. Arellano and Devlin Marinoff brokered the deal. David Grutman's Groot Hospitality will…
Pacific Star Capital wants to build Target-anchored retail building in North Beach
Aria Mehrabi and City National Bank Developer Pacific Star Capital is now looking to build a Target-anchored shopping center in North Beach, after a deal to swap land with Miami Beach fell through. Aria Mehrabi's Pacific Star wants to buy the Miami Beach-owned parking lot to build the shopping center, according to a memo he sent last week. The Santa Monica, California-based real estate firm has offered…
Related Group, Atlantic Pacific seek approvals for mixed-use apartment projects in Miami
The Related Group and Atlantic | Pacific Communities will go before a city of Miami board on Wednesday for mixed-use projects along the Miami River, Liberty City and near downtown Miami. Related is seeking approvals from the Miami Urban Development Review Board for two projects. Phase three of Liberty Square, 1201 Northwest 65th Street | Related Group Related's affordable housing arm is planning…
Related Group picks up two lots next to Miami Dade College for $9M
A company tied to the Related Group scooped up two lots near Miami Dade College's downtown campus for $8.8 million. Parcel C LLC, which shares an address with the Related Group, bought the combined 15,000-square-foot site at 225 and 233 North Miami Avenue for $584 per square foot, records show. Henrietta and Burl Sostchin sold the 10,000-square-foot property at 233 North Miami Avenue…
Developer Armando Codina: A Downturn Is Not Miami's Biggest Problem
South Florida developers tend to hone in on one or two areas they know best, and if you're talking about Doral, there is no bigger honer than Codina Partners Executive Chairman Armando Codina, who built a master-planned community with schools, a city hall, 5,000 residential units, a Publix and 1M SF of commercial space. Codina, who will be a speaker at Bisnow's upcoming South Florida State of the…
Urbanica scores construction loan from Miami Beach's biggest developer
Ubranica Management just scored a loan for a hotel project, but they didn't go to a bank for the financing. Instead, they got the cash from Miami Beach's largest developer. Urbanica scored a $9 million construction loan from a company tied to Russell Galbut that will be used to finish constructing its third hotel in Miami Beach. Despite being the company's third hotel in Miami Beach, the new hotel will be…
Urbanica Acquires Land in Miami Beach for $40M, Plans 200-Room Beachfront Hotel
Hotel developer Urbanica has acquired a one-acre plot of land in Miami Beach for $40 million from China City Construction (CCC). Urbanica plans to develop a 200-room, beachfront hotel on the site. The plot is the last undeveloped beachfront lot in North Beach, located between the Deauville Beach Resort and Sterling Condominium buildings on Collins Avenue. Urbanica expects to break ground…
Miami commission wants contract for Beckham stadium deal by October
In spite of pleas from the mayor for more time, on Thursday the Miami City Commission approved a resolution to vote on a contract in late October that will enable a development team to construct a gigantic $1 billion stadium complex on top of a city-owned golf course. The commission wants to vote on the contract by either Oct. 24 or Oct. 31. Miami Freedom Park LLC, led by MasTec chairman Jorge…
Michael Shvo's South Beach hotel plan could cost him $500M
Between buying the Raleigh Hotel, pending deals to purchase two neighboring boutique hotels and proposing a new residential tower, Michael Shvo and his partners are already looking at a $250 million investment – and that amount could double. "We will invest $500 million over the next year," Shvo said, speaking at the annual Miami Beach Chamber of Commerce real estate luncheon on Thursday.
A piece bordering the $4 billion Miami Worldcenter megaproject just hit the market
A development site bordering the $4 billion Miami Worldcenter megaproject just hit the market. Colliers International South Florida's Urban Core Division's Mika Mattingly, Jack Lowell and Cecilia Estevez have been tapped to sell the 24,000-square-foot development site known as World Center Link at 33–45–55 Northeast 6th Street. The developers are asking $16.5 million for the site, which allows for up to…
Showdown in Miami? Spaghetti Western star loses Brickell upzoning battle for former Cocaine Cowboy property
A former Spaghetti Western star has lost his final battle with the Miami City Commission. The commission upheld Mayor Francis Suarez's veto that prevents developer Francisco Martinez-Celeiro from securing the rezoning of the former Babylon Apartments on Brickell Bay Drive to allow for a 24-story residential building. The scene at the commission meeting on Thursday played in a dramatic fashion…
Developers land $162M loan for downtown Miami co-living tower
Kevin Maloney's Property Markets Group and Greybrook Realty Partners closed on a $161.5 million loan for a rental tower they're planning in downtown Miami. The partners broke ground on the project, a 49-story, 646-unit building at 400 Biscayne Boulevard, in June. Centennial Bank and Square Mile Capital are the lenders, according to a press release. 400 Biscayne will be part of new apartment brand…
JPMorgan buys Amazon-leased warehouse next to Miami International Airport
South Florida Logistics Center Fueled by growth in the e-commerce sector, South Florida's industrial market isn't showing signs of slowing down. And when Amazon is the tenant, it's a seller's market for a company looking to unload that property. Florida East Coast Industries subsidiary Flagler Global Logistics sold its… The building and parking lot at 3200 Northwest 67th Avenue in Miami sold for $33 million.