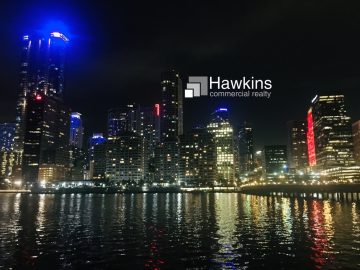 Redwood JV Lands Financing for Opa-Locka 112-Unit Townhome Project
A gated lakefront townhome project that will offer affordable homes received a $19 million construction loan. Redwood National Properties, an affiliate of BAS Holdings Investments LLC, alongside its joint venture partner Winston Capital Partners LLC, received the financing from City National Bank of Florida. DWNTWN Realty Advisors' Andrew Kurnit…
Beige Book: Pandemic Continues to Shape Southeast Economy
The latest summary of economic conditions in the Southeast paints a mixed picture, with the COVID-19 pandemic and accompanying mitigation measures heavily influencing the region's economy. In the labor market, for example, conditions improved as some firms rehired laid-off employees, according to the Federal Reserve's August Beige Book summary. Yet…
Businesses Organize To Push Brightline Expansion With 5 New Stops In Miami-Dade
The eastern side of Miami-Dade County has long been starved for commuter rail, but a private-public partnership could finally bring service to five neighborhoods between Aventura and downtown, including North Miami, the Upper East Side and Wynwood. The administration of outgoing County Mayor Carlos Gimenez has been negotiating with private train…
South Dade seeks formal Metrorail-ready program
When Miami-Dade's transportation board voted to upgrade the South Dade Transitway with bus rapid transit (BRT), Metrorail advocates were assured that when ridership gets high enough, the corridor will be converted to rail. Now they want it in writing. County commissioners Monday passed a resolution by Dennis Moss cosponsored by Esteban "Steve" Bovo, Daniella…
To fill vacant stores, Lincoln Road seeks pop-up businesses
Cultural institutions and new retail shops may find temporary homes on Lincoln Road this winter, as the Lincoln Road Business Improvement District is hoping to bring in a series of pop-ups to boost business and fill vacancies. The improvement district's executive committee has unanimously voted to support and promote pop-ups during the…
Macy's to open smaller stores, bigger fulfillment centers
Who ever said bigger is better? Macy's has unveiled a plan to open smaller, off-mall stores and fulfillment centers, while consolidating its current locations. "Everything on the digital agenda has been accelerated," CEO Jeff Gennette said on the retailer's second quarter earnings call Wednesday. The department store's flagships have been hit hard by the pandemic as…
Art Basel cancels Miami Beach fair in December
Art Basel Miami Beach is canceled this year, delivering an economic blow to South Florida hotels, restaurants, stores and other venues. The renowned art fair takes place each year in early December at the Miami Beach Convention Center, but will not be held this year due to the pandemic, Switzerland-based Art Basel announced on Wednesday. The annual fair…
Developers land $19M construction loan for Opa-locka affordable housing
A joint venture closed on a $19 million construction loan for a $26 million Opa-locka development geared toward affordable housing. Redwood National Properties, a subsidiary of BAS Holdings Investments, in a joint venture with Winston Capital Partners, paid $5 million for a 10-acre site at 1719 Northwest 143rd Street within the existing Mirage at Sailboat Cove…
Coronavirus-Resistant Offices May Have An Advantage In The Market
Jonathon Yormak, founder and managing principal of East End Capital, was in the middle of renovating a more than 100-year-old, 120K SF office building in New York when the coronavirus hit. He'd already decided to completely overhaul the air and ventilation system in the building. "It's only a 26-story building, so it wasn't so big as to make it impossible, but we…"
Coral Gables looks at how to fund city hall upgrade
Coral Gables city commissioners are still debating whether funds from selling a municipal parking lot should be allocated toward a general park trust. Vice Mayor Vince Lago proposed half of the potential fund proceeds from the parking lot, on the northwest corner of University Drive and Pisano Avenue, should go into a park trust to continue acquisitions of…
Accessibility to historic Vizcaya under microscope
In March, just before the pandemic prompted closures and stay-at-home orders in South Florida, residents from Gran Via Apartments, an elderly housing community in Outer Westchester, took a trip to the Vizcaya Museum and Gardens. Once they got there, they ran into a multitude accessibility issues. The floors of the estate, built nearly a century ago…
Lincoln Road seeks to cut back renovation plans
The Lincoln Road District Master Plan, which aims to revitalize the iconic Miami Beach shopping and entertainment street, may be redrafted to allow for less disruptive construction as local businesses recover from the economic impacts of the coronavirus. Tim Schmand, executive director of the Lincoln Road Business Improvement District, told Miami Today…
Michael Davey: Key Biscayne mayor targets infrastructure, shoreline work
The next two years will be pivotal for the Key Biscayne, both in addressing issues that need fixing, from infrastructure and shoreline preservation projects to helping residents and businesses rebound from the pandemic. Mayor Michael Davey knows how important his second and final two-year term will be, but if engagement from the community is any indication…
Restaurants' more palatable menu: 50% indoors plus on-street dining
Restaurant owners are breathing a sigh of relief after getting the OK to welcome more patrons back with indoor dining and still take advantage of closed portions of streets as an outdoor dining option. Miami-Dade County restaurants are once again allowed to invite people for indoor dining at 50% capacity, along with the expanded outdoor dining permit option…
Evictions banned through December for most US tenants
The Trump administration today announced sweeping eviction protections in light of the health crisis. The public health order, a draft of which the Centers for Disease Control posted Tuesday afternoon, will halt evictions from Sept. 4 through the end of the year for tenants who qualify. To be eligible, tenants must file a form to their landlord declaring they cannot…
Miami Beach Senior Housing to Undergo $78M Rehab
Council Towers Senior Apartment Homes, a two-building, 250-unit, age-restricted affordable housing community in Miami Beach, Fla., will undergo a $78 million redevelopment thanks to a financing package including a $30 million construction loan under the HUD 221(d)(4) program provided by Greystone. The HUD-insured loan was originated by Greystone Senior…
Greystone Provides HUD-Insured Construction Financing as part of $78 Million Affordable Housing Development Project for Seniors
Greystone, a leading national commercial real estate finance firm, has provided a $30 million construction loan under the HUD 221(d)(4) program for the $78 million redevelopment of Council Towers Senior Apartment Homes, an age-restricted affordable housing community located in Miami Beach, FL. The transaction was originated by Jon Morales, Senior Vice…
Why Saks Fifth Avenue Is Suing Bal Harbour Shops
The legal battle between Saks Fifth Avenue and Bal Harbour Shops is heating up. Today in the 11th Judicial Circuit Court of Florida, the high-end department store filed a lawsuit against Bal Harbour Shops and Matthew Whitman Lazenby, president and CEO of Whitman Family Development, which owns the mall, over statements that allegedly breached the…
25% of U.S. malls are expected to shut within 5 years. Giving them a new life won't be easy
Coresight Research estimates 25% of America's roughly 1,000 malls will close over the next three to five years. The coronavirus pandemic has accelerated a demise that was already underway. "Just because retail space has gone vacant or remained fallow does not mean that it is automatically a good candidate for repurposing into industrial space," Moody's Analytics…
Working from home saved Americans $90 billion in commuting costs: analysis
During the pandemic, many companies implemented a work-from-home policy to comply with local rules and to keep their employees safe. The policy — which has rocked the office real estate market — has also resulted in huge savings on commuting costs: Americans collectively saved $90 billion by not commuting by car in the months since the pandemic…
South Florida multifamily sales fell 50% in first half of year: report
Multifamily sales declined 50 percent during the first half of the year, according to a mid-year report and forecast by Cushman & Wakefield. Total sales volume for 2020 could also fall by half, compared to last year, as the economic effects of Covid-19 linger, the report shows. Ninety-one multifamily projects sold in South Florida during the first six months of…
J.C. Penney's lenders could take it over, liquidate assets
J.C. Penney's lenders are preparing to take control of the struggling retailer after discussions with its bidders have hit a dead end, Bloomberg News reported. J.C. Penney filed for bankruptcy May 15 and has since been in talks with large mall and retail operators, including Simon Property Group and Brookfield Property Partners. But those discussions have reached…
Flood of retail evictions expected as courts reopen
For months, retail landlords have been negotiating lease modification and rent breaks with tenants. But talks that reached a stalemate may soon end in litigation. A wave of retail evictions among big tenants and small businesses is expected to flood in as courts reopen and eviction moratoriums across the country expire, according to the Wall Street…
Facebook exec expresses confidence in office real estate
The future of office properties has been in question since the pandemic emptied out Manhattan. But Brian Rosenthal, a senior executive at Facebook, told Business Insider that having a physical space in New York is critical for the social media giant. "So much of what we do is collaborative," Rosenthal said. "[Software is] like writing a book together where all the…
Dogfish Head to take over Concrete Beach social hall in Wynwood
Concrete Beach Brewery Concrete Beach Brewery closed the doors to its Wynwood social hall for good. The brewery, which opened its 11,000-square-foot space in 2015, announced the permanent closure on its social media accounts, citing the "unprecedented global crisis." Concrete Beach is part of A&S Brewing Collaborative, an independent subsidiary of the…
Report shows how much commercial real estate has fallen
The economic toll on commercial real estate shows no signs of abating as the health crisis lingers. Indexes for office, retail and lodging properties were all lower in July than they were a year ago, according to analytics firm Real Capital Analytics, Bloomberg reported. Deals were also down, with transaction volume across all sectors plunging 69 percent to $14…
Developers score $22M construction loan for Westchester senior living and medical office project
Alberto J. Pérez, Juan Carlos Mas, and a rendering of the project A group of developers scored a $22 million construction loan for a mixed-development in Miami's Westchester neighborhood that will include a medical office building and senior living facility. Commercial real estate developers AJP Ventures and Mas Group, along with equity partner OCTA, expect to…
Fed signals low rates are here to stay
The Federal Reserve has shifted its strategy for setting interest rates, allowing inflation to rise higher than previous targets. The change codifies what the Federal Reserve has been practicing for the past 18 months, and signals that interest rates will remain low, the Wall Street Journal reported. As the Federal Reserve allows inflation to rise above 2 percent, the target…
AIMCO Acquires Miami Apartment Tower
AIMCO has acquired Hamilton on the Bay, a community located in the Edgewater neighborhood of downtown Miami. The sale was facilitated by the Hussami Rockson Group of Marcus & Millichap, which represented the seller, SunTrust Community Capital, and procured the buyer. The price was $89.6 million, which was a portfolio sale that included Hamilton on the…
Sale of 28-Story Waterfront Apartment Complex in Miami Arranged
Marcus & Millichap has arranged the sale of Hamilton on the Bay, a 28-story, 275-unit apartment complex in Miami. The property, which backs up to Biscayne Bay, is situated at 555 34th St., four miles north of downtown Miami. Built in 1985, the property offers studio to four-bedroom floor plans. Communal amenities include a dog park, fitness center, bike storage…
Thor Equities sues to evict Stefano Ricci from Miami Design District
Thor Equities is seeking to evict luxury fashion retailer Stefano Ricci from its store in Miami's Design District. The New York-based real estate firm alleges the luxury retailer owes more than $133,000 in rent at 118-120 Northeast 39th Street, according to a lawsuit filed in Miami-Dade County Circuit Court last week. Stefano Ricci's lawyers fired back, filing a…
Behind Miami's Largest Upcoming Office Project, 830 Brickell
The office landscape is currently going through one of the biggest transformations in recent history, as property managers and developers alike are making significant adjustments for offering tenants a safe and healthy environment. Recent development data showed improved construction activity in the summer, but with the economy expecting…
Two Roads Development lists Elysee sales center for $6M
The sales center, David Restainer and Reid Boren Two Roads Development is taking a different path with its sales gallery for Elysee Miami, a luxury condo project under construction in Edgewater. The developer had planned to lease out or sell the commercial condo, which has been used as Elysee's sales center, to a restaurant. Then the pandemic hit. The 5,481-square-foot…
Class B malls face collapse as retail bankruptcies pile up
Second-tier malls are at increasing risk of collapse as retail bankruptcies and store closures add up across the country. The category of malls — known in the industry as Class B — are in a vulnerable middle ground: more secure than their Class C and D counterparts but not as safe as high-end, Class A malls, which are considered likely to make it out of the…
Black-led banks combine, focused on multifamily housing
Two banks have merged to form the country's largest Black-led lender. The combination of Broadway Federal Bank in Los Angeles and City First Bank in Washington will focus on multifamily affordable housing, the New York Times reported. "We need to scale up our impact," said City First CEO Brian E. Argrett, who will lead the new lender of the same name.
South Florida construction starts show short-term recovery in July
South Florida construction starts showed a monthly recovery in July, but were still a far cry from life before Covid-19, according to a recently released report. In July, total construction starts for Miami-Dade, Broward and Palm Beach counties totaled $619.1 million, according to Dodge Data & Analytics, a Hamilton, New Jersey-based commercial construction project…
Rent relief for retailers is expiring. Now what?
With millions of U.S. stores remaining shuttered, property owners have handed out billions of dollars of rent relief. In recent earnings calls, some landlords gave hints as to who got tentative relief and how these negotiations went down. Simon Property Group's David Simon alluded to the mall owner abating rent for thousands of local retailers during…
These multifamily, Miami among, and office markets are more vulnerable to Covid distress
Since the early days of the coronavirus crisis, distressed real estate investors have been gearing up for the opportunity to scoop up assets at rock-bottom prices. So far, even in the hard-hit hospitality and retail sectors, deals have been slow to materialize as buyers and sellers continue to wait each other out. Signs of distress in the office and multifamily…
Wood Partners Lands $86M Refi for Miami Tower
Wood Partners, the developer behind the Miami luxury tower Yard 8, has secured a $86.3 million refinancing loan from Asia Capital Real Estate. The Atlanta-based owner, developer and manager will use the first mortgage loan to place permanent financing on the Class A multifamily property. Completed in May 2019, the 387-unit community is located in…
SBA Disaster Assistance for May 2020 Flood that affected City of Doral
The U.S. Small Business Administration (SBA) is offering low-interest disaster loans in response to the May 26th & 27th flood that affected several areas including the City of Doral. Businesses of all sizes, Private Non-Profit organizations, Homeowners and Renters and with physical or economic damages stemming from this disaster, are encouraged NOT to wait for…
Motley Fool: Here's Why Warehouses Will Be a Good Investment in the Near Future
The retail apocalypse was a major concern before the COVID-19 outbreak took hold. In 2019, an estimated 9,500 stores went out of business, according to Coresight Research. But now, a lot of major retailers are making plans to close stores as the effects of the pandemic rear their ugly head. According to the company, bankrupt retailer J.C. Penney…
Lauderdale Lakes affordable housing complex fetches $17M
Affordable housing developer the Cornerstone Group sold a 246-unit Lauderdale Lakes apartment complex for $16.9 million. Peak Capital Partners, a Provo, Utah-based affordable housing owner and manager, bought the St. Croix Apartments complex at 4075 to 4201 Northwest 34th Street, according to records. The price comes out to $68,699 a unit.
Jenco Properties pays $68M for Flagler Village apartments
Apartment giant AMLI Residential sold a rental complex in Fort Lauderdale's Flagler Village for $67.5 million. Chicago-based AMLI sold the 218-unit development at 450 Northeast Fifth Street to two affiliates of Jenco Properties, a Hialeah-based property management firm, records show. The deal breaks down to $310,000 per unit. The companies tied to Jenco…
Seagram scion pays $38M for West Palm affordable housing
A company tied to a member of Seagram's Bronfman family bought a 264-unit, waterfront West Palm Beach affordable housing community for $38 million. Malibu Bay Preservation Limited, the buyer of the Malibu Bay Apartments at 750 Malibu Bay Drive, is managed by Jeremy Bronfman, a partner and founder of investment group Lincoln Avenue Capital…