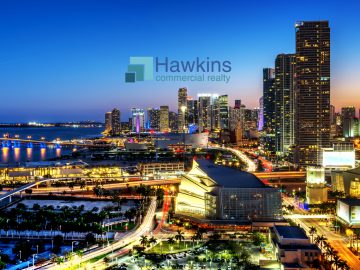 5 New Towers, Including An Office Building, Proposed At Miami Worldcenter
Plans for five new towers totaling more than 4M SF at the Miami Worldcenter development just north of Downtown Miami are under review. The 27-acre master-planned community is overseen by master developer Art Falcone, the CEO of Boca Raton-based Falcone Group, and Nitin Motwani, managing partner at Fort Lauderdale-based Merrimac Ventures. The plans are split…
Renderings Reveal Three Additional Towers Planned By Lalezarian Properties For Miami Worldcenter Block E
New renderings and site plans have unveiled the entirety of the vision for Miami World Towers, an expansive mixed-use development set to completely transform Block E within the 27-acre Miami Worldcenter complex in downtown Miami. Designed by Nichols Architects with Kimley-Horn as the landscape architect and developed by Miami World Towers LLC, an affiliate of Lalezarian Properties…
Miami World Diagrid Towers Revealed: 2,000 More Units, At FAA Max Height
Miami World Tower 1 just topped off this summer. Now, its developer is planning three additional towers. The newly revealed towers include: Miami World Tower 2a – 25 stories, 279 feet above ground, 293 feet above sea level Miami World Tower 2b – 68 stories, 694 feet above ground, 709 feet above sea level (the maximum permitted by the FAA in the area) Miami World Tower 3…
Miami Worldcenter Project With Two Towers Submitted To UDRB: Full Renderings
The massive mixed-use project with two towers planned at Miami Worldcenter's Block A is now ready for a hearing before the Urban Development Review Board. The towers are proposed to rise 59 stories (643 feet above ground, or 655 feet above sea level) and 33 stories (453 feet above ground, or 465 feet above sea level). The combined towers are proposed to include: 558 residential…
Abbhi proposes 59-story resi tower, 33-story office building at Miami Worldcenter
Abbhi Capital wants to build a 33-story office building and a 59-story tower with residences and a hotel at Miami Worldcenter. The Coral Gables-based firm filed a proposal to the city of Miami for an Arquitectonica-designed project for the 2.2-acre site on the northeast corner of Northeast First Avenue and Northeast 10th Street in Miami. The shorter building, called the South Tower…
Lalezarian proposes three towers with 2K apartments at Miami Worldcenter
Lalezarian Properties wants to expand its planned development at Miami Worldcenter by adding three apartment towers with a combined 2,040 units. The New York-based family-owned firm proposes 68-story and 31-story towers, which would rise out of the same podium, with 1,020 apartments; as well as a 67-story tower with another 1,020 units, at 10 and 20 Northeast Eighth Street…
Related Group Completes Vertical Construction On Two-Towered Mixed-Use Development In Wynwood, Miami
Related Group has completed vertical construction at Wynwood Diamedix, a striking development in Miami's Wynwood Arts District. This two-tower project, designed by Cohen Freedman Encinosa & Associates and situated at 2150 North Miami Avenue and 2115 North Miami Avenue, will boast 304 rental homes, over 17,000 square feet of top-tier commercial space, and an impressive…
Wynwood Diamedix Tops Off, Will Have 304 Rental Apartments
The Wynwood Diamedix rental apartment complex has completed vertical construction. Developer Related Group broke ground on the project in December 2022. Completion is now expected in September 2024, Related said yesterday. Wynwood Diamedix has two towers. When complete, the combined project will have: 304 apartments 18,422 square feet of retail 55,961 square feet…
Tree Work Begins on Brickell Key Site Where 800+ Foot Mandarin Oriental Tower Planned
Tree removal and relocation appears to be underway at The Residences at Mandarin Oriental site on Brickell Key, according to a post on the Brickell Living Facebook group. DERM records also show that an application for a $3.2m seawall rebuild at the property was filed in recent days. The property is privately owned by developer Swire Properties. According to a tree permit approved…
Tech Company Anaplan With 2,000 Employees Moving HQ To Miami
Another tech company has announced plans to relocate to Miami, according to Bloomberg. Anaplan, a software company with 2,000 employees worldwide, said last week it would relocate its headquarters from San Francisco to Miami. The company was taken private by Thoma Bravo for $10.4 billion last year. Thoma Bravo itself announced a Miami office at 830 Brickell in 2021…
72 Park Tops Off In North Beach, Will Have 206 Condo Units
In Miami Beach, the 72 Park condo tower has topped off. A ceremony to mark the occasion was held on September 13. 72 Park topped off at 22 stories and will include: 206 condo units 10,000 square feet of ground-floor retail space 326 parking spaces New York pizzeria Roberta's, a Michelin Bib Gourmand restaurant from co-founder Brandon Hoy and two-Michelin-starred…
Orion Capital Partners Acquires Mixed-Use Property in Kendall for $58M
Dadeland Greenery LP, an entity sponsored by Orion Capital Partners, has purchased a mixed-use project located on an 8.4-acre site at 7700 N. Kendall Drive in Miami. The property, known as both Greenery Mall and Dadeland Square, features 129,585 square feet of street-level retail space attached to an eight-story, 84,913-square-foot office building. Major retail tenants include T.J. Maxx…
Construction Tops Out On Doral City Place 7 Mixed-Use Project At 8450 NW 85th Court
Coastal Construction has topped off construction on Doral City Place 7, a state-of-the-art commercial and residential complex located at 3450 Northwest 85th Court in the City of Doral. Designed by MSA Architects with interiors by One Line Design Studio and developed by Lincoln Property Company, the mixed-use development will consist of 391 apartment units within an eight-story…
Miami Urban Design Board to Review Proposal for 2140 NE 2nd Avenue in Miami
Edgewood 22, a high-rise residential development, could replace a Midas auto parts store that was built just four years ago. Edgewood 22 LLC, managed by New York-based Nahman Lichtenstein, purchased the .51-acre build site for $6.3 million in 2022. Initially, according to the Real Deal, plans called for 120 apartments in an 18-story building…
Developers propose 160-unit residential project in Edgewater
Developers want to build a 160-unit residential project on the site of a Midas auto repair shop in Miami's Edgewater, marking continued investment appetite for the booming neighborhood. The Miami Urban Development Review Board will consider a proposal for a 20-story building with ground-floor retail at 2140 Northeast Second Avenue at the board's Wednesday meeting.
Residential Building Edgewood 22 with 160 Units Proposed In Edgewater
Plans have been submitted to Miami's Urban Development Review Board for a residential project called Edgewood 22. Edgewood 22 is proposed to rise 20 stories, or 241 feet, and include: 160 residential units 10,247 square feet of ground floor retail 219 parking spaces on four garage levels A Midas store was built on the property in 2019, county records show. Zyscovich is the architect…
Urban-X proposes 475-unit apartment tower at River Landing
Urban-X Group wants to develop a 28-story apartment tower as part of the firm's completed River Landing Shops & Residences mixed-use project. An affiliate of Andrew Hellinger and Coralee Penabad of Urban-X proposes a 475-unit rental building with a 533-space garage on 2 acres 1411 Northwest North River Drive, according to records. The project is christened MidRiverVu.
New York Investor Faces Foreclosure On 9-Story Property In Downtown Miami
A nine-story office and retail building in Downtown Miami is facing foreclosure after the owner failed to repay a $27M construction loan. City National Bank of Florida sued the owners of 1 Northeast First St. on Tuesday after the partnership failed to repay $26M in principal on a construction loan provided in 2021 for a $50M renovation project. The primary borrower listed in the suit…
Report: Incomes In Miami Are Rising Faster Than Inflation
Miami residents are earning more than they were in 2019 – even after inflation, according to Axios, which cited Census data. Miami is also outpacing the country, with incomes here growing faster than the U.S. average, the data shows. After inflation was factored in, the median income in the Miami-Fort Lauderdale-Pompano Beach metro increased 1.8% between 2019 and 2022…
PGIM Sells Coral Gables Office Tower For $90M
Office building sales are few and far between this year, but Coral Gables has seen two properties change hands in the past month. In the latest deal, PGIM Real Estate sold the 223K SF property at 355 Alhambra Circle to Princeton International Properties Corp., marking the Manhattan-based investment firm's first South Florida acquisition. The sale price wasn't disclosed, but a source…
Princeton drops $90M for Coral Gables office building
Princeton International Properties dropped $90 million for a Coral Gables building, marking the second office building sale in the city in the past two months. New York-based Princeton bought the building at 355 Alhambra Circle from PGIM Real Estate, according to news releases from Princeton and the seller's broker. Mike Davis and Dominic Montazemi were part of a…
Photos: Construction Site Of 40-Story Tower 501 First in Downtown Miami
Photos by Phillip Pessar show the downtown Miami construction site of the 501 First tower. Groundbreaking for the tower took place in December 2022. The foundation was poured in July. The 40-story tower is being built without a parking garage. It will include 448 residential condos allowing short-term rental, along with 3,198 square feet of retail. The ground level is being…
Miami Wilds vote put off, mayor explores other sites
The squabble over the future of a water park next to Zoo Miami launched Tuesday's Miami-Dade County Commission meeting. The issue, however, wasn't over the merits of the park, although several community members spoke against it, but rather how the agenda item would be kicked down the road. Sponsor Kionne McGhee favored, as Johnny Mathis sang, "The Twelfth of Never…"
Miami Beach plans to challenge Clevelander affordable housing proposal
Miami Beach commissioners are looking to restrict buildable height within a mile of the city's historic districts in South Beach. The move is a response to the Clevelander's announcement that the Art Deco hotel could be redeveloped into a tower with affordable housing. Clevelander hotel owner Jesta Group said last week that it planned to take advantage of the…
Ophir Sternberg's Lionheart, partners plan office-retail project in Miami Design District
Ophir Sternberg's Lionheart Capital and its partners plan an office and retail project in the Miami Design District. The firm and Leviathan Development, an investment vehicle for Lionheart's partner and director of development, Allison Greenfield, as well as Venezuelan developers Eduardo Pelaez and Alvaro Cardenas' Well Duo firm, want to build a three-story project on the…
Yair Levy's downtown Miami mixed-use building faces $26M foreclosure
A partnership led by New York developer Yair Levy could lose a downtown Miami mixed-use building at 1 NE First Street to foreclosure. On Tuesday, City National Bank of Florida sued an affiliate of Levy's Time Century Holdings and its minority partners in Miami-Dade Circuit Court for allegedly failing to make payments on a $27.2 million construction loan, among other defaults.
12-Story Class AAA Office Tower Tops Off At The Wynwood Plaza In Miami
L&L Holding Company and Oak Row Equities, along with project partner Shorenstein Properties and co-investor Claure Group, have topped out of the 12-story, 266,000-square-foot, Class AAA boutique office tower at The Wynwood Plaza, a one-million-square-foot mixed-use development designed by Gensler under construction located at 95 Northwest 29th Street…
L&L, Oak Row Top Out 12-Story Office Tower at Wynwood Plaza
L&L Holding Co. and Oak Row Equities, with project partner Shorenstein Properties and co-investor Claure Group, have completed the vertical construction of a 12-story office tower situated within The Wynwood Plaza, a 1 million-square-foot mixed-use campus underway in the Wynwood Arts District of Miami. Upon completion, the office development will total 266,000 square…
L&L Holding, Oak Row Hit Milestone in Miami
The Wynwood Plaza office tower rendering. Image by Gensler, courtesy of L&L Holding Co.The Wynwood Plaza office rooftop rendering. Image by IMERZA, courtesy of L&L Holding The Wynwood Plaza office lobby rendering. Image by IMERZA, courtesy of L&L HoldingThe Wynwood Plaza office tower progress. Image by Smith Aerial Photos, courtesy of L&L Holding L&L Holding…
Office Tower At One Million Square Foot Wynwood Plaza Tops Off
The Wynwood Plaza's office tower has topped off. Construction is also progressing steadily at the development's apartment tower. Construction on the 1 million-square-foot mixed-use campus has been moving rapidly since a groundbreaking ceremony took place in March 2023. The project is planned to include: 266,000-square-foot, Class AAA state-of-the art office tower…
The Gale Hotel & Residences Slated for 601 N.E. First Avenue in Miami
Developers are working on the Gale Hotel & Residences. The venture, occupying seven of the 51 floors, will offer 240 luxury condos: 160 for short-term rentals and the remaining 80 as hotel/apartment units. In 2022, Florida YIMBY had the pleasure of reporting on Natiivo, a 51-story tower that's under construction in Miami-Dade County. The South Florida Business Journal reports…
After the gold rush: Sublease availability grows as Miami financial, tech firms rethink needs
Miami-Dade County became a magnet for new-to-market firms from late 2020 to early last year. As companies gobbled up office space, real estate circles were especially giddy over two industries: financial services and tech. Once billionaire Ken Griffin moved his Citadel and Citadel Securities' headquarters to Miami, the city's fate as a mecca for financial firms seemed sealed.
Despite Live Local, Costs Keep Developers From Addressing Miami's Affordability Crisis
Miami is at "the epicenter of a national affordability crisis" in housing, Francesca de Quesada Covey, chief economic development and innovation officer for Miami-Dade County, said at Bisnow's Miami State of the Market event Tuesday. The problem with fixing it, developers and lenders at the event said, is that it doesn't make financial sense to build market-rate…
Welcome to Normalization; Miami warehouse demand takes a dip, but remains strong
Not long after the advent of Covid-19, South Florida experienced an unprecedented demand for industrial properties. Frank Trelles, executive VP of State Street Realty, said his phone didn't stop ringing for two years. "We were crazy on fire," he said, adding that his phone still rings – but nowhere near as much. That clamor for warehouse and distribution space was fueled by an influx…
Lease roundup: Industrious opens at Seritage's Esplanade at Aventura
Co-working firm Industrious opened at Seritage Growth Properties' financially troubled Esplanade at Aventura development. New York-based Industrious has a 25,600-square-foot space at 19505 Biscayne Boulevard in Aventura with 97 offices, 386 desks and 12 phone booths, according to a news release from the co-working firm. The deal marks Industrious' fifth outpost in…
Embattled investor Bent Philipson pays $23M for Hollywood nursing home
Bent Philipson, a controversial investor in elder care facilities, scooped up a nursing home in Hollywood for $22.7 million. Philipson, through an affiliate, bought the 240-bed Hillcrest Health Care and Rehabilitation Center at 4200 Washington Street from an entity tied to Omega Healthcare Investors, according to records and real estate database Vizzda. Completed in 1969, the center…
BBX Logistics, PCCP Plan Miami-Area Industrial Park in Delray Beach
BX Logistics Properties and PCCP LLC have formed a joint venture to develop BBX Park at Delray, a 40-acre logistics park in Delray Beach, Fla., that will have up to three buildings totaling as much as 672,533 square feet of logistics space. The partners recently acquired the development site north of Atlantic Avenue on U.S. 441 in Delray Beach, located in the rapidly growing…
Non-Branded Hotel Coming to the Nora District at 1021 N. Railroad Ave in West Palm Beach
The Nora District is one of South Florida's most exciting ventures, expected to be the Wynwood of Palm Beach County. The multi-million-dollar venture broke ground in June 2023, redeveloping old warehouses into modern, dynamic commercial ventures. Now, developers are moving ahead with a non-branded hotel that is the "antitheses of Hilton, Marriott or Hyatt." The "fairly luxurious…"
Private lending enters construction cost equation
While construction lending interest rates remain high, more commercial developers are seeking private lenders as an alternative. Institutional commercial lending right now is a little bit harder to pinpoint given the construction costs and creeping interest rates, said Bibi Azcuy, co-managing partner for the Sidley Austin law firm. "Given the demand, we have seen some private…
Video: Costar National Director of Office Analytics Phil Mobley Discusses Office Performance & Values
CoStar Group National Director of Office Analytics Phil Mobley joins America's Commercial Real Estate Show to share current office property performance, property values, and forecasts. Discussions include office property tenant trends, lender workout strategies, and areas of opportunity in the current market. He starts off noting the sector as having continued challenges…
Brightline To Launch High-Speed Rail Service to Orlando International Airport Starting September 22
Brightline, recognized for its modern and eco-friendly intercity rail service in the United States, is set to launch its route to Orlando International Airport on September 22, 2023. Travelers can now book inaugural rides at gobrightline.com or via the Brightline app for iOS and Android. According to Patrick Goddard, president of Brightline, opening the Orlando route is a significant step…
Nightingale CEO Put $12M Of CrowdStreet Investor Cash Into First Republic Stocks, Options Weeks Before It Failed
Nightingale Properties CEO Elie Schwartz took more than $10M of the cash he raised on CrowdStreet that he told investors would be used to buy a massive Atlanta office complex and instead bet it on the recovery of First Republic Bank before it failed. On March 23, Schwartz diverted $12M in crowdsourced investor funds that were to be used to buy the Atlanta Financial Center…