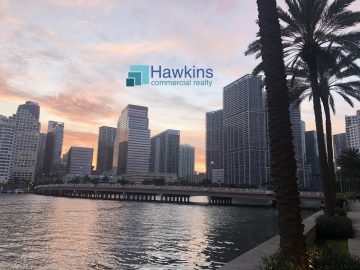 The Growing Power of Tech on Miami's Commercial Real Estate Market
Miami's exploding tech footprint landed it on the list of emerging tech hubs according to our recently published blog, Tech Markets to Watch and Why the Field's Getting Competitive. Throughout the past decade, tech companies and venture capitalists migrated in droves to Miami, surging population growth numbers as a result. Fintech – or financial technology…
NY AG files civil fraud suit against Trump, children and company
The New York attorney general made a long-awaited move on Wednesday, filing a civil lawsuit against Donald Trump, the Trump Organization and some of the former president's children. In the 220-page lawsuit, Letitia James alleged large-scale fraud by Trump and his organization, claiming property values were inflated to land more favorable loans or lower taxes.
Terra, AB Asset plan 174 apartments in Coconut Grove
After embarking on projects throughout Miami-Dade County, David Martin's Terra is making another play on a market it knows well: Coconut Grove. Miami-based Terra and Miami Beach-based AB Asset Management want to replace The Malone hotel at 2835 Tigertail Avenue in Miami with a five-story apartment building, according to city records. The Residence…
Electra America JV plans $1B mixed-use redevelopment of Southland Mall
An Electra America joint venture is planning a $1 billion overhaul of Southland Mall in Cutler Bay. Electra, its multifamily affiliate Tampa-based American Landmark, and Miami-based real estate firm BH Group are planning to add mixed-use components to the 80-acre site. They will include a 150-key hotel, 60,000 square feet of medical office space, 150,000 square…
Electra America, BH Group Unveil Plans for $1B Redevelopment of Southland Mall Site in Miami-Dade County
A few months after purchasing the former Southland Mall site in Cutler Bay for $100.4 million, owners Electra America (and affiliate American Landmark) and BH Group have unveiled plans for their $1 billion redevelopment of the 80-acre campus in Miami-Dade County. Named Southplace City Center, the mixed-use development will feature 4,395…
Plans Unveiled for $1 Billion Redevelopment of 80-Acre Southland Mall Site in Miami-Dade County
Electra America, a real estate private equity firm focused on value-add and opportunistic investment in the Sun Belt region of the U.S., along with its U.S.-affiliate, American Landmark, and BH Group, a Miami-based private real estate investment and development firm, today unveiled preliminary plans for the redevelopment and reinvention of the Southland Mall…
Duncan Hillsley drops $18M on bulk condo purchase of South Miami student housing
Duncan Hillsley Capital dropped $17.5 million on a bulk purchase of condos geared toward college students in South Miami, two months after it settled a lawsuit with the seller. Records show a Delaware LLC linked to the investment firm bought 70 units in Valencia, a 301-unit condo building at 6001 Southwest 70th Street. The seller is MHS Valencia LLC. The buying…
Original vision of Triple Five Group's American Dream Mall awakens
Canadian developer Triple Five Group, whose American Dream Mall is to rise in Northwest Miami-Dade, is still working on the design for a site plan application to deliver to the county in December, returning to its original concept after considering major changes last year. Over the past year, the developer has been meeting with staff from the county Department…
No-bid deal may darken films mecca Tower Theater
The home of the Miami Film Festival in Little Havana where Miami Dade College also operates South Florida's highest-grossing art house cinema could be turned over to the Bay of Pigs Veterans Association by a Miami City Commission vote today (9/22). Another vote would turn over to the association in a second lease the adjacent theater parking, where…
Jungle Island expansion advances with water/sewer deal
Miami city commissioners have approved a resolution expected to lead to a new water and sewer deal with the county for expansion of Jungle Island, with details on the size of the proposed new uses, including restaurants. Jungle Island, formerly Parrot Jungle, was a zoological park relaunched as an eco-adventure park on Watson Island. The City of Miami owns the…
Healthcare commercial lending market grows
As commercial loan transactions are slowing down a bit due to the rise in interest rates across financial institutions, healthcare commercial lending is becoming a growing market in South Florida thanks to the increased number of physicians licensed and the expansion of Florida's population. City National Bank is adding a medical division within its private…
Peter Thiel on Florida real estate: "becoming like California"
Even tech billionaire and Republican mega donor Peter Thiel thinks housing prices and rent are too damn high in Florida. Thiel, a Miami Beach transplant from Silicon Valley, warned conservatives that soaring real estate prices in Florida make the Sunshine State more like California than they would like to admit. Speaking at the National Conservatism…
Investor seeks $50M for allegedly botched Ocean Drive hotel repairs
Allied Partners is seeking $50 million from an architect and an engineer who allegedly tore down portions of a historic Miami Beach hotel without the owner's authorization. In two separate lawsuits filed in Miami-Dade Circuit Court last month, an Allied entity sued Kevin Gore, an architect based in Palisades Park, New Jersey; and Miami-based engineer Elvis…
Owners Of Savoy Hotel & Beach Club Sue For $50M Over Unauthorized Demolition
Real estate investment firm Allied Partners is suing an architect and engineer who it claims demolished parts of an iconic Miami Beach landmark without its consent. It's asking a Miami-Dade Circuit Court judge to award it $50M. New York-based Allied owns The Savoy Hotel & Beach Club on South Beach… at 425 and 455 Ocean Drive.
Grand Peaks proposes 26-story apartment tower in Brickell
Grand Peaks Properties doesn't want to be left out of the Brickell bonanza. The Denver-based multifamily firm proposes a 26-story apartment tower on an acre, spanning two adjacent lots at 901 Southwest Third Avenue and 244 Southwest Ninth Street in Miami, according to Miami records. Grand Peaks has the property under contract for…
Lease roundup: AJP, Mas fully lease Kendall medical offices
Cardiovascular Centers of America, HCA Florida Institute for Gynecologic Oncology I MedSquare Health I Kendall A year after finishing a Kendall medical office plaza, AJP Real Estate and Mas Group fully leased the property. http://therealdeal.com/miami/tag/kendall/ In the recent flurry of deals, Cardiovascular Centers of America took 8,000 square feet; Centers…
Richard LeFrak On Peers Moving To Miami And Watching His 184-Acre Megaproject Hit Critical Mass
This year marks a decade since the LeFrak family, which for the past century has amassed one of the largest portfolios of New York-area real estate, made its splashy entrance in Florida with the purchase of more than 180 acres in North Miami. Ten years after Richard LeFrak, the CEO and third-generation leader of the family business, bought the smelly…
5 minutes with developer, broker Edgardo Defortuna
Fortune CEO Edgardo Defortuna Developer and broker Edgardo Defortuna is carefully choosing which projects his firm, Miami-based Fortune International Group, picks up amid a flood of new development in the pipeline. He's also keeping a close eye on still-rising construction costs and supply chain issues, as well as the affordability crisis in South Florida.
Industrial Real Estate Demand Strong Heading Toward Final Months Of Tumultuous Year
The nation's industrial real estate market is headed toward the closing months of 2022 with strong demand overcoming uncertainty about the course of the global economy. Leasing of logistics, manufacturing and warehouse properties has been hitting records during the third quarter as businesses and investors also build and buy industrial properties at…
Restoration Hardware's Miami Design District deal implodes
Restoration Hardware's foray into the Miami Design District was supposed to jump-start the redevelopment of a less glamorous part of the high-end retail and dining neighborhood. But now the deal has turned into a train wreck. Restoration Hardware is suing its landlord, an entity connected to Apollo Commercial Real Estate and Michael Comras, alleging that the…
Winn-Dixie sues landlord over leaky roof at South Miami store
A leaky roof forced Winn-Dixie to close a South Miami store at 8710 Southwest 72nd Street, and now the grocer wants landlord Robert Balzebre to pay up. In a lawsuit filed in Miami-Dade Circuit Court last month, the Jacksonville-based grocery chain is seeking a court order to force Balzebre, principal of Miami-based Balzebre Investments, into fixing the roof of…
Biscayne Boulevard's New World Tower Could Get Rapid Transit Zoning
A developer who has been assembling several Biscayne Boulevard properties where a supertall tower is possible has requested Rapid Transit zoning designation, according to a county memo. The properties being requested for inclusion include the 30-story New World Tower on Biscayne Boulevard, and the adjacent Yve Hotel. The New World Tower dates to…
Another Wynwood dev site hits market asking above $30M
In a span of weeks, a second Wynwood development site is hitting the market with an asking price above $30 million. Miami-based real estate investor Joseph Cohen is listing the 1-acre assemblage of 2100 Northwest Miami Court, 2101 Northwest First Avenue and 2127 Northwest First Avenue with an asking price of $35 million, according to Juan…
South Florida office sales falter, despite strong leasing
Sabadell Financial Center at 1111 Brickell Avenue in Miami, 110 Tower at 110 Southeast Sixth Street in Fort Lauderdale and The Gateway at Wynwood at 2916 North Miami Avenue in Miami with J.C. De Ona of Centennial Bank's Southeast Florida division, Dominic Montazemi of Cushman & Wakefield, Chris Lee of CBRE, Shelby Rosenberg of R&B…
Starwood, Related Launch Venture To Sell EV Chargers, Solar Panels To Big Landlords
Property giants Starwood Capital Group and Related Cos. have joined forces to create a new endeavor to sell clean energy products to other large real estate owners. Through the companies' energy subsidiaries — Starwood Energy and EnergyRe — the two firms launched a new venture dubbed Radial Power to sell solar panel installations, electric vehicle charging…
School of Whales Investors Now Own a Piece of the Historic Post Office in Downtown Miami
This week School of Whales announced a new addition to its diversified commercial real estate investment portfolio: 100 NE 1st Ave—The Historic Post Office building in Downtown Miami. School of Whales investors now own a piece of this trophy property. The stunning 36,500 square foot 1912 Neo-classical building is currently being transformed into a 4-level…
Shoma launches sales of planned North Bay Village condos
Shoma Group is pivoting its plans from apartments to condos at a North Bay Village site it acquired earlier this year. Shoma, led by Chairman Masoud Shojaee and President Stephanie Shojaee, is launching sales of the Shoma Bay condos, with prices starting in the $400,000s, according to a press release. The Coral Gables-based developer tapped…
The Boom Times in Industrial Real Estate Are Far From Over
Industrial real estate has been the standout sector in real estate for close to a decade, and the pandemic only further entrenched its position. While other sectors of the economy ground to a virtual halt, consumers' accelerated shift toward e-commerce made industrial one of the few assets to benefit from lockdowns and social distancing.
Tiendamia Inks 33,000 SF Industrial Lease In Medley
Xipron, Inc. d.b.a. Tiendamia has inked an industrial lease at 8404 NW 90th Street in Medley. Tiendamia signed a long-term lease for approximately 32,670 square feet in the recently completed Building 11 which fronts NW 90th Street. The Butters Realty & Management Industrial Brokerage Team of JC Conte, SIOR and Brian T. Ahearn…
Video: The New Retail World with Macerich featuring Macerich CEO/Director Tom O'Hern
Tom O'Hern, CEO and Director of Macerich, one of the largest retail REITs in the world with 48 million square feet of property, joins America's Commercial Real Estate Show to discuss how large retail properties have performed, leasing activity, and mall property conversions. Macerich, a real estate investment trust (REIT) that invests in shopping centers, is the…
Fisher Island's Last Development Site Sells for $123M
The Related Group, in a joint venture with Teddy Sagi, Wanxiang America RE and BH Group, has acquired the last available development site on Miami Beach's Fisher Island for $122.6 million, Miami-Dade County records show. Tara Bernerd and Partners and Kobi Karp Architects will design the project. The 6 Fisher Island Drive development will offer 50…
No check-in zone: Fort Lauderdale Hilton-branded condo-hotel unit owners fight for access
At an oceanfront Hilton-branded condo hotel in Fort Lauderdale Beach, developers Joseph Cabanas and Jose Luis Zapata are allegedly blocking a group of investors from renting and selling their units, according to court documents and interviews with some of the owners. It's a nasty fight that's ignited a series of lawsuits over the last two years against Q Club Hotel…
Prospect plans Lauderhill project with up to 275 apartments
The developer of an apartment complex with as many as 275 units in suburban Lauderhill is targeting tenants priced out of downtown Fort Lauderdale. Young professionals and young families "who can't buy a house and can't afford the downtown Fort Lauderdale rents, that's the group we're kind of pinpointing," Navish Chawla, a…
LM Restaurants plans waterfront eatery, hotel in Deerfield Beach
The Moshakos family's LM Restaurants wants to open a waterfront dining and hotel venue next to an eatery it owns in Deerfield Beach. LM Restaurants, through an affiliate, bought the 1.7-acre vacant development site at 1755 Southeast Third Court for $10 million from an entity led by Phillip Schuman, according to records. The property is just south of…
American Landmark sells Boynton Beach apartments for $71M
American Landmark sold a Palm Beach County apartment complex for $71 million, nearly 70 percent above its purchase price four years ago. An entity managed by Zoe Buchard of Kent, Washington, and Gary and Susan Burchard of West Palm Beach bought High Ridge Landing at 3609 High Ridge Way in Boynton Beach, records show. The buyer obtained a $37.5…
Babak Ebrahimzadeh proposes West Palm office project
Babak Ebrahimzadeh is the latest investor and developer to bet on the growing West Palm Beach office market. Through his Miami-based Florida Mastermind, Ebrahimzadeh wants to build a 12-story office building with 150,000 square feet of space at 1545 Centrepark Drive North, he told The Real Deal. The project, to be called The Contemporary, will be within…
Cold Storage Sale-Leaseback Closed in Southeast
JLL Capital Markets has closed the sale-leaseback of two cold storage facilities totaling 262,904 square feet, in Miami and in metro New Orleans, for Quirch Foods. JLL represented Quirch in the sale to an undisclosed third party. Quirch occupies both facilities. Financials on the deal were not disclosed. The Miami property is on 15 acres at 7600 NW 82nd Place…
Starwood checks out of Westlake shopping center for $20M
Sarry Sternlicht's Starwood Property Trust is the latest landlord to cash out of a grocery store-anchored shopping center in South Florida. An affiliate of Starwood, based in Miami Beach and Greenwich, Connecticut, sold Grove Market, a 77,000-square-foot shopping center at 5060 Seminole Pratt Whitney Road in Westlake, for $19.5 million, records show. The deal…
Stephen Ross bets on West Palm office development — again
Stephen Ross can't get enough of downtown West Palm Beach. Already the biggest office property owner in the city, Ross' Related Companies now plans a 25-story building that will bring 456,000 square feet of work space and 15,000 square feet of retail to downtown West Palm, according to a company news release. The tower, called 515 Fern, will rise next to the…
Pérez and Sagi's Transit Village in West Palm Beach advances
It's not unusual for ambitious projects to stall for years and then to fizzle out entirely, due to financial woes or the hassle of government approvals. Yet, a project lingering for almost two decades making a major comeback is rare. That's the story of Transit Village, a planned, massive mixed-use development that would…