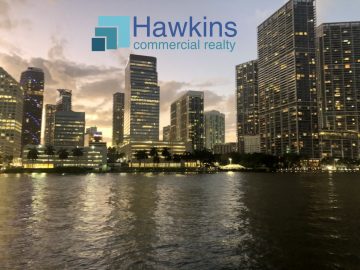 Horizon Properties pays $33M for Publix-anchored shopping center in Hialeah
For the second time this month, a Publix-anchored shopping center is at the heart of a big-ticket retail sale in South Florida. An affiliate of Horizon Properties of Miami bought El Mercado Plaza in Hialeah for $33 million, records show. Publix is the anchor tenant in the 101,484-square-foot shopping center at 2400 West 60th Street, taking up 42,112 sq…
Seagis Property Group buys logistics firm's Doral facility for $19M
Seagis Property Group bought a logistics company's Doral facility for $19.4 million. AmCar Lamprecht sold the property at 10100 Northwest 25th Street, two years after it purchased it for $14 million, records show. The two-story, 105,984-square-foot facility was constructed in 1974 on 5 acres, property records show. Seagis also owns the much bigger, next-door…
Seagis Property Group Acquires 107,642 SF Warehouse in Doral
Seagis Property Group announced it has acquired a 107,642 square foot distribution facility located at 10100 NW 25th Street in Doral in Miami-Dade County. The property was purchased through a sale leaseback transaction. The acquisition increases the Company's South Florida portfolio to 108 buildings and 5.6 million square feet. "We are excited to add another…
CenterPoint Acquires Cross-Dock Warehouse In The Shadow Of Miami Airport
CenterPoint Properties has purchased a 65,000-square-foot distribution facility in the bustling Airport West submarket at 8788 NW 27th Street in Doral. "South Florida's fundamentals continue to look promising for industrial real estate thanks to intense competition for space among e-commerce, major retailers and logistics companies," said PJ Charlton…
Brightline parent lists MiamiCentral apartment towers for $500M
ParkLine MiamiCentral Florida East Coast Industries is looking to take advantage of the hot multifamily market by listing the luxury apartment towers at Brightline's MiamiCentral station for $500 million. ParkLine Miami, an 816-unit, two-tower development at 100 Northwest Sixth Street, hit the market with a Cushman & Wakefield team led by Robert Given…
Miami Beach Planning $107M Project With Olympic Pool Atop Parking Garage
Miami Beach is planning a massive, first-of-its-kind project to build a 500-car parking garage with a community center and two swimming pools — one Olympic-sized — on its roof. The current all-in cost for the project is $107M. Some residents are opposing the project, saying it's too costly, too risky and unnecessary. As explained in a Sept. 17 memo from City…
Critics Wonder If Miami Mega-Mall Will Ever Be Built As American Dream In N.J. Suffers
When the $3B American Dream mall opened its entertainment offerings at the Meadowlands in East Rutherford, New Jersey, in October 2019, malls almost everywhere had already been suffering. Then came the coronavirus pandemic, during which the mall had to totally shut for six months. Its retail didn't open until fall of 2020, and its luxury wing opened last week…
Miami Among Top 5 Markets for Self Storage Deliveries
As Miami's per-person storage inventory hovered above the 6.8 net square feet national average in recent years, developers were cautious with adding new projects to the metro's pipeline. However, thanks to continued in-migration and relocating businesses from the West and East Coasts, self storage has seen record demand since the onset of the pandemic.
Chart: Miami-Dade Commercial Real Estate Sales August 2021
This chart displays the number of closed commercial property sales in Miami-Dade county including both improved commercial properties and vacant commercial land, that were recorded in the Miami Commercial MLS for the two years ending August, 2021. August 2021 volume, as was the case with July, seems to be at a normal, non-pandemic, level. "Don't wait to…"
Chart: Miami Commercial Real Estate Sales to List Price Ratio August 2021
This chart displays the sales price to listing price ratio as reported in the Miami Commercial MLS for improved commercial real estate (MLS classification: commercial/industrial) that lies within Miami-Dade, including cities within, that were priced from $1 million to $10 million and that closed from January 2011 to August 2021. This ratio edged up a touch…
Adam Popper joins Thor Equities as VP of acquisitions
Adam Popper is back in an executive role with a major commercial real estate company. The former Columbia Property Trust executive has a new role with Joe Sitt's Thor Equities as its vice president of acquisitions. Popper started in the role on Monday, according to the Commercial Observer. Popper's charge is to expand the developer's presence in both industrial…
Fed's Beige Book: Constraints in Labor, Supply Chains Persist as Activity Expanded
A couple of pandemic-related hurdles continued to characterize economic activity in the Southeast from July through mid-August: an unusually shallow pool of available workers and logjammed supply chains, according to the latest Beige Book report of regional business activity by the Federal Reserve Bank of Atlanta. Nonetheless, overall economic activity…
Cryptocurrency team looks at broad county opportunities
The Miami-Dade Cryptocurrency Task Force is up, running and already exploring the feasibility for the county to start accepting cryptocurrencies and other digital monetary forms as acceptable methods of payment countywide for taxes, fees and services. The group is also studying whether the county could make payments with that exchange and is looking for…
51-story Legacy Hotel in Miami Worldcenter wins city OK
Miami Worldcenter, the evolving city within a city, is ready for its next skyscraper: Legacy Hotel, 51 stories and nearly one million square feet of floor space to rise at 938 NE First Ave. The applicant-developer is Royal Palm Companies, represented by attorney Marissa A. Nuefeld. She and other members of the developer's team, including architect Kobi Karp…
New ferry service plans another vessel, trips to Coconut Grove
Since resuming service Aug. 16, Poseidon Ferry's passenger count continues to climb, and operators plan to add another vessel and a new route. "Service is going well," said CEO Johnathan Silvia. "The last two weeks of August we had 1,163 passengers. For the first half of September we had 1,000, and we are optimistic that we will see better statistics at the end…
Four major stations planned for East-West rapid transit
An updated presentation of the East-West Corridor of the Miami-Dade Smart Plan this week revealed county Department of Transportation and Public Works (DTPW) intentions to begin with the project, develop four major stations, and improve surrounding areas with smaller projects of affordable housing, retail, office, hotel, and parking garages. The…
Mario Murgado: Building a multi-state group of 18 automobile dealerships
Mario Murgado came to the US from Cuba as a 4-year-old. Now 59, he feels blessed to be living in this country, be part of the community and be involved with his passion: the automotive industry. He is one of the most successful auto-dealership owners in South Florida, with six dealerships in Miami, four in Stuart, three in Jacksonville, three in New Jersey and…
Multi-family housing loan demand strong
Banks in South Florida continue to see an uptick in commercial loan applications for small businesses, middle market and multi-family housing projects around the tri-county area, as the Covid-19 pandemic barely slowed demand. Among the most requested commercial loan applications are SPA – sales and purchases agreement – loans, "anything from…"
Two years after its IPO fail, WeWork will go public
WeWork CEO is Sandeep Mathrani (Wework) Google the phrase "WeWork going public" and among the questions that pop up are: "When did WeWork go public?" The answer is, it never really did. But late next month, retail investors will finally have the chance to own a piece of the coworking giant. WeWork announced Monday that its merger with a special purpose…
A-Rod hits home run on 13 suits by ex-brother-in-law over real estate empire
Former baseball slugger Alex Rodriguez hit a home run on 13 lawsuits filed by his former brother-in-law, Constantine Scurtis, over their unraveled real estate venture. A Miami-Dade Circuit Court judge's ruling to dismiss the suits means A-Rod is cleared of tens of millions of dollars in potential damages. Yet other litigation is still headed to court that could put…
Foreclosure lawsuit targets DoubleTree hotel near Miami International Airport
The owner of the DoubleTree by Hilton Hotel & Miami Airport Convention Center at 711 Northwest 72nd Avenue allegedly hasn't made mortgage payments since April 2020. So now the lender is looking to collect nearly $33 million in outstanding debt. The lender, a commercial mortgage-backed securities trust represented by an affiliate of Miami-based Rialto Capital…
Osaka restaurant space in Brickell sells for $6M
A commercial space leased to the Peruvian restaurant Osaka traded hands for $5.9 million. North Miami-based Lizmar International sold the 5,040-square-foot space to Speed Plaza, a Florida company led by Carlos Tovar and Luis Meir. The two commercial condos at 1300 Brickell Bay Drive in Miami are on the ground floor of the condo tower Brickell House. The…
Canada's CI Financial picks Brickell for new US HQ
CI Financial I 830 Brickell in Miami Canadian asset and wealth management behemoth CI Financial will open its new U.S. headquarters at 830 Brickell in Miami's Brickell Financial District. Toronto-based CI Financial leased roughly 20,000 square feet at the 55-story tower under construction. Kurt MacAlpine is CEO of CI Financial. Vladislav Doronin's…
Facing assault charges, developer Bill Hutchinson sells Miami home, lists Cali properties
Developer Bill Hutchinson has sold a Miami mansion and has listed two other properties as he faces sexual assault charges. Hutchinson sold the Miami property for $10 million, according to the New York Post. The 2009-built home first hit the market last fall asking $8.2 million. He purchased the home in 2016 for $5.6 million. The mansion totals 12,000 square feet…
Ares Management makes $150M play for David Beckham's Miami soccer venture
David Beckham's Major League Soccer venture in Miami now counts a real estate heavy hitter among its backers. Los Angeles-based Ares Management, through funds managed by its Credit Group, made a $150 million preferred equity investment in Inter Miami CF, according to an Ares news release. Ares, led by co-founder and CEO Michael Arougheti, is a global…
KKR, Cornerstone in $1B JV to develop health care facilities
KKR and Cornerstone Companies are joining forces to develop health care facilities in the United States. Cornerstone already has experience in the market, as the company is a health care real estate investment, development and management firm. It is also seeding the joint venture with 25 properties that are being recapitalized, according to Real Estate Weekly.
Opportunity Zone fund proposes Bitcoin mining project near Homestead speedway
A Miami-based Opportunity Zone fund wants to develop a Bitcoin mining operation and technology business park, amid growing global concerns about the environmental impact and energy consumption created by cryptocurrency mining, The Real Deal has learned. Aware of the controversial aspects of Bitcoin mining, Esperanza Opportunity Zone…
Making it rain in Miami's Design District
Bernard Arnault briefly dethroned Amazon's Jeff Bezos as the richest man in the world last month. The ascent of LVMH Moët Hennessy Louis Vuitton's chairman and CEO was propelled by mind-blowing company revenue of $34 billion for the first half of the year, allowing Arnault to climb atop the ranking of the wealthiest billionaires for the third time…
Big month for retail sales bodes well for landlords
Americans still love their stuff. Overall retail purchases rose 0.7 percent in August, easily beating out the median estimate of a 0.7 percent drop from economists surveyed by Bloomberg. Excluding automobiles, which are hard to get because of a microchip shortage, sales looked even better with a five-month high 1.8 percent rise, according to Bloomberg. Retail purchases…
Nuveen pays $98M for Blue Lagoon apartment complex in Miami
Nuveen Real Estate bought an apartment complex at Blue Lagoon near Miami International Airport for $98 million. Pinnacle and Ascend Properties sold the LaVida Apartments, a pair of eight-story buildings at 6600 Northwest Seventh Street, near the Waterford Business District. The two firms developed the 272-unit, lakefront project in 2019 across 7.4…
Mom-and-pop landlords, Black tenants hit harder by pandemic: report
It's been tough to get good data on rent payments during Covid. Dispatches from the National Multifamily Housing Council show collection rates never dipped below 93 percent — a seemingly healthy figure. Yet the oft-cited survey covering 11 million apartments draws only from larger, professional management companies and counts…
Harvey Hernandez plans three-tower project on riverfront Brickell site
Developer Harvey Hernandez paid $50.5 million for a riverfront site near Brickell City Centre, where he's planning a three-tower residential and marina project. An affiliate of his Newgard Development Group closed on the 1.6-acre property at 99 Southwest Seventh Street in Miami. It secured a $55 million loan from 3650 REIT, a Miami-based lender that is affiliated…
Real Estate Roundtable: Break deadlock on $1T infrastructure bill
When the Senate passed a $1 trillion infrastructure bill with bipartisan support last month, the Real Estate Roundtable applauded, with the trade group's new chairman, John Fish, calling it a "once-in-a-generation opportunity to rebuild and reimagine the buildings of tomorrow." But the infrastructure package — a vast array of funding streams including $110…
Surfside commissioners shoot down proposed land swap with collapse site to create memorial
Surfside commissioners ruled out any possibility of a land swap with the site of the condo collapse to create a memorial, after listening to victims and their families in favor of the proposal, as well as residents against it. Some victims had suggested swapping the Champlain Towers South site at 8777 Collins Avenue with the town's community center property, at 9301 Collins…
Amazon to open 100 more US facilities in September
Christmas is already on the horizon for Amazon. The tech giant, among the biggest players in the industrial real estate market, aims to open 100 U.S. facilities this month and is gearing up to hire 125,000 warehouse workers ahead of the busy holiday season, according to the Wall Street Journal. The company's starting wage of $15 an hour has drawn criticism in the past.
5 real estate issues to watch in Dems' $3.5T budget
Federal lawmakers are hashing out a $3.5 trillion spending plan that could include billions of dollars for new affordable housing and incentives for cities to combat exclusionary zoning. The House Ways and Means Committee on Monday outlined a series of tax reforms to help pay for the plan, including increases to the corporate tax rate…
Moishe Mana's downtown Miami buildings declared unsafe, ordered evacuated
Two of Moishe Mana's downtown Miami buildings were declared unsafe and ordered evacuated, The Real Deal has learned. The commercial buildings join a growing list of properties that have been deemed unsafe in the wake of the deadly Surfside condo collapse. City officials throughout South…
August retail rent payments close to 2019 levels
Despite the delta variant causing a new wave of restrictions on businesses, most retailers are paying their rent at nearly pre-pandemic levels. National chains have paid 95 percent of owed rent in August of this year. That's just slightly below the nearly 97 percent paid during the same time in 2019, according to a monthly report by Datex Property Solutions. "There's…"
HighBrook Investors buys three Miami-Dade warehouses for $33M
A New York real estate private equity firm… 3 Miami-Dade warehouses… An affiliate of HighBrook Investors, led by founder Brian R. Carr and senior managing partner David Patrick O'Connor, paid $33 million for the trio of industrial buildings at 3455 Northwest 54th Street, 5530 Northwest 32nd Court and 5400 Northwest 32nd Court, records show. HighBrook obtained…
Miami Beach board rejects Aimco's proposal for Grand Flamingo tower
AIMCO founder Terry Considine and a rendering of the Grand Flamingo tower Aimco's plans for a luxury high-rise condo tower in South Beach were shot down by a Miami Beach board on Friday. The design review board rejected the real estate investment trust's application to construct The Grand Flamingo, which would mark the fourth tower within the…
Tate Capital sells CVS Pharmacy y más location near Kendall for $16M
An affiliate of Tate Capital sold a CVS Pharmacy y más-leased location just north of Kendall for $16 million. The buyer was a group managed by H.H. Real Estate Holding Corp., records show. The 17,300-square-foot property is located at 10660 Southwest 40th Street. The buyer also is linked to Dallas-based International Capital, a commercial real estate brokerage and…
Milestone reached in Coconut Grove waterfront development as Wells Fargo Location Opens
A major tenant, the second commercial venture to open for business in this high-profile venue, has officially begun op­erations at the Regatta Harbour Parking Garage, bringing new life to the Coconut Grove waterfront. The TREO Group – a Miami-based, privately-held real estate investment firm – announced that Wells Fargo, the diversified, community-based financial…
Theater lease heads for Miami Beach commission OK
The Collins Park cultural center and theater is to seal a lease with Miami New Drama in October, after the city com­mission and Planning Board unanimously passed a term sheet agreement for a lease in June. After non-for-profit present­ing and producing arts organiza­tion Miami New Drama submit­ted an unsolicited proposal for a cultural space at the Collins Park…
Eulois Cleckley: New transit director seeks to add infrastructure and riders
The Department of Transportation and Public Works got a new leader in August, Eulois Cleckley. He has long been working in the transportation industry in both public and private organizations. Before arriving in Miami-Dade, he was executive director of the Department of Transportation and Infrastructure of Denver city and county, where he led creation of that…
Microsoft landing on Brickell elevates business hub of Latin America
Welcome news that Microsoft will open a 50,000-square-foot Brickell office is being hailed as a big step in a Miami tech boom, but it primarily elevates Miami as the business link to Latin America and the Caribbean. Of course, any business entrant to the city's core is welcome, more so when it takes 50,000 square feet in a rising tower when office vacancies are high, even…
US office investment market remains well below 2019 levels
The U.S. office investment market has yet to recover from the pandemic, as sales volume remains well below 2019 levels. The dollar volume of investment sales transactions across the top 30 markets totaled $28 billion in July. That was 45 percent below the July 2019 amount of $39.5 billion, according to Reonomy figures first reported by Commercial Observer.
Miami projected to add 11,235 units this year as Dallas, NY metro areas lead US in projected apartment deliveries
For the fourth year in a row, the Dallas-Fort Worth metro area leads the pack in projected number of apartment units coming online nationwide. The New York metro area finished second. That's according to a new report from RentCafe, which estimates that 334,000 apartment units will be delivered in the U.S. in 2021. The report tallied the 20 metro markets with…
Cemex digs into northwest Miami-Dade with $33M purchase of over 150 acres
A global cement conglomerate is expanding its footprint in northwest Miami-Dade. The Florida arm of Cemex paid $33 million for 152 acres of undeveloped land at Northwest 138th Street and Northwest 127th Avenue near Okeechobee Road, just west of the Florida Turnpike. Miaprop LLC, an entity managed by Timothy Barket and Kelly Barket Jr., sold the property…
Surfside officials agree to carve Champlain site out of planned downzoning
The Surfside town commission will allow the condo collapse site to be rebuilt up to the same size as Champlain Towers South, scrapping a controversial proposal to downzone the property. This means the new project could have the same square footage as the condominium that tragically toppled in June, but details such as the number of units…
Rents rise in all big US cities, a pandemic first
It's been a long time coming, but rents were finally on the rise in every major city last month — the first time that's been the case since the pandemic hit. In all 30 of the top American metro areas, apartment rents were up year-over-year in August, according to a Yardi report. Bloomberg reports that the average rent in multifamily buildings rose by $25 last…
Lennar picks up 27 acres in Homestead for $7M
A month after unloading a huge redevelopment site in Homestead, Lennar Homes picked up two large vacant parcels in the same city for $7.1 million. The Miami-based homebuilder bought 27 acres bounded by Old Dixie Highway, Southwest 264th Street and Southwest 272nd Street, records show. The seller is Four Aces Properties V LLC, an entity managed by south…
Delta force: Surging Covid variant spoils return-to-office plans
As recently as July, visions of reoccupied desks and packed commuter lines danced in the heads of employers and office landlords, who clung to hopes that a widespread return to the workplace after Labor Day might still be in the cards. But an explosion of Covid cases driven by the highly contagious Delta variant has forced a growing number of firms to reconsider…
Shuttered Hotel Astor in Miami Beach gets a new owner
Hotel Astor, an iconic Art Deco property in Miami Beach that has been at the center of an alleged EB-5 fraud and two bankruptcy filings, has a new owner. Victory Investments Group, which records show is led by Anil Monga, paid $12.8 million for the shuttered 42-room hotel at 956 Washington Avenue in South Beach. Monga is CEO of Victory…
ARI Financial Group CEO buys Hialeah multifamily-retail portfolio for $42M
A portfolio of four multifamily and retail properties at 1355 West 44th Place, 1301 West 26th Place, 650 East Ninth Street and 1900 West 60th Street in Hialeah traded for $41.9 million. Four buyers managed by Eric Bouskila, principal and CEO of Aventura-based ARI Financial Group, in partnership with Golani Investments, scooped up the real estate, according to Amir…
Miami allegedly granted improper height increase for Design District hotel project: lawsuit
A New York-based boutique real estate investment firm is pushing to unravel developer Craig Robins' proposal for a 36-story hotel in the Miami Design District. An affiliate of MacArthur Capital… in Miami-Dade Circuit Court seeking to overturn recent zoning amendments for two development sites at 3750 Biscayne Boulevard and 299 Northeast 39th Street in Miami…
RK Centers pays $16M for Winn-Dixie-anchored Miramar shopping plaza
Raanan Katz's RK Centers continues to expand its South Florida retail holdings, this time scooping up a Winn-Dixie-anchored shopping plaza in Miramar for $15.7 million. RK Centers bought Park View Square at 17051-17173 Miramar Parkway from an affiliate of Cincinnati, Ohio-based Phillips Edison & Company, records show. Phillips Edison, which promotes itself…
Estate Companies pays $15M for downtown Hollywood Opportunity Zone site
The Estate Companies paid $15.3 million for the development site in a downtown Hollywood area that is both historic and an Opportunity Zone. The eight-story Soleste Hollywood Boulevard will have 324 rental units, nearly 30,000 square feet of commercial space and 475 parking spaces. The developer bought the 2.3-acre site at 2001 Hollywood Boulevard…
Flagler Village Opportunity Zone dev site hits market for $31M
The assemblage in Flagler Village A developable city block in an Opportunity Zone in Fort Lauderdale's trendy Flagler Village hit the market with an asking price of $30.8 million. The 3.5-acre site allows for an up to 120-foot tall project, which is roughly 11 stories, of either apartments or condominiums with ground-floor commercial uses, according to one…
Related scores $91M construction loan for luxury condo tower in Pompano Beach
Related Group secured a $91.3 million construction loan for Solemar, an oceanfront condo project it broke ground on in May. Records show an affiliate of the Coconut Grove-based developer secured the financing for the Pompano Beach development from Toronto-based CIBC Bank. Related launched sales of the 105-unit, 20-story project at 1116 North Ocean…
Oak Street Capital picks up Coconut Creek Walgreens for $7M
A Chicago-based real estate investment firm known for buying and selling Walgreens stores picked up another one in Coconut Creek. An affiliate of Oak Street Capital, led by Marc Zahr and Jim Hennessy, bought the retail property at 4600 Coconut Creek Parkway for $6.8 million, records show. The seller is Walgreen Company, which paid $3.7 million in 2000 for the site.
Clayco affiliate picks up Miramar Park of Commerce for $18M
A St. Louis, Missouri commercial real estate firm is dipping into the Broward County industrial market. An affiliate of CRG, the commercial real estate division of national builder Clayco Inc., paid $18 million for the Miramar Park of Commerce, records show. The buyer took out a $14.5 million loan from BMO Harris Bank to finance the off-market purchase…
Apex Capital pays $37M for Boynton Beach office building
Apex Capital Investments scooped up a fully leased Boynton Beach office building for $37.3 million. The Philadelphia-based investor bought the property at 3301 Quantum Boulevard in the Quantum Office Park, according to a news release. The two-story, 100,000-square-foot building is fully leased to New York University Grossman School of Medicine…
Publix-anchored shopping center in Boynton Beach trades for $17M
The Publix-anchored Quantum Village shopping center in Boynton Beach sold for $16.5 million. An entity tied to Barberry Rose Management bought the property at 1005 West Gateway Boulevard from an entity managed by Fiorenzo Bresolin, president, founder and CEO of Secured Equities, records show. The buyer scored a $14.5 million acquisition loan from Ameris Bank.
Healthcare Trust of America buys Boca Raton medical offices for $50M
Healthcare Trust of America bought the 1905 Medical Center in Boca Raton for $50 million, marking continued investor interest in healthcare-related real estate. The Scottsdale, Arizona-based real estate investment trust purchased the 106,135-square-foot building at 1905 Clint Moore Road, records show. The selling group is managed by Rick Werber…
Todd Glaser flips office dev site to Palm Beach Jewish Center
Developer Todd Michael Glaser flipped a commercial lot in Palm Beach to the Palm Beach Jewish Center. Glaser's 204 RPW Partners LLC sold the quarter-acre lot at 204 Royal Palm Way for $5.2 million, eight months after paying about $3.9 million for the property. That's a 35 percent increase in price since January. Glaser planned to build a Class A office building…
Starwood acquires stake in West Palm Beach development site
As part of an $18.3 million sale, Starwood Capital Group is joining two New York development firms in developing a large multifamily project in West Palm Beach, sources familiar with the transaction told The Real Deal. An affiliate of Miami Beach-based Starwood bought the 1.3-acre vacant lot at 350 South Australian Avenue from…
13th Floor Investments pays $26M for downtown West Palm Beach assemblage
Arnaud Karsenti's 13th Floor Investments made a big play on downtown West Palm Beach, with the purchase of a full city block for $26.1 million. 13th Floor, through an affiliate, bought the properties consisting of small commercial buildings on roughly 3 acres between Fern and Gardenia streets and from South Dixie Highway west to South Quadrille…