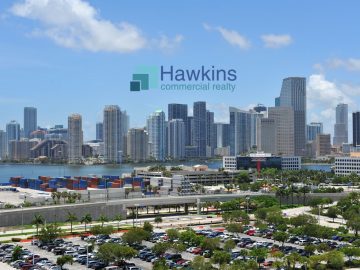 Dezer's 30-acre megaproject in North Miami Beach gets first approval
A nearly 30-acre mixed-use development that would bring luxury condo towers, a harbor and public promenade secured a key approval from the city of North Miami Beach. Developer Gil Dezer's plan to transform the Intracoastal Mall will return to the North Miami City Commission next month, after commissioners voted to pass zoning amendments and a…
Miami Multifamily Report – Summer 2020
Miami ended 2019 on a high note; In a study by financial advice website SmartAsset, the metro ranked fourth out of 500 U.S. cities ranked for economic growth. Miami joined the nation's top "boomtowns" thanks to its gross domestic product and business growth, job creation and population change. However, rents started to moderate in late 2019 and early 2020.
South Florida construction starts rose in August
August construction starts rose in South Florida South Florida construction starts were up in August, according to a recently released report. Total construction starts for Miami-Dade, Broward and Palm Beach counties totaled $904.1 million, according to Dodge Data & Analytics, a Hamilton, New Jersey-based construction data analytics firm. That's about 46…
10 Questions Your Litigator May Ask about Your Post-Covid Commercial Lease
Much has been written about commercial real estate in a post-Covid world. As real estate users consider how Covid will change their space needs, they should also consider what provisions will serve them in future lease-related litigation. Of course, every commercial lease is different, but there are provisions that most leases do or should have. Here are 10 questions your…
Magellan Housing and Miami Heat star Udonis Haslem to build Wynwood apartment project on city-owned land
Coral Gables-based Magellan Housing and its celebrity partner, Miami Heat star Udonis Haslem, scored a slam dunk with Miami's Omni Community Redevelopment Agency. Miami city commissioners — acting as the agency's board of directors — on Thursday approved a proposal submitted by the partnership to build a 12-story, mixed-use apartment project in the…
Colony sells most of its hotel biz to Highgate in $2.8B deal
Tom Barrack's Colony Capital is selling the majority of its beleaguered hotel business to private investor Highgate Hotels in a deal valuing the properties at $2.8 billion. It's the largest shakeup the hospitality sector has seen since being decimated by the pandemic. The publicly traded Colony signed an agreement to sell six of its seven hotel portfolios to Highgate for $67.5…
Builder involved in deadly FIU bridge collapse sues for $15M, alleges design firm botched review
The contractor behind the Florida International University bridge that collapsed in March 2018, killing six and injuring 10, filed a lawsuit seeking $15 million from the company responsible for reviewing the bridge's design before its construction. The plaintiff and builder of the $14.2 million bridge at Southwest 109th Avenue and Southwest Eighth Street, Miami-based…
Report: Office market won't return to glory until 2025
The office market won't reach pre-Covid levels until 2025, a brokerage report has found. The analysis by Cushman and Wakefield predicts that office vacancies across the world will continue upward, reaching 15.6 percent in 2022, Bloomberg reported. About 95.8 million square feet of space will become vacant in the next two years. Before the coronavirus…
Kitchen And Bath Supplier Plans New 95,000 SF Warehouse And Distribution Center In Doral
Panda Kitchens has purchased a 28,800-square-foot industrial building located at 7800 NW 34 Street in Doral for $6,500,000 with plans to build a new 95,000 square foot warehouse and distribution center. The property is situated on one of the largest assemblages of industrial land, encompassing 4.20 acres, or 182,937 square feet, within the…
Brookfield and Namdar plan to hand over keys to struggling malls
Some mall owners have given up trying to revive their struggling malls and pay off their debt payments and are now seeking to hand over the keys to their servicers. Brookfield Properties and Namdar Realty are separately requesting they be allowed to give up their J.C. Penney-anchored malls to special servicers to avoid loan foreclosure, according to Trepp. The…
It'Sugar files for bankruptcy protection after sales sour
A Deerfield Beach-based candy chain is the latest retailer to file for bankruptcy protection due to Covid-19. It'Sugar, with about 100 candy stores in mostly tourist markets, has $500,000 in cash, with $6.2 million of secured debt and $10.4 million of unsecured liabilities, including unpaid rent, according to a press release. The company reported losses before…
Red South Beach signs $5 million lease for new space & other Miami restaurant news
Red South Beach Red South Beach is moving on from its Washington Avenue location of the last 10 years, but it's not going too far. Chef and owner Peter Vauthy signed a 10-year, $4.5 million lease for the restaurant space at 801 South Pointe Drive, he told The Real Deal. The new location includes 6,000 square feet of indoor space and 3,000 square feet of,,,
Blackstone assembles biggest real estate debt fund ever
Blackstone Real Estate Debt Strategies' Jonathan Pollack (Blackstone; iStock) PTA moms can look to Blackstone for fundraising inspiration. The giant firm gathered $8 billion for a property debt fund born last year and closed this month, making it the largest real estate credit fund ever raised. That's thanks to low interest rates and the potential for high returns during the…
Hotel industry is in trouble and more lenders want out
As hotels across the U.S. continue to suffer — average occupancy is just under 50 percent — an increasing number of lenders are scrambling to sell their mortgages. Mack Real Estate Credit Strategies has hired Cushman & Wakefield to sell mortgages totalling $500 million tied to the Times Square Hotel in Manhattan and two St. Regis hotels in Washington…
Wynwood streetscape plan gets a thumb's-up
A proposed vision for greener and more pedestrian-friendly streets in Wynwood is a step closer to being realized. The Planning, Zoning and Appeals board recommended approval of the Wynwood Streetscape Master Plan on Sept. 16. It sets guidelines that would dictate the build-out of Wynwood streets. The master plan focuses on increasing pedestrianism…
Famed Ocean Drive might become Ocean Walk
Pedestrians first, bicyclists and transit second, personal vehicles last is the mantra for officials looking to revamp transportation in Miami Beach's Entertainment District. A permanently pedestrianized Ocean Drive was featured in a game plan that transportation staff presented at a city committee workshop last week. The goal of such a makeover…
Common raises $50M, eyes housing for remote workers
With its eye on housing for remote workers, co-living startup Common has raised $50 million in new funding. The Series D was led by Kinnevik with participation from existing investors Maveron, 8VC and Norwest Venture Partners, CEO Brad Hargreaves wrote in a blog post Tuesday. The round brings Common's total funding to more than $113 million at a time when…
Leaked bank documents show South Florida real estate's alleged ties to money laundering
A group of South Florida property owners' alleged ties to global money laundering are revealed in newly leaked bank documents. A family who owns a home worth more than $2 million in the Jockey Circle neighborhood in Davie and a man accused of buying an $850,000 Tudor cottage in Davie with drug money are among the property owners emerging from a trove…
Kitchen and bath supplier pays $7M for Doral land for distribution center
A kitchen and bath supplier paid $6.5 million for 4.2 acres of industrial land in Doral, with plans to build a distribution center. Panda Kitchen & Bath bought the property at 7800 Northwest 34th Street, according to a press release. The sale comes to $35.53 per square foot for about 183,000 square feet of land. The asking price was $8 million, according to an offering…
How do companies decide who should return to offices first? It's tricky
Companies are relying on surveys and other data points to determine who will come back to offices first. (iStock) Companies are starting to bring employees back to offices after months of working from home, but deciding who should come back first is tricky — so firms are relying on surveys, apps and other tech to guide staffing decisions. International Business…
"That was a business decision": Why real estate execs are backing Trump — or backing away
Sotheby's International Realty broker Nikki Field was leading sales at Kushner Companies' Puck Penthouses in Manhattan when, in 2016, the Kushners raised the idea of the brokerage getting involved in a fundraiser for Donald Trump's presidential bid. Sotheby's said it couldn't because it was prohibited from donating to political campaigns…
Movie theaters might not come back after all
The release of Christopher Nolan's "Tenet" was expected to be a return to some semblance of pre-coronavirus normalcy for movie theaters, but the industry might have a longer road ahead than some thought. Around 68 percent of movie theaters across the U.S. were open for the film's debut over Labor Day weekend, but it made just $9.8 million over that weekend…
Firms dangle big bucks to lure employees out of big cities
In an increasingly work-from-home world, those with the means have also been moving out of big cities in favor of roomier, perhaps more suburban confines. Now, electronic payment company Stripe is offering employees $20,000 if they move out of cities including San Francisco, New York and Seattle, according to Bloomberg. But even that comes at a price.
Miami-Dade police said pre-Covid evictions could resume. Then came mayor's stop order
The Miami-Dade Police Department announced on Thursday that pre-pandemic evictions could resume. But by the end of the day, county Mayor Carlos Gimenez had reversed the decision, causing confusion among landlords and tenants. Coronavirus-related evictions have been on hold in Florida for several months. Gov. Ron DeSantis' two previous orders…
More multifamily may be coming to Overtown
Kelly Kite and 690 Northwest 13th Street (Google Maps) A landowner Miami's Overtown neighborhood seeks city approval to turn a former chemical site into a multifamily or mixed-use development. Attorney Ines Marrero has applied for a zoning change on the site at 690 Northwest 13th Street on behalf of the landowner, a company tied to Vero Beach-based…
South Beach office building inks lease for record $92 psf
119 Washington Avenue Miami Beach Investment management firm J. Goldman & Co. signed a lease expansion at a South Beach office building for $92 per square foot, reportedly a record for South Florida. The company inked an eight-year lease for 3,318 square feet at the Yukon at 119 Washington Avenue. The six-story Class A office building is being…
British billionaires invest in Jeffrey Soffer's Turnberry resort in Aventura
Jeffrey Soffer, Brett Mufson, David and Simon Reuben Reuben Brothers acquired a 25 percent stake in Jeffrey Soffer's JW Marriott Miami Turnberry Resort & Spa. The private equity and investment firm, led by British billionaire brothers David and Simon Reuben, is partnering with Jeffrey Soffer's Fontainebleau Development on other investments as well…
Off Lease Only sells two South Florida locations for $50M
Off Lease Only, the used car dealership, sold its Fort Lauderdale and West Palm Beach locations in a $50 million deal. Records show Off Lease Only Real Estate Holdings LLC sold both properties to Spirit Realty L.P. The Fort Lauderdale site at 827 South SR 7 sold for $27.5 million, and the West Palm property at 1200 South Congress Avenue sold for $22 million. Dallas…
Deutsche Bank: Employees can stay home until mid-2021
Deutsche Bank CEO Christian Sewing and Deutsche Bank's Manhattan headquarters at 60 Wall Street (Getty) Employees at Deutsche Bank won't have to replace sweats with suits any time soon. The German lender notified staff in New York, New Jersey and Connecticut this week that they can keep working from home until next July, according to Bloomberg.
Estate Companies plans Soleste apartments in North Miami Beach
Estate Companies received approval for a waterfront 23-story apartment tower in North Miami Beach. The tower, dubbed Soleste NoMi, will have 367 units, 2,708 square feet of commercial space and 655 parking spaces. It will be on almost two acres at 16395 Biscayne Boulevard. Estate Companies expects to break ground toward the end of the year on the 686,000…
Landlords lost about $9B in rental payments last quarter: report
Almost 11 million households were behind on rent or mortgage payments during the first three months of the pandemic. Nearly 6 million of those households were renters, who reported either missing, delaying or paying reduced rent during the second quarter of the year, according to a report from the Mortgage Bankers Association. Just over 5 million households…
Aman tower planned for Faena Versailles site in Miami Beach advances
Billionaire developers Vlad Doronin and Len Blavatnik secured initial approval for a zoning change that will allow them to build a 250-foot Aman-branded tower in Miami Beach. Despite considerable opposition for the proposed zoning, Miami Beach commissioners on Wednesday voted to pass the ordinance on first reading, sending it to the Miami Beach Historic…
Shvo to hell: Inside the ugly dispute between Michael Shvo and partner pal
Michael Shvo's rule-breaking had finally caught up with him. The controversial broker-turned-developer was sidelined on more than $2 billion worth of Manhattan condos when he pleaded guilty to evading $1.5 million in taxes in 2018. But just when it looked like Shvo was persona non grata to any major investors and lenders, he surprised everyone. His…
Where real estate's investment giants stand on Biden vs. Trump
Private equity and other major investment firms have donated more to Joe Biden than President Donald Trump so far this election cycle, campaign filings show, despite the potential for higher taxes. And while some companies with a heavy focus on real estate have been keeping hush on their candidate of choice, at least one firm is bucking that trend. The…
Amazon's plan for massive warehouse heats up Homestead industrial market
Rendering of the project About two months after Amazon secured approval for what could be its largest distribution warehouse yet in South Florida, commissioners will vote on whether to approve a second e-commerce development on Homestead-Miami Speedway land. Homestead's Planning & Zoning Board approved plans Tuesday for a 145,000-square-foot…
Amazon to open 1,000 warehouses in the suburbs
Amazon is moving to the 'burbs. The e-commerce giant plans to open 1,000 warehouses in suburbs and cities across the U.S., according to Bloomberg. The expansion will allow the company to quicken deliveries as it competes with rivals such as Walmart. Although other efforts, such as hiring 175,000 new workers, have already sped up Amazon shipments, the company is…