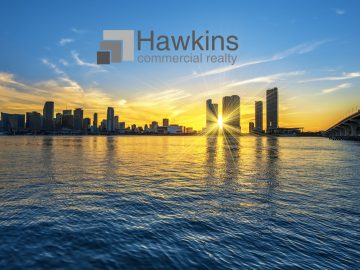 Baptist Health sells Doral data facility for $34M
American Tower, a global communications infrastructure real estate investment trust, bought a data center in Doral from Baptist Health South Florida for $34 million. Records show American Tower bought the data center at 2100 Northwest 84th Avenue from Miami-based Baptist via a Delaware LLC. American Tower is a publicly traded REIT headquartered…
Related Breaks Ground on $190M Miami Development
Related Urban Development Group, in a partnership with Miami-Dade County and Miami-Dade Public Schools, has broken ground on The Gallery at West Brickell, a 29-story mixed-income development with 465 units in the West Brickell neighborhood of downtown Miami. The $190 million project marks the largest single-phase public/private development in the county.
Trio of Boutique Miami Beach Hotels Sells for Combined $100M
Ahead of Florida's peak winter tourist season, a trio of historic, boutique Miami Beach hotels traded hands during the past week for a combined $100 million, property records show. In the most recent sale that closed last week, Boca Raton-based investor Opterra Capital paid $28 million for a Hilton Garden Inn-branded hotel in the Mid Beach neighborhood…
Developers propose mixed-use luxury rentals in Coral Gables
Constellation Group and the Boschetti Group are proposing a 15-story, mixed-use luxury rental project near the Shops at Merrick Park in Coral Gables, where development has boomed in recent years. The city's development review board will review plans for 4241 Aurora Street on Friday, Constellation Group Principal Eduardo Otaola said…
Midtown Miami Mixed-Use Lands $17M Refi
Cymbal DLT Cos. has landed a $17.5 million refinancing loan for an upcoming mixed-use development comprising 203 multifamily units in Midtown Miami. Provided by New Wave Loans, the loan enables Cymbal to buy out its partner and advance the project toward groundbreaking, set for late 2023. Enrique Norten of Mexico-based Ten Arquitectos is the…
Oceanfront Casablanca condo-hotel in Miami Beach for sale
Unit owners of the oceanfront Casablanca condo-hotel in Miami Beach are seeking a bulk buyer who could redevelop the historic structure and expand it. Colliers was tapped to list the property at 6345 Collins Avenue unpriced, according to the brokerage's website. The 200,000-square-foot condo building, on a nearly 2-acre site in North Beach, was built in 1948.
Inside RH's plans for $100M renovation of Miami Beach hotel
The high-end furnishings retailer formerly known as Restoration Hardware planned to spend $100 million to renovate and brand the historic Savoy hotel in Miami Beach. RH, led by CEO Gary Friedman, was finalizing a lease for the entire Savoy Hotel & Beach Club. RH planned to convert the Ocean Drive property into a "state of the art" hotel with retail space…
Swire megatower on Brickell wins final city OK
Miami has approved Brickell City Centre's planned 2023 work on a vast tower with what the developer says are the largest office floor plates in the region and a temporary fire station within the mixed-use complex. A unanimous commission vote Sept. 22 amended the Special Area Plan for Brickell City Centre and OK'd a development pact with Swire Properties…
Amtrak trains may soon reach Miami International Airport
Amtrak trains might soon come into the Miami Intermodal Center, just east of the airport, as the Florida Department of Transportation District Six has resumed talks with the company. Both parties are currently negotiating the lease and an acceptable termination clause, Nilia Cartaya, model development office administrator for the department, told the Sept. 22…
Downtown Miami Tri-Rail connection delayed again, to 2023
"We will not be in downtown Miami station in November," said David Dech, executive director of the South Florida Regional Transportation Authority, running operations of Tri-Rail. "We will not be there this calendar year," he added at the Sept. 23 board meeting. The remarks come only one month and a half after he joined the authority, and four months after former…
Ex-Southland Mall getting billion-dollar reinvention under new name Southplace City Center
Southland Mall in Cutler Bay will be getting a huge makeover to become a new multi-use facility with shops, residential spaces, workspaces and recreational space. This project will be called Southplace City Center, a $1 billion reinvention of what was once a troubled mall. Owners envision Southplace City Center as "a city within a city" that will use up the…
Downtown Miami paves way for 15,000 more housing units
Task Force has pinpointed land use exchanges to create a pool of credits to allow 15,000 or so more downtown residential units, which are already over the development limit. The memorandum by North Carolina-based planning, engineering and design consultant Kimley-Horn on July 21 summarized potential rebalancing scenarios for the development…
Miami adds Virginia Key Park to parks billboards plan
Miami commissioners have approved the first step toward allowing advertising billboards in three of the city's larger waterfront parks. On Sept. 22 the commission unanimously approved on first reading an ordinance that allows outdoor advertising signs at Bayfront Park, 301 Biscayne Blvd., and Maurice A. Ferré Park, 1075 Biscayne Blvd., and Virginia Key Beach…
The Fed: Is the U.S. in a Recession? What Key Economic Indicators Say
A common rule of thumb for identifying recessions is experiencing two consecutive quarters of negative gross domestic product (GDP) growth. The release of U.S. GDP data for the second quarter of 2022 showed the second consecutive negative GDP growth rate, leading many to believe that the country is now in a recession. However, the National Bureau of…
Toronto firm picks up Ocean Drive hotel for $39M
A Toronto-based investment firm paid $39.3 million for the Lord Balfour hotel on Ocean Drive in Miami Beach. The property, now called the Balfour Hotel… also at the center of a lawsuit filed last year by its former co-owner and operator, Life House hotels. An entity led by Marcos Lima of Moto Capital Group sold the 81-key hotel at 350 and 344 Ocean Drive to Catalyst…
Zoning, infrastructure limits are squeezing US land supply
The latest shortage wreaking havoc on the country? Land. Developers are increasingly struggling to find suitable land for residential developments, the Wall Street Journal reported. Land-use restrictions such as zoning and infrastructure issues are among the challenges making it difficult to find sites near major metropolitan areas. With scarcity comes inflated prices.
Lease roundup: Quest takes space at One Biscayne Tower & more
CP Group scored two leases for its One Biscayne Tower in downtown Miami. Co-working space provider Quest Workspaces took more than 26,000 square feet for its flagship Miami office, and logistics company CMA CGM Group renewed its 20,000-square-foot lease, according to a CP news release. The tower at 2 South Biscayne Boulevard is now 77 percent…
Despite A No Vote, Controversial Plan To Build A Warehouse On Protected Miami-Dade Wetlands Remains In Play
A controversial plan to build a sprawling warehouse distribution center outside Miami-Dade County's urban development boundary remains in play after a divided county commission first voted to reject, then defer the project on Thursday, Sept. 22. The flip-flopping vote is the third time the request from developers to build on wetlands and farms increasingly…
Miami-Dade Rejects Downsized South Dade Logistics Park, Again
The real estate development company submitted a revised proposal for a massive logistics center in South Dade — cutting its footprint in half — in an effort to secure necessary approvals from Miami-Dade officials that it's been seeking for two years. However, Miami-Dade commissioners vetoed an approval to expand the county's urban development border (UDB)…
Starwood snaps up Florida affordable housing portfolio
Barry Sternlicht's latest affordable housing play in Florida stretches beyond Lake Worth. Starwood Capital Group spent $91.8 million for a 669-unit affordable housing portfolio in the state, Multi-Housing News reported. Comprising four different communities, the transaction breaks down to roughly $137,000 per unit. All four assets were completed…
Truist Buys, Leases Back Quirch Foods' Medley Site
JLL Capital Markets closed the sale-leaseback of a mission-critical cold storage facility totaling 178,428 square feet in Miami. JLL represented the seller, Quirch Foods, in the sale. Quirch Foods occupies the facility. The property, which is located on 15 acres at 7600 NW 82nd Place in Miami, has excellent access to Florida's Turnpike, US-27, and…
MG Developer, partner score $148M loan for Hialeah apartments
MG Developer and Baron Property Group secured a $148 million construction loan for a nearly 600-unit planned apartment complex in Hialeah… Coral Gables-based MG Developer, led by CEO Alirio Torrealba, and New York-based Baron Property Group, led by Matthew Baron… development planned for 955 East 25th Street and 980 East 26th Street…
Judge orders Codina Partners' affiliate to pay Grycon $8M in damages
Codina Partners now has a $7.8 million bill for allegedly refusing to pay a general contractor that built a Downtown Doral condo project. Last week, Miami-Dade Circuit Court Judge William Thomas entered a final judgment in favor of Grycon, a Fort Lauderdale-based construction firm that won a non-jury trial in July against Codina affiliate 5350 Park for wrongful…
Swire, Related score approval to widen planned Brickell office tower
Swire Properties and Stephen Ross' Related Companies can expand their planned One Brickell City Centre skyscraper, a move they say is geared toward attracting top tenants. The Miami City Commission approved an amendment to Miami-based Swire's special area plan allowing for larger floor sizes. Commissioners also approved…
Sabet buys development site in Miami's A&E District
The Sabet Group is the latest out-of-town multifamily developer to plant a flag in South Florida… redevelopment site in Miami's Arts & Entertainment District. An affiliate of Sabet, a Los Angeles-based and New York-based multifamily development firm led by Andre and Edward Sabetfard, paid $14.3 million for the 0.5-acre property at 1600 Northeast Second Avenue…
Rents fall nationally for first time in 9 months
Ten bucks is a small amount, but it was big news in the rental market last month. The median rental price in the U.S. fell by $10 month-over-month in August, the first monthly decline since November, according to a Realtor.com report. It was also the first time since then that the median rent — which came in at $1,771 — didn't hit a record high. In other bad news…
Robert Rivani's Black Lion snags One Thousand Museum restaurant space
Black Lion's Robert Rivani with One Thousand Museum On the prowl for South Florida retail condo properties, Robert Rivani nabbed prime restaurant space at One Thousand Museum. Black Lion Investment Group, Rivani's Los Angeles-based firm, paid $6.4 million for the 6,500-square-foot commercial condo on the ground floor of the luxury condominium…
Busch family partners with Assouline Capital to buy Red South Beach hotel
Tom Assouline and members of the Busch beer family hope to make a splash in Miami Beach with their purchase of the Red South Beach hotel for $33 million. A joint venture of Assouline Capital and Busch Real Estate, led by August "Gussie" Busch, paid $300,000 per key for the 110-room hotel at 3010 Collins Avenue, they said. Michael Dell's MSD…
Hot deal for cold storage: Truist buys, leases back Quirch Foods' Medley site
Truist Securities paid $59.4 million for a national food distributor's cold storage facility in Medley. An entity managed by Allison Mcleod, a managing director for the Atlanta-based investment banking firm, acquired the 178,000-square-foot warehouse at 7600 Northwest 82nd Place, records show. Led by CEO John Gregg, Truist Securities is part of Charlotte-based…
Development bonanza: Four Miami projects nab approval
Miami's skyline continues to fill up. Four proposed Miami projects won approvals on Wednesday, but one developer's planned tower hit a snag during a city board meeting. Related Group and Merrimac Ventures' condominium at Miami Worldcenter, AMLI Residential's second apartment project in Miami, Rilea Group's mid-rise rental building near the airport…
Berkadia Arranges $11M Construction Loan for Boutique Office Conversion Project in Miami
Berkadia has arranged an $11 million construction loan for the redevelopment of Wyncatcher, a former warehouse in Miami's Wynwood district that was converted into a boutique office property. Knotel, a flexible workspace platform founded in 2015, is slated to occupy the entire 46,072-square-foot property located at 2143 Northwest 1st Ave. Scott Wadler…
Developer Lands Financing To Build New Knotel In Wynwood
Knotel, the flexible office company that was bought out of bankruptcy by Newmark in 2021, is opening a location in an adaptive reuse property in Wynwood. Developer Morabito Properties scored an $11M construction loan for the Wyncatcher building, a warehouse it is turning into office and retail with a rooftop balcony overlooking the Wynwood Arts District…
City Axes Miami Dade College's Contract to Run Tower Theater
After 20 years of supporting art-house cinema and performance at the Tower Theater on Calle Ocho, Miami Dade College will no longer operate the historic venue. The City of Miami sent Miami Dade College (MDC) a notice last week that the college's management contract for the Tower Theater will be terminated as of January 2, 2023. "The City would like…"
Invesca scores $77M construction loan for Plantation rentals
Invesca Development Group secured the funding it needs to move forward on a Plantation apartment complex. The development firm scored $76.5 million to build the 330-unit Pixl complex on a 6.7-acre site it owns at 4300 Northwest Ninth Court, according to a notice of construction commencement filed this month. An affiliate of New York-based…
Motwanis win approval to expand planned Fort Lauderdale condo project
Merrimac Ventures won approval to expand its planned boutique condo development near the beach in Fort Lauderdale. Fort Lauderdale commissioners on Thursday approved a site plan amendment that adds 11 units and a fourth floor, to create a four-story, 32-unit building at 530 North Birch Road. Asking prices for condos will top $1,000 per square foot…
Wurzak buys Deerfield Beach DoubleTree for $27M
Wurzak Hotel Group is bringing a little Philadelphia-style hospitality to Deerfield Beach. The firm bought the DoubleTree by Hilton Hotel Deerfield Beach-Boca Raton for $27 million, marking its fourth hotel acquisition in Broward County. Led by the father-son duo Howard and Jake Wurzak, the Philadelphia-based firm bought the 221-room hotel at 100 Fairway Drive…